Renters Insurance
(The who, what, when, where and why about renters insurance.)

If you're a renter you probably have several assets you've moved into your space, but who's responsible for what when it comes to renters insurance? And are all properties created equal? If you're renting an apartment and it catches on fire, will you receive the same coverage as if you're renting a houseboat? Knowing what's expected when it comes to your renters insurance, and your landlord's insurance, is key to making sure you have the proper coverage.
Of course a little (or a lot) of help from your independent insurance agent will make a big difference. A local agent is knowledegable, licensed, and ready to provide proper coverage that fits within your insurance budget.
What Is Renters Insurance?
Renters insurance, aka tenants insurance, is an insurance policy that every renter needs. It provides some of the same coverages as a regular homeowners insurance policy. However, a renters policy doesn't include coverage for the actual dwelling (aka the structure), since the landlord's insurance policy covers the dwelling itself. Remember, you can't insure something you don't own.
Coverages that are included in a renters policy
Personal liability: This coverage will protect you against bodily injury or property damage to someone else.
Medical pay: This coverage is more of a goodwill gesture and usually provides up to $10,000 in medical payments to others if someone gets hurt while at your place of residence.
Personal property: This coverage will provide insurance up to a preset dollar amount determined by you and your independent insurance agent, for your personal property. This coverage will replace your personal property, from underwear to couches. You'll want this coverage in case your rental home burns down and you're stuck with having to replace your items. Keeping an updated inventory of all your personal belongings is a good idea.
Additional living expenses: This coverage is for a renter who experiences a covered loss such as fire, hail, water or weather damage and has to relocate until the rental property is fixed. This coverage pays for any additional living expenses due to this loss. If you can't find a reasonable place to rent while your other rental is being seen to and it costs more in rent money, then this coverage will pay the difference. It will also pay for hotel costs if it's a short-term issue that needs to be addressed.
How to Know If You Need Renters Insurance
Simple, if you're renting, you need it. If you are renting a single-family residence, an apartment, a condo, a mobile home, a tiny home, a yurt, a townhouse, a houseboat, or anything else that can be rented, you'll need renters insurance. In fact, the majority of landlords will require this in order to offer a lease. But even if it's not a requirement of the owner, it's just plain good sense to have.
No matter which type of living accommodation you are renting, you will need the same coverages, like personal liability, medical pay, additional living expense, and personal property.
If you don't have renters insurance and a storm comes through and demolishes all your personal effects, you'll be wishing you did. If your landlord requires a renters policy from you prior to signing the lease agreement, then it's a good idea to know who to call.
Ready to Save on Renters Insurance?
Our independent agents shop around to find you the best coverage.
Vacation Homes, Airbnbs, & Short-Term Rentals
This type of insurance can be requested in all sorts of rental transactions, such as when you are renting an apartment, townhome, or single-family residence. But it may also be required when you are renting a vacation home, Airbnb, and the like. Typically, renters insurance isn't required when you are renting, say, a condo on the beach for a week, because most insurance companies won't write a short-term renters policy like that.
However, the primary homeowners or renters insurance that you have on your place back home may have coverage that extends to you while you're on vacation. In fact, most policies have liability that extends to you while you travel, as well as a percentage of personal property coverage off-premises. The big kicker is that if you're traveling out of the country, that is usually when the buck stops and your coverage won't follow you. It's best to discuss this with your independent insurance agent so you know how you are covered while renting a short-term vacation home.

The good news is that even if you have a renters insurance policy on your yurt in Nebraska, your personal liability can usually extend to the beach house that you're renting from Airbnb for the week.
Things Your Independent Insurance Agent Should Be Asking You
When you are obtaining renters insurance, or any insurance for that matter, your agent should be asking you probing questions to make sure you are covered properly and all your assets and belongings are accounted for.
Questions your agent should ask about your renters insurance:
What address will you be renting?
Is this coverage for a long-term rental or short-term rental?
What dollar amount do you want listed to replace your personal belongings?
What dollar amount will you need in coverage for personal belongings while traveling?
How old is the property you will be renting?
What limit of personal liability do you want?
Do you want to bundle your renters and auto insurance for added savings?
Does your landlord have adequate coverage on the property themselves?
Is there anything that your landlord is not covering with insurance that you would need coverage for?
Certificates of Insurance as They Pertain to Renters Insurance
Now, you may get something like the sample request form below from your landlord if they are requiring that you get proof of insurance. This proof of insurance is called a certificate of insurance. It will give an insurance preview, if you will, of what coverage you have, your policy term effective dates, and the carriers that write your policies.
Sample of landlord insurance request form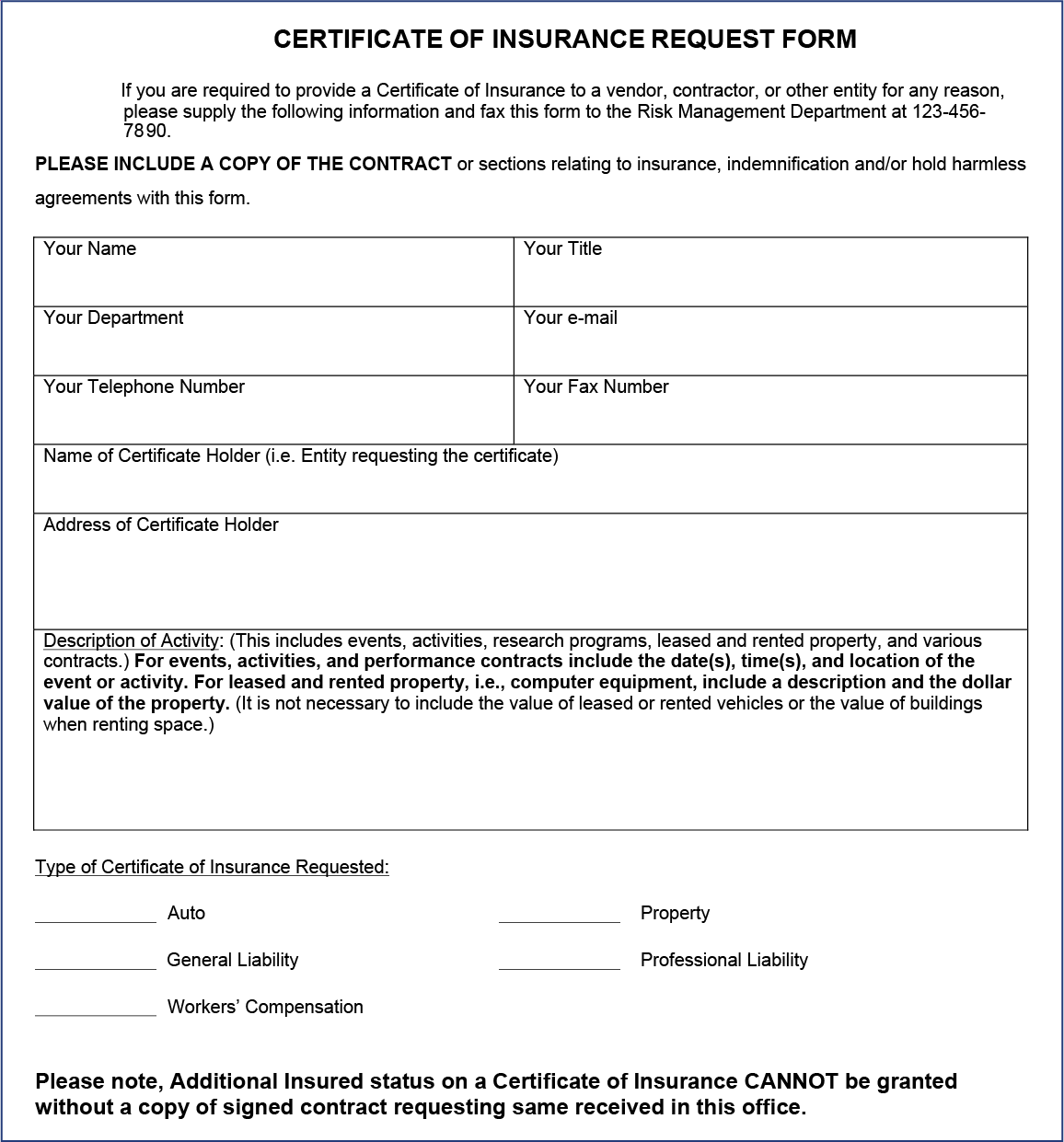 How Much Does Renters Insurance Cost?
Renters insurance costs vary just like anything else. If you haven't noticed by now, no two people and circumstances are the same. If you've ever asked your neighbor about how much they pay for their renters or auto insurance, you'll notice it probably doesn't match what you pay. The answer to this is simple: Your insurance is like your credit score, individualized and completely specific.
The best way to find out how much renters insurance will cost you is to discuss your specifics with your independent insurance agent. They will know which carriers to present your situation to and find you the best premiums and coverage.
Benefits of an Independent Insurance Agent
Independent insurance agents have access to multiple insurance companies, ultimately finding you the best coverage, accessibility and competitive pricing while working for you.
TrustedChoice.com Article | Reviewed by Candace Jenkins
©2023, Consumer Agent Portal, LLC. All rights reserved.