How to Save on Home Insurance
(Lowering your home insurance premiums is easier than you think)

When you buy a home, you also have to purchase homeowners insurance. If you're not paying attention, you could end up overpaying on your premium.
The good news is that there are a number of ways to save on home insurance. Whenever you're searching for insurance, working with an independent insurance agent can make the process much easier. They'll also have inside tips and access to rates you most likely can't find on your own.
What Is Homeowners Insurance?
Homeowners insurance provides protection against a variety of damage that could be done to your home. From wind and hail to fires, lightning, water damage, burglary and more, if anything messes up your house, home insurance steps in.
What Does Home Insurance Cost?
The average annual cost of homeowners' insurance is $1,192 nationwide, but that cost can vary region to region, based on hazards like floods and earthquakes.
Average Cost of Homeowners Insurance in the United States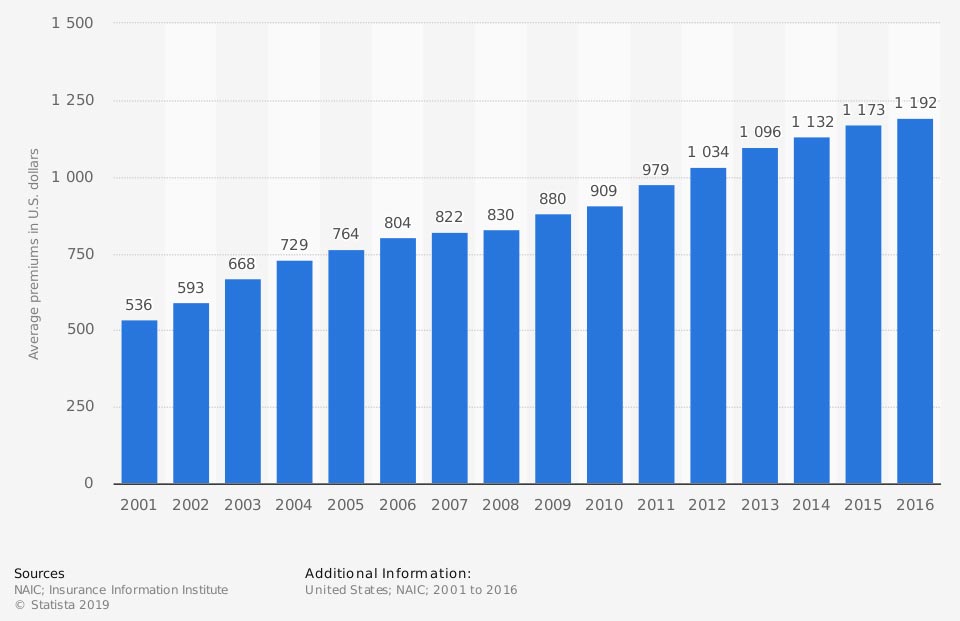 The average homeowner pays more than $1,000 annually for home insurance.
How to Save Money on Home Insurance
While your home insurance premium can vary by several hundred dollars depending on the size of your home and insurance company, there are ways to save money.
Shop around: Let your independent insurance agent pull a variety of quotes for you. Different companies will offer different policies and the difference in price could be significant.
Increase your deductible: Have you ever noticed with health insurance that the higher your deductible, the lower your premium? The same goes with home insurance. Raising your deductible could bring your premium down.
Bundle your policies: Combining your home insurance with other insurance policies like auto can reduce your price.
Lower the risk of damage: The safer an insurance company feels your home is, the cheaper your home insurance will be. Upgrade your home with special features or take precautionary measures against common potential damages in your area.
Understand the real value of your home: Homeowners insurance is designed to rebuild your home, which means the coverage is designed to cover the cost to rebuild your home, not your home's market value. If you insure the total value, you may pay a higher premium.
Take advantage of group discounts: If you're a member of certain associations or professions, you may qualify for a group discount. Common ones are military, teacher, and government employee discounts.
Stay loyal to your insurer: When it comes to insurance, loyalty rewards. Staying with the same insurance company for an extended amount of time can result in reduced insurance premiums.
Review your policy every year: Property value changes from year to year. Have your independent insurance agent review your policy every year to see if there are any additional home insurance discounts and savings available.
What Adjustments Can I Make to My Home to Save Money?
We talked earlier about the ability to make some small adjustments to your home to save money on your premium. Ultimately, an insurance company will determine your home insurance rate based on the chance that your home could be damaged and what it would cost your insurance company if it was damaged.
With that said, if you live somewhere that is prone to fires, installing proper sprinkler coverage could lower your premium. Similarly, if your home is at high risk of a hurricane, installing shutters can affect your rate.
Here are some additional upgrades and adjustments that can lower your rate:
Sprinklers: A good sprinkler system can put out a fire much faster than waiting for the fire department to get to your house.
Fire extinguisher: Keeping a fire extinguisher handy also helps end fires quickly.
Being near a fire hydrant: You can't always control this, but the closer you are to a fire hydrant, the faster fires can be put out.
Being near a fire station: The less the distance between you and firefighters, the faster they can get you. This is also something you can't control, but are you noticing a pattern here? Fires are one of the most popular causes of home damage, so taking necessary precautions can help you save money.
Security system: Installing a security system helps keep thieves out of your home. Home insurance usually covers theft, so preventing theft nets you a discount.
New home: We learn new things all the time like fire escapes are good and asbestos is bad. New homes take advantage of all this new knowledge, so they're usually safer.
High-quality roof: Hail and wind damage are among the top reasons homeowners file a claim. A sturdy roof can lower your premiums.
Tidy yard: An well-maintained yard with minimal shrubs, trimmed grass and trees lowers fire risk and shows the insurance company that you care about your property.
Fresh paint: Did you know that fresh paint is safer in the event of a fire than old paint? Once again, preventing that fire!
Pool/no pool: Usually a pool will increase your insurance premium unless you live in the middle of nowhere with no fire hydrants. A pool could actually save you money.
No trampoline: Trampolines are fun for the kids but not so fun for insurance companies.
Save on Home Insurance
Our independent agents shop around to find you the best coverage.
When Should I Buy Homeowners Insurance?
As soon as you decide you're buying a home and put it on paper, you should start shopping for home insurance. Home insurance is not mandated by law, but you'd have a tough time finding a mortgage lender who'll finance your home without it.
Ideally, you'd give yourself enough time to shop insurance quotes before you close on your mortgage. You usually have a small amount of time, about a month, before you have to prove insurance, but you will be required to show proof that you've paid a year's worth of insurance before closing.
Comparing Home Insurance Quotes with an Independent Insurance Agent
An independent insurance agent will review your needs and help you find the best home insurance coverage for your property. They'll also compare policies and quotes from multiple insurance companies to make sure you have the proper protection to keep you and your possessions safe. Find an independent insurance agent in your community here.
TrustedChoice.com Article | Reviewed by Paul Martin
©2023, Consumer Agent Portal, LLC. All rights reserved.
https://www.iii.org/article/how-to-save-money-on-your-homeowners-insurance