America's Best-Kept Secret about Business Insurance
Tips and solutions for when your insurance search feels like Where's Waldo

By this point we already know the importance of business insurance. It's necessary to, well, stay in business.
The only thing that's still floating around like an abandoned birthday balloon is how to find an insurance agent you trust with your financial baby.
How do you know when an agent is in it for your business vs. their own company? We'd like to say it's as easy as going with your gut, but as usual, there's a method to the madness. The method to finding a great insurance agent is to be educated on your options. So let's get educated!
Employment of insurance sales agents by state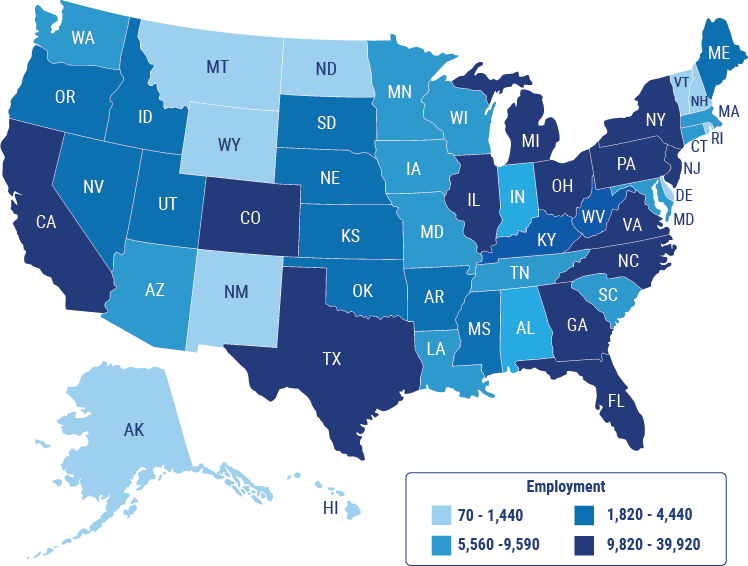 Save on Business Insurance
Our independent agents shop around to find you the best coverage.
Captive Agents Vs. Independent Insurance Agents
There may be a huge world of insurance companies out there, but when it comes to business insurance agents, there are two kinds to know about, captive and independent.
Captive agents: They represent a single insurance company and can only offer coverage from that company.
Independent agents: They are just that, independent of a company. They can offer coverage from a variety of providers. They also happen to be the type of agents we represent here at Trusted Choice.
In 2017 there were 1.1 million insurance agents, brokers and service employees in the United States. So it's safe to say that you'll have plenty of agents to choose from. But how on earth do you choose?
Number of insurance brokers and service employees in US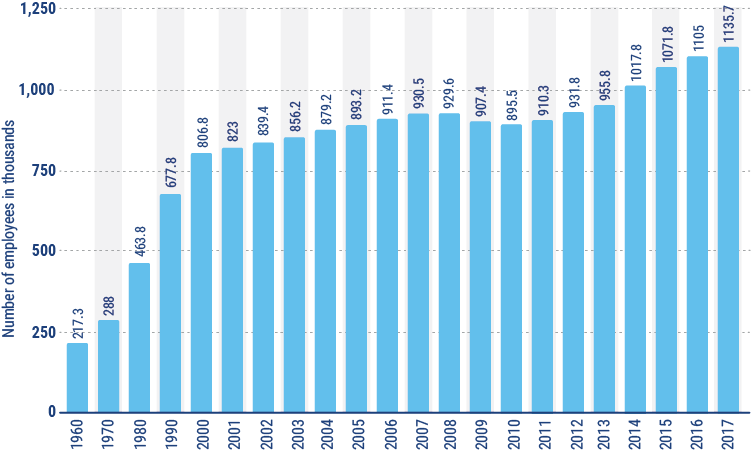 The Pros and Cons of Independent and Captive Agents
It's easy to get swooned by a business that's been around a long time. But just as McDonald's isn't making the best quality hamburger around, mainstream insurance companies may not always be offering the best quality insurance for your business needs.
There is good and bad to independent and captive agents, but at the end of the day, savvy business owners are realizing the exponentially larger amount of good that comes with an independent agent.
Independent Agents
Work with multiple companies
By far the most appealing thing about an independent agent is that they're able to offer you more choices. More options means more chances to find a policy that fits your business needs and budget.
Shop the insurance market
Since an independent agent is able to offer more options, they have larger access to the insurance market. They can shop for the best policy for you.
An independent agent's pay relies solely on a satisfied customer. That means they're more likely to be in it for you.
On average, going through an independent agent is less expensive than a captive agent.
Chances are your independent agent not only lives in your town, but their kids also attend the same school as yours. Independent agents are on-site, which can come in handy in the case of an accident or emergency.
If the unthinkable does happen, independent agents can assist you with your claims. They don't have to adhere to company protocols and are readily available to provide advice.
Captive Agents
Only working for one company
This can be a good or bad thing. On the one hand, if you're looking for a highly specialized insurance agent, a captive agent could be a good choice. On the other hand, you're losing all those insurance options we talked about with an independent agent. And who doesn't love options?
Forced to push certain policies
Since they're only working for one company, captive agents are forced to push that company's policies. That may not always be what's best for your business.
The customer doesn't have to come first
Whether you go with a captive agent or not, they get paid. This means there is less pressure on them to have a satisfied customer.
Save on Business Insurance
Our independent agents shop around to find you the best coverage.
Questions to Ask an Independent Agent
If we've convinced you that an independent agent is at least worth looking into, then our next job is to prepare you for finding the best agent possible.
Business insurance is about as confusing as a Rubik's Cube. Like seriously, who gets those things?
When you start shopping around, there are a few questions you can ask an agent that will help determine whether they're your insurance soul mate or not.
What is your experience? You'll most likely feel more comfortable working with an agent who has dealt with business insurance before.
Do you have references? It's always good to see if anyone else on the planet likes that person.
Who will handle my business? Sometimes an insurance agent will get you set up with a plan, but then you'll mostly be working with their team. Knowing everyone that will be involved with your policy will come in handy down the road.
What is your response time? If your business catches on fire, will you have to make sure it's between the hours of 9 and 5 to get a fast response?
Do you personalize policies? If you're in the tech industry, you'll need a policy that covers you if you have a data breach. That insurance will differ greatly from a clothing store owner. Knowing whether your agent has experience and offers specialty and personalized policies will ensure that you get the coverage you need.
How do you help with claims? Remember how we mentioned that a great thing about independent agents is they are close by in case of an emergency? Getting an idea of the level of support you can expect from them when you need it will make you a happy customer.
What is included and excluded in my policy? As with any insurance policy, fully understanding what is covered and not covered in your policy will leave no surprises. And when it comes to business insurance, we don't like surprises.
Moving Forward with an Independent Insurance Agent
There are hundreds of insurance companies and millions of insurance agents roaming the world each day. They sell a ton of products that us simple folk really just know nothing about. Finding the best one may feel like a Where's Waldo puzzle.
What we do know is that there are also hundreds of businesses that are finding great policies to fit their needs. This is a result of independent agents who understand what businesses need, can shop the market, and provide a great fit for you.
Whether you're a big business, small business, new business, old business, weird business, or not even a business yet, an independent insurance agent, like the ones found on Trusted Choice, can ensure that you're protected with the coverage you need.
TrustedChoice.com Article | Reviewed by Paige Murray
©2022, Consumer Agent Portal, LLC. All rights reserved.
https://www.business.com/articles/looking-for-business-insurance-9-questions-to-ask-a-prospective-broker/
https://www.insurancejournal.com/magazines/mag-ideaexchange/2018/02/05/478962.htm
https://www.bls.gov/oes/2017/may/oes413021.htm
https://www.statista.com/statistics/194232/number-of-us-insurance-brokers-and-service-employees/