The 6+ Tax Breaks Every Business Owner Needs to Know
(Making more sense, and dollars, out of your taxes.)

In many cases, the benefits of owning your own business totally outweigh working for someone else. You get to set your own hours, take longer lunch breaks, make the rules, AND you can qualify for more tax breaks than ever before.
But what happens if you're a freelancer or small business owner who can't afford an accountant or tax professional? You're left filing your own taxes, which can be overwhelming—and that's not fair. To help, we've brought in our friend Kate York, a Certified Public Accountant, to talk about the most common tax breaks for business owners. Get ready, because your tax season is about to rain refunds.
1. Auto Expenses
As a business owner, you can deduct auto-related expenses like your mileage or a nice portion of your actual auto expenses.
When you dive into writing off your auto expenses, you can take the standard mileage rate deduction or tally up the actual expenses incurred from using your vehicle for business.
This is where you'll wish you were paying close attention in math class, because determining whether the standard mileage rate or actual expenses is a better write-off comes down to the numbers. If you're driving an economical vehicle with low operating costs, the standard deduction, or 54.5 cents per mile, will most likely be the bigger deduction.
In addition to mileage you can typically deduct the following actual vehicle expenses:
Gas and oil
Maintenance and repairs
Tires
Registration fees and taxes*
Licenses
Vehicle loan interest*
Insurance
Rental or lease payments
Depreciation
Garage rent
Tolls and parking fees*
*Also deductible if you choose the standard mileage method.
2. Home Office
The home office is the most complicated tax deduction. That's because it's very specific. Small business owners can deduct the cost of office space rent and/or use a simplified method to deduct a home office of $5/square foot up to 300 sq. ft. ($1,500 deduction) with no repercussions if they sell their home.
However, in order to deduct part of your home, you need to have a dedicated room that is used only for work purposes, and nothing else. If you spend most of your day working from your bed, you can't deduct your bedroom space, but we give you credit for choosing the most comfortable spot in the world to get work done.
If you do have a designated home office space and it is 20% or more of your house, you can also deduct 20% of your heating, cooling, home insurance, and rent or mortgage costs.
3. Office Supplies
You don't need to have a home office in order to write off your office supplies. All you need is tangible, necessary supplies like pens, pencils, ink cartridges, and the following: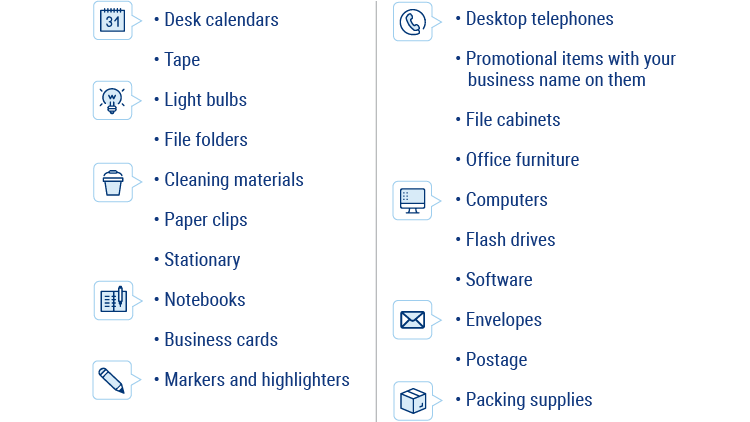 We could go on and on, believe us. Just make sure you're keeping track of all of your business-related purchases – save every single receipt.
4. Meals & Entertainment
In December 2017, the Tax Cuts and Jobs Act (TCJA) changed the rules when it comes to writing off meals and entertainment. To no one's surprise, they buckled down on this deduction.
In a nutshell, you can still write off meals and entertainment, but the write-off percentage has changed, and some deductions are no longer deductions. Here's a handy chart for reference.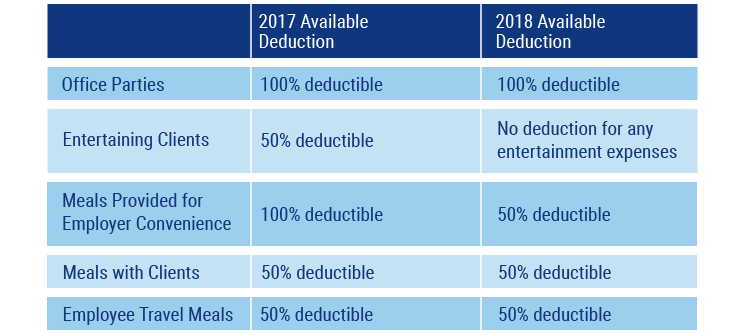 5. Business Travel
The IRS defines travel expenses as "ordinary and necessary expenses of traveling away from home for your business, profession, or job."
Writing off business travel has a lot of caveats, so here are some things to know.
You're only traveling away from home if you travel away from the general area of your tax home for longer than an average day's work.
Your "tax home" is the entire city or general area where your business is located. According to the IRS, "You live with your family in Chicago but work in Milwaukee where you stay in a hotel and eat in restaurants. You return to Chicago every weekend. You may not deduct any of your travel, meals or lodging in Milwaukee because that's your tax home."
If you are able to deduct your business travel, you can deduct the following costs:
Mileage driven
Airfare, train or other transportation costs
Shipping of baggage
Hotel charges
Meals
Dry cleaning and laundry
Business calls
Tips you pay related to any of these services
Some entertainment costs, if entertaining a client
For a full understanding of the cans and cannots of business travel deductions, use the IRS Business Travel Expenses article.
Save on Business Insurance
Our independent agents shop around to find you the best coverage.
6. Cell Phone
Since the landline went the way of the dodo, nowadays your cell phone may be your sole business phone – which can also make it a qualified tax deduction. However, it may also still be your personal device, too, so you can count on the IRS to closely watch your cell phone write-offs.
Here's when you can write off your phone:
If 30% of your phone time is spent on business-related calls, you can deduct 30% of your phone bill.
If you get a second phone number that is only used for business, you can write off the bill.
You can write off the initial purchase and monthly bill if you're self-employed and only use your phone for business purposes.
In order to prove your phone usage, the IRS requires you to itemize your deductions.
7. Additional Related Expenses
In addition to the six common deductions above, you can also write off all other business expenses that are related to operating the business, including: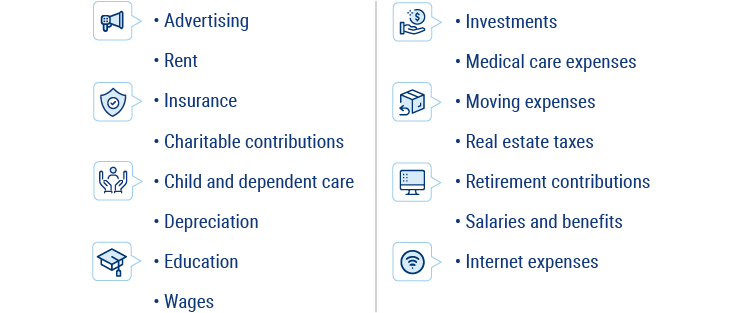 What Else Do I Need to Know?
If you'll be filing your own taxes, the most important thing you can do is pay attention to all of the tax forms you receive. This will include: 1099-S, 1096-X, 1098-X, and 1095-S, to name a few. The IRS will also receive a copy of these forms.
If you can afford to work with a tax professional, it will help avoid errors and allow you to take full advantage of deductible expenses and tax credits that they're trained to look for. However, a professional isn't always an affordable option for everyone, especially if you're just starting your business.
Hopefully these insider tips were of some help to you. And when tax season comes back around, hopefully you'll see a lot more smiles.
TrustedChoice.com Article | Reviewed by Kate York
©2022, Consumer Agent Portal, LLC. All rights reserved.