The Easy Employee Onboarding Guide for Small Business Owners
(or "How to Build the Perfect Worker")

Whether you're a rookie in the world of hiring employees or you just want to know how to do it better, a proper onboarding program can do wonders for you and your business.
To help, we've brought in the experts (five of them, in fact) to run through the what, the why and the how of setting up the perfect onboarding plan for you. And in the end, you'll learn how to turn your new hire into your best hire ever.
But What Is Onboarding?
Onboarding is the process of bringing a new employee into the fold. Using both old- and new-fashioned psychology, it helps increase the odds a new hire will succeed and stick around. In a 2015-2016 Gallup poll, 88% of US employees said their employers weren't that great at it.
In related news, 40% of survey respondents weren't entirely clear what their employers expected of them, two-thirds weren't all that engaged in their work, and about half were looking for something better.
Key Stats from Gallup's State of the American Workplace Report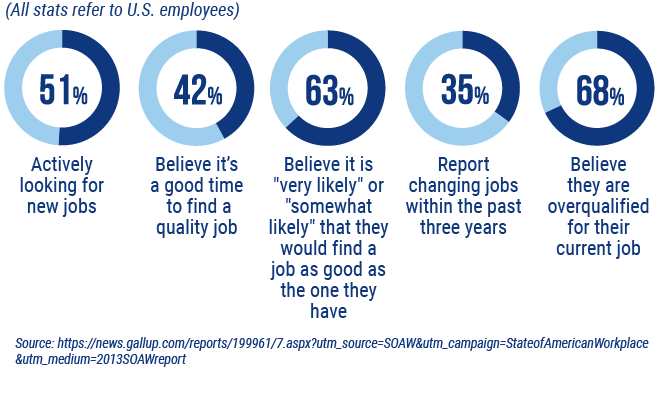 Why Onboarding Matters to Your Business
It's not 1957. Employees aren't sticking around for a pension and a gold watch.
"These days, the job market is becoming increasingly competitive, with many employees constantly seeking to jump or change jobs if other opportunities and perks are available," writes psychology researcher Bethany Lanvins-Merillat.
"The time and resources necessary to invest in finding the right fit for your organization may be quickly lost if the employee is not strategically and astutely incorporated into their new role and office culture," writes Lanvins-Merillat in an email.
One recent study by the Aberdeen Group found that companies with the best onboarding processes retained 91% of their new hires at one year, and those with the worst retained 30%.
And each time someone leaves, you pay an average of six to nine months of the lost employee's salary to recruit and train someone new, according to an estimate by the Society for Human Resource Management (SHRM).
Beth Cabrera, an executive vice president at KNF&T Staffing Resources, calls onboarding "the first stage of a corporate retention program."
Save on Business Insurance
Our independent agents shop around to find you the best coverage.
Elements of Good Onboarding
"Many companies see onboarding as the first day or first week," writes Cabrera in an email, "but onboarding should be a program that continues through the first six months at a minimum, and ideally for a full year."
A good plan incorporates smart long-term goals, milestones and regular progress reviews. But first, it incorporates setting up the new hire's phone before they arrive so they're not standing there like a fool while someone runs to find one.
"I cannot emphasize enough that not having the basics in place when an employee walks in the door is … an immediate detriment to retaining that employee," writes Cabrera.
"The tone for an employee's entire tenure of employment can be set by how successful they feel on their first day on the job," Cabrera explains.
"Having a phone that doesn't work or a computer that isn't set up for their access can make them feel less than valued," she writes, "or as if they have joined a company that is disorganized."
There should be a fully functioning, ready-to-work desk, chair, phone, computer, complete set of passwords and any access they may need, all before they step through the door. Of course a personalized coffee mug in the break room wouldn't hurt, either.
Now, the SHRM breaks onboarding down to the four C's:
Clarification
Culture
Connection
Compliance
An onboarding process should fully address all four. Yet, according to the SHRM, only 20% do.
Compliance, the Spoke in the Wheel of Onboarding
Everyone does compliance, often called "orientation." It's required. W-2s and handbooks have to happen, and they often have to happen by the end of Day 1.
But as far as onboarding is concerned, it's an outrage.
Onboarding actually hopes you'll get the stupid signatures beforehand and send a link to the employee handbook, because it is not helping your first impression.
"Seriously consider automating the orientation part of onboarding," advises Tracie Sponenberg, an SHRM HR Disciplines Special Expertise Panelist and Senior Vice President of HR at The Granite Group.
"[W]e did this a few years ago," says Sponenberg, "which allowed us to have all new hire paperwork completed online, so we could focus onboarding on our company and culture."
Use technology to streamline the process. Get signatures electronically. Post all policies, calendars, requirements, benefits, legal forms, hierarchies, procedures and training manuals in a handy online portal the new hire can access any time.
It doesn't just save time. The poor kid needs to know what's going on, and no one remembers what you tell them about their benefits on Day 1—no one.
Save on Business Insurance
Our independent agents shop around to find you the best coverage.
Clarification So Clear, Birds'll Fly Right into It
Generally speaking, you want to limit the number of times a new employee has to say things like:
How do I… ?
Who do I… ?
When should I…
Am I supposed to… ?
"Companies often don't prepare employees well enough for the expectation of what their job is," Sponenberg writes, "and how it is connected to the company."
When you don't put in the effort to be entirely clear about your new employee's role, you're just screaming, "We don't actually care if you succeed!" And then they don't.
According to Susan Heathfield, HR expert at The Balance, "There is a certain body of information that employees across all jobs need to know."
An onboarding process should convey, clearly, comprehensively and accurately:
The exact nature of the new hire's role and responsibilities
The goals of the company and where the new hire fits into them
Steps of all workflow procedures affecting the new hire and who manages them
What's coming down the pike and how the new hire will contribute to it
This is all time-sensitive. You want to "bring a new employee up to speed about their job and the culture or environment of the organization they have joined as quickly as possible so that they can begin quickly to make a contribution," writes Heathfield in an email.
A Culture Worth Braggin' about
Your company has a culture – a unique environment, customs, and shared knowledge. New employees won't feel like they belong until they know it. Feel it. Live it. Part of onboarding is speeding up that whole process.
You're basically looking at a culture-immersion program:
Make sure new hires know office hours, garage codes, and dress codes before they start.
Give a tour of the office, including who sits where and what they do.
Notify the new hire specifically of all company events, formal and informal.
If the company doesn't freak out when someone is five minutes late, make that known.
If Design is big on high fives, the newbie gets a high five.
If a new hire shows up on Casual Friday in a suit, you've failed. You've also failed if the new hire:
Doesn't know which entrance to use
Can't find the bathroom
Doesn't know you can track PTO online
Never got the code to the parking garage
Has ever said, "Oh, there was a company mini-golf tournament?"
Save on Business Insurance
Our independent agents shop around to find you the best coverage.
Making a Connection That Really Gets the Sparks Flying
A lot of this is empathy. Being the new hire is like going to a party where you know nobody, but all day, five days a week, and generally without wine. Oh, and you're working.
In terms of productivity and retention, the faster a new employee gets through this particular phase, the better. According to Granite Group SVP of human resources Tracie Sponenberg, it's onboarding's first concern.
"The most critical part of the onboarding process is connecting the new employee to the company," Sponenberg writes.
"You want to engage them immediately … At my last company, we took all new employees out to lunch on their first day. That allowed some time to get to know them on a personal level, and set the connection from the beginning," she writes.
The idea is to create opportunities for new hires to form relationships. What that looks like depends on the company. Sponenberg says ADP has onboarding tools with a social component ,"so employees can 'meet' coworkers if they work virtually, or even if they are in an office, before they arrive."
And a lot of companies assign mentors. KNF&T's Beth Cabrera advises against assigning a manager or supervisor.
"[T]hey need to have a resource … they can approach regarding concerns or questions that they might not want to take to their boss," she writes. "This can help you retain an employee who may start to flounder or become disengaged simply because they are unsure of how to take the next steps."
The SHRM calls it a "buddy." You can even let your new hire pick.
Preferably, the new hire will have a buddy by the end of the first week, but definitely by the end of the first month.
Finding Your Perfect Onboard
It's a lot to lay out. You can hire a consultant to build you an onboarding plan, or you can, as psychology researcher Bethany Lanvins-Merillat puts it, "Research, research, research."
"There is a plethora of amazing research in the organizational psychology, business management and behavioral science literature," writes Lanvinss-Merillat, who has studied industrial and organizational psychology.
After reading up, Lanvins-Merillat writes in an email, "Talk to your employees."
People who have gone through your onboarding process, preferably recently, can tell you what you did wrong. And probably what you should have done. (And you know what really got their goat…)
Just don't turn onboarding into a checklist, advises renowned emotional intelligence expert Harvey Deutschendorf.
"One of the biggest mistakes a company can make," Deutschendorf writes in an email, "is not taking the time and effort to come up with customized onboarding plans."
If the goal is to make the new employee feel welcome, valued and fully equipped to succeed, you should probably take the actual new employee into account. Make "an effort to learn as much as possible about new employees," writes Deutschendorf, "and [use] this information to make them feel welcome."
Make your onboarding plan adaptable, and do human testing before use. And not just on people who work for or with you.
"If possible," Deutschendorf writes, "obtain third party unbiased feedback on the plan from people outside of the organization who have no stake in the outcome."
Because onboarding counts. About eight months' salary worth.
Save on Business Insurance
Our independent agents shop around to find you the best coverage.
Do Something. Anything.
To researcher Lanvins-Merillat, onboarding comes down to protecting an investment.
"At the end of the day, each employee is an incredibly valuable resource," she writes, "and if you only do a halfway job of onboarding, all the time and energy you spent recruiting and training … will be lost, especially if they're poached by another company a few years down the line."
Lanvins-Merillat believes the only real mistake you can make in onboarding is "not doing it. Period."
Not that you can't fall short, writes Lanvins-Merillat, "but you would have to work hard to create a process that alienates the employee" more than doing nothing.
And were you to manage that, she adds, "They should leave."
All Aboard the Onboarding Welcome Wagon
Hopefully after reading this you've gained a stronger understanding of the importance of a good onboarding program. Because, honestly, it could be the difference between keeping and losing a great hire. And if they leave, the cost to replace them can certainly be a lot to handle, and you have to start all over again.
So spend some time developing a program that does your company justice and le's your new employee show you what they've got and where it'll fit in. And always, always remember the value of those four C's.
Acknowledgements:
Special thanks to Susan Heathfieldt, HR expert at The Balance; Bethany Lanvins-Merillat, health researcher; Harvey Deutschendorf, emotional intelligence expert; Tracie Sponenberg, SVP of HR for The Granite Group; and Beth Cabrera, EVP at KNF&T Staffing Resources, for their generous help with this article.
TrustedChoice.com Article | Reviewed by Tracie Sponenberg
©2022, Consumer Agent Portal, LLC. All rights reserved.
Susan Heathfield, HR expert at The Balance (https://www.thebalancecareers.com/susan-m-heathfield-1916605)
Bethany Lanvins-Merillat, health researcher (https://www.linkedin.com/in/bethany-merillat-427914b7/)
Harvey Deutschendorf, emotional-intelligence expert (http://www.theotherkindofsmart.com/)
Tracie Sponenberg, SVP of HR for The Granite Group (https://blog.shrm.org/author/1251)
Beth Cabrera, EVP at KNF&T Staffing Resources (https://www.knft.com/team-member/)
http://deliberatepractice.com.au/wp-content/uploads/2013/04/Onboarding-2013.pdf
https://www.gallup.com/workplace/235121/why-onboarding-experience-key-retention.aspx
https://news.gallup.com/reports/199961/7.aspx?utm_source=SOAW&utm_campaign=StateofAmericanWorkplace&utm_medium=2013SOAWreport
https://www.forbes.com/sites/forbescoachescouncil/2018/05/15/creative-onboarding-strategies-to-set-your-new-hire-up-for-success/#28a43d1c57fd
https://www.thebalancecareers.com/employee-onboarding-positive-new-employee-experience-1918830
https://www.shrm.org/resourcesandtools/hr-topics/talent-acquisition/pages/new-employee-onboarding-guide.aspx
https://www.shrm.org/foundation/ourwork/initiatives/resources-from-past-initiatives/Documents/Onboarding%20New%20Employees.pdf
https://news.gallup.com/reports/199961/7.aspx?utm_source=SOAW&utm_campaign=StateofAmericanWorkplace&utm_medium=2013SOAWreport