How to Buy a Restaurant Franchise (and Still Keep Your Sanity)
(We brought in a few experts to help lend a hand in the kitchen.)

According to industry reports, and a quick look at any strip mall, the franchise business is booming. And it's not all 6-inch subs and Hooters, either. These days, you can buy and run a prefab business offering yoga, dog grooming, adult home care, tax services, staffing, shipping, hair design, and security.
Despite all of the options out there for franchises, restaurants are still the most popular venture, though. According to the International Franchise Association (IFA), of the nearly 750,000 franchises in the United States in 2017, about 30% were restaurants. Of those, most were in the "quick-service" category, which includes both counter service and fast-casual.
It's not easy to open a restaurant, franchise or otherwise, but a franchise can be a great way in when you don't have a ton of experience. According to Eric Stites, CEO of Franchise Business Review, it comes down to risk.
"When you start an independent restaurant, you are completely on your own," he writes in an email. "When you invest in a restaurant franchise, you have a large corporate team of experts behind you … and an established brand with a track record of success."
The Price of a Name
The investment is significant. It runs from the tens of thousands to the millions, sometimes within the same chain. You're basically paying for:
Initial investment
Franchise fee – one-time payment for trademark license
Other start-up costs – permits, construction, marketing, inventory...
Ongoing (monthly) costs
Trademark royalties – a percentage of sales
Advertising fees – a percentage of sales
Sample costs for restaurant franchises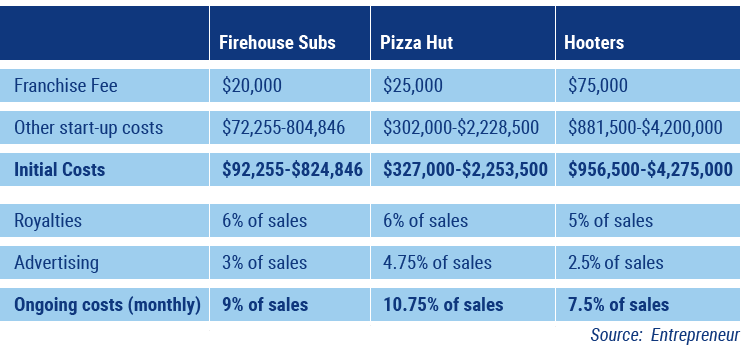 You also hand over your corporate autonomy, because that large team of experts behind you makes a lot of the decisions. They're pretty much in control in areas like:
Accounting
Menu
Recipes
Hours
Uniforms
Signage
Suppliers
You can't reject the new corporate menus, the boring uniforms, or go with an unapproved but less-expensive supplier, even if you wanted to.
Save on Business Insurance
Our independent agents shop around to find you the best coverage.
Assess Your Skills
The focus has to be on execution, not innovation, is how Stites puts it.
"Franchising is great for people that are strong operators and can follow a playbook … The single worst thing you can do is try to reinvent the wheel and do everything yourself," he writes.
There's room to be creative in the execution, he adds, but "if you are the type of person that has trouble following established systems, and thrives on creating everything from scratch, franchising is probably not a good fit."
Find the Right Restaurant
Even with a good fit and great execution, your success ultimately hinges on the success of the chain. What you want to see is a good track record. Tom Scarda, Certified Franchise Executive (CFE) and founder of The Franchise Academy, recommends a chain with at least 25 franchises that have been in business for more than a year.
Don't assume bigger is better, though.
"[I]f the brand is well known, the ship has probably already sailed … The best markets and real estate locations are probably taken," Scarda writes in an email.
FitSmallBusiness ranked the 50 best and worst franchises by SBA loan repayment rates. The top five restaurants on the list were:
Farmer Boys
Zeppe's
Buffalo Wild Wings
Jet's Pizza
Wendy's
The bottom five were:
Wings-N-Things
Noble Roman's Pizza
La Paletera
Shane's Rib Shack
Camille's Sidewalk Café
10 Best Franchises by SBA Default Rates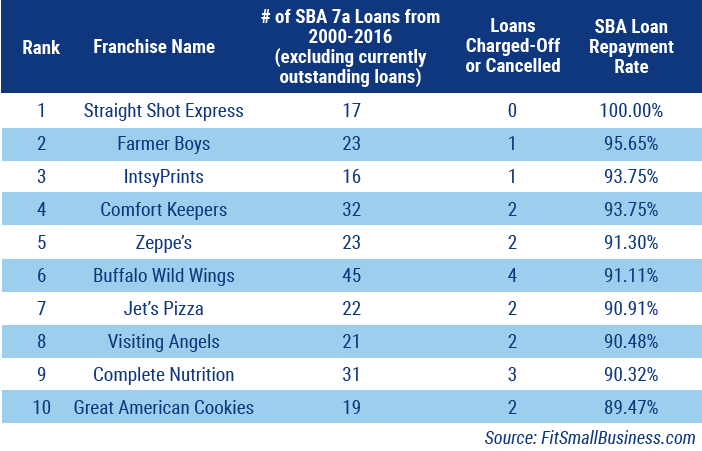 10 Worst Franchises by SBA Default Rates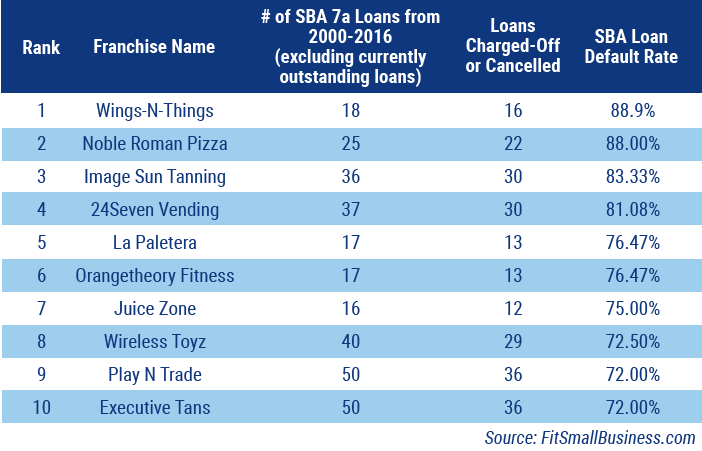 Eric Stites advises focusing on unit-level economics.
"The margins in the food business are very slim, so you need to [know] how a franchise brand is helping franchisees drive profitability, not just top-line sales," Stites writes.
Save on Business Insurance
Our independent agents shop around to find you the best coverage.
Look for Red Flags
A lot of what you need to know is in the franchise agreement and the franchise disclosure document (FDD). The former is the contract you sign to seal the deal. The latter is a tome of data and analysis detailing the brand's financial situation, legal present and past, and business practices.
Pay particular attention to:
Lawsuits

As a result of past bad behavior, franchisors have to disclose, in the FDD, whether they've been sued by their franchisers in the last 10 years. If they have, writes Scarda, it's a "major warning."

Territory

The franchise agreement should dictate "ample protected, exclusive territory in your area so sales aren't catabolized by other franchise owners," advises Scarda.
Quiznos got sued for that in 2006. Franchisees filed a class action lawsuit alleging Quiznos oversold markets and overcharged owners. The company paid $206 million to settle the suit in 2010.

Earnings claims

If franchisors provide earnings estimates in the FDD, which isn't required, any verbal earnings claims they make on the topic must exactly match those in the FDD. If they don't provide earnings estimates in the FDD, they can't make any verbal claims on the topic. At all.

Termination of contract

Check the franchise agreement for conditions of termination. You may have to pay monthly fees until the end of the contract period even if your restaurant business ends before the contract does. You should be aware of the increased risk before you go in.
Talk to the Humans
Above all, use the handy list of owners provided in the FDD. According to Scarda, "The single best thing someone can do when investigating any franchise is to talk to existing franchise owners." You'll want to ask questions like:
How well did the brand support and train you when you first opened?
How much input do owners get in brand policies and practices?
How much did you spend to open your first store?
How long did it take you to become profitable?
How much do you earn now?
In the end, by all accounts, the owners are your best resource. It's where you can get the "good, bad and ugly," Scarda writes.
Good, bad, or ugly, have everything reviewed by a lawyer before you commit. It's your best bet for avoiding surprises and getting into a business you love for the long-run.
Big thanks to Tom Scarda, founder of The Franchise Academy, and Eric Stites, CEO of Franchise Business Review, for their help here. We hope we helped set you down the right path to the franchise restaurant you're looking for. There are obviously a lot of options out there, but if you do your research and follow what you love, you'll be ready for another franchise in no time. Then maybe another and another.
TrustedChoice.com Article | Reviewed by Eric Stites
©2022, Consumer Agent Portal, LLC. All rights reserved.
https://www.unh.edu/rosenbergcenter/howard-d-johnson
https://www.forbes.com/sites/modeledbehavior/2017/01/29/no-most-restaurants-dont-fail-in-the-first-year/#5d76a4164fcc
https://www.entrepreneur.com/article/219786
https://www.franchisedirect.com/blog/the-most-popular-franchise-industries-today
https://www.forbes.com/sites/karstenstrauss/2015/06/17/is-quiznos-toast/#739e962422cd
https://www.census.gov/library/stories/2018/03/franchises.html
https://www.ftc.gov/tips-advice/business-center/guidance/consumers-guide-buying-franchise
https://www.franchise.org/sites/default/files/Franchise_Business_Outlook_Jan_2018.pdf
https://www.entrepreneur.com/franchises/