Multimillion Dollar Lawsuits: Can It Happen to You?
How to protect yourself from someone who wants all of your money

Imagine you're on your usual afternoon park date with Scruffy. You know he's the best dog on the planet, which is why you're so surprised when he gets over-interested in a nearby jogger. Next thing you know, the jogger is claiming your dog bit him and Scruffy just made you vulnerable to a $21,000 lawsuit.
Thinking about getting sued is like thinking about winning the jackpot lottery. You know it's a possibility out there in the world, but you never really think it can happen to you.
The only problem is that it can happen to you, and it does happen to hundreds of people every day.

In fact, personal lawsuits have become so common that we reached out to attorney Ken Kieklak to learn when you're at risk and how you can protect yourself from someone coming after your money.
What Is a Civil Lawsuit?
A civil lawsuit is when one person is blaming another person for doing something wrong.
While it may feel like you can get sued for just about anything these days, there are a few common scenarios that occur more than others.
"The most common civil cases are filed around car accidents, medical malpractice, product liability, and slip and fall injuries."
Most cases can be categorized into the following four common civil cases.
Tort claims or personal injury claims: When someone does a physical act that results in injury to another person.
Breach of contract claims: When someone fails to fulfill a contract.
Equitable claims: When someone wants someone else to stop what they're doing. This includes restraining orders, solicitation, destruction of property and the like.
Landlord/tenant issues: When an owner and a renter are not seeing eye to eye.
Save on Business Insurance
Our independent agents shop around to find you the best coverage.
What Happens During a Civil Lawsuit
Many civil lawsuits are personal injury cases. And personal injury cases are usually based on neglect rather than actually doing something wrong. If someone slips and falls walking near your pool, you didn't necessarily do anything wrong, but you failed to properly warn the person that it could be slippery near the pool.
You can see how these semi-confusing terms of who is to blame is why many people get sued. And if you do get sued, you'll begin a long process.
Timeline of a Personal Injury Case

While the end goal for most cases may seem like it's going to court, most civil lawsuits are settled outside of the courts. In fact, 95% of all civil cases are settled during the pretrial stage. But this doesn't mean that people aren't getting paid out. If you get sued, you're looking at taking a large financial hit.
Median and Average Personal Injury Jury Awards by Type of Liability, 2016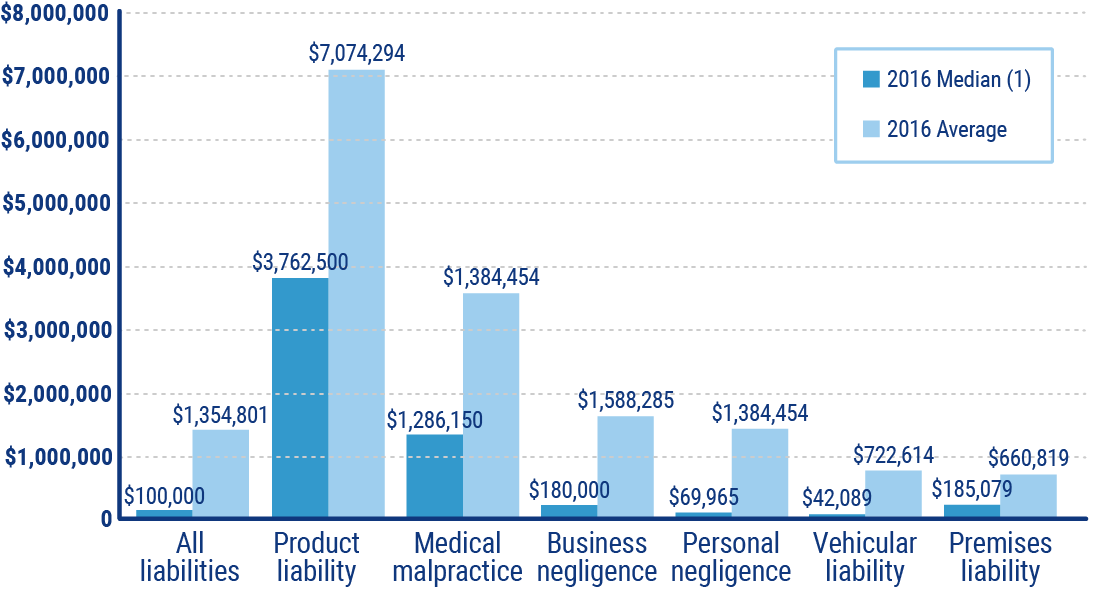 Are You at Risk of Getting Sued?
Whether you're worth a lot or a little, you can be sued. Fortunately, the less you have, the less can be taken from you. But just like in a relentless game of adult dodge ball, no one is safe from being unexpectedly taken out.
If you're racking your brain to figure out just how much you're worth, there's an easier way to determine your risk of being sued. Just fill out this personal liability risk scorecard that we borrowed from our friends at ACE Private Risk Services.
How to Protect Yourself against a Lawsuit
Whether it's black and white or a murky gray, if you get sued the person can come after everything you own. That's why it's important to protect yourself from a liability lawsuit with the following steps.
1. Speak to an insurance agent about different insurance policies
An independent insurance agent can help you determine the best insurance policy to protect you and your assets. The most common policies are:
2. Put your assets in a trust
If you have a bunch of money that you'd trust someone else to access, consider putting it in a trust. A trust is an invisible, but real, place where you can put all your financial assets that is only available to another person or beneficiary of your choosing.
3. Invest more money in retirement
Retirement accounts have protections against creditors. This means if you're getting sued, someone cannot come after your money that has been invested in retirement. Do you need a better reason to start saving that 12%?
4. Look into real estate protection laws
Your home is one of your biggest liabilities when it comes to getting sued. Homestead exemptions are real estate protection plans that protect the equity you have in your home.
5. Know the dangers you present
Do a safety check of your home and lifestyle, and take note of where you see potential risks. Whether you've got a nippy dog, some wet tiles around your pool, or just live an extreme lifestyle, knowing the potential for others to be injured from your property or hobbies can help you protect yourself before an incident occurs.­­­­
In Conclusion
No one walks around expecting to get sued, but it can happen to anyone at any time. The good news is you can calculate your risk of being sued. Follow the above steps to protect yourself and your assets, and the only thing you'll have to think about is how to win that lottery and why Scruffy hates joggers.
TrustedChoice.com Article | Reviewed by Sara East
©2023, Consumer Agent Portal, LLC. All rights reserved.
· https://www.uscourts.gov/statistics-reports/federal-judicial-caseload-statistics-2017
· https://www.bjs.gov/index.cfm?ty=tp&tid=45
· https://www.isba.org/ibj/2015/07/whatkindcivilcasesdoessupremecourtd
· https://www.knappandroberts.com/whats-the-average-car-accident-settlement/
· https://www.iii.org/fact-statistic/facts-statistics-product-liability
· http://www.thelegalseagull.com/protect-assets-before-getting-sued/
· https://thelawdictionary.org/article/what-percentage-of-lawsuits-settle-before-trial-what-are-some-statistics-on-personal-injury-settlements/
· https://www.alllaw.com/articles/nolo/personal-injury/average-settlement.html
· https://www.nolo.com/legal-encyclopedia/how-much-can-i-get-for-my-personal-injury-case-and-how-long-will-it-take-new.html
https://www.dolmanlaw.com/timeline-personal-injury/