Do You Need Business Insurance if You Work Out of Your Home?
(Find out exactly what kind of coverage a home-based business requires)

While running a business out of your home can certainly be rewarding, it can also create some gray areas from a coverage standpoint. When you work out of your home, you may not be sure whether your homeowners insurance provides enough coverage to protect you, or if you need to add a business policy. Well, the good news is that we know, so you don't have to.
Independent insurance agents know all about home-based businesses and the insurance they require too. They know exactly how to get you covered against all common and even obscure risks if your business is home based. But first, here's a closer look at whether or not you need business insurance if you work out of your home.
If My Business Is Run out of My Home, Do I Still Need Business Insurance?
You may not want to hear this, but the answer is probably, yes. At least from a legal standpoint, you'll likely want to have the coverage provided by a business insurance policy, even if you run your business out of your home. Homeowners insurance typically won't respond to most liability claims made against your business, no matter where it's based. Additionally, homeowners insurance won't cover all of your business property or inventory.
Limits in standard homeowners policies typically cap coverage for business property at $2,500. These limits can be exhausted fast if you've got computers and other electronics that need coverage. However, you can buy an endorsement to add to your homeowners policy to increase coverage limits for business property stored at home, which can be a cheaper option than a separate business policy.
Does an LLC Provide Me with Enough Protection?
Well, no, because you can still be sued by name as an individual. It's a common myth that you can't be sued if your business is an LLC. You need coverage that will respond to liability claims against you personally, otherwise you'll potentially be stuck paying for costly legal fees out of your own pocket. Your independent insurance agent can help you get set up with all the legal and other critical protection you need, even if you just run a small LLC.
How Does Homeowners Insurance Protect My Home Office?
Since the structure of your office is technically your house, your homeowners insurance policy protects against property damage to your business from a dwelling standpoint. Covered perils that could damage your home/office's structure include fire, theft, vandalism, other natural disasters, and more. Your homeowners policy also provides limited coverage for your business's inventory. So while your home policy provides some coverage, it's really not enough.
Are There Options for Home and Business Insurance Hybrids?
If your business is based out of your home, you have a few options to get the full picture of protection you need. In order to get the best combination of home and business insurance, work with your independent insurance agent to review the following options:
Homeowners policy endorsements: Rather than purchasing a business insurance policy, you may opt for a homeowners policy endorsement to increase its coverage limits for business property. Typically your premium won't increase that much, and you can bump your home policy's limits up from $2,500 to $5,000, $10,000, or even more.
In-home business policies: This option allows for more comprehensive coverage of your business property than the homeowners policy endorsements do. In-home business policies provide reimbursement for important losses including documents, off-site business property, and accounts receivable. Business interruption coverage is also included under certain policies.
Business owners policies: This option is ideal for home-based businesses that operate in multiple locations. These policies provide coverage for business equipment/inventory/property as well as loss of income, liability, and extra expenses. Business owners policies also provide much broader coverage than in-home business policies.
Your independent insurance agent can help you decide which type of coverage works best for your unique home-based business, whether that means purchasing a separate business insurance policy or revving up your existing homeowners insurance.
What Liability Protection Does Business Insurance Provide?
In the event your business gets sued, the liability coverage provided by business insurance will take care of associated fees. If you get sued by a third party who accuses you of something included in your business insurance, your policy will cover all necessary legal costs to defend you. Business insurance pays for attorney fees, court fees, and any settlements you're ordered to pay if the case rules against you.
Do I Need Workers' Compensation Coverage?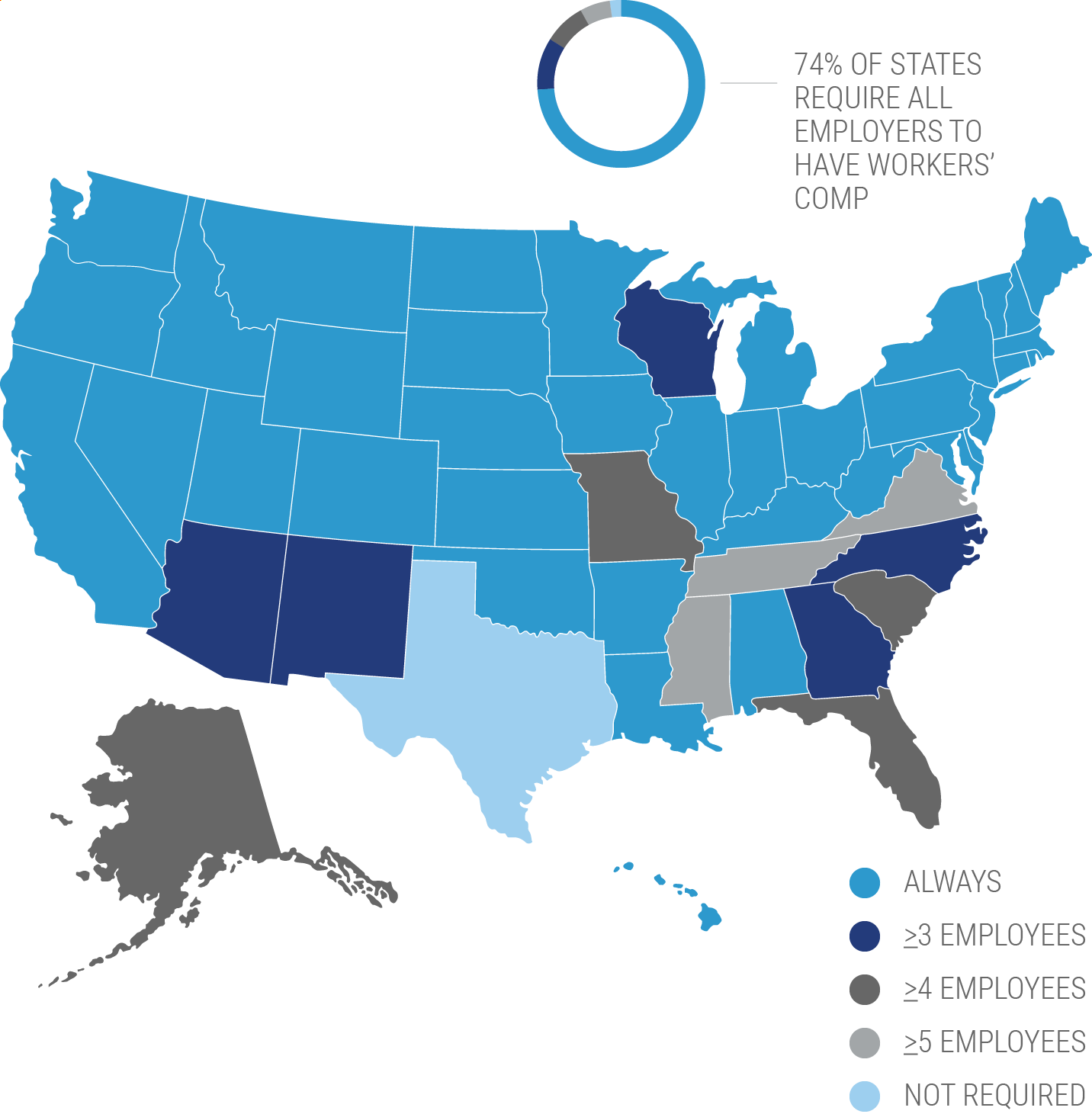 In most states, the answer is yes, if you have employees. However, there are a couple of exceptions and requirements vary by state, so you'll need to check out your location's specific laws first. For example, certain states provide exemptions for businesses with fewer than a certain number of employees, for agricultural businesses, or for businesses that maintain a low payroll under a specified amount.
If you have employees, workers' compensation is basically crucial to have. Coverage protects your business from a legal standpoint in the event an employee gets injured, ill, develops a disability, or even dies while performing work tasks. Coverage also applies to incidents that occur when an employee is traveling between jobsites or doing job tasks outside of the business's office. Injuries, etc., sustained from using workplace equipment or materials is also covered.
Basic workers' comp insurance policies include the following coverages:
Medical care: Employers get reimbursed by their workers' comp coverage for medical care of their employees, including doctors' office and hospital visits, rehabilitation treatment, medications, diagnosis fees, long-term treatments, and more.
Employee wages: Workers' comp also provides reimbursement of hourly or salary wages that an employee loses while out of work due to workplace injury, illness, or disability.
Legal protection: If a deceased employee's family sues the business, workers' comp offers protection by covering attorney and court fees, as well as settlements that the business may be ordered to pay.
Benefits: In the event of a disability or death of an employee, workers' comp may pay out a lump sum benefit. If the employee was killed, the benefit would be paid to their dependents.
Funeral costs: If an employee dies on the job, workers' comp may provide reimbursement for final arrangements and ceremonies.
Other disasters, such as workplace violence, terrorist attacks, and natural disasters are also covered if they cause injury or illness to your employees. Talk to your independent insurance agent about getting your business equipped with workers' comp coverage to help protect yourself and your team.
If I Get Business Insurance, Is It Tax Deductible?
As long as your business insurance serves a business purpose, then yes, your policy would be tax deductible. At a Federal level, the IRS categorizes business insurance as a business expense, so your premiums are allowed to be deducted from your taxable income. If you have any questions about deducting your business insurance costs from your taxes, your independent insurance agent or accountant can help.
What Does Business Insurance Not Cover?
While business insurance provides lots of critical protections for professionals, it doesn't cover everything. Flood damage and earthquake damage are the two major perils never covered by standard business insurance policies across the country. Special flood insurance and earth movement policies would be required to protect your business from damage and/or suspended operations caused by these types of disasters.
If you have a home-based business and live in an area along the coast or somewhere that's otherwise prone to flooding, flood insurance is a really good idea to have. Coverage is only available through the National Flood Insurance Program, which is a part of FEMA. Likewise, if your home-based business is located in an area prone to earthquakes, landslides, etc., you'll want to seriously consider adding an earth movement policy.
Here's How an Independent Insurance Agent Would Help
When it comes to protecting your home-based business from lawsuits and all other risks, no one's better equipped to help than an independent insurance agent. Independent insurance agents search through multiple carriers to find providers who specialize in home and business insurance, deliver quotes from a number of different sources, and help you walk through them all to find the best blend of coverage and cost.
TrustedChoice.com Article | Reviewed by Paul Martin
©2020, Consumer Agent Portal, LLC. All rights reserved.