Start Your Own Business in 6 Easy Steps
(Ideas can't stay little for long, they need to grow. We'll show you how.)

So you're sitting on this big, brilliant idea like a mother hen on an egg. And all you can think about is when's this idea gonna come into the world. Well, maybe tomorrow, or maybe not for a few years—you can't rush it. The most important thing is for the time to be right, and there are a number of things that need to come together before then.
Thousands of business doors are opened every year by eager entrepreneurs, and many are also closed. In fact, 9% of American businesses are closed each year, and only 8% are opened. But don't let this stat chase you away from your dream, because we're here to help you be a business that succeeds.
What Is Motivating You to Start Your Own Business?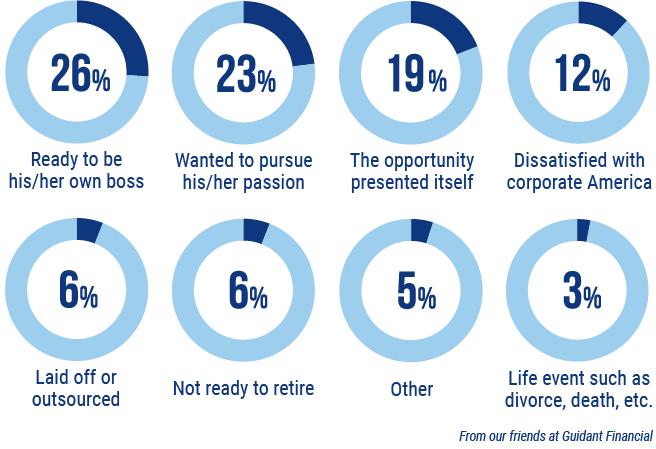 Chances are you fit into more than one of these categories. A lot of steps go into starting a business – including creating an entity, developing a business plan, creating a product, and more. Every entrepreneur's journey will vary, but we spoke with Theo Lee, co-founder and CEO of KPOP Foods, for some insight into the five basic steps that any entrepreneurial dreamer can use to start their own business.
Save on Business Insurance
Our independent agents shop around to find you the best coverage.
Step 1: Find the Idea for Your Business
You can't start a business without an idea. The good news is that an idea can come from anywhere, at any time. Which means it's best to keep a waterproof notepad in the shower because we all know that's when the best ideas pop up.
If you're not the best at coming up with life-changing ideas that are going to earn you hundreds of millions of dollars, try thinking about something that fits into the categories below.
Even though you may not have an idea, there really is no shortage of avenues out there to start from. People are making a killing in a number of different small business markets.
Top 5 Small Business Industries

Step 2: Research and Talk to People
Once you have an idea in hand, it's time to refine that idea to determine how you'll successfully fit into the market. Will you offer something that doesn't exist yet? Will you have the same product as someone else but do it better? Will you franchise with an existing company? The more you understand the needs of the market you're entering, the easier it is to mold your idea into its perfect shape and the better your chance of success.
"Talk to other people in the industry," said Theo. "Try and learn from their strength and weaknesses."
Make sure to expand your research outside the Internet. Talk to real people to get their feedback and learn if they'd benefit from your idea. You'd never serve tuna casserole to a room full of people who hate tuna, unless you were out for some serious vengeance, so why serve a business idea to a group of people who aren't interested?
Step 3: Create the Business Plan
Ahhhh, the dreaded business plan, do we have to? Yes, yes you do. There's a reason that every single piece of advice you'll ever receive about starting a business includes having a solid business plan. It's the only way to make sure you've thought of everything. Some major things to keep in mind include:
Your go-to market strategy (How will you be different?)
Competitive analysis
The amount of cash needed to get things going
Projected financials
Market position
Branding
Creating the business plan allows you to really think things through. The more prepared you are, the better things will go, especially in the beginning.
"For KPOP Foods, we wanted to establish a brand that made it easy for people to learn about Korean food and flavors," said Theo. "We knew that a significant amount of cash would be needed for the first production run of our main product, KPOP Sauce, so after doing our research, we decided on Kickstarter as a way to crowdfund."
Theo went on to talk with other businesses that had used Kickstarter to fund their ideas, which helped him and his business partner successfully reach their goal within a short eight hours of launching their campaign!
If your brain does not work in business plan mode, that's okay! You can hire a consultant to help you put it all together.
Save on Business Insurance
Our independent agents shop around to find you the best coverage.
Step 4: Creating the Prototype/Minimum Viable Product
You can't test an idea without a sample of your idea. Ideally, you'll find an inexpensive way to test your product, which can be a major hurdle for new businesses. However, it's an important step.
You can conduct surveys or in-person interviews, videotape focus groups, run a beta version of your product if it's an online business, and simply get as much feedback as possible. Not only does this help you make valuable improvements to your product, but it will also raise awareness of your new business.
Step 5: Determine Your Business Structure
Sole proprietorship. Partnership. LLC. These are terms you've most likely started hearing since you decided to start your own business. Before you can be a business, you need to determine how the state and government will recognize your business, and you have a few options:
Sole proprietorship: This is the simplest type of business structure. It is ideal for freelancers and for those who will have full control over all aspects of the company.
Corporation: Corporations are complex structures intended for larger companies that have many employees. This structure provides limited liability protection and tax benefits for your company.
Partnership: This structure is ideal if you are going into business with at least one other person. It provides a lot of operational flexibility and protects you and your other business partners if the actions of one cause problems for all involved.
Limited liability company (LLC): This business structure combines the liability protections of a corporation with the flexibility and tax benefits of a partnership. It is ideal for smaller companies that have employees.
Cooperative: This is the right structure for a business that's made up of several member-owners who work together to meet a common goal or perform a service that benefits all involved. Profits are distributed among the owner-users. This structure is most likely to be found in the retail, art, restaurant and healthcare industries.
An S corporation: This is a business structure you can choose to add on to your corporation or LLC. There are tax benefits to doing this, but not all businesses qualify for S corp status. A tax advisor can help you determine whether this is worth looking into.
By speaking with a business or tax professional, you can get assistance determining which type of structure is right for you. You can also learn about setting money aside to pay your federal, state, and local taxes on a quarterly basis. Remember, when you are your own employer, you will be paying 100% of your social security contribution, whereas when you work for someone else, your employer covers 50% of this tax.
Save on Business Insurance
Our independent agents shop around to find you the best coverage.
Step 6: 3,2,1…Launch
You've made it! It's time to launch your business. If you are literally shaking in your boots, you know you're a true business owner.
"This is probably the scariest part," said Theo. "You'll likely always feel like you aren't ready and need more time to make things perfect, however, launching the product and putting your name out there is important and a major feat."
This is when you start selling your product to customers, fine-tuning your sales pitch, and executing your go-to-market strategy.
Next Steps
Of course, your work doesn't stop here. In fact, it's just getting started! The Small Business Association estimates that only 51% of businesses last past five years. To not become one of these statistics, it's best to research business failure reasons so you can avoid meeting that fate.
Now hop on that horse and head out, full speed ahead! Just remember us when you're a big, bad, successful business owner.
TrustedChoice.com Article | Reviewed by Theo Lee
©2022, Consumer Agent Portal, LLC. All rights reserved.
https://nypost.com/2018/01/17/most-americans-dream-of-being-their-own-boss/
https://smallbusiness.chron.com/information-small-business-startups-2491.html
https://www.inc.com/leigh-buchanan/us-entrepreneurship-reaches-record-highs.html
https://articles.bplans.com/business-ideas/create-hundred-of-business-ideas/