Affirmative Insurance Company Review
Affirmative Insurance Company At a Glance:
Founded in 1998
Only offered in 13 states
"A+" (excellent) rating by Better Business Bureau (BBB)
Not rated by AM Best
Offers personal auto insurance
Specializes in non-standard policies
Network of independent insurance agents
Low down payments
24/7 online claims reporting
Affirmative Insurance Pros: Works with independent insurance agents. Offers claims reporting 24/7 through its official website. Offers low down payments on new policies. A+ (highest available) rating through the BBB. Offers a few discounts for auto insurance customers.
Affirmative Insurance Cons: Not rated by AM Best. Not rated by J.D. Power. Filed for Chapter 11 bankruptcy in recent years. Website is poor at best. No social media presence. Concerning volume of "1 star" customer reviews and many customer complaints. Coverage not offered nationwide. No official claims process listed on website.
What Type of Insurance Does Affirmative Insurance Offer?
Affirmative Insurance specializes in personal auto coverage. The carrier only writes non-standard car insurance, so many of their policies just cover the liability aspect. Affirmative Insurance's policies are also said to only meet each respective state's legal minimums for coverage. Their coverage includes:
Non-standard personal auto insurance
Bodily injury and property damage liability coverage
Personal injury and/or medical payments coverage
Third-party non-standard auto coverage
Motorcycle and recreational vehicle coverage
For prospective insurance customers in the market for affordable personal auto coverage that just offers enough to get the job done legally in their state, Affirmative Insurance may be a decent option.
Using our insurance company directory can help you find the best insurance companies that specialize in your specific coverage needs. The company directory can also help you get connected to an agent near you.
What to Know about Affirmative Insurance
Affirmative Insurance was founded in 1998 as Instant Insurance Holdings, Inc. Five years later, the carrier acquired a couple of non-standard insurance companies and changed their name to Affirmative Insurance.
The carrier filed for Chapter 11 bankruptcy in 2015, but their liquidation was discharged three years later, so they are alive to this day. Affirmative Insurance only offers coverage in 13 states, mainly in the South and Midwest including its home state of Texas, as well as Missouri, Illinois, Indiana, and California, among others. Affirmative Insurance has a total staff size of about 1,200.
Without a rating from AM Best, the leading global credit rating agency monitoring the insurance industry, unfortunately it's difficult to gather insight into the carrier's current financial strength and stability. High ratings from AM Best help customers to choose reputable insurance companies with a positive outlook for the future. Though ratings from AM Best are voluntary and not a standard, coverage is often recommended to prospective customers based on the agency's reports on specific carriers.
Having recovered from bankruptcy in recent years and lacking an official financial rating by AM Best, customers may rightfully be hesitant to trust Affirmative Insurance with their business. The carrier is also just over 20 years old, making them one of the relatively younger insurance companies on the market today.
What Discounts Does Affirmative Insurance Offer?
Affirmative Insurance offers a few select discounts for their auto insurance customers. These discounts include: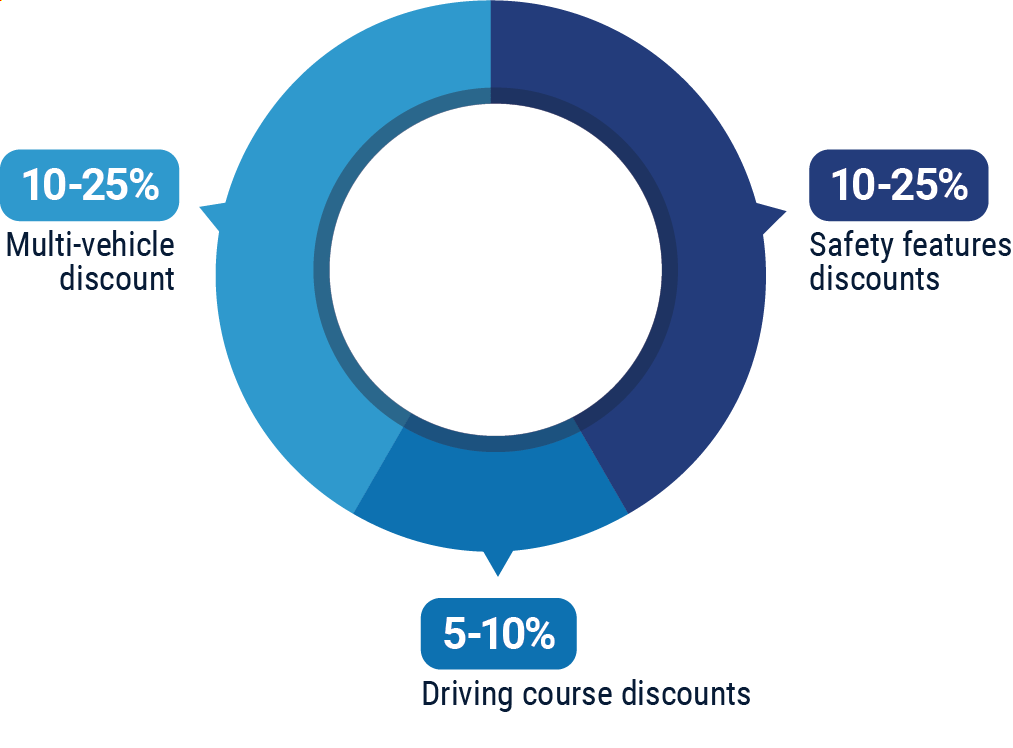 Safety features discounts: Offered to customers who have safety features installed in their vehicles, such as anti-theft devices.
Driving course discounts: Offered to customers who have completed a qualifying defensive driving course.
Multi-vehicle discount: Offered to customers who insure two or more vehicles under one policy.
An independent insurance agent can help you find even more discounts available through Affirmative Insurance, helping you get the most bang for your buck out of your coverage.
Affirmative Insurance Customer Service
Affirmative Insurance allows customers to handle claims through their website 24/7. Other customer service options, such as bill payments, are available through the official website as well.
Policyholders can check the status of their claims online at any time.
Affirmative Insurance's line for customer service has the following hours restrictions:
| | | | |
| --- | --- | --- | --- |
| | | Hours (CST) | |
| | | Monday-Friday | 7:30 am - 6:00 pm |
Affirmative Insurance sells coverage primarily through independent insurance agents. Independent insurance agents are also available to handle claims and insurance concerns for you, making customer service even easier.
Find The Right Company Today.
Shopping for a company? We have the right one for you.
Affirmative Insurance FAQ
What is Affirmative Insurance's average claim response time frame?
Affirmative Insurance's claims reporting hotline is available for customers in need via a toll-free phone number. Customers can also submit claims and file appropriate reports online through the website at any time. Unfortunately, the carrier does not make any official promises for a specific claims response time frame anywhere on their website. Further, many customer reviews have stated that the carrier is disturbingly unresponsive to claims that have been filed, which results in the customer having to contact the carrier multiple times in order to escalate the process. Customers have also expressed frustration and disappointment that no claims adjusters were scheduled to inspect the damage reported in their claim.
What is Affirmative Insurance's customer service availability?
Affirmative Insurance offers a toll-free phone line for prospective and current customers to get in touch with them at slightly restricted hours, Monday through Friday. However, claims can be reported online 24/7. The carrier does not have a live chat option or a social media presence, which limits customer service availability greatly.
What is Affirmative Insurance's claims process?
Customers have the option to report claims over the phone or through Affirmative Insurance's website. Customers are also able to check the status of their claim through the website.
Unfortunately, the carrier's official website has virtually no description of their claims process. The only information given about filing claims is written as follows:
"After an accident or loss, call our claims hotline to report it.
(800) 877-0226"
The lack of an official claims process outlined on the carrier's website is yet another factor which could potentially deter prospective insurance customers.
Does Affirmative Insurance create a user-friendly experience for customers?
Much like their insurance products offered, Affirmative Insurance's website is pretty bare bones. While customers can request quotes and be matched with an independent insurance agent online, the carrier's official website is sorely lacking when it comes to information about the company, the products it offers, its claims process, and more. The carrier does not even list the specific coverage types available on its website. The carrier also lacks a social media presence almost entirely, except for a page on LinkedIn, which is mostly bare. Unfortunately, Affirmative Insurance does not do much in the way of creating a user-friendly experience for prospective customers or existing policyholders.
Affirmative Insurance Customer Reviews
Expert Insurance Reviews

"Non-standard insurance is a difficult market and it can be hard to find good coverage for a good price, but there are better choices out there. There is little information on policies or rates, the company is just out of bankruptcy, and their reputation does not look good. Before choosing this company, be sure to really compare your options with and look at other companies offering similar services."
Yelp

"Wish I could give this insurance company zero stars. One of their insured backed into our parked car. Affirmative Insurance wouldn't answer their phones and when they finally did, they informed us that they weren't even sure their insured was covered by them. When we told them we had a copy of his insurance card, they said they couldn't verify it because their systems were down. The insured insisted that he had paid his premium and was covered. Absolutely one of the worst companies I have ever dealt with. We called the Texas Insurance Board and they said they had not received many complaints about them. Must be because people don't know they can establish a claim or they would be inundated. We finally gave up and filed it on our insurance, which means we have to pay our deductible. Texas Insurance Board should not allow them to do business in Texas."
Yelp

"Got rear ended by a driver insured by Affirmative and it is impossible to get anyone to answer the phone. They leave you on hold until you run out of patience. Worst insurance company ever!! They try to get out of paying your claim by completely ignoring you!!!"
Yelp

"Same as all of the others. Their insured person hit me, they will only pay for after-market parts....it took 2 months to get it approved, and then they still would not return calls to me or the body shop. I ended up with no car, (because the rental expired while they didn't return calls) for a week. I would be ashamed to work for an organization like this that has no morals, and has no concern for the havoc they wreak in people's lives."
Yelp

"Do not use this insurance company. They are so difficult and rude to work with. Filed a claim a month ago and it is still not resolved. Now they are threatening to charge us storage charges for the car when it is their fault for not processing the claim in a timely manner. They wanted to mend our car with a bent frame and we said no. I have filed a claim with the Insurance Commissioner of the State of California."
TrustedChoice.com's Final Review

We award Affirmative Insurance a final rating of 1.5 out of 5 stars. Affirmative Insurance offers bare-bones coverage for customers who just want to meet minimum state requirements at affordable rates, but there's not much else that can be said to their credit. Many customer reviews include reports of feeling ignored and dismissed by their insurance provider, which very much works against the carrier's reputation. The carrier is also not rated by AM Best and has recently come out of bankruptcy, so their financial stability and future outlook is cloudy at best. Further, Affirmative Insurance's official website is one of the least intuitive carrier websites around, and fails to offer even some of the most basic, but essential information such as insurance products offered and claims processes. We highly recommend surveying other options before entrusting Affirmative Insurance as your carrier.
©2023, Consumer Agent Portal, LLC. All rights reserved.