Alfa Insurance Company Review
Alfa Insurance at a Glance
Founded in 1946
Only offered in 11 states
"A+" (excellent) rating by Better Business Bureau (BBB)
"A" (excellent) rating by AM Best
Offers multiple types of insurances
Network of independent insurance agents
Multiple discounts available
Flexible billing options
Strong financial stability
24/7 claims reporting
Alfa Insurance Pros: This is a long-standing company with nearly 75 years worth of experience in the insurance industry. It provides a variety of coverage options, including auto insurance, life insurance, home insurance, farm insurance, and more and provides a user-friendly website. Alfa offers 24/7 claims reporting. It has the highest rating available from the BBB. It offers flexible billing options and 24/7 bill pay via phone and offers multiple discounts for several types of coverage.
Alfa Insurance Cons: It is not BBB accredited. There are a concerning high volume of customer complaints across several review websites. It only offers coverage in 11 states and fewer discounts and rewards available to loyal customers than from comparable carriers. Customers report frustration with having claims settled and long response times. No official claims response time frame promise are listed on the carrier's website.
What Type of Insurance Does Alfa Insurance Offer?
Alfa Insurance caters to both individuals and businesses and offers several types of coverage including:
Auto insurance
Life insurance (term, permanent, flexible, and annuities)
Farm insurance
Business insurance
Health insurance
Dental insurance
Church insurance
Personal umbrella insurance
Watercraft insurance
For both businesses and individuals, Alfa Insurance offers a range of coverage options. Whether you're in the market for life insurance, health insurance, umbrella insurance, or a combination, Alfa Insurance may just be the right choice for you.
Using our insurance company directory can help you find the best insurance companies that specialize in your specific coverage needs. The company directory can also help you get connected to an agent near you.
What to Know about Alfa Insurance
Alfa Insurance was founded in 1946, making it a well-established carrier with several decades' worth of experience in offering quality insurance policies and service to businesses and individuals alike. Though they currently only offer coverage in 11 states, Alfa Insurance states that it currently provides insurance and financial services to more than one million customers across the country.
Alfa Insurance's long-standing history has helped it to earn a reputation as a notably stable company. Additionally, AM Best reports that the carrier belongs to the $1 billion or greater financial size category.
Alfa Insurance's amount of in-force insurance aids the carrier's reputation as a financially stable insurance provider with a strong outlook for the future. AM Best, the leading global credit rating agency monitoring the insurance industry, gives Alfa Insurance an "A" rating, indicating the carrier is a respectable choice for insurance customers. The "A" rating assures prospective customers that Alfa Insurance is capable of offering guaranteed, secure coverage from a trustworthy and reputable carrier.
Established in 1899, AM Best is one of the oldest rating companies in the world. Reviews from AM Best indicate an insurance company's financial strength and creditworthiness, and are based on comprehensive evaluations of the company's operating performance, business profile, and balance sheet. For customers who aren't as familiar with insurance companies' respective reputations, AM Best's ratings system allows them to make an informed decision about who they can trust to meet their needs in the short term, and who remains a strong, financially sound company in the long term.
What Discounts Does Alfa Insurance Offer?
Alfa Insurance offers a handful of competitive discount programs for their customers, most notably for auto insurance. These discounts include: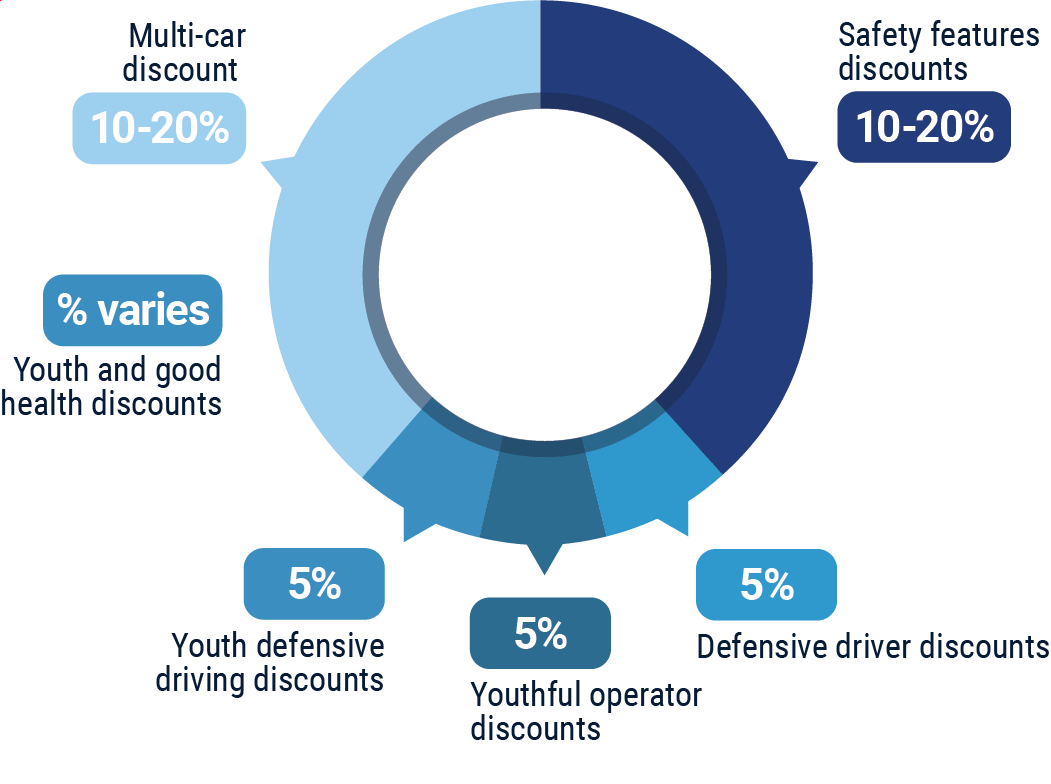 Safety features discounts: These are offered to customers who have safety features installed in their vehicles, such as air bags and anti-theft devices.
Defensive driver discounts: These are offered to customers who have completed a qualifying defensive driving course.
Youthful operator discounts: These are offered to unmarried drivers (ages 16-24) who earn a good grade average.
Youth defensive driving discount: This is offered to customers between the ages of 16-20 who pass the Youth Defensive Driver Test.
Multi-car discount: This is offered to customers who insure two or more vehicles under one policy.
Alfa Insurance also offers bundling discounts for combining more than one type of coverage through them. For example, if you combine your auto and home coverage, you may receive up to a 12% discount on your premium. An independent insurance agent can help you find even more discounts available through Alfa Insurance, helping you get the most bang for your buck out of your coverage.
Alfa Insurance Customer Service
Alfa Insurance allows customers to handle claims over the phone or through their website, 24/7. Many other customer service options are available through the official website as well.
Live chat option available for customer service needs.
24/7 bill payment phone number provided.
Alfa Insurance states that they can also be reached via mail or email.
Alfa Insurance's line for customer service has the following hours restrictions:
| | | | |
| --- | --- | --- | --- |
| | | Hours (CST) | |
| | | Monday-Friday | 6 am - 10 pm |
| | | Saturday | 6 am - 10 pm |
Alfa Insurance sells coverage primarily through independent insurance agents. Independent insurance agents are also available to handle claims and insurance concerns for you, making customer service even easier.
Find The Right Company Today.
Shopping for a company? We have the right one for you.
Alfa Insurance FAQ
What is Alfa Insurance's average claim response time frame?
Alfa Insurance's claims reporting hotline is available for customers in need via a toll-free phone number. Customers can also submit claims and file appropriate reports online through the website, or via mail. Though the carrier does not make an official claims response time frame promise on their website, they promise to respond "promptly."
The official website states the following: "The length of time it takes to settle a claim varies according to the severity of the loss and the number of losses Alfa receives. Every effort will be made to inspect your loss as soon as possible and to resolve the claim within a reasonable time frame."
What is Alfa Insurance's customer service availability?
Alfa Insurance offers a toll-free phone line for prospective and current customers to get in touch with them at slightly restricted hours, Monday-Saturday. However, the carrier's claims reporting department can be reached 24/7.
What is Alfa Insurance's claims process?
Customers have the option to report claims over the phone or through Alfa Insurance's website. The following information is available through the official website on claims processing in regards to auto insurance:
"a. Submit your claim
After an accident or loss, report your claim immediately to Alfa®. You may report this to any Alfa office, online at https://www.alfainsurance.com/claims/report-a-claim or call 1-800-964-2532, option 2. It is imperative Alfa receives your claim information within a timely manner after the accident or loss. Be prepared to provide the following information:
Your policy number
The date, time, location and nature of your loss
The make and model of your vehicle
A description of the damage to your vehicle
Names, contact information and insurance information of those involved, including witnesses
Your contact information: work, home, cell phone numbers and e-mail address
b. Adjuster assignment
When we receive your claim, an Alfa adjuster will be assigned to you. They will investigate the damage, coverage, and cause of your loss. Your adjuster will contact you promptly for additional information, inspect your vehicle, and explain the claims process.
c. Vehicle damage inspection
To determine if your vehicle can be repaired or if it's a total loss your adjuster will need to inspect it. Alfa utilizes a Direct Repair Program (DRP) of Preferred Body Shops which allows you a "one stop" repair facility that we know will give you the fastest repair time, best quality, and the customer service you expect. Or if the shop of your choice is not in our network, please provide your Alfa adjuster with the name, address and contact information of the shop completing the repairs. The adjuster may request a competitive estimate from a second shop."
Does Alfa Insurance create a user-friendly experience for customers?
Thanks to Alfa Insurance's website and phone options, customers can file claims and pay their bill at any time, 24/7. The carrier's website is also extremely intuitive and easy to browse, making them all the more appealing to prospective customers, and more accessible to current customers. The carrier also has a presence on social media, including Facebook and Twitter, and a smartphone app for mobile users. Basically, Alfa Insurance makes itself highly accessible to current and prospective customers alike.
Alfa Insurance Customer Reviews
Clearsurance

"We have been with ALFA Insurance since 2007 and have carried Auto, Homeowners, and Life Insurance with them over the years and they have always been supportive and the most competitive rate when compared to other insurance providers."
Consumer Affairs

"We have had Alfa since 1975. They have always been fair, tried to meet our needs for our cars, never treated us bad and have paid us every time on a claim. When we bought the insurance we went in and told the agent what we wanted and what we expected. The agent was always friendly and wanting to work with us. He told us what was available and suggested things that we should include that we did not think of."
WalletHub

"I only had this insurance for 3 days but that was long enough for me to realize what a terrible company they were. When tried to cancel my policy over the phone I was told I had to write it down on paper policy number and my signature which they never seen before in the first place. After having to harass the company half a day by email to get anything accomplished they finally cancelled my account."
Consumer Affairs

"Very affordable with low down payments. When you call the customer service reps always seem happy to answer your calls and help with any questions. If you forget to send in payment they email and call to remind you of payment."
Consumer Affairs

"My overall experience with Alfa has been positive. For example, I wasn't aware the company had transitioned to an outside provider for towing services. I experienced mechanical failure and paid for 2 tows. Afterwards, when I submitted my receipts for payment the company still honored the receipts and reimbursed me for my expenses. Also, I like the fairness and availability of my agent's office."
TrustedChoice.com's Final Review

We award Alfa Insurance a final rating of 3.5 out of 5 stars. Alfa Insurance offers a wide variety of coverages, making them appealing for many types of insurance customers. The carrier's long-standing status, as well as impressive financial strength, clearly demonstrates Alfa Insurance's reputability and staying power. However, a concerning number of customer complaints about the carrier's claims processing proves that Alfa Insurance still has plenty of room to grow. The fact that Alfa Insurance is not accredited through the BBB is also a concern. That being said, the fact that the carrier works with independent insurance agents helps make them more accessible to loyal and prospective customers, as does the carrier's official website, social media presence, and mobile app.
©2023, Consumer Agent Portal, LLC. All rights reserved.
alfainsurance.com
bbb.org
ambest.com
https://wallethub.com/profile/ci/alfa-insurance-13012530i
https://www.consumeraffairs.com/insurance/alfa_auto.html?#sort=recent&filter=4
https://clearsurance.com/insurance-reviews/alfa-insurance-5835ece073b103329e91ab75