Allianz Insurance Company Reviews 2023
Allianz Insurance Company At a Glance:
Founded in 1896
"A+" (excellent) rating by Better Business Bureau (BBB)
"A+" (superior) rating by AM Best
Strong financial stability
Offers multiple forms of insurance
Offers insurance to individuals and businesses
Company has restructured within recent years
Network of independent insurance agents
World's largest insurance company
Offers affordable rates
Allianz Pros: The largest insurance company in the world. Rich history and strong financial stability. Highest ratings available from both the BBB and AM Best. Works with independent insurance agents. Offers multiple forms of insurance, including property and casualty insurance, life insurance, health insurance, and more. Offers flexible billing options for life insurance. Also offers annuities.
Allianz Cons: Carrier has multiple websites for its various forms of insurance products, which can be confusing to navigate. More information about discounts and claims processes could be included on websites.
What Type of Insurance Does Allianz Offer?
Allianz offers several types of coverages which cater to both individuals and businesses. Their coverages include:
Travel insurance
Life insurance (term and permanent)
Health insurance (private and supplemental)
Property and casualty insurance
Long-term care insurance
Business insurance
Whether you're an individual or business on the market for travel insurance, life insurance, or any of the other forms of coverage listed above, Allianz may just be the right carrier for your needs.
What to Know about Allianz
Allianz was first founded in Berlin in 1890, and first expanded its services to the United States in 1896. Today, Allianz claims to be the world's leading global financial services company, with a presence in 70 different countries. The company's workforce is 147,000 employees strong. Allianz has more than 100 million customers worldwide today.
Allianz has an estimated current market capital of $77.1 billion. The carrier's rich history and massive size on a global scale, combined with its amount of in-force insurance, aids its reputation as a highly financially stable insurance provider with a strong outlook for the future. AM Best, the leading global credit rating agency monitoring the insurance industry, gives Allianz an "A+" rating — the highest available — indicating the carrier is a superior choice for insurance customers. The "A+" rating assures prospective customers that Allianz is capable of offering guaranteed, secure coverage from a trustworthy and reputable carrier.
Established in 1899, AM Best is one of the oldest rating companies in the world. Reviews from AM Best indicate an insurance company's financial strength and creditworthiness, and are based on comprehensive evaluations of the company's operating performance, business profile, and balance sheet. For customers who aren't as familiar with insurance companies' respective reputations, AM Best's ratings system allows them to make an informed decision about who they can trust to meet their needs in the short term, and who will remain a strong, financially sound company in the long term.
What Discounts Does Allianz Offer?
Allianz offers a few notable discounts across the spectrum of their offered products. These discounts include: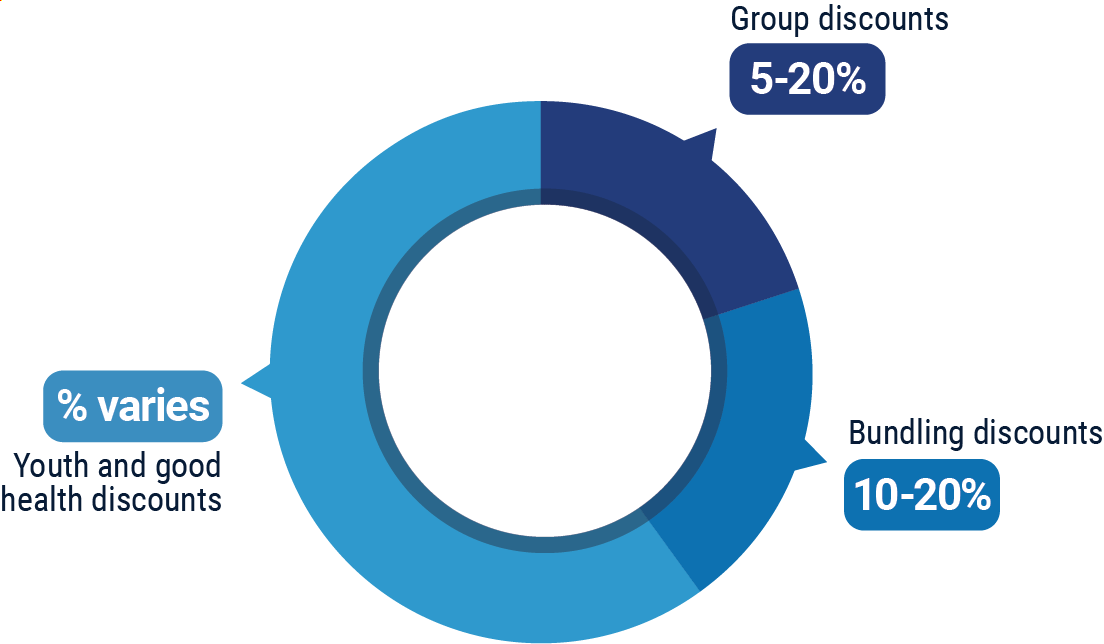 Group discounts: Offered to customers who purchase coverage in the form of a group plan, which often means businesses/employers.
Youth and good health discounts: Offered to customers who purchase life insurance while they are younger and/or are in good health.
Bundling discounts: Offered to customers who purchase multiple forms of coverage through the same carrier, such as life insurance and health insurance.
An independent insurance agent can help you find even more discounts available through Allianz, helping you get the most bang for your buck out of your coverage.
Allianz Customer Service
Allianz allows customers to handle claims through their website 24/7. Other customer service options, such as viewing policy documents, are available through the official website as well.
Policyholders can check the status of their claims online at any time.
Allianz's line for customer service has the following hours restrictions:
| | | | |
| --- | --- | --- | --- |
| | | Hours (CT) | |
| | | Monday-Friday | 8:00 am - 5:00 pm |
Allianz sells coverage through a vast network of brokers, including independent insurance agents. Independent insurance agents are also available to handle claims and insurance concerns for you, making customer service even easier.
Find The Right Company Today.
Shopping for a company? We have the right one for you.
Allianz FAQ
What is Allianz's average claim response time frame?
Allianz's claims reporting hotline is available for customers in need via a toll-free phone number at restricted hours. Customers can also submit claims and file appropriate reports online through the website at any time.
Allianz's official website makes the following promise in regards to its claim processing time frame:
"Upon receipt of the required documents, we will process your claim within 10 business days or within the applicable state requirements."
What is Allianz's customer service availability?
Allianz offers a toll-free phone line for prospective and current customers to get in touch with them at slightly restricted hours, Monday through Friday. However, claims can be reported online 24/7. The carrier can also be reached by customers through social media via its Facebook, Twitter, or LinkedIn pages. However, the carrier does not have a live chat option, which limits customer service availability slightly.
What is Allianz's claims process?
Customers have the option to report claims over the phone, by mail, or through Allianz's website. The official website outlines the claims process as follows:
"Step One: Get started.
Begin the process by filling out a few questions about the annuity contract owner or life insurance policy owner or by calling one of our representatives.
Step Two: Return claim form packet to Allianz.
After you contact us, the designated primary beneficiary will be mailed our claim form packet. The packet includes contract-specific information that must be completed and returned to us.
Step Three: Processing.
Upon receipt, the Allianz Claims department will evaluate your claim within 10 business days. We will contact the beneficiary for additional information if needed."
Customers are also able to check the status of their claim through the carrier's website.
Does Allianz create a user-friendly experience for customers?
Allianz has multiple websites, including its life insurance website, travel insurance website, and general company website. This can make navigation a bit more complex and time-consuming for prospective customers who are looking into purchasing multiple types of insurance from the same carrier. That being said, their respective websites are fairly intuitive, informative, and easy to browse, though some customers noted frustration while doing so. Allianz also has a social media presence across multiple platforms and offers mobile apps for smartphone users. Overall, Allianz creates a mostly user-friendly experience for customers.
Allianz Customer Reviews
Better Business Bureau

"I have insured my overseas travels in the past 5 years with Allianz and filed 3 claims. This company is really exceptional! They processed and paid all my claims within 48 hours, without any diversions and delays we use to get from conventional insurance companies. I will use them again in the future without hesitation, (should their low premium rates remain affordable)."
Trustpilot

"I was very happy with the outcome and wasn't too hard to get together all the paperwork needed."
Consumer Affairs

"We were going to Barbados for a much-needed vacation when we had to cancel because of the Coronavirus. My claim was processed on time and I had no problem getting a refund. We liked how we could get everything done on the internet. Allianz is very efficient."
WalletHub

"I have paid for insurance coverage from Allianz for many years. I am happy to say for more than a decade I did not need any help, but I suddenly had a big problem and this is when you really can determine how good your insurance is and how good the company is that stands behind it. The customer service people at Allianz where extremely polite and they connected me with a claims person who immediately helped me. I was very impressed and happy that I chose Allianz for my business insurance."
Consumer Affairs

"I would like to thank the Allianz Global Assistance for prompt response in solving my issues at the time of my travel during a crazy Coronavirus. The representatives were pleasant, courteous, and knowledgeable. They are the best travel insurance you could ask for. They were extremely efficient in processing my claim and they were pleasant and caring when I had any questions or concerns. I have used them for the past 10 years and I have been extremely happy with their services. I strongly recommend them to all travelers."
TrustedChoice.com's Final Review

We award Allianz a final rating of 4.5 out of 5 stars. Allianz offers a variety of coverages, which makes them appealing for many types of insurance customers. The carrier's extremely rich history and massive size and financial strength clearly demonstrates Allianz's reputability as a trustworthy insurance company with commendable staying power. However, customers complain that the carrier's websites are difficult to navigate, which can lead to confusion and frustration when trying to file claims or look up other pertinent information to their policies. Allianz's official websites are also sorely lacking when it comes to information about discounts and pricing. However, the fact that the carrier works with independent insurance agents also helps make them more accessible to loyal and prospective customers, as does the carrier's social media presence and mobile app. All in all, we rate Allianz as one of our top picks for your insurance needs.
©2023, Consumer Agent Portal, LLC. All rights reserved.
allianz.com
allianztravelinsurance.com
allianzusa.com
ambest.com
https://www.bbb.org/us/va/henrico/profile/insurance-companies/allianz-global-assistance-0603-4001660/customer-reviews
https://wallethub.com/profile/hi/allianz-insurance-13012565i?product=Business
https://www.consumeraffairs.com/travel/access_america.html
https://www.trustpilot.com/review/www.allianztravelinsurance.com?utm_medium=trustbox&utm_source=MiniCarousel&languages=en&stars=4