Boston Mutual Insurance Company Review
Boston Mutual Insurance at a Glance
Founded in 1891
Specializes in life insurance
Several coverage options available
Offers coverage to individuals and employees
Group policies available
"A" (excellent) rating by A.M. Best
"A+" (excellent) rating by Better Business Bureau
Strong financial stability
Coverage requiring no medical exam available
Coverage offered in every state
Offers simple coverage applications
Boston Mutual Pros: Carrier has been around for more than 125 years. High ratings through both A.M. Best and the Better Business Bureau (BBB). Offers term and permanent life insurance options. Offers life insurance options for children. Offers no medical exam policy options. Coverage offered in all 50 states and Puerto Rico. Coverage available to individuals, groups, and employees. Financially sound carrier.
Boston Mutual Cons: Not a BBB accredited business. Concerning number of customer complaints across multiple review sites. Official website is lacking in important information such as claims processes and response time frames. Online claims reporting not available. Does not offer 24/7 claims reporting.
What Type of Insurance Does Boston Mutual Offer?
Boston Mutual specializes in life insurance, but there are several coverage options available, including:
Infinite (permanent) life insurance
Legacy (permanent) life insurance
Children's life insurance (for ages 15 days-25 years)
Term life insurance
Interest-sensitive life insurance
Group term life and accidental death & dismemberment insurance
For both employees and individuals, Boston Mutual offers several coverage options. If you're in the market for life insurance, Boston Mutual may just be the right match for you.
What to Know about Boston Mutual
Boston Mutual was founded in 1891, meaning the carrier has more than a century and a quarter of experience in offering quality insurance policies to employees, groups, and individuals. Having been around for well over 100 years, Boston Mutual's long-term status is certainly noteworthy in today's industry.
The carrier's extensive history and impressive size has aided its reputation as a remarkably stable company. Coverage is available nationwide, including in Puerto Rico. As of 2016, the carrier reportedly had more than $20 billion of coverage in force.
Boston Mutual's amount of in-force insurance and long-standing status further cements its reputation as a financially sound insurance carrier that's likely to be around for many more years to come. A.M. Best, the leading global credit rating agency monitoring the insurance industry, gives Boston Mutual an "A" rating, indicating the carrier is an excellent choice for insurance customers. The "A" rating assures customers that Boston Mutual is capable of offering guaranteed, secure coverage from a trustworthy and reputable carrier.
A.M. Best, one of the oldest rating companies in the world, was established in 1899. Reviews provided by A.M. Best detail an insurance carrier's creditworthiness and financial strength and stability. These reviews are based on extensive evaluations of a carrier's business profile, operating performance, and more. A.M. Best allows prospective insurance customers to make informed decisions about which carrier can be trusted to meet their coverage needs in the short term, as well as remain a financially sound company in the long term.
What Discounts Does Boston Mutual Offer?
While Boston Mutual does not readily provide information about their specific discounts to prospective customers via their official website or direct inquiries, there are several common discounts offered on life insurance by many modern carriers. These discounts include: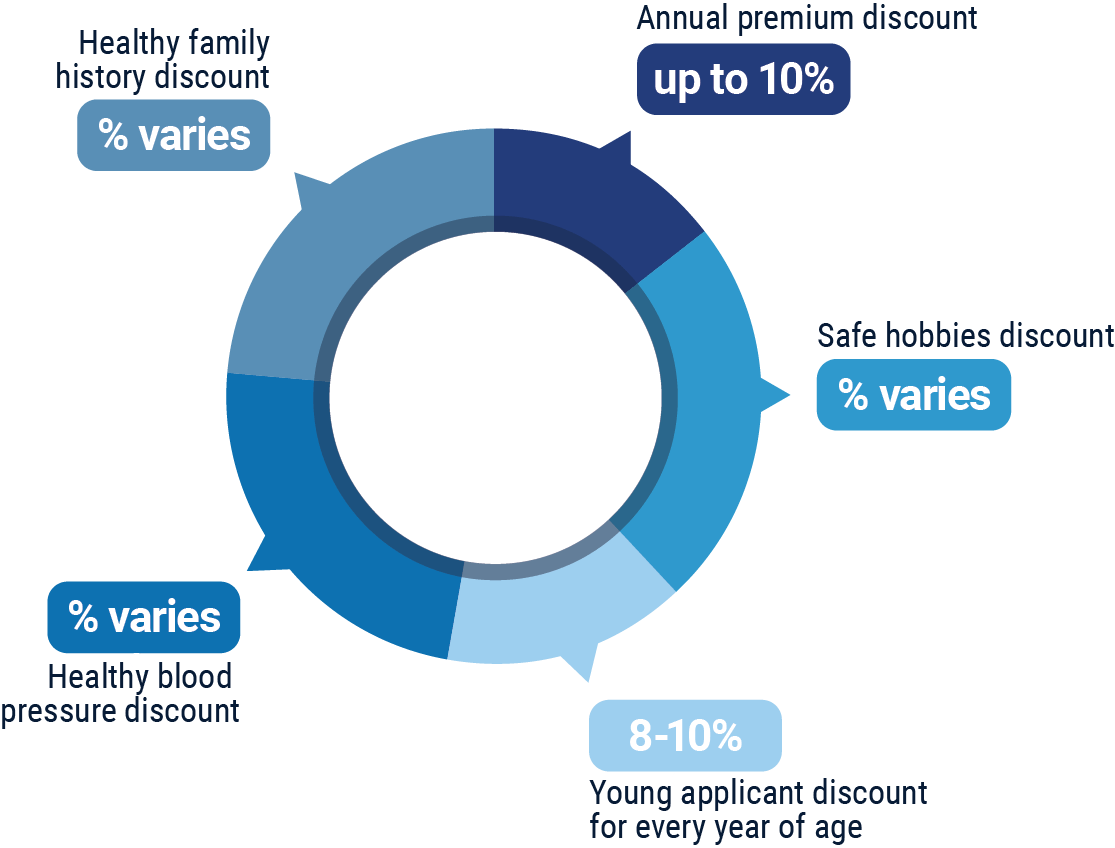 Annual premium discount: Insurance companies often award discounts to customers who pay their premiums annually instead of monthly.
Safe hobbies discount: Life insurance companies often award customers who practice safe, non-life threatening hobbies (e.g., no skydiving) with cheaper premiums.
Young applicant discount: When signing up for life insurance, considerable discounts are often awarded to applicants who purchase coverage when they are younger, such as in their 20s or 30s.
Healthy blood pressure discount: Insurance companies tend to award premium discounts to applicants with proven healthy blood pressure.
Healthy family history discount: Insurance companies also reward applicants with healthy genetics, or a good family health history.
An independent insurance agent can help you find specific discounts and quotes for more exact premium rates available through Boston Mutual, helping you get the most bang for your buck out of your coverage.
Boston Mutual Customer Service
Boston Mutual allows customers to handle claims over the phone or via regular mail. Additionally, the carrier provides the following customer service options:
Claims reporting hotline during restricted hours, Monday-Friday.
Additional option to file claims via fax.
Main hotline for customer service has the following hour restrictions:
| | | | |
| --- | --- | --- | --- |
| | | Hours (ET) | |
| | | Monday-Friday | 8:00 am - 5:00 pm |
While Boston Mutual provides direct contact options, the easiest way to get set up with the right coverage for you is through working with an independent insurance agent. These agents also help handle claims and insurance concerns for you, which makes customer service much easier.
Find The Right Company Today.
Shopping for a company? We have the right one for you.
Boston Mutual FAQ
What is Boston Mutual's average claims response time frame?
Boston Mutual accepts claims via snail mail, fax, or over the phone. However, the carrier's official website does not make note of any specific claims response time frame promise. The carrier also does not provide a FAQ like most modern insurance carriers do, so there is not much further information available to customers regarding their claims process other than how to file.
What is Boston Mutual's customer service availability?
Boston Mutual offers a phone line for prospective and current customers to get in touch with them during restricted hours, Monday-Friday. Claims reporting and customer service hours restrictions are the same. The carrier does not offer any 24/7 contact options for customers.
What is Boston Mutual's claims process?
The only information provided by Boston Mutual on their claims process is how to file a claim. The carrier accepts claims via snail mail, over the phone, or via fax. Customers do have the option to download appropriate claims forms via the website. The carrier does not detail the information customers need to have prepared before filing their claim, something many modern carriers include on their websites.
Does Boston Mutual create a user-friendly experience for customers?
While Boston Mutual's website is fairly easy and intuitive to navigate, it is sorely lacking in terms of helpful information for both prospective and current customers alike. Customers do not have the option to file claims online, nor is there much information provided about the carrier's claims process or response time frame at all. However, the carrier's website does allow prospective customers to find representatives in their state so they can get set up with coverage easily. The carrier does have a social media presence on Facebook, and their page states that they typically respond to inquiries within a few hours. While the carrier also has a Twitter page, it does not appear to be active. The carrier does not appear to offer a smartphone app at this time.
Boston Mutual Customer Reviews
Better Business Bureau

"This company refused to pay out on a claim due to an error on their client's part, costing my family a lot of money at a very difficult time! No compassion or understanding, refused to communicate and refused to help!"
Glassdoor

"Pros: They have great people and care about their mission. Cons: Their technology is really antiquated."
Indeed

"Technology is poor. The company needs to invest more into updating technology. Family-oriented and follow their motto of 'family first no matter what.' The people are great."
Google

"This company is a scam!! Their policies are overpriced and give minimal coverage. When canceling policies you are still charged even after cancellation date and they refuse to refund your money. Do not be swindled by this company!"
Google

"I'm a funeral director and we received a check on a funeral assignment in 5 days from the time they received the claim packet. Simply amazing. Keep up the good work Boston Mutual."
TrustedChoice.com's Final Review

We award Boston Mutual a final rating of 3 out of 5 stars. The carrier's long-standing history, impressive financial stability, and amount of insurance in force certainly makes them a worthy contender within the insurance industry. Coverage is offered across the nation and policy options with no medical exams required are available, which makes Boston Mutual highly accessible to a wide range of customers. However, the carrier's website is not as thorough as many others in the industry today, and online claims reporting is not available, which makes Boston Mutual's process seem dated in comparison to others. A concerning number of complaints on the web is also worth noting for prospective life insurance customers. However, high ratings from both A.M. Best and the Better Business Bureau clearly demonstrate that Boston Mutual has been providing customers with quality coverage for quite some time.
Bottom line: While we wouldn't write off Boston Mutual as a good potential choice to meet your coverage needs, it would certainly benefit you to work closely with your independent insurance agent to survey all possible options first.
©2023, Consumer Agent Portal, LLC. All rights reserved.
bostonmutual.com
ambest.com
bbb.org
https://www.google.com/maps/place/Boston+Mutual+Life+Insurance+Company/@42.2047613,-71.1320511,17.79z/data=!4m7!3m6!1s0x89e481dbc9f901a9:0x2b192204977e114d!8m2!3d42.204199!4d-71.129367!9m1!1b1
https://www.indeed.com/cmp/Boston-Mutual-Life-Insurance-Company/reviews
https://www.glassdoor.com/Reviews/Boston-Mutual-Life-Insurance-Company-Reviews-E27092.htm
https://www.bbb.org/us/ma/canton/profile/insurance-companies/boston-mutual-life-insurance-company-0021-198/customer-reviews