Bunker Hill Insurance Company Review
Bunker Hill Insurance Company at a Glance
Founded in 1996
Part of Plymouth Rock Assurance
Coverage available in Massachusetts and Connecticut
Several types of coverage available
Offers both personal and commercial coverages
"A-" (excellent) rating through A.M. Best
"A+" (excellent) rating through the Better Business Bureau (BBB)
Numerous discounts available
Strong financial stability
24/7 claims reporting
Bunker Hill Pros: This company has nearly a quarter century's worth of experience within the insurance industry. It has high ratings through both A.M. Best and the BBB and strong financial stability. It offers several types of coverage including home insurance, renters insurance, auto insurance, umbrella insurance, and more. Offers a generous number of discounts. Offers 24/7 claims reporting.
Bunker Hill Cons: It is not BBB accredited and coverage is only available in two states. The carrier's website is not separate from its parent company's. The carrier does not have much of a social media presence and there is mixed customer feedback.
What Type of Insurance Does Bunker Hill Offer?
Bunker Hill is a specialty insurance company, with a focus on home and auto insurance. Their products include:
Auto insurance
Commercial auto insurance
Motorcycle insurance
Home insurance
Renters insurance
Condo insurance
Umbrella insurance
If you're in the market for any of these important coverages, Bunker Hill may just be the right insurance company for your needs.
What to Know about Bunker Hill
Bunker Hill Insurance Company was founded in 1996, giving the carrier just about a quarter of a century's worth of experience within the insurance industry today. Bunker Hill was founded with a mission to provide excellent home insurance coverage to residents in New England. Currently, their coverage is only available in the states of Connecticut and Massachusetts, but their parent company operates across several states in New England.
Bunker Hill is a part of The Plymouth Rock Group of Companies (aka Plymouth Rock Assurance), which was founded in 1982. Plymouth Rock Assurance offers home and auto insurance in several states thanks to a group of underwriting companies, including Bunker Hill. While Bunker Hill is a smaller insurance company, it currently has more than 50,000 policyholders. Plymouth Rock Assurance reports that all of its companies together have more than $1.3 billion of insurance in force today. A.M. Best places Bunker Hill in the $50 to $100 million financial size category.
Thanks to its well-established parent company, financial strength, and amount of insurance in force, Bunker Hill has developed its own reputation as being a dependable carrier with a strong outlook for the future. A.M. Best, the leading global credit rating agency monitoring the insurance industry, gives Bunker Hill an "A-" rating, indicating the carrier is an excellent choice for insurance customers. A high rating from A.M. Best assures customers that Bunker Hill is capable of offering guaranteed, secure coverage from a trustworthy carrier.
Established in 1899, A.M. Best is one of the oldest rating companies in the world. Reviews from A.M. Best indicate an insurance company's financial strength and creditworthiness, and are based on comprehensive evaluations of the company's operating performance, business profile, and balance sheet. For customers who aren't as familiar with insurance companies' respective reputations, A.M. Best's ratings system allows them to make an informed decision about who they can trust to meet their needs in the short term, and who will remain a strong, financially sound company in the long term.
What Discounts Does Bunker Hill Offer?
Bunker Hill offers a generous number of discounts, especially for their home insurance. These discounts include, but are not limited to: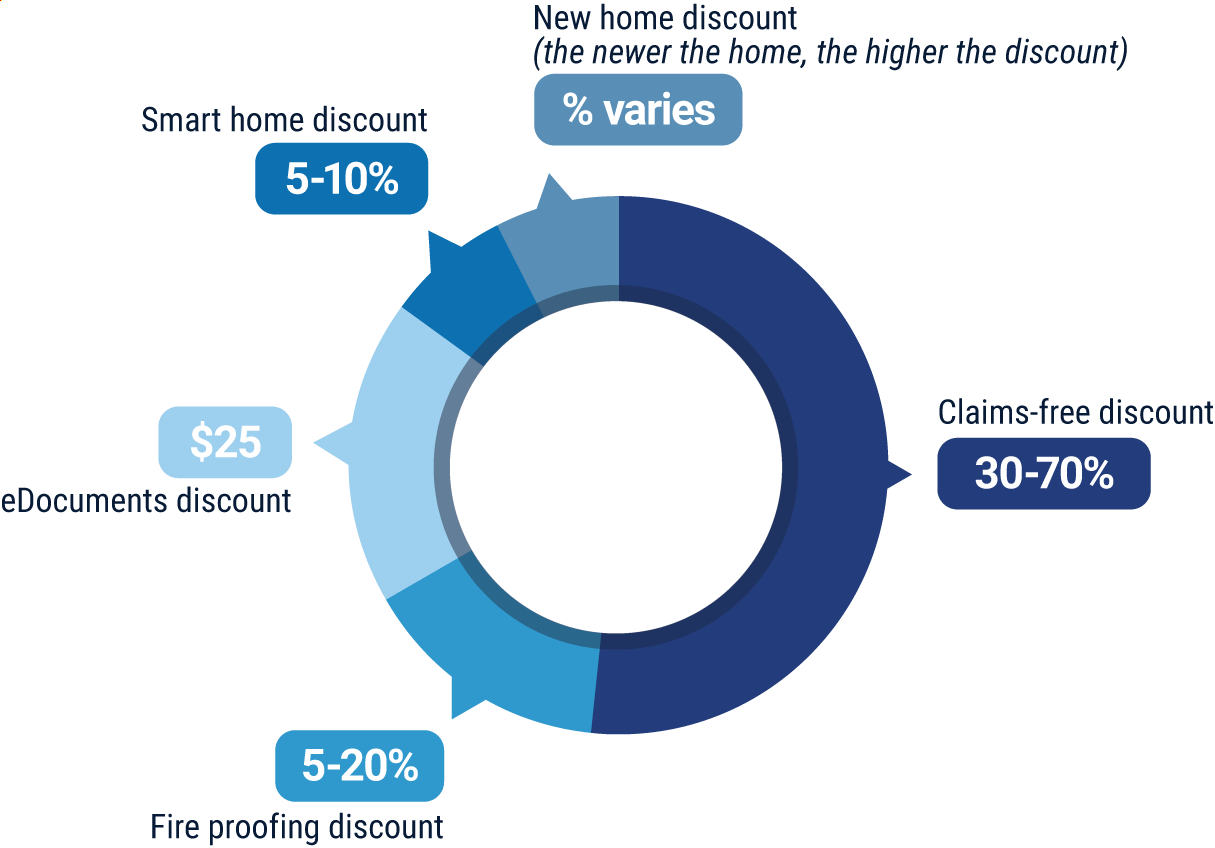 Claims-free discount: This is offered to home insurance policyholders who have gone at least five years without filing a claim.
Fireproofing discount: This is offered to home insurance policyholders who install sprinkler systems or other fire monitoring systems within their homes.
eDocuments discount: This is offered to home insurance policyholders who opt for digital bill pay rather than receiving paper statements.
Smart home discount: This is offered to home insurance policyholders who live in smart homes with Wi-Fi-ready devices set up to protect owners against fire and water damage and theft.
New home discount: This is offered to home insurance policyholders who purchase and insure newer homes. (The newer the home, the higher the discount.)
Your independent insurance agent can help you find even more discounts and ways to save on your premium through Bunker Hill, helping you to get the most bang for your buck on coverage.
Find The Right Company Today.
Shopping for a company? We have the right one for you.
Bunker Hill Customer Service
Bunker Hill provides separate contact options depending on coverage type and location of the insured. The carrier provides the following customer service options:
24/7 claims reporting hotline available in both states.
Online claims reporting also available.
Email contact options also available.
Customer service has the following hours restrictions:
| | | | |
| --- | --- | --- | --- |
| | | Hours (EST) | |
| | | Monday-Friday | 8 am - 5 pm |
For further customer assistance, reach out to an independent insurance agent. Independent insurance agents can help make customer service much easier for you by handling claims and other concerns.
Bunker Hill Insurance Company FAQ
What is Bunker Hill's average claim response time frame?
Bunker Hill provides 24/7 claims reporting via phone and through the official website. The carrier states that a personal claim representative will be assigned to contact the customer "by the next business day." For home insurance claims, the carrier states that a visit from an adjuster can usually be scheduled within two business days.
What is Bunker Hill's customer service availability?
Bunker Hill allows customers to file claims 24/7 online or over the phone. Their hotlines for other customer service inquiries are available at restricted hours, Monday-Friday. As far as social media, the carrier currently only has a presence on LinkedIn.
What is Bunker Hill's claims process?
Bunker Hill encourages customers to file claims ASAP via phone or online. The carrier's official website breaks down the home insurance claims process for customers as follows:
"After reporting your claim, we will provide you with your claim number and assign a personal claim representative to contact you by the next business day. Depending on the extent of damage, an adjuster may need to schedule an appointment to inspect your damages. The adjuster will generally be able to schedule an inspection within two business days.
Claim settlement
We'll pay to repair or replace your damaged property, subject to the terms and conditions of your policy. We aim to settle your claim as quickly as possible.
If your home is unlivable
Coverages vary, but most policies provide coverage for additional living expenses when your home is made uninhabitable due to a covered loss. Always save all receipts for any expenses after a loss and your claims representative will discuss your coverage with you.
Use of contractors
Plymouth Rock may provide emergency contractors for remediation when your own contractor is not available and emergency services are needed. Otherwise, we normally do not refer contractors to do the repairs. We would like you to choose a contractor with whom you feel comfortable. We will work with your chosen contractor to get an agreed price for the repairs.
Estimating damages
Our adjusters estimate damages based on acceptable construction repair methods and current repair costs in the area where your home is located. Depending on your coverage, we may initially pay the actual cash value (ACV) of an item. If you have replacement cost coverage on your policy, you can submit a claim for the depreciation within 180 days from the date of the loss. Your claims representative will go over this coverage with you.
ACV, holdback, and depreciation explained
Most claims are settled for actual cash value, which is the amount of the replacement cost minus depreciation. Depreciation may also be referred to as a holdback amount. If you have Replacement Cost Coverage, you are entitled to a refund of the depreciation/holdback once the repairs are completed. Your adjuster and claims representative will explain the process and send you a letter outlining what you need to do during the claims settlement process. Generally, your policy requires you to contact us within 180 days from the date of the loss to advise us if you are seeking recovery of your depreciation/holdback. We may require photos, receipts, or re-inspection of the property to confirm the work was completed according to our estimate. Upon confirmation that the repairs are completed, we will release your depreciation/holdback amount.
This is a general description of coverage and not a statement of your contract. Details of coverage or limits vary. All coverage are subject to the terms, provisions, exclusions and conditions in the policy itself and in any endorsements.
Tips to expedite the claims process
Report your claim as soon as possible
Protect your home and belongings from further damage (save all invoices and repair bills for any emergency service work)
Take photos of your damage
Preserve all evidence
Inventory the items you lost
Although not required, you can, of course, get an estimate of the repairs from a trusted contractor
If you had a theft loss, file a police report with a list of the stolen items
Damage after the settlement check
Due to the nature of some losses, supplemental damage can be expected. Accepting payment for the damages or agreeing to an estimate does not prevent you from any additional monies if more damage is discovered and covered under your policy.
If you experience damage after you have received your initial settlement, please contact your adjuster or claim representative immediately. It's always a good idea to take photos and contact us before you begin the additional repairs. It is also helpful to request a detailed or itemized estimate from your contractor to help Plymouth Rock determine what is owed for supplemental damage. We may need to revisit the property for a re-inspection."
Customers can call the carrier to check on the status of an existing claim, track the claim's status through the official website, or get in touch with their independent insurance agent.
Does Bunker Hill create a user-friendly experience for customers?
Bunker Hill Insurance Company uses the same official website as its parent company, Plymouth Rock Assurance, which can be a bit confusing to new or prospective customers. However, the website is fairly intuitive and easy to navigate, and finding important information is simple enough. The carrier lists their claims process and how to file in adequate detail for customers. The website also provides many customer service options that modern policyholders have come to expect, such as online claims filing and getting matched with an agent. Bunker Hill does not have much in the way of a social media presence, however, with only an active LinkedIn page at the present time. The insurance company could certainly stand to make more effort in connecting themselves to customers, both current and prospective.
Does Bunker Hill have good renters insurance?
Bunker Hill prides itself on its home insurance coverage, but also offers important protection for renters. The insurance company's renters coverage provides the following:
Personal property coverage: This covers personal belongings from losses like fire, theft, certain natural disasters, and more. Personal property is also covered on vacations and during other scenarios away from the home.
Personal liability coverage: This covers accidental property damage or bodily injury to a third party. Medical expenses for third party injuries in the event they harm themselves within the home are also covered in certain cases.
Loss of use coverage: This covers additional living expenses if the home is temporarily uninhabitable and undergoing repairs due to a covered peril.
Your independent insurance agent can help you find more information about Bunker Hill's renters insurance coverage, as well as their other available products.
Is Bunker Hill a good insurance company?
While their reach is highly limited to just two states, Bunker Hill is still considered to be a reputable insurance company. High ratings through both A.M. Best and the BBB prove that the carrier is financially sound and projected to stay that way for years to come. The carrier also has an impressive number of insurance in force for being a smaller company. It's clear that thousands of residents of New England have entrusted their insurance needs to Bunker Hill because they expect quality coverage.
Bunker Hill Insurance Company Customer Reviews
Yelp

"Fantastic company. Pinstripes Perks are such a neat option too. Never had an insurance company who was associated with the Yankees before! Coverage and price is wonderful as well, looking forward to being a long time customer!"
Yelp

"During recent inquiry, customer service was excellent and helped explain my questions completely. The representative was courteous and friendly during our full conversation. I am a very happy customer, and have been for years, of Plymouth Rock. I would recommend family/friends to join Plymouth Rock!"
Clearsurance

"The website is a bit clunky. Only certain credit cards can be used for payments. I also have an umbrella policy with them, and you can't pay the umbrella policy online. Price was the main factor in choosing them."
Clearsurance

"Helpful agent, beautiful. The sign up process is quick and the company itself seems to be pretty reliable."
Better Business Bureau

"We changed to a different insurance company in 2016. Bunker Hill Insurance Company was duly advised by our new carrier, and has been reminded since. Bunker Hill has since has sent us multiple invoices, the latest dated August 7, 2017. The invoice notes a previous balance and a late fee, which are obviously not owed. We are concerned this error may affect our credit rating. As they don't respond to normal reporting protocols, we are advising Bunker Hill via BBB."
TrustedChoice.com's Final Review

We award Bunker Hill Insurance Company a final rating of 3.5 out of 5 stars. The carrier is fairly new to the industry compared to many other carriers around today, but their parent company does have more experience under their belt. Bunker Hill does have impressive financial strength, with high ratings through both A.M. Best and the BBB, but is not currently accredited through the BBB, and has had a couple of complaints filed against it through the organization within recent years. Plymouth Rock Assurance does not separate its underwriting companies with individual websites, which could cause some confusion in new or prospective customers. However, the official website does provide 24/7 claims reporting and matching with an agent services, which are certainly pros. That being said, Bunker Hill does not have much of a social media presence compared to most modern carriers, which limits their reach to customers even further. Customer reviews also seem extremely mixed across the board.
Bottom Line: Bunker Hill may have a ways to go in certain areas, such as user-friendliness and with its online presence, but there are also numerous strengths to the insurance company, such as financial size and the amount of discounts offered. With mixed customer feedback in combination with coverage only being offered in two states currently, we still place Bunker Hill a few points above the middle of the pack. If you're a resident of New England and in need of any of their coverage offerings, we say go ahead and check out Bunker Hill as a potential option with your independent insurance agent. You just may want to survey some other options, too.
©2023, Consumer Agent Portal, LLC. All rights reserved.
plymouthrock.com
bbb.org
ambest.com
thezebra.com
yelp.com
clearsurance.com