Country Financial Insurance Company Review
Country Financial Insurance at a Glance
Founded in 1925
Offers a wide range of insurance products
Offers specialty coverages such as pet insurance
Offers coverage to individuals and businesses
"A+" (superior) rating by A.M. Best
"A+" (excellent) rating by Better Business Bureau (BBB)
Offers annuities
Offers several discounts
Coverage available in 19 states
Strong financial stability
Country Financial Pros: Carrier has more than 95 years of experience in the insurance industry. Strong financial stability. Offers multiple types of coverage including home and renters insurance, boat insurance, health insurance, business insurance, and more. Offers 24/7 customer service and claims reporting. Discount information readily available. Ranked on the Fortune 1000 list for over a decade.
Country Financial Cons: Customers report steep coverage rates and increasing premiums over the years. Not a BBB accredited business. Concerning number of customer complaints filed through the BBB within the past three years. No official claims response time frame promise. Coverage not available in all states.
What Type of Insurance Does Country Financial Offer?
Country Financial offers a wide variety of insurance coverages, including:
Auto insurance
Motorcycle insurance
Boat insurance
Recreational vehicle insurance
Home, mobile home, and condo insurance
Renters insurance
Landlord insurance
Term, universal, and whole life insurance
Health insurance
Business insurance
Specialized business insurance (e.g., winery, craft brewery)
Farm and ranch insurance
Crop insurance
Pet insurance
With so many insurance products available, Country Financial offers important protection needed by a wide range of customers. Whether you're in the market for auto, home, farm, health, or specialty insurance, Country Financial may have the coverage you're looking for.
What to Know about Country Financial
Country Financial was founded in 1925. Having been in business for more than 95 years, the carrier has earned itself a reputation as a well-established insurance company. Many types of insurance coverages are available to both individuals and businesses, which helps Country Financial to reach customers of all kinds. However, coverage is currently only offered in 19 states.
Country Financial owns Country Life Insurance Company as well as its subsidiary, Country Investors Life Assurance Company. The companies together currently have more than $70 billion of insurance in force. Country Financial has also been ranking on the Fortune 1000 list consistently since 2004. The list consists of the 1,000 largest insurance carriers in the US by revenue. As of 2019, Country Financial ranked at number 671, with $3.6 billion in revenue at the time.
Country Financial's history, amount of in-force insurance, and honorable rankings further cement the carrier's status as a financially stable insurance provider with tons of staying power. A.M. Best, the leading global credit rating agency monitoring the insurance industry, gives Country Financial an "A+" rating — the highest available — indicating the carrier is a superior choice for insurance customers. The "A+" rating assures customers that Country Financial is capable of offering guaranteed, secure coverage from a trustworthy and reputable carrier.
Established in 1899, A.M. Best is one of the oldest rating companies in the world. Reviews from A.M. Best indicate an insurance company's financial strength and creditworthiness, and are based on comprehensive evaluations of the company's operating performance, business profile, and balance sheet. For customers who aren't as familiar with insurance companies' reputations, A.M. Best's rating system allows them to make an informed decision about who they can trust to meet their needs in the short term, and also to remain a strong, financially sound company in the long term.
What Discounts Does Country Financial Offer?
Fortunately for insurance customers, Country Financial offers a handful of discounts on their coverage. These discounts include: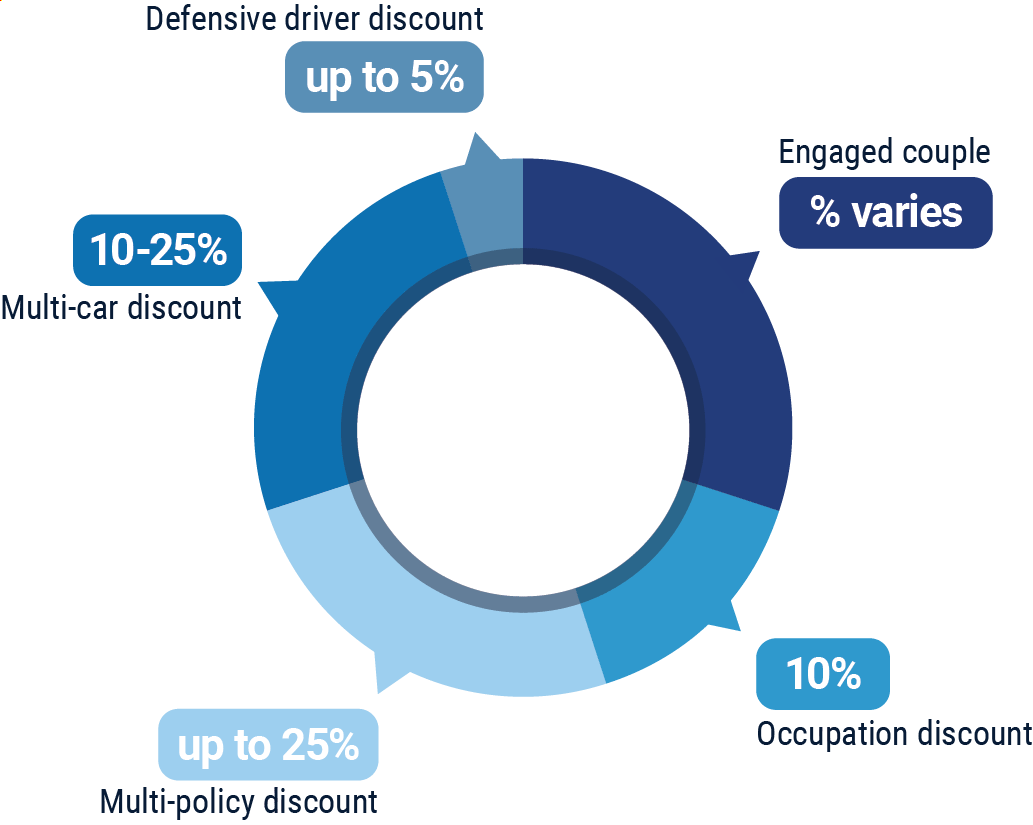 Engaged couple: Applicants who are engaged and over 21 are eligible to receive this discount on auto insurance (% varies).
Occupation discount: Offered to a variety of workers including firefighters, police officers, EMTs, paramedics and full-time K-12 teachers (emergency and law enforcement workers: up to 5%; teachers: up to 10%).
Multi-policy discount: Also commonly referred to as a bundling discount. Customers who purchase multiple types of coverage, such as home and auto, through Country Financial are eligible to receive a sizable discount on their premiums (up to 25%).
Multi-car discount: Offered to customers who insure more than one car through the carrier (10%-25%).
Defensive driver discount: Offered to customers who complete an approved defensive driving course (up to 5%).
Good student discount: Offered to students who maintain a "B" average or higher (up to 15%)
An independent insurance agent can help you find even more discounts available through Country Financial, helping you get the most bang for your buck out of your coverage.
Country Financial Customer Service
Country Financial offers 24/7 customer service to its loyal customers, which makes filing claims and other inquiries much easier and faster. The carrier provides the following customer service options:
Online claims reporting available.
Mobile app available for checking claim status and bill payments.
Online contact form option also available for customer service inquiries.
Main hotline for customer service and claims reporting is available 24/7.
Though you can contact Country Financial directly, working with an independent insurance agent is by far the easiest way to get set up with the right coverage for you. These agents also help handle claims and insurance concerns for you, making customer service even easier.
Find The Right Company Today.
Shopping for a company? We have the right one for you.
Country Financial FAQ
What is Country Financial's average claims response time frame?
Country Financial does not provide an official claims response time frame promise. The carrier's official website simply states that a representative "will be in touch with you shortly" after filing a claim online. The carrier does state that if customers fill out the online claims form, it can take up to two days for it to be processed, but gives no mention of how quickly direct contact can be expected afterwards.
What is Country Financial's customer service availability?
Country Financial provides excellent customer service availability, with 24/7 phone contact options, as well as online contact options. Customers can file claims, make payments, check claim status, and handle any of their other concerns any day, any time.
What is Country Financial's claims process?
Country Financial outlines their claims process on their website as follows:
"You can report your auto, home, renters, or auto glass claim online. Log into your account, choose Claim at the top of the page and complete the form. You'll receive a confirmation number and someone will be in touch with you shortly!
If you'd rather talk to a real person, give us a call at 866-COUNTRY (866-268-6879). We're happy to help 24 hours a day, 7 days a week.
For all other claims types, call 866-COUNTRY (866-268-6879) or visit our Claims Support Center for more details.
Once you report your claim, it will be assigned to a claims representative who will get in touch with you for more details. Depending on the type of claim you have, your damage may be inspected, and your claims rep will contact you to settle your claim. For glass claims, report them through your online account."
Country Financial customers can check the status of their existing claims by phone, through the app, or online, 24/7.
Does Country Financial's Insurance create a user-friendly experience for customers?
The carrier's official website is fairly intuitive and easy to navigate. Finding important information is simple and quick for both prospective and existing customers. The website provides options to find insurance representatives, get quotes, and file claims. The carrier also has a presence on social media on both Facebook and Twitter, making them even more accessible to customers. A mobile app is also available for smart phone users.
Country Financial Customer Reviews
Better Business Bureau

"Country Financial has always taken great care of me. I appreciate the exceptional service I've received from my agent, the contact centers, and their claims adjusters. The insurance industry can be difficult for a consumer to navigate. Country makes it easy and has helped my family and I maintain financial security during our toughest hardships. Thank you for having my back throughout the years."
Yelp

"As a loyal customer of Country Financial for many years, I have recently had an awful experience with them that has caused me to write a review which I seldom do. Not only were they price gauging me, but they could not care less if I left and took my business elsewhere as I did end up doing. If you want an insurance company that overcharges, provides no service, and continually increases your rates, I would recommend Country Financial."
Consumer Affairs

"Premiums go up every year. Don't understand it because the coverage stays the same. I have never made a claim and don't think my premiums should keep going up."
Consumer Affairs

"Promised protection was not met. Country insurance treated us like we were professional craftsmen. Forcing us to answer questions in a time of urgency as if we knew their job. How were we suppose to know what claims fall under? Sadly they keep unjustly escalating premium costs with no liability for the treatment and lack thereof."
Clearsurance

"Great service and awesome prices. Useful website and very helpful over the phone agents. Claims handled fast and professionally."
TrustedChoice.com's Final Review

We award Country Financial a final rating of 3 out of 5 stars. Having been around for nearly a century, Country Financial has certainly proven themselves capable of offering quality and dependable coverage to customers. High ratings through both A.M. Best and the BBB further solidify this. The carrier offers a wide variety of insurance products to both individuals and businesses, which greatly expands their potential customer base. However, coverage is only offered in 19 states. Country Financial's premium rates are also reportedly much higher than many comparable coverages offered by other carriers. Further, the fact that the carrier is not a BBB accredited business and has a concerning number of customer complaints filed against it in recent years docks them a couple of points in our books.
Bottom line: Providing 24/7 claims reporting/assistance and customer service is admirable and makes the carrier a respectable choice. However, if you're in the market for the most affordable coverage, you may want to spend a bit more time exploring other options before choosing Country Financial to meet your insurance needs.
©2023, Consumer Agent Portal, LLC. All rights reserved.
countryfinancial.com
bbb.org
ambest.com
yelp.com
clearsurance.com
consumeraffairs.com