Elephant Insurance Company Review
Elephant Insurance Company at a Glance
Founded in 2009
Offers several types of coverages
Offers coverage for individuals
Not rated through A.M. Best
"A+" (excellent) rating by Better Business Bureau (BBB)
A subsidiary of Admiral Group plc
Coverage available in seven states
Several discounts available
Affordable coverage rates
Offers online claims reporting
Good customer feedback
Elephant Pros: This company is highly rated by the BBB. It offers a variety of individual coverages including homeowners insurance, car insurance, motorcycle insurance, life insurance, and more. It has an impressive parent company and offers affordable coverage, a generous number of discounts, and excellent customer service.
Elephant Cons: It is not rated by A.M. Best. No 24/7 phone claims reporting or customer service options are available, and coverage is not available nationwide.
What Type of Insurance Does Elephant Offer?
Elephant Insurance offers a variety of coverage solutions to individuals. Their products include:
Homeowners insurance
Renters insurance
Condo insurance
Car insurance
Motorcycle insurance
Life insurance (term)
Umbrella insurance
If you're in the market for any of the coverage options above, Elephant Insurance may just be the right carrier to meet your needs.
What to Know about Elephant
Elephant Insurance was founded in 2009, giving the carrier just over a decade's worth of experience in the insurance industry. While Elephant is a relatively new and smaller insurance company with fewer than 1,000 employees, it is a subsidiary of Admiral Group plc, one of the UK's leading insurers and an FTSE 100 company.
Elephant Insurance currently only offers coverage in seven states: Virginia, Maryland, Illinois, Texas, Indiana, Ohio, and Tennessee. Despite its small size, Elephant has been praised for offering affordable coverage rates and a generous number of discounts. The carrier reportedly draws $56.35 million in annual revenue.
Thanks to its well-known parent company and impressive financial strength, Elephant has become known as a trustworthy and reputable insurance carrier. The carrier caters to individuals in the eastern, midwestern, and southern regions of the US. Offering several types of coverage makes Elephant an attractive option to many kinds of insurance customers in areas where their products are available.
What Discounts Does Elephant Offer?
Elephant offers a generous amount of competitive discounts on their coverages, especially for car insurance. Their discounts include: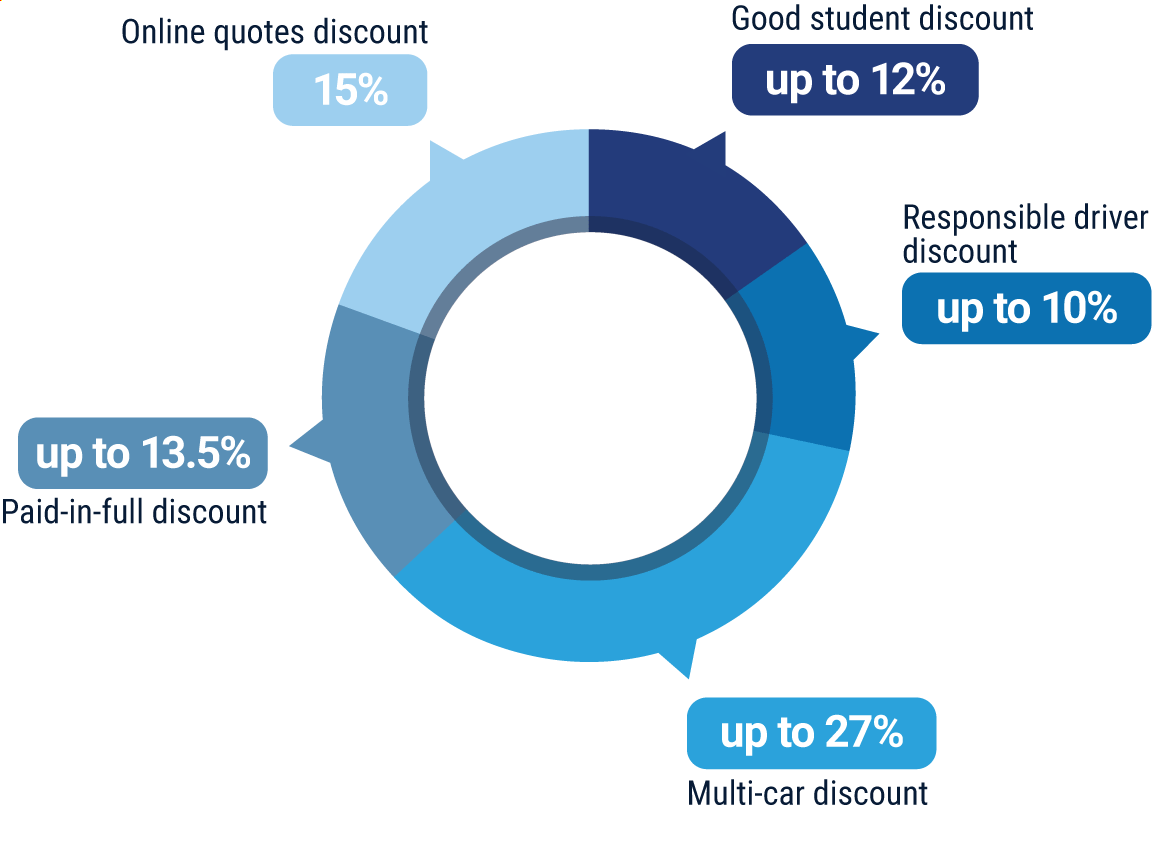 Good student discount: This is offered to car insurance customers who are students who maintain a grade average of a "B" or higher.
Responsible driver discount: This is offered to car insurance customers who have a clean, accident-free record for the past five years.
Multi-car discount: This is offered to car insurance customers who insure more than one vehicle through Elephant.
Paid-in-full discount: This is offered to car insurance customers who pay their premiums in full, up front, rather than opting for monthly payments.
Online quotes discount: This is offered to car insurance customers who start their relationship with Elephant Insurance by requesting a quote online.
An independent insurance agent can help you find even more discounts and ways to save with Elephant Insurance, as well as provide you with quotes and help answer any other questions you may have.
Elephant Insurance Customer Service
Elephant Insurance allows customers to file claims online or over the phone. The carrier also provides the following customer service options:
Live chat with an agent online
Snail mail claims reporting
Fax claims reporting
Email claims reporting
Customer service hotline has the following hours restrictions:
| | | | |
| --- | --- | --- | --- |
| | | Hours (EST) | |
| | | Monday-Friday | 9 am - 9 pm |
| | | Saturday | 9 am - 8 pm |
| | | Sunday | 10 am - 6:30 pm |
Another way to handle your customer service needs is to work with an independent insurance agent. Independent insurance agents can help make customer service easier for you by handling claims and other concerns.
Find The Right Company Today.
Shopping for a company? We have the right one for you.
Elephant Insurance FAQ
What is Elephant's average claim response time frame?
Elephant Insurance allows customers to file claims through several methods, including online. If a customer chooses to report a claim online, Elephant promises that a claims specialist will follow up with them within one business day.
What is Elephant's customer service availability?
Elephant Insurance offers separate hotlines for claims reporting and general customer service inquiries. Both of these departments are available to be contacted at generous hours, every day of the week. Claims can technically be reported 24/7 through the website or via fax or email. The carrier also has a social media presence on Facebook, Twitter, and LinkedIn, making them more accessible to customers.
What is Elephant's claims process?
Elephant Insurance allows customers to file claims via phone, fax, email, snail mail, or through the website. The official website details the following process for customers to file claims:
"We understand the stress and inconvenience of having to file a claim. Our team process is designed to be hassle-free so that you can get back to your normal routine as soon as possible.
You should first report all claims as soon as possible to Elephant by using the online claims service or by calling 844-937-5353. A claims representative will collect the necessary information needed to get the claim started. This process should take approximately 15-20 minutes.
Next, a claims specialist qualified to handle your specific needs will be assigned to your claim so they can get started right away at processing it.
Some of the steps your claims specialist will commonly follow to make sure we get all the facts about the incident include:
Review your insurance policy and the coverage in effect to determine what types of damage or injuries are covered
Attempt to speak with everyone involved in the incident – drivers, passengers, witnesses – to get everyone's account of the incident
Conduct a detailed interview with each person involved if there are conflicting versions of what happened in the incident
Gathers and reviews other relevant information such as the police report, applicable state and local traffic laws, photos of the scene and the vehicles involved and other available information
If your vehicle is damaged, your claim specialist will assist you in the repair process, including offering you a qualified shop in our Approved Repair Service if you do not already have a repair shop in mind. Your claim specialist will be with you every step of the way to explain the process and answer any questions you may have.
Since every claim situation is unique, the time needed to process a car insurance claim can often vary. A more complex claim can sometimes require more time, but a simple claim can often be resolved in just a few short days.
Our claims team will make sure to keep you in the loop every step of the way so you aren't unsure about the status of your claim at any time."
Customers can also check the status of existing claims themselves through the website or by calling the carrier.
Does Elephant Insurance create a user-friendly experience for customers?
Elephant Insurance's website is highly intuitive and easy to navigate, and is certainly among the better websites compared to many insurance carriers today. Important information can be located fairly easily, and the website is detailed enough to satisfy customer inquiries. The claims process is detailed nicely, and a generous FAQ is provided to help answer common customer questions as well. The official website provides many of the service options that insurance customers have come to expect, such as requesting quotes, filing claims, checking claims' statuses, and more. The carrier is also active on social media. Overall, Elephant Insurance succeeds in providing a user-friendly experience for their customers.
Elephant Insurance Customer Reviews
Better Business Bureau

"Amazing staff!! Always so helpful each time I call and great attitudes!!!"
Better Business Bureau

"I have always had great experiences with Elephant Insurance. The staff are so friendly and helpful, and the phone hold times are low. I had to file a car insurance claim last year, Elephant took care of me. I could not be happier with the service I received. The claims agent was so helpful and genuinely cared about my claim. I would recommend Elephant to anyone! Plus they always have the lowest prices."
Clearsurance

"I have had auto insurance for well over 40 years now. I chose Elephant because they offer great customer service and is very affordable. I will most likely stay with them for a very long time. I reward good service with loyalty."
Yelp

"Has always been responsive to calls and questions. Great prices for the insurance I got and better than what I had before."
Elephant's Official Website Reviews Page

"Prompt and precise made the quote very quick. Not many questions asked."
TrustedChoice.com's Final Review

We award Elephant Insurance a final rating of 4.5 out of 5 stars. While the carrier is fairly new to the insurance industry, its parent company has been around for much longer and is a leading insurer. Further, Elephant seems to prioritize customer service. Glowing customer reviews are easily spotted across the web. The carrier's official website provides many convenient services such as for requesting quotes, filing claims, checking claims' status, and more. Elephant does lose some points for not offering 24/7 claims reporting via phone and not offering coverage in every state. However, where coverage is offered, it's reportedly at a much more affordable rate than other carriers in the area. A very high rating from the BBB is certainly noteworthy and respectable too. So, while there's a lot to be said for extensive history within the industry, there's even more to be said about consistent reports of quality coverage and satisfying customer service experiences. With all that being said, our final recommendation is that if you're located in any of the states where Elephant offers coverage and in need of one of their products, don't hesitate to look into them as an option to meet your insurance needs.
©2023, Consumer Agent Portal, LLC. All rights reserved.
elephant.com
bbb.org
clearsurance.com
yelp.com
dnb.com