Why Houses in Flood-Prone Areas Are Harder to Insure in Florida
Find out why it might be harder to get flood coverage for your home in Florida and why it might be more expensive when you do.

Along with the sunshine and warm weather in Florida comes a lot of rainfall and the increased risk of hurricanes. If you live in a flood zone, it may be harder to get the protection your home needs against these disasters.
Fortunately, a Florida independent insurance agent can help you get protected with the right type of home insurance and flood insurance. But until then, let's start with a breakdown of why homes in flood-prone areas can be harder to insure.
Why Does Florida See More Floods than Other States?
Flood Events Per State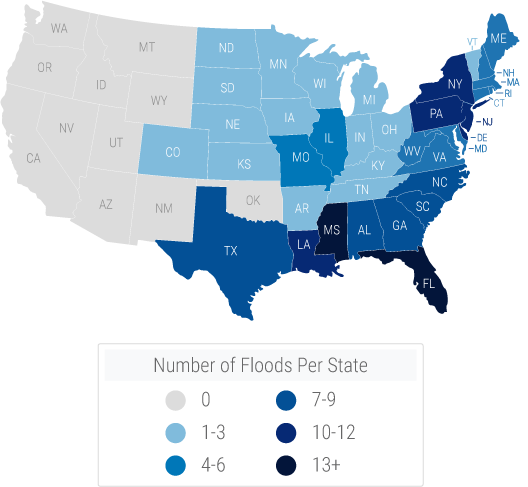 Many characteristics of Florida make it more prone to flooding than other states. These include:
Increased risk of storm surge
River flooding
Heavy rainfall
Proximity to oceans
Low elevation
A reported 1.6 million people or more live along Florida's coast. Beyond just their proximity to the ocean, these residents are at an elevation of less than one meter above sea level. All of these factors combined make the state, and particularly its inhabitants along the coasts, more likely to experience a flood than in other states.
Why Is Home Insurance So Expensive for Florida Homes at High Risk of Flooding?
When an insurance company perceives a greater risk for claims to be filed, they write more expensive policies to protect themselves. Homeowners insurance premiums in the state have risen due to an increase in wind and storm damage, which also relate to higher flood risk. Your home insurance rates factor in your home's value as well as other criteria like your proximity to potential hazards like a coastline.
Homeowners in Florida have experienced average coverage cost hikes of almost 25 percent within the last year, even if they've never filed a claim. But home insurance rates are much more expensive in the state, to begin with. On average, Floridians pay about $1,951 for home insurance annually, while the national average is just $1,211.
Save on Flood Insurance
Our independent agents shop around to find you the best coverage.
How Can I Save on Insurance?
There are many ways you can reduce the cost of your home insurance, no matter where you live. Just a few common ways to lower your home insurance premiums are through these discounts:
Bundling discounts: Many insurers will reward customers who bundle home insurance with another one of their products, such as auto insurance.
Gated community discounts: If you live in a gated community, your insurance company will perceive less threat of theft and might lower your home insurance cost.
Good credit discounts: Your insurance company might also reward your good credit score with a lower premium payment.
No claims history discounts: Many insurance companies offer discounts over the years if you remain claims-free.
Your Florida independent insurance agent is a pro at saving money on home insurance. They can help scout out any discounts you may qualify for to reduce the cost of your coverage.
Do I Need Flood Insurance in Florida to Help Minimize the Risk?
If you live in a high-risk flood zone, and your mortgage is backed by a federal agency, you'll likely be required to have flood insurance. Your mortgage lender may also require it. For those who live in lower-risk zones or own their homes with no mortgage, flood insurance might be optional, however. Regardless, having flood insurance is always a safe choice.
Since Florida is more prone to hurricanes and other flooding disasters than many states, it's extra important for its residents to consider having flood insurance. Homeowners insurance won't cover water damage caused by natural floodwaters. The only policy that can protect you against property damage caused by natural water sources like hurricanes, tsunamis, etc., is flood insurance.
What Does Flood Insurance Cover?
Flood insurance protects you and your stuff from costs related to damage by natural flooding. It's important to note that a backed-up toilet doesn't qualify for flood insurance coverage, only natural sources of water qualify, like heavy rainfall.
Specifically, flood insurance covers:
Damage to the dwelling: Your home's structure, as well as built-in fixtures and carpeting, are protected against damage by natural floodwaters.
Damage to personal belongings: Your home's contents, like your clothing, baseball card collection, and furniture are covered against natural floodwater damage as well.
Flood insurance factors in an item's current value minus depreciation when calculating your reimbursement after you file a claim. But flood insurance still provides critical coverage for your property against natural water damage that home insurance just doesn't include.
How Much Does Flood Insurance Cost?
The cost of your flood insurance can vary, based on several criteria like:
Your exact location
Your flood zone designation
Your home's elevation
Your area's flooding history
In general, the further you are from a flood zone and the lower your property's risk of flooding, the cheaper your flood coverage tends to be. Flood insurance can range from the low hundreds annually if you live inland, all the way up to several thousand dollars if you live, say, along the Florida coastline.
No matter the cost, without flood insurance, your property won't be covered against damage from hurricane rainfall and other watery natural disasters. If you don't have flood insurance, talk with your Florida independent insurance agent ASAP to get coverage. Keep in mind that there's often a 30-day waiting period before your policy becomes effective.
Why Choose a Florida Independent Insurance Agent?
Florida independent insurance agents simplify the process by shopping and comparing insurance quotes for you. Not only that, but they'll cut through the jargon and clarify the fine print so you'll know exactly what you're getting.
Florida independent insurance agents also have access to multiple insurance companies, ultimately finding you the best flood insurance coverage, accessibility, and competitive pricing while working for you.
TrustedChoice.com Article | Reviewed by Paul Martin
©2023, Consumer Agent Portal, LLC. All rights reserved.