What's the Difference between Bodily Injury and Property Damage Auto Coverage?
(And additional information on car insurance)

If someone asked you to explain the difference between bodily injury and property damage auto coverage, could you? Both are necessary insurance coverages to help protect you if you were in an accident, but are they included in your standard auto insurance? We'll tell you, and we'll tell you if you're covered.
When it comes to understanding car insurance, an independent insurance agent can help you build an auto insurance package that keeps risks like these in mind. They've handled all kinds of auto claims and they know how to set you up with the protection you need, long before you need it. Here's how they can help assure your auto insurance covers your property and yourself.
What's the Difference between Bodily Injury and Property Damage Coverage?
Bodily injury and property damage auto coverage are both forms of auto liability insurance. Liability insurance protects you if you're involved in an accident that causes injury to another person or their property with your vehicle. Just like the names suggest, bodily injury covers fees related to injuring another person while property damage covers fees related to damaging someone else's property. Here's some more detail on both.
Bodily injury liability: If you cause an accident that harms another person, your liability coverage would pay for "pain and suffering" claims, medical expenses including hospitalization and surgery, and even lost wages for the injured parties, up to your policy limits. Bodily injury liability typically has two limits: one for each person injured, and one for the total injury costs of the accident.
Property damage liability: If you cause an accident that damages or destroys another person's car or truck, your liability insurance would pay for the repairs to the other driver's vehicle, up to your property damage limit. Likewise, if you run into a building or drive into a hedge, your property damage liability coverage will cover the costs of replacing or repairing the damaged items.
It's worth noting that property damage liability coverage will not cover damage to your car. There are other types of insurance, like collision and comprehensive insurance that cover damage to your car. This is why it's important to understand the difference between auto insurance policies and working with your independent agent to make sure you have the right protection.
Are Both Bodily Injury and Property Damage Mandatory?
Nearly every state requires these coverages. The few that don't have mandatory bodily injury and property damage laws have other requirements for minimum insurance coverage. The only states where bodily injury and property damage are not mandatory are Iowa, New Hampshire, Ohio, and Virginia.
Every other state has a mandatory minimum for bodily and property damage coverage. This is a certain dollar amount of coverage that all drivers must maintain.
DID YOU KNOW?
If you've ever seen an auto policy expressed like this: 25/50/25 ($25,000/$50,000/$25,000), that's the insurance showing the amount they'll pay out per incident.
So in a 25/50/25 policy, the insurance would cover up to $25,000 per person injured in an at-fault accident, up to $50,000 in bodily injury if more than two people are involved in an at-fault accident, and up to $25,000 for damaged property in an at-fault accident.
Why Should I Have These Coverages?
If you're living in a state where bodily injury and property damage are mandatory, you could get in serious trouble for driving without it. Not only could you get a ticket, but you can get your license revoked or even spend time in jail.
Aside from being illegal, having these coverages can make getting in an accident less stressful. If you're driving without insurance and are at fault in an incident, you're legally responsible to pay for the damages to yourself and your car as well as the person or property that you hit. Without insurance, that can get pricey. Check out these stats about auto accident costs and frequency.
There were more than six million motor vehicle crashes in 2018
Of those six million, 1.8 million were bodily injury crashes and 4.8 million were property-damage-only accidents
Motor Vehicle Crashes by Type, 2009 to 2018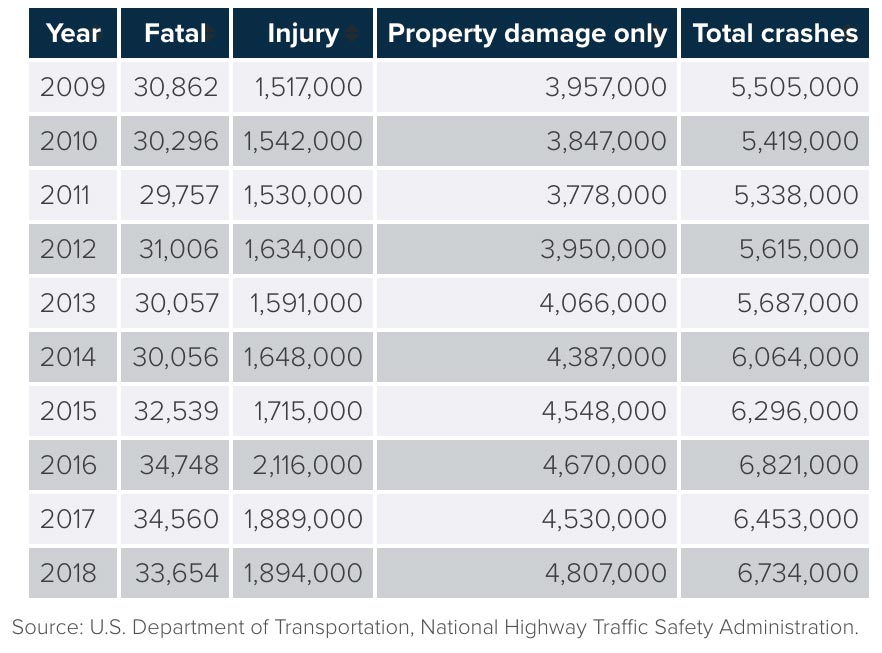 The average bodily liability claim in 2018 was $15,000
The average property damage liability claim in 2018 was $3800
Private Passenger Auto Insurance Losses, 2009 to 2018 (1)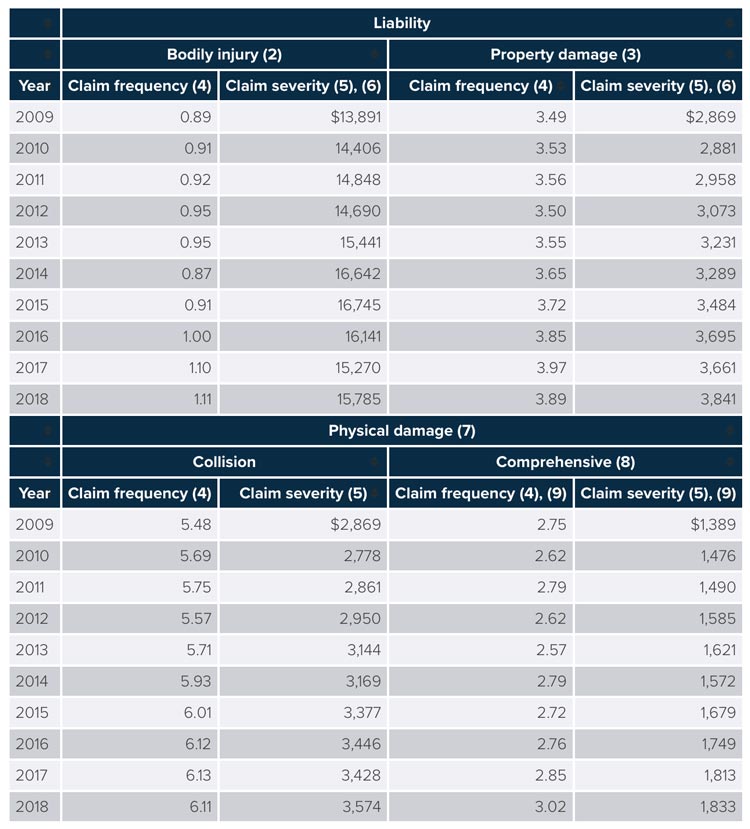 (1) For all limits combined. Data are for paid claims.
(2) Excludes Massachusetts and most states with no-fault automobile insurance laws.
(3) Excludes Massachusetts, Michigan, and New Jersey.
(4) Claim frequency is claims per 100 earned car years. A car year is equal to 365 days of insured coverage for one vehicle.
(5) Claim severity is the size of the loss.
(6) Includes loss adjustment expenses.
(7) Excludes Massachusetts, Michigan, and Puerto Rico. Based on coverage with a $500 deductible.
(8) Excludes wind and water losses.
(9) Includes glass losses.
Source: ISO®, a Verisk Analytics® business.
The risks of driving without insurance outweigh the potential money you would save. It's easier to pay monthly or quarterly premiums than to swallow the sudden cost of a bad accident. Unless you have an emergency stash of cash lying around, you should get yourself covered.
Is Car Coverage Different from Motorcycle Coverage?
The only difference between car coverage and motorcycle coverage is that you're getting protection for a different mode of transportation. Motorcycle coverage is similar to a liability auto policy in that it includes:
Bodily liability for one person: Covers treatment costs if someone is hurt.
Bodily liability for all people involved: Covers treatment costs if multiple people are hurt.
Property liability: Covers repair costs if property gets damaged.
You set your own protection limits with motorcycle coverage, so you'll want to work with your independent insurance agent about picking limits that are best for you.
Other Common Car Insurance Claims to Be Aware Of
Auto accidents are one of the leading causes of injuries in the US. More than 80% of drivers involved in an accident are because of distracted driving. The most common insurance claims are always linked to bodily injury and property damage, making these two coverages important to have. The most common car insurance claims include:
Fender benders
Whiplash
Back injuries
Windshield damage
Theft
Vandalism
Animal collisions
What about Extra Endorsements? Do I Need Them?
Endorsements allow you to customize your insurance package by adding extra coverage you might need. Since bodily injury and property damage are the minimum required car insurance coverages, there are several endorsements you may want to add to your coverage to make sure you're fully protected.
Coverage for modified vehicles if you're adding custom parts and equipment to your car
Classic car coverage
Rental car coverage
Flood damage coverage
Hail damage coverage
Recreational vehicle coverage
Pet coverage
These are just a few common endorsement options. You can work with your independent insurance agent to discuss your needs and any endorsements that might fit your situation.
How Much Does Car Insurance Cost?
An average driver with a good record will likely pay about $800 a year for full coverage for one car. If they choose liability coverage only, costs could be as low as $600.
Auto insurance costs are based mostly on the coverage you choose, the value of your car, and your driving history. Driving a luxury car and getting DUIs or other violations will push costs higher. Your rates will drop as you get older, especially after turning 25.
Here's How an Independent Insurance Agent Would Help
An independent insurance agent is an expert at finding the best auto insurance to fit you. They search through multiple carriers to find providers who specialize in auto insurance, deliver quotes from a number of different sources, and help you walk through them all to find the best blend of coverage and cost.
©2023, Consumer Agent Portal, LLC. All rights reserved.