5 Steps to Buying the Perfect Fixer-Upper
Making sure you're fully prepared

It takes a certain kind of person to be into fixer-uppers, typically a real handyperson, or just one with a ton of money. The beauty of it all is that you can typically buy one for pretty cheap and put a bunch of money into making it good as new, without paying the price of a new home. But there can also be a down side, too.
To help you avoid falling deep into the ultimate money pit of a fixer-upper, we've compiled 5 key steps to making sure you do this right. Just make sure you're covered with an affordable home insurance policy.
Step 1: Know What Condition the House Is In
A fixer-upper house is typically going to fall into one of two conditions: super-ugly or totally ruined. A worn down house needs surface work like new paint, new floors, landscaping, windows, ceilings, etc. A totally ruined house has foundation, structure or roofing issues that may cost more to fix than it would be to buy brand-new.
Unless you are an absolute pro and know a foundation guy that owes you a serious favor, we recommend looking for a fixer-upper with issues that are only on the surface.
Also, keep the location, configuration and layout in mind. All of these will affect your cost to renovate and the potential value of the home after you upgrade it.
Step 2: Determine What It Will Cost to Fix Up the House
When you're searching for the right hideous home to flip, it's important to fully evaluate the costs before you buy. Hiring a structural engineer to take a good look at the home is always a good idea to get a good idea of the improvements needed. But you should always do your own research, too.
Thanks to our pals at Home Advisor, it's fairly easy to get a good idea of the average cost of most projects. Here are a few numbers to get you started.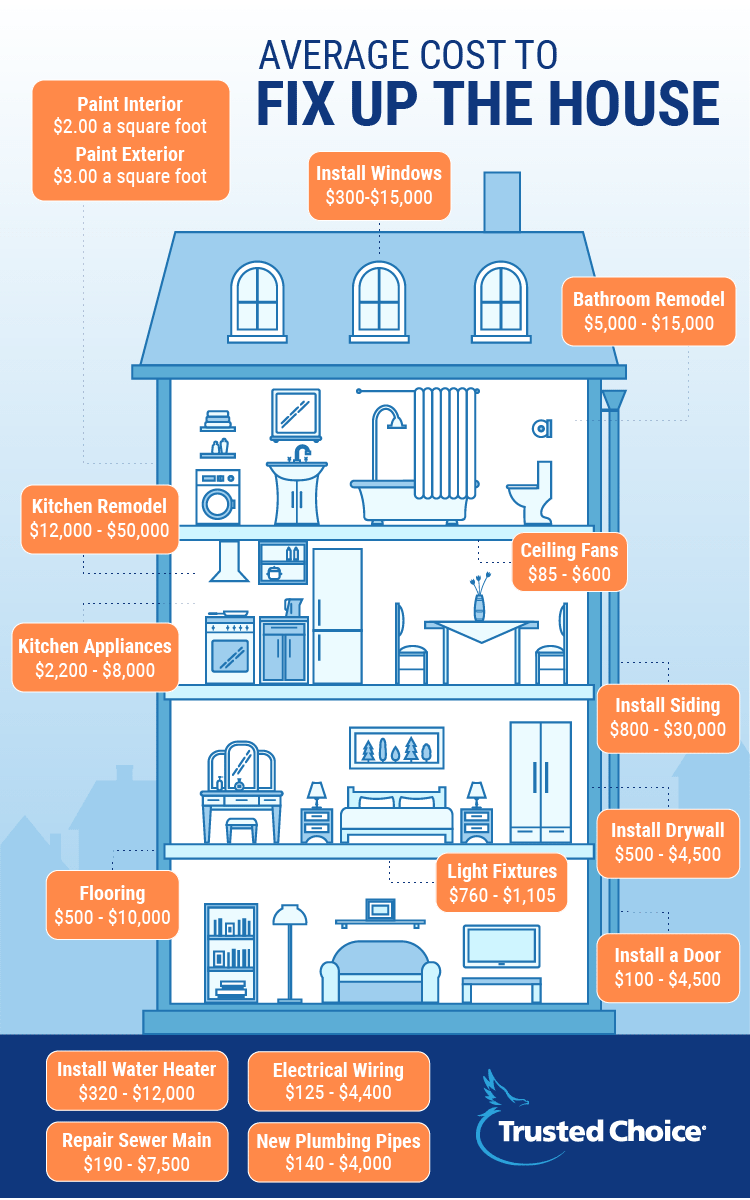 Of course all of this depends on how fancy you're feeling and how much fixin' up needs done. So determine right away whether you want your house to be MTV Cribs-eligible or just something that blends in to the neighborhood.
Step 3: Be Prepared to Join the DIY Club
No matter what the renovations, you're gonna save a ton of money if you do as much of the work yourself as possible before hiring a contractor. Plan on getting your hands a lil' dirty replacing a pipe or two, doing a little sheetrocking and more.
Now, if you've got some sort of endless bankroll, you may not be so worried about the cost, but saving as much as possible will always give you a better return on your investment. When it's time to hire yourself a pro, be sure to shop around for better costs, and the right reputation, too.
Save on Home Insurance
Our independent agents shop around to find you the best coverage.
Step 4: Get the Right Loan
When it comes to funding your flip, there are a number of different types of loans out there—called fixer-upper loans. A fixer-upper type of loan is specifically designed for those who know they'll be doing major renovations.
If you're looking for more information on fixer-upper loans, you're in luck. We've got the perfect article for you, right here.
Step 5:Purchase the Proper Inspections
Depending on what state you live in, you may be required to get specific inspections before purchasing. Required or not, there are several inspections you should always get before you buy a fixer-upper or any home:
Roof certifications
Home warranty
Sewer line inspections
Engineering reports
To Fix-Up or Not to Fix-Up
So we hope we gave you a good foundation about the fixer-upper purchase process. But it's always a good idea to listen to what others who've been through it all have to say. Just make sure you're covered with an affordable home insurance policy.
©2022, Consumer Agent Portal, LLC. All rights reserved.
https://www.thebalance.com/fixer-upper-homes-1798315
https://www.thisoldhouse.com/ideas/should-you-buy-fixer-upper
https://www.realtor.com/advice/buy/how-to-buy-a-fixer-upper/