Tips and Tricks for Chimney Maintenance and Indoor Fire Safety
Find out how to protect your chimney and home, and how homeowners insurance might help.

One favorite cold weather tradition of homeowners everywhere is lighting a fire indoors. But no matter what season it is, homeowners need to keep up with routine chimney maintenance to protect their home from potential fire damage later on. The consequences of not properly cleaning and maintaining chimneys can lead to destruction and the total loss of the home, and even a loss of human lives.
Fortunately, there are several tips and tricks all homeowners can follow ahead of time to not only allow for safer indoor fires, but also prevent general wear and tear of their chimneys. It's also important to get equipped with homeowners insurance from the start, and an independent insurance agent can help you find the right coverage long before you ever light a match. Until then, here's a crash course in chimney maintenance and indoor fire safety 101.
How Common Are Fireplaces Today?
Number of New Single-Family Houses Completed with Fireplaces in the US in 2017, by Region (in 1000s)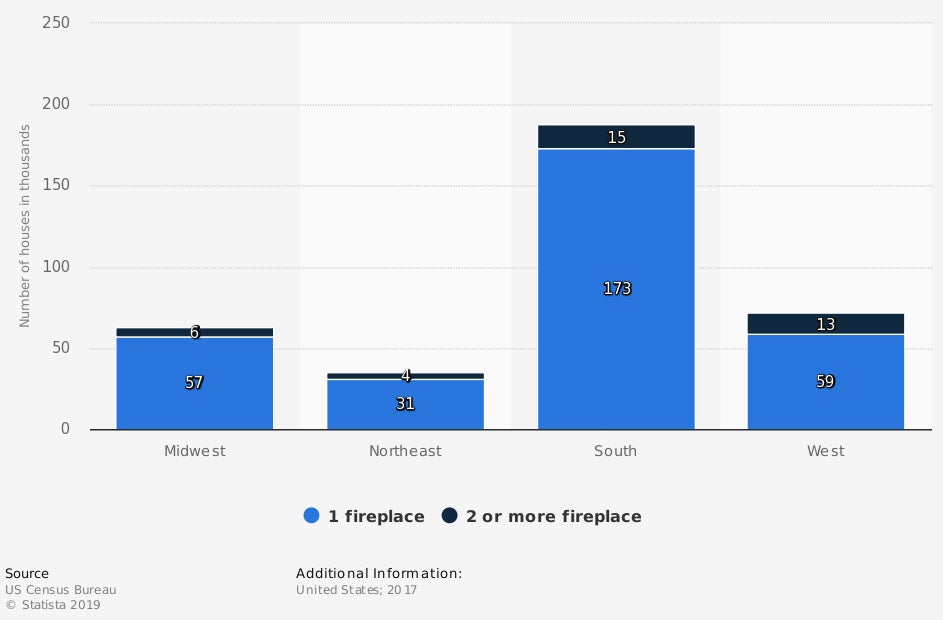 As of 2017, the region with the most fireplaces installed in single-family homes in the US was the South, by far, with 173,000 homes having one fireplace installed, and another 15,000 with two or more. Perhaps surprisingly, the Western region had the second-highest number of fireplaces installed in single-family homes, with 59,000 homes reporting one fireplace, and another 13,000 with two or more.
Maintenance Tips for Gas and Wood Burning Fireplaces
Though gas is known to be a clean burning fuel in general, gas burning fireplaces still require routine maintenance just like wood burning fireplaces do. Debris or bird nests can accumulate and block the flue no matter what type of material is burned in your fireplace, potentially leading to disaster. Start taking the following routine maintenance steps today to help protect your fireplace, chimney, and home in general.
Clean the fireplace regularly: Throughout the cold weather season, your fireplace needs to be cleaned at least weekly to reduce ash buildup. About one inch of ash can be left in the fireplace to act as insulation.
Clean the exterior hearth regularly: About every six weeks during the cold weather season, wash your exterior slate hearth and finish it off with lemon oil for a sleek shine. Exterior brick hearths require a special brick cleaner.
Clean the glass doors when necessary: The glass doors of a fireplace may get stained over time due to extreme heat. Only clean the doors when they are completely cool, with liquid dish detergent and warm water, or warm water and vinegar. Excess buildup on the doors can be scraped off with a razor blade. You can also buy special glass cleaner for fireplace doors.
Get the chimney swept annually: It's recommended that chimneys, fireplaces, and vents should be professionally inspected at least on an annual basis. Even if you don't light many fires in your fireplace, it still needs to be inspected for things like bird nests or deterioration that could provide unsafe conditions for future fires.
Regardless of whether your fireplace is wood burning or gas burning, it needs to be kept clean and maintained. Dirty or blocked fireplaces can cause chimney fires that become out of control quickly and can destroy your whole house, and potentially your neighbor's house, too. Make sure not to skimp on routine chimney and fireplace maintenance no matter how often your fireplace gets used.
Save on Home Insurance
Our independent agents shop around to find you the best coverage.
Important Maintenance for Fireplaces and Chimneys in the Warmer Months
Summer is the perfect time for fireplace and chimney maintenance, since you're unlikely to be lighting any indoor fires throughout the season. Proactive maintenance during the warmer months helps homeowners to prepare for smooth fireplace usage in the colder months. Take these proactive steps over the summer to help maintain your fireplace and chimney.
Schedule an inspection: Summer is the perfect opportunity to have a professional chimney sweep inspect and clean your chimney. A professional inspection should be performed each year before a fireplace is used for the first time. Chimney sweeps remove unsafe debris and report damage that could lead to future unwanted fires.
Clean the fireplace: With a shovel or vacuum, clean the ashes out of the firebox. Once the ashes are gone, clean the fireplace with a non-flammable cleaning solution and water. Make sure to clean the doors, too.
Close the damper: The damper needs to be closed in order to prevent your home's air conditioning from escaping through the chimney. Closing the damper also prevents drafts from coming down the chimney.
Schedule professional service for gas fireplaces: If you have a gas fireplace, it's important to have a professional inspect it at least annually for any loose connections or gas leaks.
Even though the fireplace might be the last thing on your mind when it's hot outside, it's important to use the warmer months to your advantage when it comes to maintenance. Proactive measures taken during the summer help provide peace of mind during fireplace use in the fall and winter.
Indoor Fire Safety Tips
It's not enough to just keep your fireplace and chimney clean to protect your home from serious damage and destruction, it's also important to practice fire safety measures anytime you light a match, let alone a group of logs. Follow these important indoor fire safety tips every time you use your fireplace.
Burn only well-seasoned wood: Though it may be tempting to burn other materials like wrapping paper, especially during the holidays, it's important to stick to only well-seasoned wood in your fireplace. Burning other materials creates too much fire to be contained by the fireplace screen, which could result in stray flames and sparks escaping into your home and starting another fire.
Don't vacuum ashes: When cleaning around your fireplace after using it, never vacuum up the ashes. Ashes can contain live coals that are still burning, which could lead to disaster when vacuumed.
Place a nonflammable rug in front of the fireplace: Make sure to purchase a specifically nonflammable rug to put down in front of the fireplace to protect your carpet or other flooring from stray sparks.
Always use fireplace tools to handle hot contents: Never use your hands to handle burning or recently burned logs in your fireplace. Always purchase tools specifically made for fireplaces like pokers and log lifters.
When a clean fireplace and chimney are combined with the proper fire safety measures, homeowners easily create a safe environment for enjoying indoor fires without unnecessary stress or potential disaster.
Common Homeowners Insurance Claims Related to Fireplaces and Chimneys
Of course, no matter how cautious you are, incidents can still happen. The good news is that certain fireplace and chimney-related mishaps are covered by standard homeowners insurance policies. However, not all of them are. Here's a quick look at a few common fireplace and chimney related claims, and whether they're covered.
Chimneys damaged by tornadoes: One of the most common chimney claims is damage or destruction caused by tornadoes. Windstorm damage is a covered peril under standard homeowners insurance policies, so fortunately these events are reimbursed by insurance up to your policy's limit for the dwelling.
Chimneys damaged by lightning: Another common claim is chimneys that get struck by lightning. Lightning is another peril covered under standard homeowners insurance, so the damage would be reimbursed up to your policy's limit for the dwelling.
Chimneys damaged by wear and tear: Many chimneys take damage over time due to a lack of maintenance. General wear and tear is not covered under homeowners insurance. It's considered the homeowner's responsibility to maintain the upkeep of their home, including the chimney.
Chimney fires: This one is tricky. Whether damage resulting from a chimney fire would be covered depends on the actual cause of the fire. If the fire was started by an event like a lightning strike, it'll be covered by homeowners insurance. However, if the fire was a result of negligence on the homeowner's part, such as failing to keep up with routine cleanings and other maintenance, it's most likely not going to be covered.
If you have any questions about what's covered by your homeowners insurance, it's important to get in touch with your independent insurance agent. They'll be able to review your policy with you and detail exactly what's covered and what's not when it comes to chimneys and fireplaces. However, it's imperative to practice fire safety tips at all times, regardless of what incidents would be covered by your insurance.
While taking preventive action steps before using your fireplace may be time-consuming, they could end up saving you from a lot of grief down the road. Properly maintained fireplaces and chimneys can not only save property and money, but also save lives. If you're still unsure of how to properly care for your fireplace or chimney, don't hesitate to ask your professional chimney sweep questions when they perform their annual inspection.
Here's How an Independent Insurance Agent Can Help
When it comes to protecting homeowners against chimney fires and all other perils, no one's better equipped to help than an independent insurance agent. Independent insurance agents search through multiple carriers to find providers who specialize in home insurance, deliver quotes from a number of different sources, and help you walk through them all to find the best blend of coverage and cost.
TrustedChoice.com Article | Reviewed by Paul Martin
©2022, Consumer Agent Portal, LLC. All rights reserved.
csia.org
acechimneysweeps.com
chimneysaversolutions.com
cmoutfitters.com
hgtv.com