An Insider's Guide to Purchasing an Eichler Home
(Here's what you need to know)

Whether you're an Eichler home newbie or you're deep into your third frequent buyer punch card, you're here. So welcome. Either way, you're about to learn some pretty cool things about how to purchase some unique homes. You should also consider an affordable home insurance policy.
To help us fully understand the value, infatuation and buying process of Eichlers, we spoke with a friend of ours. Lovingly named "the Eichler Lady" by those in the know, Monique Lombardelli is a teal estate broker from Palo Alto, CA who specializes in selling these mid-century masterpieces. She filled us in on why they're worth the investment and how to join one of the hottest fan clubs around.
What Is an Eichler home?
After World War II, Joseph Eichler's dream was to bring modern-style homes to a diverse mass market at reasonable prices. So he did. Between 1949 and 1966, his development company built 11,000 homes throughout northern and southern California. Drawing inspiration from the Frank Lloyd Wright home his family lived in, Eichler built homes that were unlike any houses that home buyers had seen before.
Many of these homes still exist and are in great shape, and they're highly sought after in the tech-forward trendy world of northern California. But if you don't want to wait until we're done here, check out some current listings at Modern Homes Realty. But make sure you come back, we've got lots more to talk about.
What's So Unique about Eichler Home Plans?
Aside from having a massive following of superfans throughout the world, there are some distinct characteristics that draw people's eyes to these incredible homes, like:
Flat or low-slung gabled roofs
Low, horizontal forms
Floor-to-ceiling windows
Skylights
Glass walls
Inviting living spaces
Sliding doors
Second bathrooms in master bedrooms
Private outdoor rooms and gardens
Local materials on the inside
Functional layouts
Open-air glass atriums
Minimalist layouts
"You own a piece of history and the most beautiful type of architecture ever built. Not to mention becoming a part of such a wonderful community," said Monique. "People take care of each other here and the Eichler neighborhoods are celebrated."
Pros and Cons of Eichler Homes
Like any piece of property, there are pros and cons that come with owning and living in an Eichler home.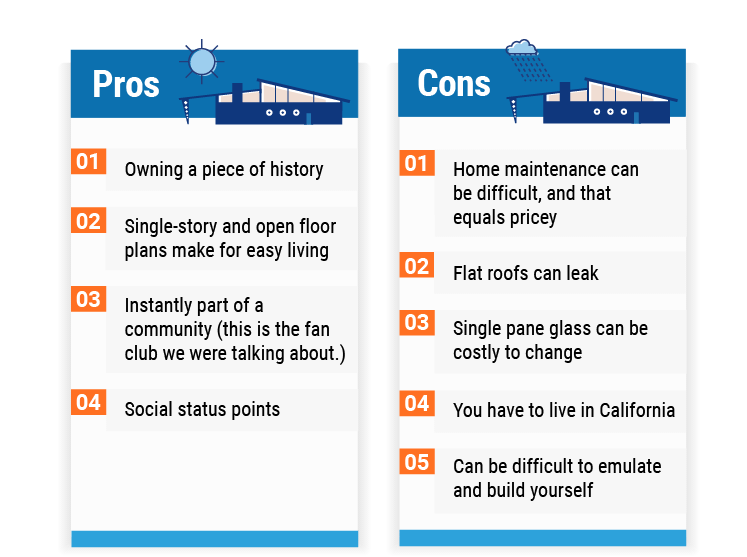 Tips for Purchasing an Eichler home
If you find yourself in sunny California with a big bag of cash to purchase an Eichler home, Monique has a couple of insider tips.
Step 1: Talk to a pro. Contact a real estate broker who specializes in Eichler homes. They can help you locate Eichler homes that are available on and off the market.
Step 2: Do your research. When you buy an Eichler home, you're purchasing a piece of history and you may need special vendors and contractors to maintain the integrity of the home.
Step 3: Learn how to care for your Eichler home. The unique design of Eichler homes requires specific care and finding resources can be tough.
In addition to these steps, there are also a few questions you'll want to ask yourself and your realtor before purchasing an Eichler.
How much space do you need? Typical Eichler homes are less than 3,000 feet and are not designed with a lot of storage space. Remember, minimalist.
Will you want to add onto the house, and can you? Some Eichlers may have been built in areas where building restrictions would hinder adding to the home.
Has the house had any upgrades? Knowing the history of the home and any upgrades it's already had will help you be a knowledgeable Eichler homeowner.
Save on Home Insurance
Our independent agents shop around to find you the best coverage.
How Much Do Eichler Homes Cost?
According to Monique, the average Eichler home in Palo Alto, CA costs around $2.5 million dollars. That may sound pretty steep, but keep in mind that the median price of homes in Palo Alto is currently $2.8 million.
Of course, that's Palo Alto—where "hundos" grow on trees and home values have gone up 18.2% over the past year alone. So if that's a bit rich for your blood, know that there are other areas to find these marvels at potentially lower prices. But then you don't get to be so close to all the upcoming tech giant headquarters. Sad.
Can I Build an Eichler Home?
If the sight of a mid-century style home makes you as starry-eyed as the time you saw a Kardashian on the street, you can always build your own "Eichler style" home. However, these homes were built for sunny West Coast weather and ancient building codes, so make sure to adjust your design to your surroundings.
There's no question that Eichler homes are highly celebrated in modern real estate. Some real estate agents, like Monique, have even built their entire career around selling these types of homes.
"People are not only drawn to the beautiful design, but they also respect what these homes mean," said Monique. "These homes paved the way for changed lives and changed mindsets."
If you decide to take the plunge into this magical mid-century world, remember to keep the spirit of Eichler alive by maintaining the integrity of the architecture. Monique said it best, "Just like a classic car or a great piece of art – if you alter them, they don't look right." Welcome to the club, friend. Meetings are on the 5th Tuesday of every month. Don't forget your affordable home insurance policy.
TrustedChoice.com Article | Reviewed by Monique Lombardelli
©2023, Consumer Agent Portal, LLC. All rights reserved.