Everything Worth Knowing about Mortgage Gift Letters
(Repeat after us, "Money, please.")
You're probably here because someone has offered to pay the down payment on your mortgage and your lender has asked you to provide a gift letter. Lucky you!
A gift letter shows your lender that you're bringing in money from an outside source. So why do they need this letter? What's in the letter? Do you need to know anything else? Well you've come to the right place… read on my friend.
What Is a Mortgage Gift Letter?
Simply put, it's a letter written to your lender that fully details the generous financial gift you're receiving. The letter clearly lays out who the donor is, how much it's for, and states that the donor has no intention of ever getting that money back. Ever.
Who Can Provide Gift Money for a Down Payment?
If the powers that be allowed just anyone to give you money, we'd recommend calling up a few famous rich people you've heard about in Forbes magazine. Unfortunately, lenders usually prefer that cash gifts come from a family member or spouse.
But if you're going after an FHA loan, you may be able to accept cash from an employer, charitable organization or government agency, too. It's always best to talk to your mortgage broker or representative and they can walk you through your options in more detail—they're good like that.
Save on Home Insurance
Our independent agents shop around to find you the best coverage.
How Much Can Someone Gift for a Down Payment?
We'd like to say that your family can give you as much money as they want, and while they can, there will be limits on how much you can actually use, depending on the type of loan you'll be getting.
Conventional loan: If you're taking out a conventional loan, you can only use gift money for a primary or secondary home. In addition, you must put down a minimum of 20% in order to have the full 20% be a gift. If you put down less than 20%, you can only use partial gift money and part of your own money.
FHA and VA loans: With an FHA or VA loan, you can only use gift money on a primary residence, but you can use the gift for the entire down payment.
Cash Needed to Buy a $200,000 Home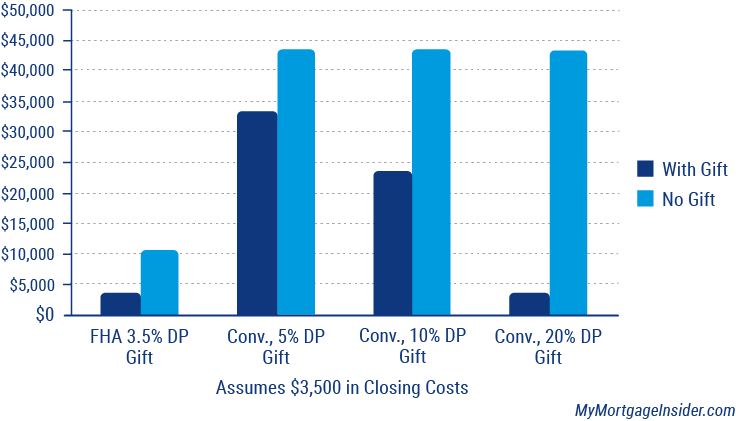 How to Write a Gift Letter for a Mortgage Down Payment?
Before you start your mortgage gift letter, you'll want to double-check all the details your mortgage company needs to have included. Once you're ready to type up your letter, Quicken Loans suggests the following go in your letter:
The donor's name, address and phone number
The donor's relationship to the client
The dollar amount of the gift
The date the funds were transferred
A statement from the donor that no repayment is expected
The donor's signature
The address of the property being purchased
You may be asked to submit additional documents, like bank statements from the donor, so it's best to have that information readily available to make the process just that much easier.
Save on Home Insurance
Our independent agents shop around to find you the best coverage.
Mortgage Gift Letter Template
If you're looking for an example of a mortgage gift letter to guide you through the process, your mortgage lender should be able to provide you with a template that fits their requirements.

Steps to Secure a Mortgage Cash Gift
Believe it or not, you can actually receive your cash gift the wrong way. You can't just take the cash and deposit it into your bank account and call it a day. To make sure your lender doesn't reject your application, take the following three steps to properly receive your cash gift.
Write your mortgage gift letter.
Document the gift by keeping a strong paper trail: If you're receiving gift funds, you'll want to photocopy the check and keep a copy for your records.
Document receipt of the down payment gift: Properly deposit the check into the same bank that your closing money will be taken from. Always collect a receipt after depositing your gift check.
Keep in mind that the gift check needs to be written for the exact amount of the gift you're receiving. The slightest discrepancy can result in your loan application being denied, and that could be a huge pain.
Now, obviously it's not always as easy as just knowing someone with extra money and asking them for some of it. But, if you are so fortunate, it can definitely help make buying that dream house much easier.
We hope this guide helped give you a good understanding of what you'll need to do when it comes to receiving a gift for your down payment. And once you've hammered out all the steps as we've laid them out above, go ahead and give yourself a high five and then get started planning your housewarming party.
Good luck, and be sure to send a thank you note to your donor, it's the least you could do.
©2023, Consumer Agent Portal, LLC. All rights reserved.
https://www.quickenloans.com/blog/gift-money-down-payment
https://mymortgageinsider.com/first-time-home-buyers-down-payment-gift-money/
https://themortgagereports.com/2669/downpayment-gifts-from-family