The Complete Guide to Saving on the Cost to Demolish a House
(What to expect before destroying your home on purpose.)

Sometimes you buy your dream home. And other times you buy a dump at an amazing price, tear the whole thing down and then build your dream home from scratch.
Of course, if you go the latter route, your dream home could end up a total budget nightmare if you don't know what you're doing. That's why we're here! We'll help you take a closer look at the demo process with all of its unexpected costs to help decide if it's all worth it. Grab a hard hat, we've got work to do.
What Does It Mean to Demo a House?
Simply put, demoing means to tear down little bits or all of a home, in order to rebuild. This could mean just knocking down a wall or two to expand your master bathroom, or it could mean leveling the entire house to the slab to build something more modern. In either case, there are two common ways to demolish a house.
Mechanical demolition: Demolishing a house using heavy equipment
Deconstruction: Demolishing a house using your bare hands (well, hammers and saws and all of that stuff)
We'll let you determine which is more your thing. It's pretty common for people to do a combination of the two, removing as much as possible by hand and then bringing in the big machines to finish the job.
How Much Does It Cost to Demolish a House?
A number of factors affect the final cost of a house demo. According to HomeAdvisor, the average tab to demolish a house is $18,000. However, a little light demo work can be as low as $3,000 and a full "knock down" can set you back as much as $45,000.
To get a full understanding of the cost and commitment involved in demolishing a house, you need to consider a few factors:
Preparation: You'll most likely need to hire an electrician or plumbing specialist to make sure that the plumbing, HVAC units and electrical wiring are totally shut off and ready for demolition.
Demolition type: If you'll be doing a mechanical demo, you'll need to factor in the cost of equipment rental or hiring a contractor. If you're doing the sledge swinging yourself, you'll need to factor in the cost of a few visits to the chirpractor when you're all finished.
Rebuilding on the same property: Is it best to keep some of the current structure, plumbing, or wiring? Are there building regulations you need to know regarding the property? You'll benefit from working with a local architect to determine the best route for demolition and rebuilding on site.
Permits, permits, permits: If you haven't yet realized this, you can't really do a whole lot to your property without permit(s). Home demolition is no different. You'll want to research the necessary permits for your area and factor that into your costs.
Debris removal: If you tear down an entire house, or even just a little bit, you're going to have debris. And when you have debris, you need to dispose of it. And when you need to dispose of debris, it costs money. However, different types of debris come with different costs of removal. Removing concrete and bricks will cost more than wood. You'll also pay extra to remove hazardous materials such as asbestos and lead paint.
Working with a professional: Most first-timers to demolition will need to call in a professional for help and guidance.
Save on Home Insurance
Our independent agents shop around to find you the best coverage.
Cost to Demo Partial House Items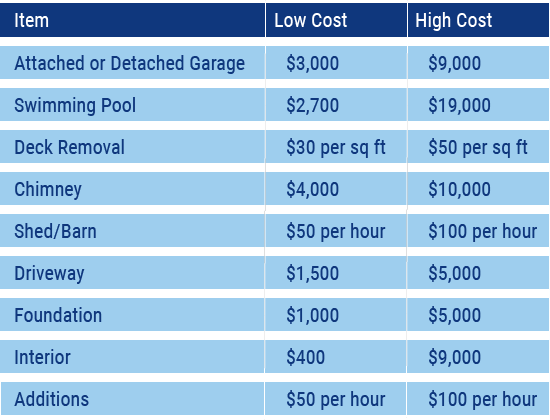 Average Cost to Demolish and Rebuild a House Per Square Foot
To get the most accurate estimate on demolishing a house, it's best to get a measurement of the property. Once you know the property size and the square footage of the home you're dealing with, you can use the table below to get an idea of cost per square foot.

How to Lower the Cost of Home Demolition
Fortunately, when it comes to real estate, there's usually some way to lower the cost of what you want to do. And when it comes to demoing a house, these tips can help save you a fair amount of cash:
Do as much as you can on your own: The fewer professionals you have to hire, the less you'll pay.
Call in backup: Order up a couple of pizzas, grab a six pack, and even give your friends a few free babysitting IOUs. Whatever it takes, aim for the cheapest labor there is.
Donate your house: You can sometimes donate your house to the local fire department. They'll come burn your house down for you and you'll get a tax write-off. Talk about a win-win! A heckuva show too, grab the popcorn.
Reuse materials: Chances are, you can reuse a variety of materials in a house demo. The chart below does a great job of breaking down the valuable materials you may want to hold on to and upcycle into your new plan.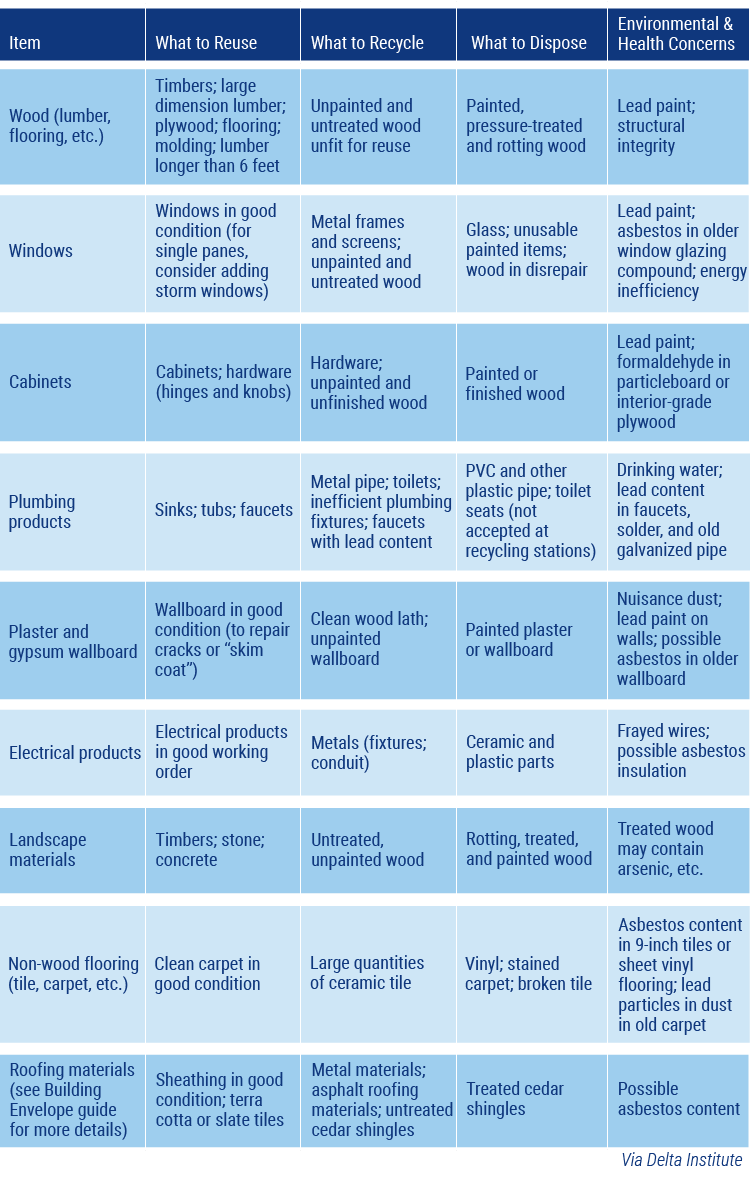 Depending on the size of the home, the structure and the condition it's in, demoing a house can be more cost-efficient than making major upgrades. But with the help of this guide and a calculator, you should be able to get a nice, clear picture of the costs ahead.
Be safe, be smart and swing away.
©2023, Consumer Agent Portal, LLC. All rights reserved.
https://www.hometowndemolitioncontractors.com/blog/should-i-demolish-and-rebuild-or-renovate-my-house
https://www.hometowndemolitioncontractors.com/blog/3-tips-to-lower-the-cost-of-house-demolition
https://www.homeadvisor.com/cost/landscape/house-demolition/
https://www.improvenet.com/r/costs-and-prices/house-demolition-cost-estimator
https://www.hometowndemolitioncontractors.com/blog/the-homeowners-guide-to-demolishing-a-house
https://www.hometowndemolitioncontractors.com/blog/demolition-101-a-beginners-guide-to-demo
hometowndemolition.com
https://delta-institute.org/delta/wp-content/uploads/DeconstructionAndReuseGoGuide2ndEd_Web.pdf
homeadvisor.com