The Matchmaker's Guide to Finding the Right Realtor

Buying or selling a home is a big decision. And so is finding the right partner to share the experience with you—a real estate agent, that is. Finding a great agent is like finding a great babysitter; you're looking for someone you can trust with something very special to you who won't make a huge mess.
And while you don't have to hire an agent to help buy or sell a home, it's a pretty good idea to do so. There are a number of sticky processes, hidden laws and sassy little nuances that go into buying and selling homes that the average Joe or Jane might miss.
Do yourself a favor and follow this guide to finding the right agent to help you through this process. It'll save you a lot of time and stress, and hopefully make everything go as smooth as contemporary jazz.
What's the Difference Between a Realtor, a Real Estate Agent and a Broker?
You've most likely heard a variety of terms being thrown around for the people who are supposed to help you buy or sell a home. So does it matter whether you hire a real estate agent, a realtor, or a broker? Well, it depends on what you're looking for. Here are the differences:
Real estate agent: Anyone with a real estate license is considered a real estate agent. This includes sales professionals, associate brokers and brokers.
Realtor: A real estate agent who is also a member of the National Association of REALTORS®.
Broker: A real estate agent who has also taken and passed the broker's license exam.
Do You Need a Realtor?
If you're a first-time home buyer or seller, you may not fully understand what a realtor does. Their role goes far beyond helping you find a home or a buyer.
According to the realtor web page, while you can purchase or sell a home on your own, there are six big reasons you should hire a realtor, including:
Expertise: Have you ever heard of MLS, EIK, and W/D? Yeah, those acronyms should be gibberish to you, but they make complete sense to your realtor. Let a professional deal with the jargon and paperwork of buying or selling a home.
Better research power: You can skim the Internet all day for homes for sale, but a realtor will know the local area better and have access to a super-secret real estate database.
Negotiating power: One big word in real estate is negotiation. Anything can be negotiated and a realtor will know what to negotiate for you.
Connections: Unless you've surrounded yourself with real estate experts, your realtor will have connections that you don't to mortgage lenders, bankers and people that you'll need during the buying or selling process.
Ethics: Members of the National Association of REALTORS® are held to a code of ethics.
They become your ally: You'll quickly realize that your realtor will become your friend, ally, researcher and therapist all wrapped into one. During the stress of buying or selling a home, you'll appreciate having someone on your side through it all.
Save on Home Insurance
Our independent agents shop around to find you the best coverage.
Tips for Finding a Realtor
Once you start looking for a realtor, you'll quickly learn that there are a lot of 'em out there. In fact, there are 1,362,533 according to the National Association of REALTORS®. So where do you begin your search?
Fortunately, word of mouth and the Internet can be a huge help in this situation. But before you do a Google search for realtors in your area, try these things first:
Ask your friends for a recommendation: Chances are you know someone who has bought or sold a home and can recommend an agent to you.
Spend a day going to open houses: Spend a day driving around your desired neighborhood and stopping in at some open houses. Those open houses will be hosted by selling agents that you can see in their natural habitat and judge firsthand.
Use online tools: Realtor.com has a great "Find a Realtor" tool that can help you find a realtor in your community.
Work with real estate brokerages: If you're not having luck through friends, family and the Internet, then you can always call a local real estate brokerage company to help connect you with an agent.
Questions to Ask a Realtor
Now that you know where to look for a realtor, it's time to interview them for the job. And before you start, know that's exactly what this is, a job interview. This process is all about you and selling your house and it's up to them to prove their worth. So start off with a couple of questions to get to know them better, like:
What's your experience? If you're a first-time home buyer or are selling a unique home, you want a realtor who has experience with the type of transaction you're looking to make.
What's your schedule and availability? Buying or selling a home requires commitment and time. You'll want a realtor whose schedule fits yours.
How are you planning to market my home? A good agent will be able to share their marketing strategy with you right off the bat and tell you any strengths and weaknesses they see to help you sell your home.
Do you work with clients in this price range? Look for an agent who buys and sells homes similar to what you're looking for.
How many homes did you sell last year? This will help determine how successful your realtor truly is.
How many homes did you help buyers purchase last year? You want a realtor who will find you the right home, not keep you looking for months on end.
How many clients do you currently have? Make sure they can truly commit the necessary time it takes to buy or sell a home.
Do you have references? Talking to other people who have worked with them before can provide a first-hand look at what type of realtor they are.
Save on Home Insurance
Our independent agents shop around to find you the best coverage.
What to Look for in a Realtor
After you've weighed your options, spoken with the candidates, and are ready to make a decision, make sure that your selection not only leaves you feeling warm and fuzzy inside, but also has these qualities:
Has your best interest at heart
Has passion
Is someone you can trust
Is honest about the pros and cons of your situation
Has strong core values
Is someone who will support your emotionally
Has a good track record
Is a great communicator
Ultimately, the best thing you can do when looking for a realtor is to follow your gut. Remember that you'll be spending countless hours with this person, so it's sort of like picking a life partner, only for just a few months. Use these tips and questions, and you're sure to find a realtor worthy of the job.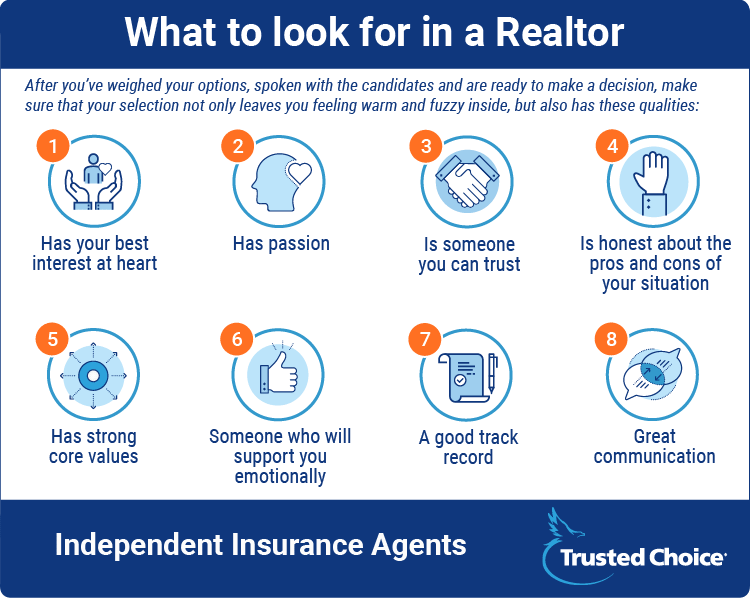 ©2022, Consumer Agent Portal, LLC. All rights reserved.
https://www.realtor.com/advice/buy/questions-to-ask-a-real-estate-agent/
https://www.realtor.com/advice/buy/surprising-questions-to-ask-a-real-estate-agent/
https://www.realtor.com/advice/sell/find-a-realtor/
https://www.forbes.com/sites/forbesrealestatecouncil/2018/03/22/14-tips-for-choosing-the-right-real-estate-agent-for-your-property-search-or-sale/#2a6963227f54