How to Flip a House for a Profit
There's quite a bit more to it than just buy, sell, repeat.

So maybe you've been inspired by the dozens of house-flipping reality shows on TV, or maybe you're just looking for a little side hustle to put your knack for interior decorating to the test. Either way, there's a lot of success out there in the world of house flipping.
In fact, according to ATTOM Data Solutions, homes flipped in Q1 of 2018 sold at an average gross profit of $69,500, which is the highest average gross flipping profit since ATTOM began tracking in Q1 2000. But it takes more than just a dream. Without the proper know-how, your house flip can easily turn into a house flub.
To help, we've put together this wonderfully exhaustive list of tips and information you need to be a successful flipper. But first, make sure you're covered with an affordable home insurance policy.
What Is the Definition of Flipping Houses?
Simply put, flipping a house means you purchase a piece of property with the intent to sell it for a profit. People who flip houses usually do it one of two ways:
Buy a fixer upper and put the necessary repairs and upgrades into the house to increase its value before selling it for profit.
Buy a house in a market where home value is rapidly increasing, then sit on it for a while before selling it for profit.
How Much Does It Cost to Flip a House?
Now, we hate to be the bearer of bad news, but reality TV isn't always a reality—flipping homes isn't as easy as it looks,d that Ferrari isn't just waiting for you. But with the right amount of know-how, and cash, anything is possible. So how much cash do you need to get started?
Well, just like purchasing a home, the price of flipping a house really depends on your budget. Our friends at the Realtor webpage put together a handy formula to help determine how much you should pay to flip a house. Get ready for some math.
Now, let's say a home in tip-top shape in the area sells for $300,000. To get a ballpark figure for a run-down house, cut that price by three-quarters (75% of $300,000 = $225,000). Then subtract the cost of repairs (if repairs cost $30,000, that would be $225,000 - $30,000 = $195,000). That's about the most you should pay for your flipped house without cutting too much into your profits.

What Type of Loan Do You Need to Flip a House?
While an oversized bag full of cash is ideal for buying a house to flip, there are a couple of loan options out there if you don't have an extra several hundred thousand dollars lying around, including:
Hard money loan: A short-term loan funded by private or fund investors. Hard loan terms are around 12 months but can be extended for several years.
Bridge loan: A loan that covers time between two real estate transactions, usually simultaneously buying one home and selling another.
Conventional loan: A traditional loan used to buy a home. Requires a certain percent of down payment depending on home price and loan type.
If taking out a loan wasn't on your agenda for flipping a house, companies like FitSmall Business have several other financing options for house flippers.
Save on Home Insurance
Our independent agents shop around to find you the best coverage.
Successful House Flipping Tips
While flipping a house is not likely to make you rich overnight, with the right approach it can be a great source of secondary income.
If you feel like you've got a shot at becoming the greatest house flipper the world has ever seen, you'll want to start by following these 12 tips for flipping success:
Know the right price: Be sure to invest in a property that you're confident you can profit from. Memorize the formula we provided earlier to determine whether a house is a good bet or not.
Have good credit: Just like purchasing a home to live in, the better your credit, the easier it will be to purchase a house to flip.
Have cash: Money makes the world go round, and cash will make your house flipping project much easier. It's best if you can avoid taking out a loan.
Work with a good realtor: Work with someone who understands the market you're buying in and can help you zero in on the right home for the project.
Accurately estimate costs: Make sure you've got a good idea of the whole financial picture from start to finish. Flipping a house has initial costs, repair costs, marketing costs and loads of unexpected costs, ta boot.
Don't forget about holding costs: If you're using financing, you'll need to factor in holding costs, including mortgage payments, utilities, HOA fees and landscaping maintenance, while not bringing in any income.
Have good contractors: Use recommendations and references to find a reliable contractor that you can trust.
Purchase in the right neighborhood: Buy a house that is in an up-and-coming neighborhood where you can easily resell for a profit.
Avoid structural and foundation damage: Too much damage to a house will definitely make the juice not worth the squeeze.
DIY when you can: Any repair work you can do yourself will save you money in the long run.
Don't overdo it: The key to successfully flipping a house is to not go overboard on the repairs. Know and understand what similar houses in the neighborhood offer.
Add special touches: Spend a little extra cash on small features like faucets, lighting or plumbing fixtures and other inexpensive details that will enhance the overall vibe of the house.
Best Locations and Markets to Buy a House to Flip for Profit
Now that you know insider secrets to successfully flipping a house, where in the world (or at least the US) can you find a great house to flip? Sources recommend neighborhoods in the following cities.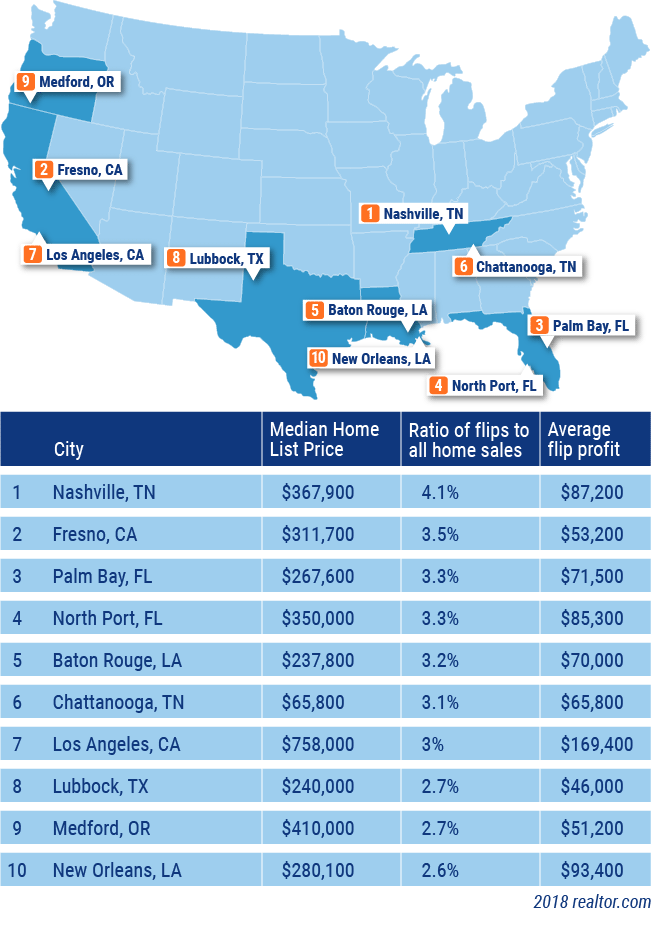 Now, there's no way we could cover everything there is to know to succeed in the world of flipping houses, but we hope this list of tips and insights will set you down the right path. The majority of the expertise in this world comes with trial and error. And don't forget to check with an agent about finding affordable home insurance.
©2022, Consumer Agent Portal, LLC. All rights reserved.
https://money.usnews.com/money/personal-finance/articles/2017-06-29/9-secrets-of-successful-house-flippers
https://www.attomdata.com/news/market-trends/flipping/q1-2018-home-flipping-report/
http://www.foxnews.com/real-estate/2016/08/17/how-to-flip-house-and-how-much-money-can-make.html
https://fitsmallbusiness.com/how-to-flip-a-house-tips/
https://retipster.com/hard-money-101-everything-need-know-getting-started-hard-money-loans/
https://fitsmallbusiness.com/fix-and-flip-loans/
https://www.realtor.com/news/trends/top-markets-for-home-flippers/
http://www.attomdata.com/