5 Pool Safety Tips for Staying Afloat
(What to know before diving into pool ownership)

Pools can be a relaxing escape from life, a place to pretend you're merman Michael Phelps, or just a huge toilet for small children.
Just like Puff Daddy, who was all about the Benjamins, pool ownership needs to be all about the safety. Like anything that brings immense joy, if you don't properly invest in the safety of your swimming pool, it could drown you. (Excuse the dark pun.)
It's also a good idea to invest in an affordable home insurance policy.
On average, 3,536 people die every year in the U.S. from unintentional drowning.
That means that educating yourself about pool safety is tremendously important, which is why we spoke with Margie Hemphill, who has more than 45 years of pool safety experience. She gave us some insight on pool safety and narrowed it down to five things to know before taking on a water giant of your own.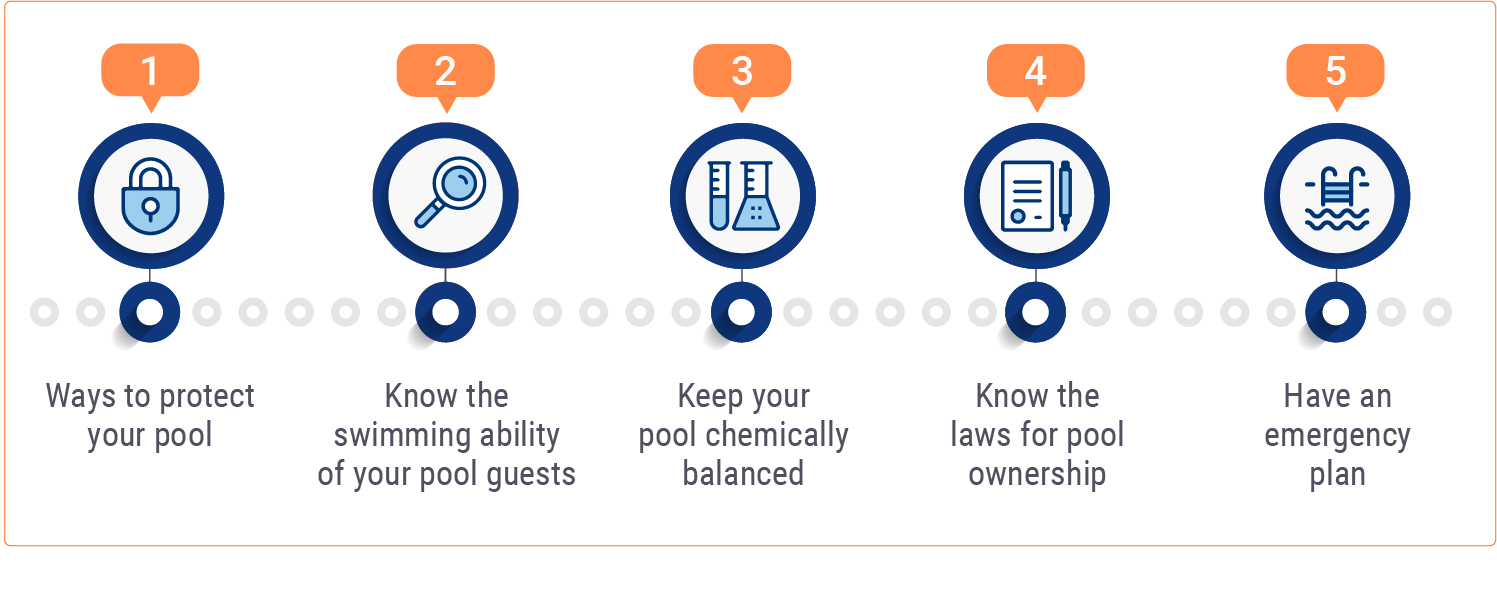 Save on Home Insurance
Our independent agents shop around to find you the best coverage.
#1: Ways to protect your pool
Think of pool safety like heading to the ski slopes on a -10-degree day; you want multiple layers of protection. In fact, Margie recommends three:
Fencing: Install a non-climbable fence around the entire pool area with a self-closing and self-latching gate. If you can't get a fence around your pool area, at least have one around your backyard.
Safety alarms: Install safety alarms on doors and windows facing the pool and put a floating alarm inside the pool.
Pool safety cover: Research pool safety covers and choose an automatic cover that locks with a key, but don't lose the key!
Having multiple layers of safety will keep your kids and those wandering little gremlins from next door from having an accident in your pool.
#2: Know the swimming ability of your pool guests
Before you let anyone swim in your pool, play a round of 20 questions related to their swimming abilities. If someone is a poor swimmer, or just looks like a sinker, don't leave them unattended.
Once all of your guests are preapproved for pool time, you should always keep an eye on your swimmers. Whether they are adults or children, a responsible (and sober) adult should always be present.
"If you're hosting a party I recommend hiring a lifeguard. You always think someone is watching, but alcohol and water recreation can be a recipe for disaster," said Margie.
#3: Keep your pool chemically balanced
It's common for people to believe that their pool maintenance company has the balance of their pool covered, but you should always double-check before diving in. Every pool comes with a chemical test kit; learn it, love it, use it.
Plus, not all pools use chlorine. Pool owners have started leaning towards more economically friendly sanitation, such as bromine, saline, minerals, and ozone. Each requires different efforts to maintain.
#4: Know the laws for pool ownership
Some rules are not meant to be bent or broken. Pool safety laws exist, and before you own a pool you'll want to be aware of them. The most important law is the Pool and Safety Act (P&SS Act), which requires all pools to have specific drain systems and pool safety covers that both meet federal standards.
The National Swimming Pool Foundation only offers, not only a training course so you can ensure that you're compliant with the P&SS Act, but also a list of laws and codes for swimming pool safety by state.
Save on Home Insurance
Our independent agents shop around to find you the best coverage.
#5: Have an emergency plan
Just like your mama told you, accidents happen. While we hope that a serious incident never takes place in your pool, you need to be prepared for worst-case scenarios.
When it comes to a rescue mission, there are two things to know: rescue techniques and rescue tools.
Rescue techniques: Jumping in to save a drowning person is not always the answer. If the person has sunk to the bottom of the pool or is floating unconscious, you can and should jump in to save them. If someone is flailing in the pool, you'll want to use the following rescue tools.
Rescue tools: Don't get dragged under by someone who is drowning in your pool. Keep a pool pole, flotation devices, and life vests close to your pool at all times. If someone is in trouble, throw them one of these objects to help get them safely out of the pool.
Before you open your pool to good times, be sure you have an emergency plan and a backup emergency plan and another backup emergency plan so that all of your guests stay afloat.
Are you feeling ready to float through your day while soaking up vitamin D and avoiding the creepy swimming pool vacuum? We thought so! With a little effort and lots of education, you can have the most on and poppin' pool in the neighborhood. We expect an invitation to the safest pool in the world - just make sure you're covered with an affordable home insurance policy.
Thank you to Margie Hemphill from Little One's Swim, in Reno, Nevada, for showing me how little I know about pool safety, and providing great insight and tips for this article.