Does a Business Owner Pay for an Insurance Agent?
(How to know what expenses are yours in insurance)

As a business owner, you may be curious about how your insurance agent gets paid and if you're responsible. The answer may surprise you, and that's why knowledge is king.
At TrustedChoice.com, there are several insurance-related resources to answer your every question and even has the ability to match you with a local independent agent.
What Is an Independent Insurance Agent?
First, it's good to know the basics. Most people aren't aware that there are two agent types, independents and captives. They are are also unfamiliar with what makes them so different.
Independent insurance agent: These agents represent your best interests. They work with multiple carriers, finding you the best coverage and pricing with the ability to shop rates in the future.
Captive insurance agent: These agents work for one carrier, having fewer options on coverage and price. A captive agent has limited products and has to hit specific metrics to keep their jobs, which could compromise your best interests as the consumer.
The independent insurance agent was formed back in 1896 when two independent fire agents wanted a better product for their clients. Along with a band of twenty others, they created what's known today as the Independent Insurance Agents & Brokers of America (IIABA).
The IIABA was formed with the consumer in mind. Their goal was, and still is, to protect the client, offering them more options at lower prices.
Who Pays My Independent Insurance Agent?
Most business owners have an accounting of all their expenses. If you're not sure whether you are paying your insurance agent, it can be confusing. The majority of independent agents get paid solely by the carriers. This releases you as the business owner from having to pay your agent.
It's the best of both worlds, really. You get a free advisor who works on your behalf. What more could you want?
How to Know if You're Getting a Good Deal on Business Insurance
Now that you know how your independent agent gets paid, what about your policies? The best way to get a good deal on your insurance is to work with an independent agent, simply because they have all the carrier offerings that you need and can get you the best rates.
Top Five Questions to Ask Your Agent on Your Business Insurance
1.) How often are you comparing my rates with other carriers? This is a great question to feel out how your independent agent operates. Most independent agents will shop your prices once your premium increases by 10% or more. But you want to be sure that they are keeping a pulse on your policies so that your premiums remain competitive.
2.) Are my coverage amounts still correct? As time goes by, the values of property change and coverages may need to change with them. What's meant for today may not be sufficient coverage for tomorrow. Your business is important, and your agent needs to check in on any changes that may arise.
3.) How do my deductibles look? Your business may be a far cry from when you started. Bootstrapping is no longer the name of the game, and you might be able to handle more risk. Speak with your agent about deductible options and how they can save you money.
4.) Is my policy still classified correctly? Some agents slap on a classification to rate your business with the insurance company. Over time your exposures could have changed, been added to, and even not been correct from the beginning. This can be a massive problem if you have a claim and find out coverage doesn't exist for your risk type.
5.) How do you handle claims within your agency? This is the most critical question you can ask. How your agent handles a claim when you have one is the whole reason for insurance. Claims can be delayed and even denied if your agent is not prompt and responsive. If your agent fumbles to find an answer, don't walk. Run.
Ready to Save On Insurance?
Our independent agents shop around to find you the best coverage.
How Claims Affect Business Insurance
If you're a functioning business, you know that insurance is essential to have when a claim arises. Claims handled by your independent agent need to be prompt, precise, and accurate. If your agent isn't coming to meet you or sending someone out to help upon your approval, you may have the wrong agent.
The gravity of the number of business insurance claims that occur in the US is astonishing. If you have even a fraction of the billion-dollar calculation, you need to be adequately covered.
Incurred losses for commercial insurance in the United States from 2012 to 2018 (in billion US dollars)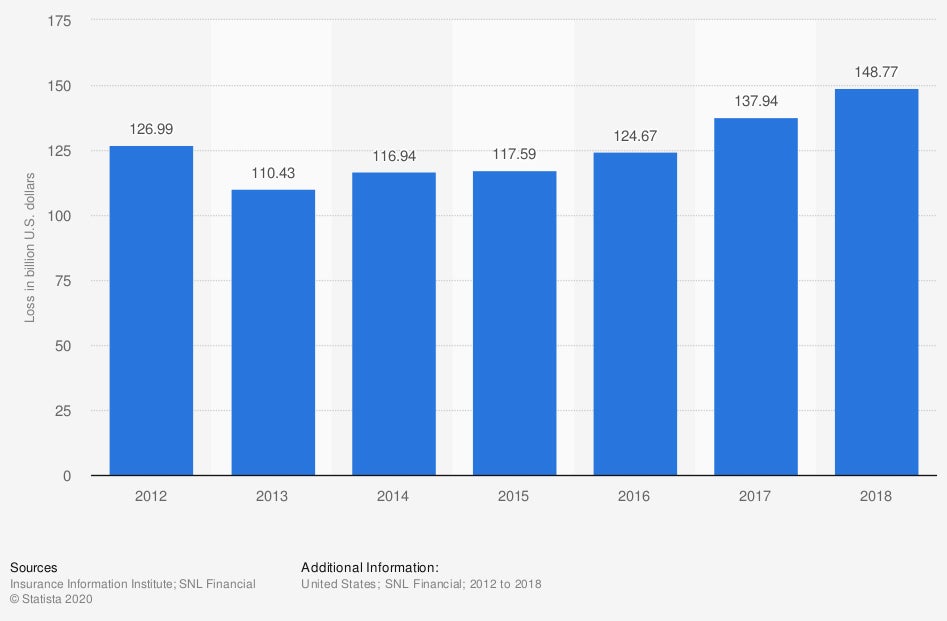 How to Find an Independent Agent
TrustedChoice.com is the perfect resource to find an independent agent for your business. They work with several agents in your area and can match you with the right one through their find an agent tool. What's stopping you from getting the coverage you need and the pricing you desire?
TrustedChoice.com Article | Reviewed by Candace Jenkins
©2023, Consumer Agent Portal, LLC. All rights reserved.
https://www.statista.com/statistics/429012/incurred-losses-for-commercial-insurance-usa/