The Independent Insurance Agent vs. the Captive Insurance Agent
(What's the difference and why one is better)

When it comes to choosing your insurance agent, there are a lot of options. It will help to know what each agent type offers, so picking one is easy.
When selecting an agent, you'll likely go with an independent or captive agent type. TrustedChoice.com can guide your efforts and match you with a local independent agent in minutes.
What Are Independent and Captive Agents?
It is essential to have some knowledge of the different agent types before you make a selection. More specifically, you need to know the difference between the independent and captive agents since they're the most common.
The Independent:
The independent agent is indeed working on your behalf. They use an unbiased opinion when it comes to selecting insurance. Independent agents can offer dozens of carrier and rate options saving you time and money. And as a bonus, you don't have to pay them because the insurance companies do that.
The Captive:
A captive agent is one who works with one particular insurance company. They have product offerings from that one carrier only and are more limited on coverage and pricing. The captive agent represents big insurance companies that you've likely heard of, such as Farmers, State Farm, Allstate, and American Family (to name a few).
Which Agent Type Has Cheaper Insurance Coverage?
Insurance a lot of times comes down to the age-old question of which one is cheaper? While rates matter because you need to be able to afford them, coverage is equally important.
The right agent will be able to harness their carrier's offerings and make an educated decision on which one is right for your insurance specifications. Most of the time, you will find that the independent insurance agent is the least expensive of the two, and the most equipped.
Over 60% of consumers go back to an independent agent after leaving them for a different agent type. The grass is not always greener, and what can seem like a good idea at the time may come back and bite you.
Why People Keep Coming Back to the Independent Agent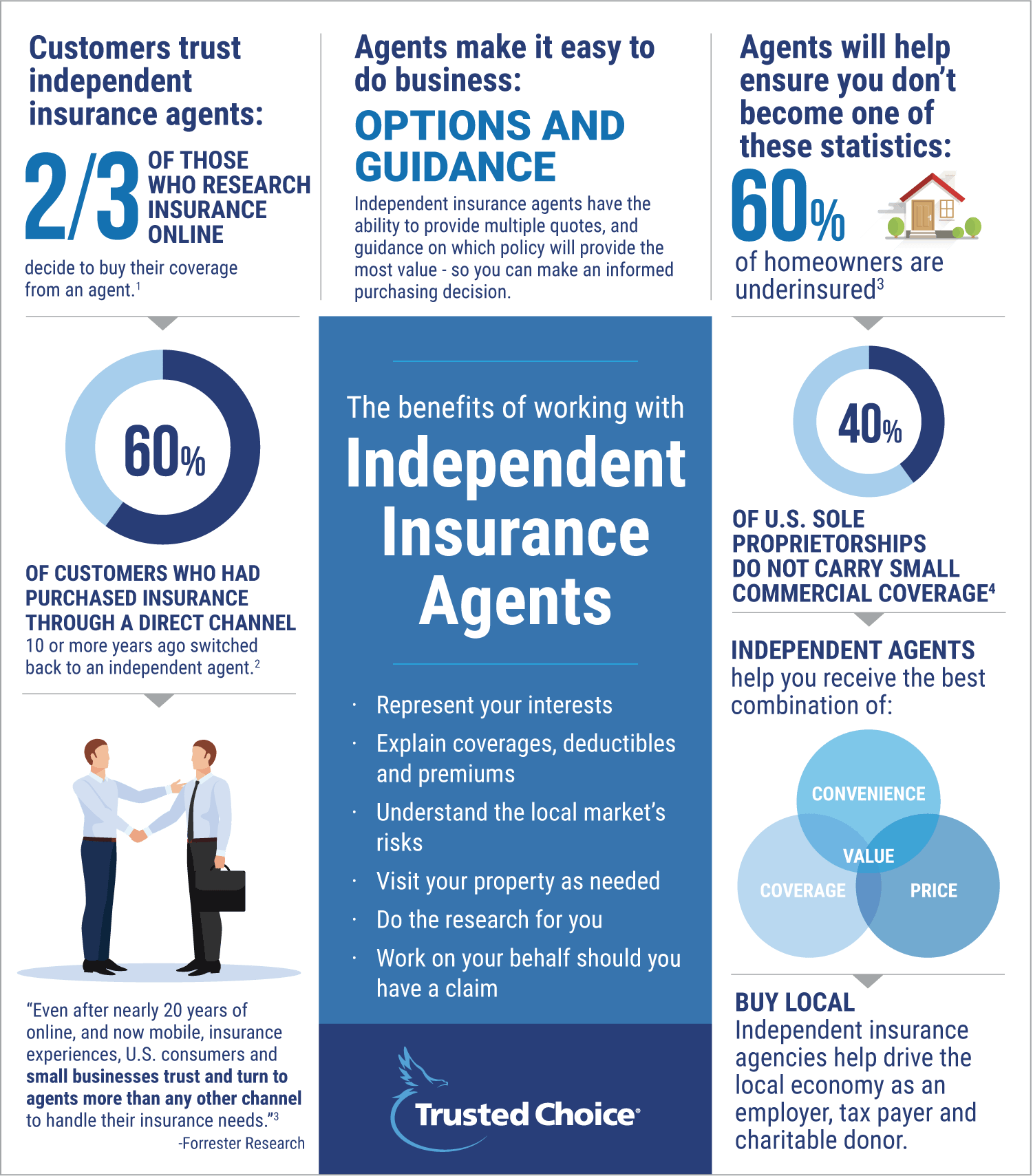 1. US Insurance Shopping Study, J.D. Power, 2016
2. 2013 study conducted by InsightExpress and The Hanover
3. Forrester Research, Loyal Insurance Agents Drive Sales, February 2016
4. Small Commercial Insurance: A Bright Spot in the U.S. Property-Casualty Market, McKinsey & Co, 2016
This material is provided for informational purposes only and does not provide any coverage. For coverage please contact an independent insurance agent.
Which Agent Type Is More Knowledgeable?
When it comes to insuring life's most valuable possessions, you want an agent who knows their stuff. A captive agent is responsible for knowing one carrier and the products that they offer. Traveling outside of that scope is highly unlikely and even out of character for a captive agent.
An independent agent, on the other hand, is well versed in many carriers and product offerings. They are typically educating themselves on numerous lines of coverage because there's more to know. When there is more to know, there's more to offer. And for that reason, they are highly educated in insurance.
Independent Agent vs. Captive Agent
Independent
Entrepreneur and small business owner
Works with more than 20 different insurance companies so you have an insurance policy that meets your coverage needs as well as your budget
Works with many local insurance companies who don't waste their money on advertising thus keeping more of your money in your community
Captive
Works for large corporation
Can only write the types of insurance their company offers
Works for a corporation with a large advertising budget
How to Interview Your Next Agent
When you are shopping for insurance agents, you want to be sure that you know what you're getting. What you don't want to happen is to get an agent who isn't knowledgeable or responsive. After all, you're protecting your assets, livelihood, and quality of life.
Questions to Ask Your Future Agent:
1.) How long have you been in the game? Experience isn't everything, but you want someone who has an appetite for all things insurance. If your interviewee doesn't strike you as an avid learner, it might be good to pump the brakes.
2.) What is your process for handling claims? Claims are a make or break deciding factor. If your agent can't answer this simply and precisely, they may not have a plan at all, which could put you in hot water.
3.) How many different insurance carriers are you running me through? Options give you a better chance at the right coverage and price. If your agent doesn't have carrier options, then you are likely to get a one-size-fits-all product.
4.) What's your response time? You've all heard the story of the nightmare agent who never returned your calls and was impossible to get ahold of. That doesn't have to be your story with the right independent agent. Make sure they have a good track record of being available when you need them.
Ready to Save On Insurance?
Our independent agents shop around to find you the best coverage.
How to Make the Switch
So you've decided that an independent insurance agent is a right choice for you? Now, what about connecting with one? It can seem overwhelming when there are so many agents to choose from. That is why TrustedChoice.com has come up with a free tool that matches you with a local independent agent.
Instead of going through a phone book or Google and working down the list of agents, you can get advice from one right here.
TrustedChoice.com Article | Reviewed by Candace Jenkins
©2023, Consumer Agent Portal, LLC. All rights reserved.