Who Pays the Independent Insurance Agent?
(And is it you?)

If you have an insurance agent, then you may be wondering how they get paid. It is essential to know so you can gauge the value they bring to the table. The answer may surprise you.
At TrustedChoice.com, they have answers to your burning insurance questions. What's even better is you can connect with a local independent agent in moments.
What Is an Insurance Agent?
First, it's good to know what an insurance agent is, the types of agents out there, and what they can do for you. There are two general types of insurance agents, the independent agent and the captive agent.
The Independent Agent
The independent agent is an unbiased party that works with dozens of insurance carriers. This allows them to find the best value for your insurance needs and give you the most options.
The Captive Agent
The captive agent works for one insurance company and has only that option when it comes to your insurance coverage. They are employed by the carrier and are obligated to do what's in the carrier's best interest.
Who Pays for Your Insurance Agent?
When it comes to insurance agents getting compensated, both agent types get paid by the insurance companies. But that's where the similarities end. The captive agent typically earns a salary from the carrier as well as commissions. This agent compensation is in addition to the millions of dollars captive carriers spend on advertising. Do you like those Geico and Allstate commercials? Good, because you're paying for them if they insure you.
The independent agent is compensated only by commissions, meaning that for what they sell, the carrier gives them a small cut of the profits. The carriers that work with independent agencies are a little more off the radar than some better-known markets. This is because they choose to pay a fraction of the price on their agents to recommend their products, and then waste customers' premium dollars on advertising.
Ready to Save On Insurance?
Our independent agents shop around to find you the best coverage.
How Much Do Captive Carriers Spend on Advertising?
There was mention of millions in the previous section, and that is because it's accurate. According to a 2018 study, the carriers spending big money to gain customers are captive or direct markets. This means they don't use independent agents and are using your paid premium dollars to hook more customers.
Advertising Spend of Captive and Direct Markets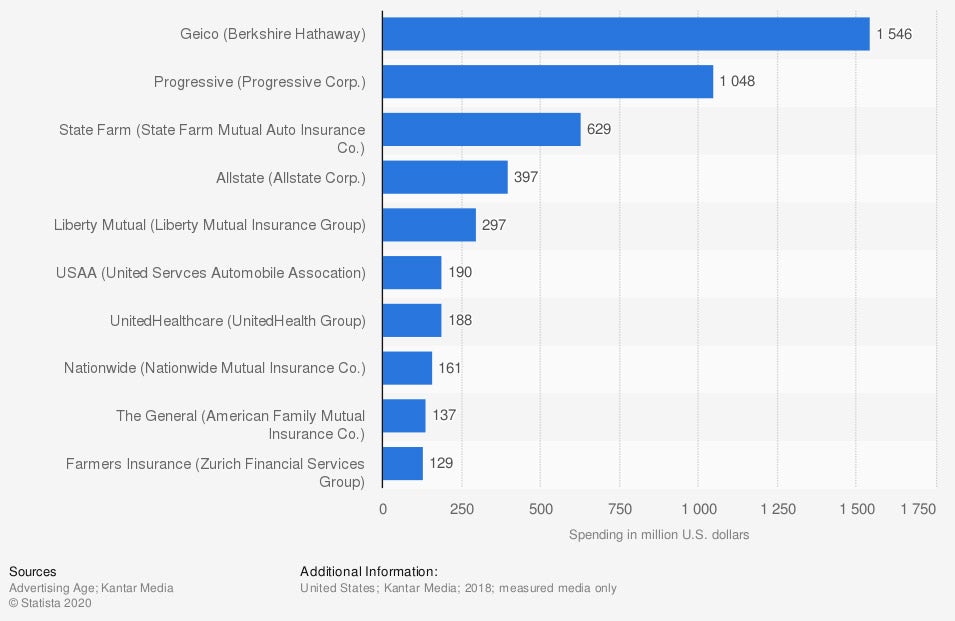 What Affects Your Insurance Premiums?
Now that you know you aren't personally paying for your independent insurance agent, what does affect premiums? Here is a list of ten factors that will have an impact on your rates.
Top 10 policy rating factors when purchasing insurance:
1. Motor vehicle reports (MVRs): What you have on your driving record will affect your insurance rates for a period of 3 - 5 years. The more violations you have, the higher the premiums will be.
2. Where you live: This will affect your pricing, depending on local crime rates and traffic patterns.
3. Your experience level: The more driving experience you have, and the longer you've gone without claims, the better your rates will be. Typically, after age 25, your prices will start to get lower all around.
4. People living in your household: The number of people on your insurance policies because they live in the same home will impact your premiums. The insurance company has to account for your risk factors and the risk factors of each individual.
5. Prior insurance claims: Like your MVRs, if you have any past insurance claims from previous insurance coverage, you will also be surcharged for 3 - 5 years. Your MVRs and past insurance claims will follow you around like a credit score no matter who your carrier is.
6. What type of business you have: If you are getting insurance for your business, it matters what you do. A retail store selling T-shirts and jeans will cost much less to insure than a logging company knocking down trees.
7. Your employees: If you are lucky enough to have employees, your insurance rates will be affected by their job duties, pay, and the number employed. Most workers' compensation coverage for employees is state-mandated and typically has a minimum premium.
8. Your credit score: When you purchase insurance, they don't run your credit score. However, they do a softer pull called your insurance score that is tied to your credit. If you have poor credit, then your insurance premiums will be higher.
9. Property value: Whether it's your vehicle, home, or business property, the value of your property will impact your rates. The more each item is worth, the more it will cost to insure.
10. Safety features: If your car, home, or business has the newest safety features, then carriers will discount your rates accordingly. The more seriously you minimize your overall risk, the more they reward you.
Where Did All the Independent Agents Go?
If you are wondering where to find an independent agent, look no further. At TrustedChoice.com, there is a find an agent tool that will connect you with a local independent agent in seconds. So go on, live a little and get some good insurance advice from a trusted adviser.
TrustedChoice.com Article | Reviewed by Candace Jenkins
©2023, Consumer Agent Portal, LLC. All rights reserved.
https://www.statista.com/statistics/264968/ad-spend-of-selected-insurance-companies-in-the-us/