Who Does Your Independent Insurance Agent Work For?
(Is it you or the insurance company?)

Maybe you're thinking about getting an independent insurance agent or you already have one. What about who your independent agent works for. Is it you or the carrier?
You'll want to work with an agent who has your best interests in mind. At TrustedChoice.com, connecting with said independent agents has never been easier.
What Is an Independent Insurance Agent?
First things first, what is an independent agent anyhow? An independent agent is a licensed insurance agent who sells life, home, auto, umbrella, and business insurance. They are your neighborhood agents, meaning they are local and know which carriers are best suited for your needs.
An independent agent works with dozens of insurance companies and can find you the best coverage and rates. There is a better way to shop for insurance, and an independent agent is that way. They have options, unbiased opinions, and can truly provide value to your coverage search.
Who Does an Independent Agent Work for Anyway?
An independent agent works for you. They are for the people and can offer advice that is untainted by sales quotas or corporate politics.
The independent agent was first introduced in 1896 when two independent fire agents got together and decided there had to be a better way. The dream they were reaching for was more options for their clients and ways to hold insurance companies accountable.
Thus the Independent Insurance Agents of America (IIAA) was born and is still the oldest and largest association of independent insurance agents in the nation.
What Types of Insurance Does an Independent Agent Offer?
If you've been around long enough to explore the world of insurance, you know that having choices is essential. Independent insurance agents work with dozens of insurance companies. Because they can find a variety of rates and coverage options, you can get the best.
The independent agent knows the complexities of each carrier market and the laws that govern them. That keeps you in line with both state and federal insurance obligations that may arise.
An independent agent can be licensed to offer the following insurance products:
Property & casualty insurance: This insurance covers the property you own, like your home, car, and business property. The casualty insurance portion means they can offer the liability coverage to protect against legal responsibility for an accident that causes injuries to another person or damage to another person's belongings.
Life insurance: Your agent will be able to advise on life insurance products such as term, universal, and permanent life insurance. They can even help with buy-sell agreements and key person policies.
How to Know if You're Working with an Independent Agent
If you're not in the industry, knowing who exactly an independent agent is could be foreign. Here are some key differences that you can pick up on:
1.) They work with dozens of insurance carriers. Some agents are known as captive agents and only work with one main insurance company, such as Farmers, State Farm, or Allstate. An independent agent will work with several carriers.
2.) They are local. Most of your independent insurance agents are local to your area and have an office you can visit.
3.) They work for you, not the insurance company. What's great about working with an independent agent, is that they work for you and work with the insurance companies. They always put your best interests first and remain unbiased.
4.) They answer the phone. You are working with one or two people within an independent agent's agency. If you have to call a 1-800 number or the carrier directly, then it's a good indication that you're not working with an independent agent.
5.) They shop your policies. An independent agent is like no other because they shop your insurance policies for you with multiple carriers. They are finding you more competitive rates due to an increase or better coverage offerings.
Why an Independent Agent Is So Great
Time and time again, consumers are coming back to independent agents. In fact, a study done concluded that 60% of clients who left an independent agent ended up coming back. The old adage "the grass is greener on the other side" turns out isn't entirely accurate in this case.
Another 60% have homeowners coverage that isn't adequate. Coverage that won't cover your largest asset is worth dropping. A local independent agent will explain what coverages you need and why you need them. Insurance isn't rocket science, but it can be complex, which why you need an agent.
Why Independent Agents Are Good at the Comeback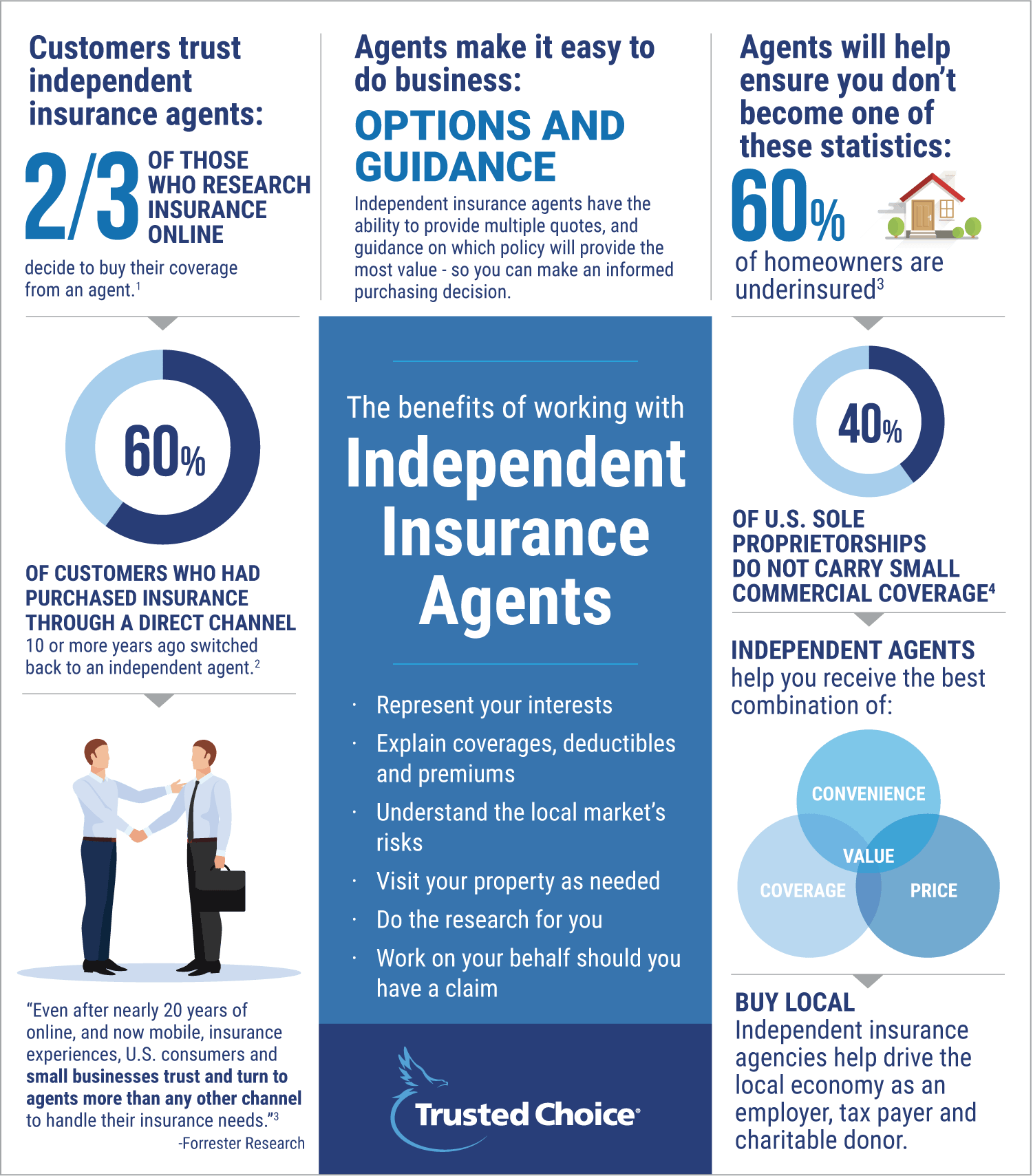 1. US Insurance Shopping Study, J.D. Power, 2016
2. 2013 study conducted by InsightExpress and The Hanover
3. Forrester Research, Loyal Insurance Agents Drive Sales, February 2016
4. Small Commercial Insurance: A Bright Spot in the U.S. Property-Casualty Market, McKinsey & Co, 2016
This material is provided for informational purposes only and does not provide any coverage. For coverage please contact an independent insurance agent.
Ready to Save On Insurance?
Our independent agents shop around to find you the best coverage.
How to Connect
How to connect with an independent agent is as easy as 1-2-3. TrustedChoice.com has a find your agent tool that matches you with a local agent in your area. Fortunately, TrustedChoice.com only works with the best, and now you can too.
TrustedChoice.com Article | Reviewed by Candace Jenkins
©2023, Consumer Agent Portal, LLC. All rights reserved.