Moving to New York
(Because upstate New York needs love, too)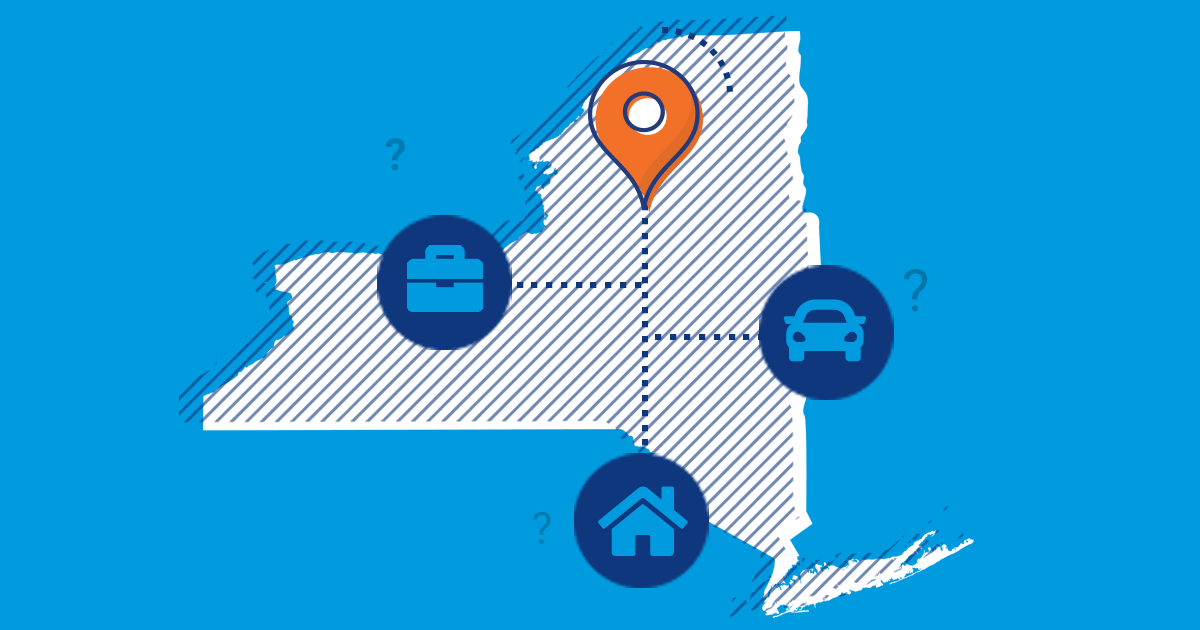 So you want to move to New York, but feel like your confidence meter is a few clicks short of "I've got this." Well, friend, you're in luck - we've compiled a super-handy little guide to some of the main checklist items when it comes to contemplating a move to a new state.
About 13,113 people moved to New York between 2017 and 2018. In total, 19,862,512 people currently live here, and the state is only going to get bigger. It's estimated that by 2020, the population will increase by nearly a quarter-million (bumping it up to more than 20 million), according to worldpopulationreview.org.
Believe it or not, NYC isn't all this awesome state has to offer. Upstate New York has a special flavor all of its own, being home to many national and state parks, as well as museums and historical sites. There's plenty to see and do throughout the state, with something that'll appeal to just about any kind of person out there.
Still need more of a push, huh? Well then, strap yourself in for a thrilling ride through our tips and tidbits about what makes the Empire State worth moving to (or at least visiting). Bring extra fuel.
Job Market
With so many people moving to New York all the time, it's probably no surprise that the job market here is absolutely booming. Many who relocate to New York do so because for its many job opportunities.
Some of the fastest-growing jobs in the state - as listed by nypost.com - include registered nurse practitioner, software developer, account manager, accountant, sales representative, marketing assistant, data analyst, financial analyst, writer, web developer and physical therapist.
Among the highest-paid jobs currently are pharmacist, mobile developer, professor, tax manager, architect, attorney, nurse and physical therapist, according to zippia.com.
With an unemployment rate of just 4.6%, according to the Bureau of Labor Statistics, and a minimum wage of $10.40/hour (well above the federal rate) according to minimum-wage.org, it's becoming easier to see why so many people come here to start a new career.
Housing
Of course, when relocating to a new state, one of the main concerns of your busy mind is finding a place to live (or so we hope, at least). We already know that there's an insane number of people inhabiting the Empire State, so what exactly is the housing market like?
To begin with, zillow.com shows that the median value of New York homes is currently $282,600, and houses are listed on the market now for an average of $381,037. And we're sure it's not shocking that much of New York's rent ain't cheap - the median rent for a house is $3,300/month. In addition, home values have increased a nice 6.3% in the last year.
We know that we wouldn't be helpful if we didn't talk about apartments, though. Albany's one-bedrooms go for an average of $1,078/month, and two-bedrooms for $1,273/month. Rochester has apartments listed for a much-more-affordable average of $912/month. Buffalo has one-bedrooms going for $909/month and two-bedrooms for $1,061/month. So, clearly there are areas of the state that offer housing for much closer to the national average than its major-metropolitan area.
While zillow.com states that the "dominant decade for homes still standing" in the state is 1950-1959, there's also a ginormous amount of new construction popping up everywhere. A large amount of the new construction is straight across the state's midline - from Buffalo to Ithaca to Albany. However, there is even more throughout the state's lower right hook - across NYC, Long Island and beyond.
Culture and Natives
As far as upstate New Yorkers go, locals say that they are friendly, helpful neighbors who enjoy a slower pace of life than their southern NYC counterparts. Residents here say that living upstate is their way of "escaping the city" and all the craziness that surrounds it, though they still face horrible commute times throughout the state.
When it comes to southern New York, however, a Long Island native told us that the people in the areas surrounding NYC, all across the lower right hook of the state, are somewhat indifferent and tend to keep to themselves. A stroll down the street in these areas doesn't typically involve any waves or "hello"s from neighbors/strangers. People in this part of the state aren't as approachable as their upstate counterparts, nor are they as friendly as those in states to the south. They are, however, uniquely diverse, and many tend to be on the artistic side.
Residents say that many New Yorkers are not native to the state. Those upstate enjoy the ease of travel to Canada as well as the natural beauty the northern part of the state has to offer. Many upstaters call themselves proud outdoorsy types.
Empirical Trivia
Upstate New York has been referred to as the "land that time forgot" by locals, because so much attention is placed on NYC. Still, locals here boast about the beautiful scenery of the rolling hills and rural farmlands, as well as the state's famous bodies of water and state parks.
In fact, Adirondack Park is the largest park in the US, spanning more than 6 million acres of protected natural spectacles. It's so massive, in fact, that it's bigger than Yosemite, Yellowstone, Grand Canyon and Great Smoky Mountains national parks combined, covering 20% of New York's total state territory. Now that's impressive.
Come winter, residents love to bust out their snowmobiles and hit the trails. Several of which, in fact, happen to be in Adirondack Park. Saranac Lake, for example, is "crisscrossed with hundreds of miles of well-maintained trails", according to the park's official website. Snowmobile lovers aren't just in it for the adventures on the powder - they also love the social aspect of meeting up with friends, relatives and strangers on their journey.
New York also houses Fort Ticonderoga, an 18th century fort near Lake Champlain, which was built in the 1750s by the French. This fort played a pivotal role in the Revolutionary War. As if that's not enough historical significance, the state also is home to Historic Fort Ontario, which housed soldiers during the Revolutionary war and more than 900 Jewish refugees during World War II. You can't escape this state without consuming a nice helping of history.
Can't-Miss New York Sights + Sounds, Fun + Activities
Whether you're a devoted nature lover or history buff, there's something in this state for you. There's probably even lots of stuff here that you'll want to do twice. We can't possibly list it all here, so we'll just throw a few highlights at you.
Here are just a few of the state's main attractions:
Niagara Falls State Park: Along the Niagara River in northern New York is the city of Niagara Falls, which holds one of the top tourist destinations in the country - the vast and world-famous Niagara Falls - which straddle the border with Canada. Niagara Falls State Park houses an Observation Tower for tourists to view the spectacle of all three waterfalls pouring into Niagara Gorge. The park also has hiking trails to several different viewpoints for unique photo ops. Make sure to pack a poncho and waterproof gear for your camera.
Lucille Ball-Desi Arnaz Museum: Located in Jamestown, NY, it honors "the first couple of comedy," Lucille Ball and Desi Arnaz, most famous for the iconic '50s sitcom I Love Lucy. Ball's hometown wanted to pay homage to the star by offering a place for tourists to view the show's original costumes and memorobilia, as well as the awards the couple stockpiled and photographs of their lives - both onscreen and off. The museum also features re-creations of famous sets from the show, including the beloved living room. "Lucy, I'm home!"
National Museum of Racing and Hall of Fame: Located in Saratoga Springs, this museum was founded to honor famous American Thoroughbred racehorses and their jockeys and trainers for their achievements. Annual inductees are announced during Kentucky Derby Week each May. The museum features photos of horse racing through the years, art inspired by the sport, and memorabilia from the industry. Many trophies from past winners are on display, as well as uniforms and gear from jockeys.
Montauk, Long Island: The furthest eastern point of the Long Island peninsula is a village called Montauk. This area has all kinds of stuff to do, from viewing lighthouses to exploring multiple state parks and lakes. There's also a Yacht Club for those that like the beach resort vibe, and a coastline ranch, called Deep Hollow Ranch, where you can ride horses through the countryside and across beaches.
The Witches Brew Coffeehouse: Located in West Hempstead, this unique coffeehouse offers a mainly vegan menu with plenty of dessert options, as well as exotic teas, coffees and lattes galore. The atmosphere, however, is mainly what draws in its devoted clients - its gothic theme offers plenty of inspiring mood-lighting and a cozy lounge area for those that want to drink their coffee and chill.
Breakneck Ridge Hiking Trail: Located between Beacon and Cold Spring along the Hudson River, this hiking trail was listed as one of the top ten hikes in the country by Newsweek magazine. Some sights include the Storm King Mountain, a fjord carved by glaciers through the Appalachian Mountains, the decaying Bannerman's castle on Pollepel Island from the early 1900s and Constitution Island, which was used during the Civil War to build rifles. Just be careful - this trail has seen many hiker deaths in its day.
Pros and Cons of Living the New York Life
We're sure you're super antsy to abandon all your possessions and jump on your snowmobile on the fast track to New York, but hit that pause button. Before you decide to relocate and start your life fresh, perhaps taking a gander at our little list of some pros and cons to New York life would be beneficial.
Some indisputable PROs to living here:
Tons of stuff to do: Between the themed unique museums and coffeehouses, concerts, sporting events, historical sights, waterfalls, state parks and celebrity sightings, you'd be absolutely crazy if you said there wasn't anything to do here.
Nature galore: The flip side of living in the hustling NYC area is living in the quieter, upstate area, which offers a slower pace of life and many natural wonders. When the exhaustion of NYC sightseeing sets in, upstate New York offers a peaceful haven to unwind in and explore much more green territory than in the "concrete jungle." In addition to Niagara Falls, there's also the Ausable Chasm (said to be "the Grand Canyon of the East coast"), Chimney Bluffs State Park, Fillmore Glen State Park, Buttermilk Falls State Park and more.
Celebrity sightings: While you may think this is reserved for NYC only, this isn't the case. In fact, many celebs have found their home in upstate New York, including: Al Roker (who lives in Chatham), Kelsey Grammer (who has a pub in Delaware County), Susan Dey of the Partridge Family (also in Delaware County), Kate Pierson of the B-52s (who has her own motel in Ulster County), Liam Neeson (who lives in Millbrook), Mark Ruffalo (in Callicoon) and even Yoko Ono, herself (she has a mountaintop estate in Franklin). There's practically a famous person anywhere you could go, here.
All four seasons: The residents of New York enjoy all different types of weather throughout the year - from bone-chilling, snow-heavy winters to t-shirt-ringing-status sweat-inducing summers. No matter your weather of choice, there will be some of that here, for you.
Now for the less enthusiastic CONs:
High cost of living: CNBC ranked New York as #2 on the list of "America's 10 Most Expensive States to Live in 2017" - finishing behind only Hawaii. Home prices and taxes are high and groceries are expensive. There's a lot of demand in the state due to the many residents, and in turn, the state knows it can profit off of its supplies. People will pay more to live here, simply because it's New York.
Tourists and traffic: New York is home to many of the top-grossing tourist attractions in the country - and the world. All of these people rushing to see all things Empire State of course creates lots of traffic. Though most of it is in the southern part of the state, even upstaters complain of terrible commute times. There's probably plenty of tourists rubber-necking when they spot a celebrity walking their dog, in any part of the state, causing traffic jams.
Extra harsh winters: Break out the chains for your tires - you'll need 'em when the snow dumps in buckets. On the plus side, this could be a very good thing for all you snowmobile lovers out there.
Weird Laws
Now onto the cookiest segment of our guide. It's time, kids, to discuss some of the weirdest and most outdated laws in New York. Why? Well, because what moving to guide would be complete without one? Prepare for some eyebrow-raises, groans of disapproval and perhaps a couple of laughs.
Here are just a few from onlyinyourstate.com:
It's illegal to speed past a garbage truck. No matter how late you were when you left the house this morning, if you get stuck behind one of these bad boys, that's just too bad. On the bright side, now you've got some extra time to catch up on that audio book/podcast - just hold your nose while you do.
It's illegal to post a selfie with your voting ballot. Apparently this law came about after the most recent presidential election. Stick to your proud "I Voted" sticker-sporting selfies, to be on the safe side.
You can't chuck a ball at someone's head in this state. Seriously, not even for fun. Not even because they actually deserved it. You can't, so just don't.
You can't release "25 or more" helium balloons in Long Island. Up to 24, and you're good. Any more than that, though, and you're in for a whole mess'a trouble.
Putting your thumb to your nose and waggling your fingers is a no-no. Perhaps the Empire State is trying to prevent you from looking like an idiot...we don't know. We just know that if you do it there, it's bad. For some reason.
Bookin' it on over to the Empire State
Well, folks, there it is - your tiny, easily-digestible guide of all-things New York state (well, not all things, but you know what we mean). It wouldn't be possible for us to cover absolutely every single detail that concerns those who are looking to make a cross-country move (we do have other things to do, you know), but we hope that this travel-sized guide will help you set your sights on your next course of action.
It's over to you, now, to decide if you'd like to become part of the Empire State. There's plenty this state has to offer, including the relaxed atmosphere of people enjoying Mother Nature's beauty, the thrill of the unique themed museums and coffeehouses, the excitement of celebrity sightings even outside of the big city and the historical trivia quota-filling natural sights and landmarks. We hope you've enjoyed being along for this ride as much as we have.
Good luck - and remember to throw some extra tire chains in the back of your snowmobile before you take off.