Tips and Tricks for Hosting a Cozy Outdoor Holiday Celebration
How to prepare your outdoor space for family gatherings, and how homeowners insurance can cover unexpected mishaps.

Having family over for the holidays can be a heartwarming experience, but it can also make your home feel crowded. Just because it's cold outside doesn't mean everyone has to be stuck indoors huddling around the fireplace, though. There are many easy ways to create a cozy backyard space that you're proud to show off to your family.
But before following these tips, make sure you're equipped with the right homeowners insurance. It's not enough to make your back patio attractive and comfy, it's also got to be protected in case of any mishaps. An independent insurance agent can help you find the right coverage long before you'd ever need to file a claim. For now though, check out this simple guide to transforming your outdoor space for the holidays.
Warm Up Your Patio and Backyard
When it comes to hosting outdoor get-togethers over the holidays, the biggest concern is cold weather. If your guests aren't warm enough, they won't care too much about the effort you put into decorating and improving your patio or backyard. Luckily there are a couple of simple fixes for the low temperature issue.
Patio heaters: There are a few options when it comes to heating your patio. Gas or propane powered patio heaters are popular because they put off a lot of heat from just one unit, and are the best option for winter weather. It's just important to never use a gas or propane heater in an enclosed area, so make sure there's always plenty of ventilation. Infrared patio heaters are a popular modern option and can usually hang from a wall. Infrared heaters are efficient and put off heat similar to gas and propane heaters. Electric patio heaters are an option best used in slightly warmer weather, since they do not put off as much heat as their counterparts.
Fire pits: Fire pits are an easy way to make any outdoor space feel instantly cozier. While a more permanent option is to dig or build a fire pit out in the backyard, there are plenty of portable options today that can be placed right on your patio. Fire pits come in all kinds of designs and shapes, and can be made of stone, brick, or clay. Depending on your tastes, you can opt for a wood burning, gas or propane powered, or gel fueled log burning fire pit.
Type of Fire Pits Owned by Consumers in the US as of 2019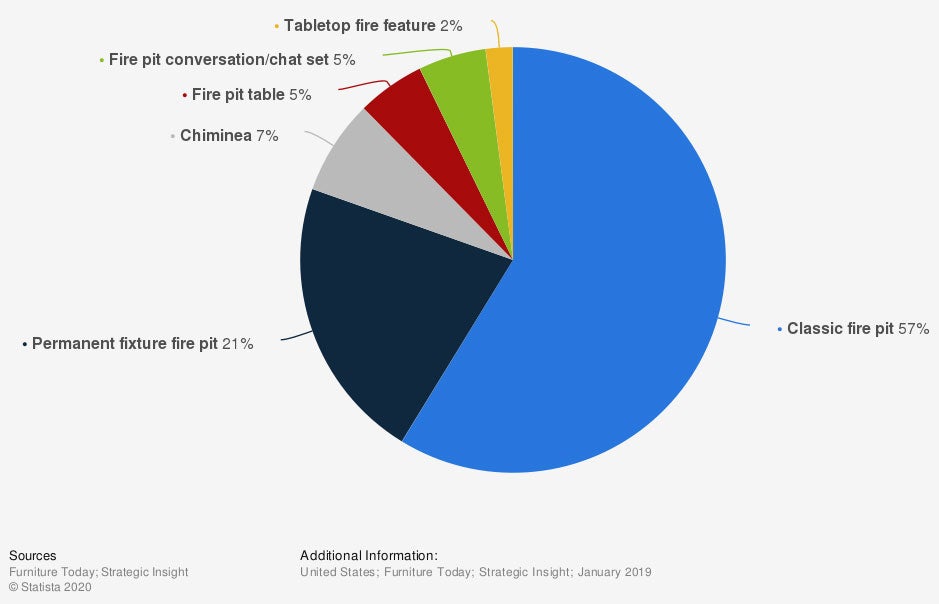 In 2019, the type of fire pit most commonly owned by US homeowners was by far the classic style (i.e., dome or square shaped with an open flame), with 57% of fire pit owners opting for this design. Next most popular were permanent fixture fire pits, installed either in the backyard or on the back patio.
Another great thing about patio heaters and fire pits is that if just one device doesn't sufficiently heat your entire outdoor living space, you can easily add another. Be sure to keep a clear perimeter around any heating units to protect other property, as well as family members and other guests.
Spice Up Your Holiday Dinners with Winter Grilling
Another way to create space during a crowded family gathering is to do your cooking outside, even if it's cold. But just like indoor cooking, outdoor grilling has its own set of rules for safety, which can get even more complicated in the colder seasons. Follow these important tips to ensure a smooth winter grilling experience.
Clear the path and the grill: If any type of wintery mix weather has happened recently, you'll need to clear a path to get to your grill before you can toss any steaks on open flames. Take proactive measures and salt a walkway in your backyard if you're planning to use your grill in the near future, or otherwise shovel and clear the path of any ice. Never grill in your garage, always in an area with plenty of ventilation. Also be sure to clear any snow or other precipitation off the top of your grill completely before you open it, to avoid soggy burgers.
Get a headlamp: It's no secret that in the winter months the sun goes down long before anyone gets hungry for dinner or even thinks about meal prep. The easiest way to monitor your cooking is to use a headlamp on your grill. This way you're not relying on the flashlight feature of your cell phone, which could end up falling onto the coals with just one false move.
Bundle up: Since you're going to be cooking over an open flame, it may be tempting to skip the extra layers of winter clothing. It's important to at least wear a hat to maintain body heat, and also consider fingerless gloves to protect your hands while still allowing precise movement.
With a bit of extra forethought, it's easy to create a safe winter grilling experience. Combine these tips with the previous ideas to create a cozy outdoor patio or deck space, and the entire family can gather around while you cook (and be available to grab any ingredients you need).
Save on Home Insurance
Our independent agents shop around to find you the best coverage.
Prep Your Deck or Patio for Snow and Ice
Of course, before you can actually do any grilling or host an outdoor get-together for your family over the holidays, you'll need to prepare the space itself for snow and ice. Fortunately this can be done in just two simple steps.
Clean your deck or patio: Before taking the next step, it's important for your deck or patio to be deeply cleaned. Special cleaners are available depending on the type of material used for your deck or patio. If you're uncomfortable cleaning it yourself, hire a professional to power wash it for you.
Finish your deck or patio: Only after your deck/patio is sufficiently cleaned should you apply a finish to it. Water-repellant finishes are designed to protect these areas from damage caused by snow and ice. Without a proper finish, your deck/patio could end up with cracks, or even get warped over time. Make sure to select your finish based on the materials used in your deck/patio.
Preparing your deck or patio for the harsh of effects of winter will be well worth it in the long run, when you're able to comfortably host holiday gatherings outdoors in a safe, warm, and cozy space.
Review Your Homeowners Insurance before the Holidays
Though the holidays are meant to be joyous, there are plenty of potential liabilities that can arise from any type of gathering, especially when flames and heating units are involved. Fortunately your homeowners insurance provides protection against the following:
Fire damage: If your cozy fire pit gathering or outdoor grilling experiment gets a little too hot to handle and out of control, luckily homeowners insurance covers fire damage to your home and personal property.
Blizzard damage: If your home ends up damaged by a blizzard before the holidays, fortunately your homeowners insurance will help reimburse you for necessary repairs so you can still have company over.
Liability: Even a member of your own family can decide to sue you if they end up getting hurt on your property, or if any of their belongings get damaged. Homeowners insurance includes liability protection for property damage and bodily injury to third parties, including guests who get burned by your patio heater.
Review your homeowners insurance policy with your independent insurance agent well before the holidays so that you're completely familiar with your coverage. Afterwards, follow these important tips for preparing your outdoor space for cozy get-togethers to make for a warmer holiday celebration all around.
Here's How an Independent Insurance Agent Can Help
When it comes to protecting homeowners against holiday outdoor gathering mishaps and all other perils, no one's better equipped to help than an independent insurance agent. These agents search through multiple carriers to find providers who specialize in home insurance, deliver quotes from a number of different sources, and help you walk through them all to find the best blend of coverage and cost.
TrustedChoice.com Article | Reviewed by Paul Martin
©2022, Consumer Agent Portal, LLC. All rights reserved.
bestofmachinery.com
grillaholics.com
hgtv.com
richardstbs.com