7 Steps To Take If a Hurricane Damages or Destroys Your Home
Steps for filing an insurance claim when Mother Nature shows no mercy

Having your house damaged or destroyed by a hurricane brings with it more than a wave of emotions. While hurricanes might not strike often, when they do, they leave behind a big mess.
If your house is part of that mess, you'll need to file an insurance claim. Your emotions will be high and your stuff will be all over the place, but the sooner your claims process begins, the sooner you can get your life back to normal.
When push comes to shove, do you know what steps to take to file a claim? It involves more than just calling your insurance company. That's why we talked to insurance expert, Paul Martin, to learn the exact steps you should take if your home is damaged or destroyed by a hurricane.
Number of hurricanes that made landfall in the United States from 1851 to 2018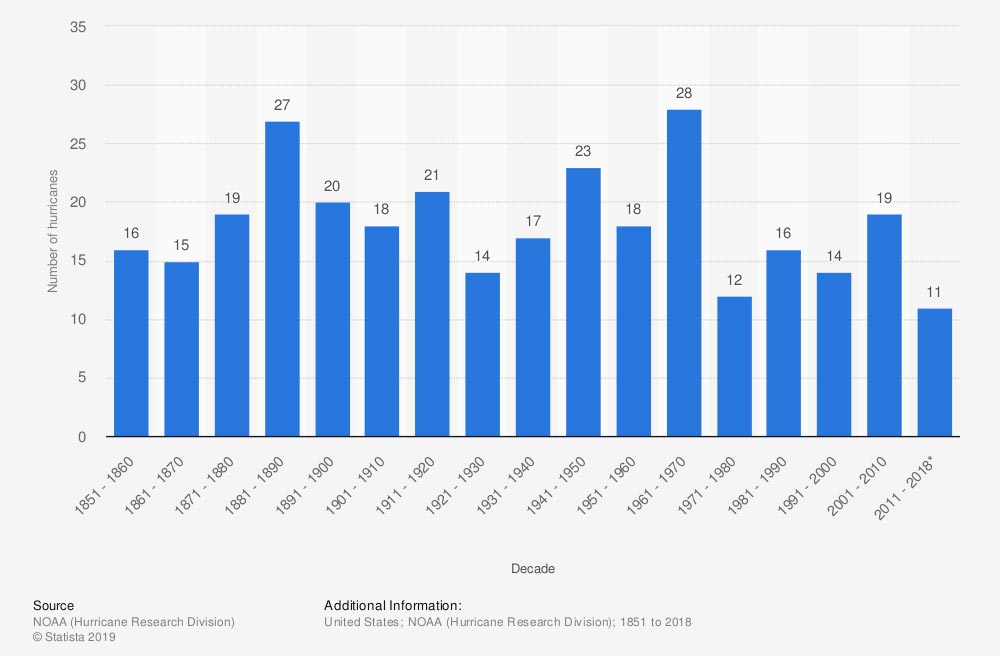 Step 1. Contact Your Insurance Agent
Just like with any claim, your insurance agent should always be your first stop. After all, they're your representative for times like these and they're the experts on the right steps to take.
Contacting your insurance agent will speed up the process of filing a claim. It's also smart to ask your insurance agent questions about the next steps and what will be needed from you. Some questions you can ask include:
What is the next step?
How long will it take for me to hear from the insurance company?
What information should I start gathering?
Step 2. Contact Your Insurance Company
Upon hearing from you, your insurance agent will immediately contact your insurance company to report the damage. If you don't have an insurance agent, you should contact your insurance company immediately.
Depending on the damage, your agent may need to contact more than one of your insurance companies. Flood damage is usually separate from homeowners insurance, and if you've got damage to vehicles, you'll need to file a claim with your car insurance company.
In most cases, a hurricane is likely to affect more than one home, so chances are that the insurance company will already be aware of the catastrophe and preparing for the claims to come in.
Save on Hurricane Insurance
Our independent agents shop around to find you the best coverage.
Step 3. Take Inventory of the Damage
Your insurance company is going to want to know everything that was lost in the hurricane. It can be difficult to remember all of your possessions, so it's best to take inventory of the damage and your losses as soon as possible.
Use a video camera or your phone to document the damage to your entire property. Write down as many of your possessions as possible and make a copy of this list to provide to your insurance adjuster. When the insurance company begins a deeper investigation into the damage to your home, this documentation will help the process go faster.
Insured losses from selected hurricane seasons in North America from 1992 to 2017 (in billion US dollars)
It's likely that your insurance company will ask you to fill out a Proof of Loss. This is a great way to start listing all of your possessions. People often feel like the Proof of Loss is a tell-all for items destroyed in a hurricane, but if you think of items after you've turned in your Proof of Loss, you can still claim them with your insurance.
Step 4. Prepare for the Claims Adjuster
Once your insurance company is aware of the claim, they'll have a claims adjuster contact you and come to your home. In most cases you should hear from an adjuster within a couple of weeks, but if the hurricane was a major catastrophe, it could take longer.
Your insurance adjuster will ask you for a variety of information, and it's best to get them the information as quickly as possible. The sooner they have the information they need from you, the faster they can move to the next step of coming to your home and assessing the damage.
At this point, the documentation you've gathered can be handed over to the adjuster. Depending on the amount of damage, you may be able to begin to start replacing items immediately.
Step 5. Start to Rebuild or Repair
After assessing the damage, you'll begin to have an idea of whether you need to completely rebuild or just repair parts of your home. You'll start working with different contractors and choose them yourself, or take suggestions from your insurance company.
It's unfortunate but common for fraudulent contractors to contact people who have recently been through a catastrophe. Be cautious: Only work with licensed contractors. When working with contractors, be sure to ask for all the details, costs, and materials for the work you need.
Step 6. Keep Documentation about Everything
From your conversations with your insurance company to discussions with claims adjusters and contractors, keep running documentation of all your conversations in writing. Chances are you'll need to go back to look for key information and having everything saved will help you find it quickly.
It's also important to keep receipst for anything you purchase, as well as any hotel stays, rentals, cars, etc. Your insurance company will not pay replacement costs until items are actually purchased.
Chances are you'll be purchasing things at different times, so keep a copy of everything you purchase during this transition.
Save on Hurricane Insurance
Our independent agents shop around to find you the best coverage.
Step 7. Understand Your Rights
While everybody has home insurance, we hardly expect to have to use it for a catastrophe. Be sure to work with your insurance agent to understand your rights and what coverage you should get from your insurance company.
Hurricanes usually result in flood and wind damage, and that coverage isn't included in your homeowners policy. Your insurance agent can help you navigate these policies or handle a claim, should you not have flood insurance.
Next Steps
Once the claim has been handled, you'll begin the repair process. This could take months to years, depending on whether you're doing simple repairs or a complete rebuild.
The best thing you can do throughout your entire claim is to understand the process and timing between you and your insurance company. Keep a professional attitude and treat the claim like a business project you're trying to get done, rather than a heartbreaking experience.
The more you can work with your insurance company, the easier the process will go. And if you believe your insurance company is treating you unfairly, get your insurance agent involved. They're there to have your back and make sure that your insurance is working for you.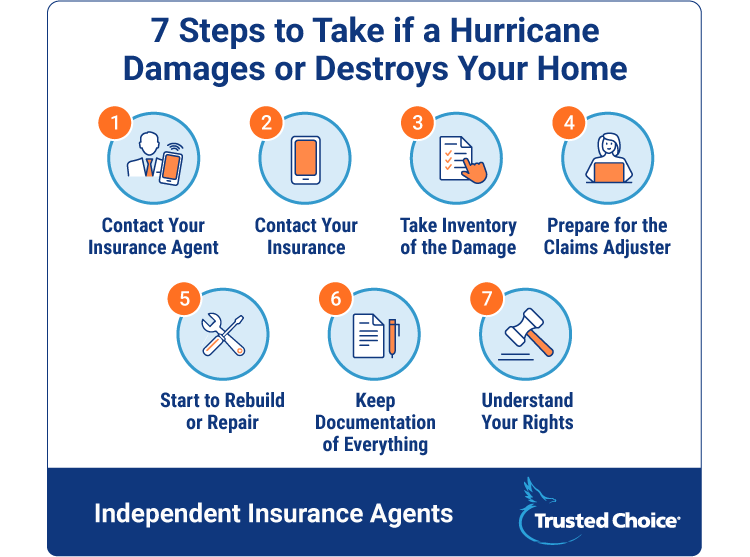 TrustedChoice.com Article | Reviewed by Paul Martin
©2022, Consumer Agent Portal, LLC. All rights reserved.