Home Insurance Secrets Your Agent "Left Out"
Insurance is no secret, but sometimes it can sure feel like one. What do you wish you knew better about your insurance?

One of the most important things you can do as a responsible homeowner is be familiar with what your home insurance covers. There may be unique scenarios in which you have coverage and never knew, or you might not be covered for something when you'd expect to be. Just in case, here's a handy guide to all the home insurance secrets your agent "left out."
How Will Your Home Insurance Work for You?
Standard home insurance policies protect homeowners against numerous threats like vandalism, burglary, lawsuits, and more. They also cover your property from disasters like fire, hail, etc. Knowing how your home insurance works for you can help save you from a headache down the road, and an independent insurance agent can explain it in depth.
What Will Be Covered with Your Home Insurance?
Home insurance includes protections beyond the obvious, like property damage. It's designed to protect not only the physical building, but the inhabitants inside too. Knowing the major coverages included in your policy is crucial.
Here are the four main coverages under standard home insurance policies
Dwelling coverage: Protects the "dwelling," or structure of the home from many threats like lightning damage, vandalism, etc.
Additional living expenses: If your house gets so badly damaged that you're forced to live somewhere else while repairs are going on, your home insurance can pay for extra costs like hotel stays and more.
Liability coverage: Covers legal costs like attorney, settlement, and other court fees if you get sued for bodily injury or property damage to a third party.
Contents coverage: Covers your personal belongings like furniture, collectibles, clothing, etc. from many threats like theft, fire, etc. Belongings stored in outdoor structures like sheds are often covered, too.
Your independent insurance agent can further explain all the coverages provided by your home insurance policy.
What Are Some Unique Circumstances where Home Insurance Kicks In?
Your home insurance includes protection for risks that may not be common or expected. Knowing these more unique coverages listed in your policy is also important in case the unexpected does happen to you.
Unique scenarios where home insurance kicks in
An airplane crashes into your home: Home insurance provides coverage for airplane or vehicle damage to your property. So if someone crashes a car or plane into your home, you'll be covered up to your policy's limits.
An explosion: If there's an explosion in your home or on your property, and in some cases even your neighbor's property, it's likely covered under your home insurance. There are exclusions for certain types of explosions, though.
A riot or civil commotion vandalizes your home: Home insurance also includes coverage for damage caused by riots or civil commotions.
A neighbor's tree falls on your roof: Your home insurance policy protects against objects and trees that fall onto your property and cause damage. The cost of removal of the object or tree is often covered, too.
An independent insurance agent can detail even more unique circumstances in which your home insurance policy would kick in for reimbursement. It's important to be familiar with all terms of your policy, even those that seem downright bizarre.
What's Not Covered by Your Home Insurance?
Though home insurance provides a lot of important coverage, even for strange incidents, it doesn't cover everything. It's just as necessary to review the exclusions under your policy as it is the inclusions.
Home insurance usually won't cover the following
Flood and earthquake damage: These are the two natural disasters typically not covered by home insurance. For protection, you'd need a separate flood insurance or earthquake insurance policy.
Termite and other infestations: Unfortunately, infestations and other damage by termites and other pests is typically excluded by home insurance.
Sewer backup: Unless you added a sewer backup endorsement to your home insurance policy, you could be in extra trouble if you experience a flood or other issue caused by your sewer.
Maintenance fees: Maintenance costs are considered the homeowner's responsibility, and are not covered by home insurance.
An independent insurance agent can help you find any additional coverages you need to bridge the gap in what's excluded by your home insurance policy.
Save on Home Insurance
Our independent agents shop around to find you the best coverage.
Where Can I Get Homeowners Insurance?
Many insurance companies could sell you a home insurance policy, but finding coverage will depend on where you live. You can also work with an independent insurance agent to find the right coverage available in your area. Until then, here's a look at some of the current top-performing home insurers in the US.
Leading writers of homeowners insurance in the United States, by market share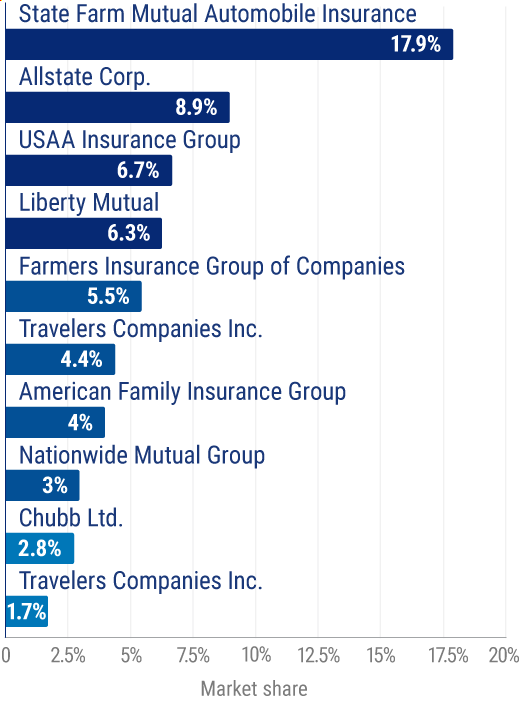 State Farm holds the current title as the leading home insurance company, with a 17.9% share of the overall market. Next up is Allstate, with an 8.9% market share, followed by USAA, at 6.7%.
An independent insurance agent can help you decide if one of these carriers is right to meet your home insurance needs.
Here's How an Independent Insurance Agent Would Help
When it comes to protecting homeowners against unique incidents, no one's better equipped to help than an independent insurance agent. Independent insurance agents search through multiple carriers to find providers who specialize in home insurance, deliver quotes from a number of different sources, and help you walk through them all to find the best blend of coverage and cost.
TrustedChoice.com Article | Reviewed by Paul Martin
©2023, Consumer Agent Portal, LLC. All rights reserved.
https://www.statista.com/statistics/216545/leading-us-writers-of-homeowners-insurance/
https://www.iii.org/article/which-disasters-are-covered-by-homeowners-insurance