Where Can I Find Cheap Gas?
(Because have you seen the price of gas these days?)

Though most would say it's baseball, we'd argue that America's favorite pastime is actually talking about gas prices. High or low, no small talk has ever ended without a thorough dive into who's got the best prices at the pump. But how are you supposed to know who's got the deals you want without driving all over the tri-county area? The drive alone would waste so much gas it's not even worth it.
No problem, we've got your back. We're here to help you understand what makes gas prices the way they are, and where you can find it the cheapest, always. Then, you'll be the one everybody comes to for the insider gas prices around town — a total hero.
So What Makes Gas Prices High or Low, Anyway?
A lot of things, actually. As with anything that's manufactured, marketed, and then distributed, there's a bunch of additional costs that are tacked onto it. But it all really comes down to four major factors: the cost of crude oil, federal/state taxes, refining costs and profits, and distribution/marketing.
Last Year's Average Retail Gasoline Price: $2.72 / gallon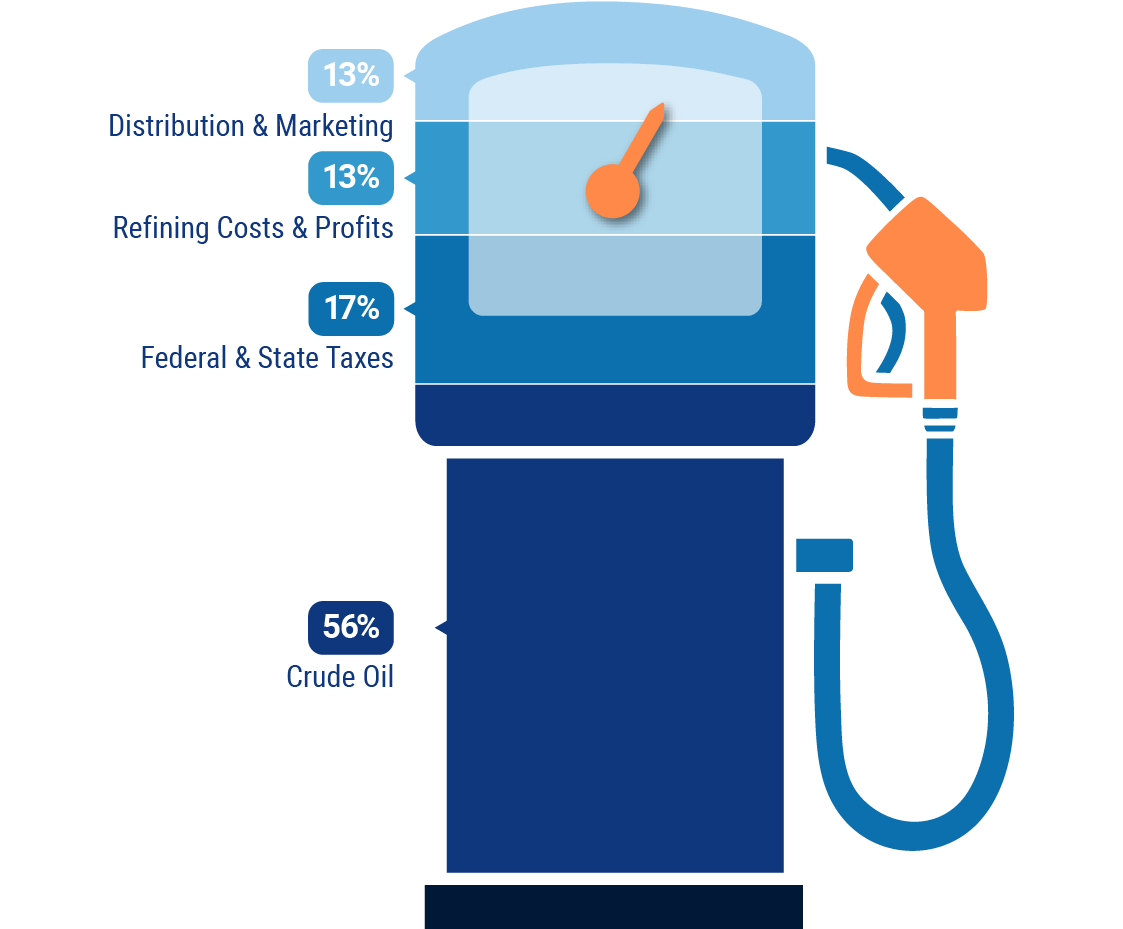 Source: US Energy Information Administration, Gasoline and Diesel Fuel Update
1. Cost of Crude Oil
By far the biggest influence on the price you pay, crude oil prices fluctuate often. And those prices are typically what you see when your local prices go up or down. In 2018, 56% of the cost you paid for gas came from the cost of crude oil.
But what makes crude oil price change? Well, a lot. But it all basically comes down to supply, demand (more demand in the summer), and the financial market at the time. We won't bore you with all the details, but if you are curious, just check out the US Department of Energy. There are are loads of graphs, charts, and Venn diagrams to help you make sense of it all. Or just ask your Uncle Daryl, that guy acts like he's got answers for everything.
2. Federal/State Taxes
Taxes, taxes, taxes. Right? Taxes play a strong role in just about anything you buy. Nothing different here. The federal gasoline excise tax alone is already 18.3¢ of what you pay. Then there's the federal Leaking Underground Storage Tank fee. And don't forget state taxes and fees. Those average around 28.62¢ per gallon.
Now, if there's one thing Americans love complaining about besides gas prices, it's taxes. But all those taxes you're paying for your gas go to the state's transportation infrastructure. So if you're someone who drives a lot, you'll pay more state gas tax, which goes back into the wear and tear your hot rod does to the roads. So, technically, it's an investment in making sure your commute is a smooth one — and hopefully pothole-free.
3. Refining Costs/Profits
We're not going to get into a whole "what is refining" explanation here, but basically, it's the process that creates gas that's fit for your car. And the costs associated with the process vary from season to season and state to state (to make sure they fit your state's requirements). This process also includes combining in a few additives (like fuel ethanol) and various special methods that'll cost money. And, of course, all that expense gets transferred on to you, the gas purchaser.
However, with all the technology improvements made in the last few years, the hope is that this portion of gas costs will strongly decrease. Then all you've gotta worry about are those other tricky factors.
4. Distribution/Marketing
If you've got a product you want others to buy, you have to do two things: 1. Let them know you have it; and 2. Get it to them. The retailer has to ship the gas from refineries by pipeline to terminals near their market — that costs money. Then they have to move it by truck to each station — that costs more money. Then there are the marketing costs involved with letting the consumer know they have gas — even more money. You see where we're going with all of this, right?
The good news is that gas has been fairly steady in recent years, and not nearly as bad as in 2008. Yikes. But hey, saving a few dimes or even a few bucks adds up. So we've wrangled a few resources to help you make sure you get the kind of prices you want.
Where To Find Cheap Gas. There Are Lots of Apps for That.
What will smartphones help us do next? It's incredible. Nowadays there's a whole slew of apps out there designed to map out the prices at gas stations all around you, so you know you got the best price. Our four faves are:
(can we include the app screen shots from the app store for each of these)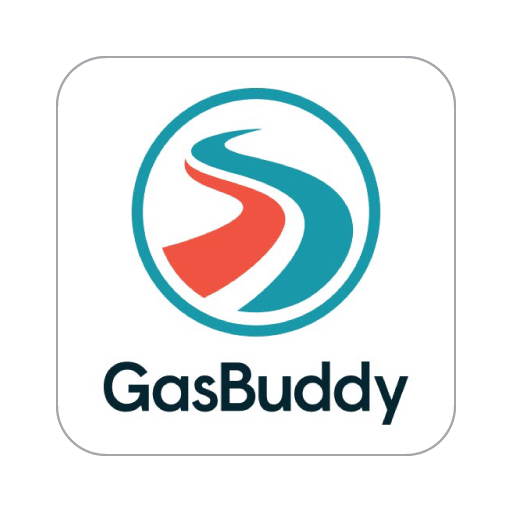 1. GasBuddy:
We especially love this one, because it gets the whole community involved. GasBuddy uses crowdsourcing to keep their numbers up to date, where everyday Joes and Janes enter the prices they see at different stations around town.
And to keep people participating, they even offer weekly incentives for $100 gas cards. MORE SAVINGS!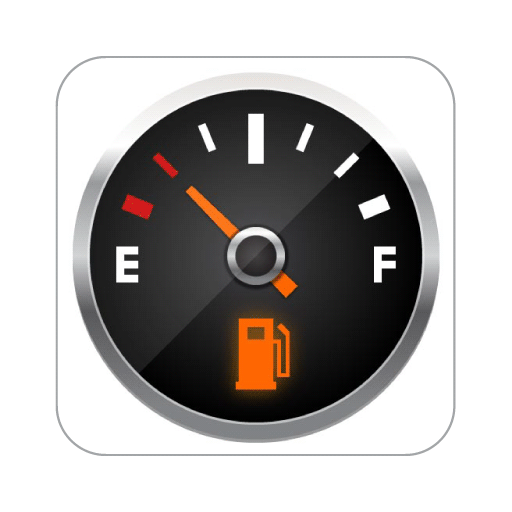 2. Gas Guru:
The nice thing about this app is that all the prices at different stations are inputted by the Oil Price Information Service, so you know they're as accurate as can be. Plus, the app gives you directions to the station, and even lets you share your sweet price finds on Facebook with friends and old high school acquaintances.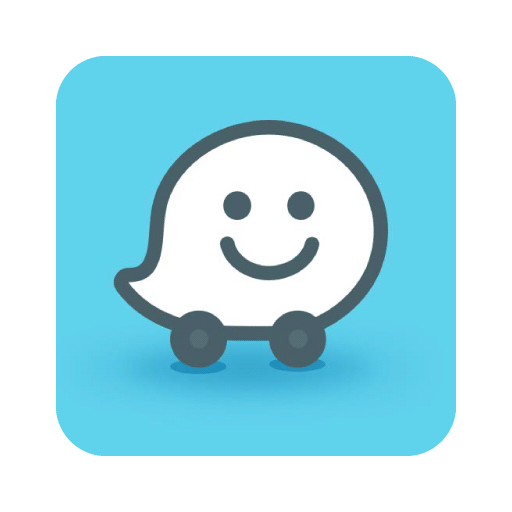 3. Waze
You might have heard about Waze. It's a popular GPS app that also uses the help of fellow drivers to know where accidents and delays are. But one of its best features is the gas price capabilities. This, like GasBuddy, is information generated by users like you, and also includes deals from partner gas stations.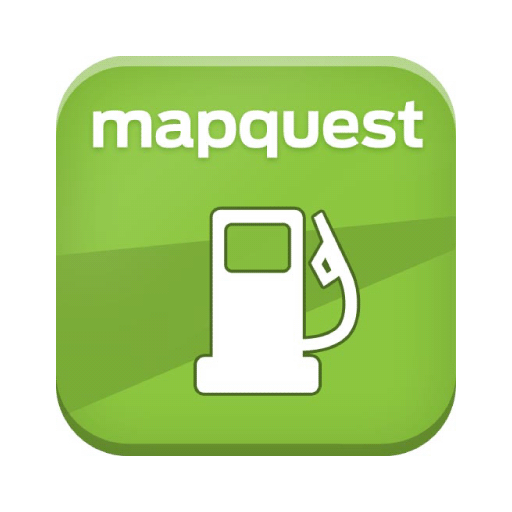 4. MapQuest Gas Prices
MapQuest will never go away. And now you won't want it to. This app shows you where the cheapest gas around is and let's you set favorites based on your routines. Pretty nice little deal. Unfortunately, it doesn't do directions, like the others do. Still a nice app, though.
Other Ways To Lower Those Gas Prices
Apps are great, but there are other ways to save than just constantly monitoring an app — the old-fashioned way. We're talking coupons, reward programs, gift cards, etc.
Newspaper coupons: That's right, clip those Sunday paper coupons, throw 'em in your glove box or center console and cash in on savings at the pump.
Car dealership bonuses: Some car dealerships offer incentives for buying cars from them, including gas discounts at local retailers, and more. Of course, you'd have to buy a whole new car to get it, but if you're in the market anyway, it certainly will help.
Retail benefit programs: Many grocery stores also have reward programs that let you accrue discounts at local gas stations. Just search the area, ask about deals and such and you'll be set.
Gift cards: Especially during the holiday season, a number of gas stations sell gift cards at discounted prices, or throw in a bonus $25 for every $100 you buy. In this case, that all translates into savings.
You're Ready for the Road
Just make sure you buckle up and have that car insurance ready. With just a little extra effort on the front end, you'll start seeing the savings you've been looking for. And it all adds up fast. Plus, you won't be complaining quite so much about gas prices anymore. What ever will you do with all that extra time now?