How to Insure Disneyland
(Unique coverage requirements for the most magical place on Earth)

All property deserves to be protected, especially when it's as magical as this place. Such a beloved destination needs coverage that allows it to remain operational for years to come. There's risks of all kinds that need protecting in such a massive theme park, and here's what an independent insurance agent would keep in mind when trying to find the right coverage for all of Disneyland.
What Does It Take to Insure Disneyland?
When taking on an iconic theme park of such massive scale, it's easy to wonder where you'd even start when attempting to insure it. To begin with, you'd need to consider all the potential risks to Disneyland, including:
Property damage risks: For example, if any of the rides or shops got damaged by a tourist, vandal, or natural disaster, they would be considered property damage risks.
Worker/employee risks: There are tons of workers on deck at Disneyland, from ride attendees, to mascots, to gift shop cashiers and more. They need protection from illness and injury on the job.
Business risks: Disneyland is a theme park, but it's also a profitable business that generates income from guests from all over the world. This income needs to be protected against numerous risks including theft and unexpected business interruptions.
Liability risks: If a guest got injured or suffered from lost or damaged personal property while on the premises, they could sue. Disneyland also needs plenty of protection from a legal standpoint.
Once all risk areas have been identified, an independent insurance agent would then consider the types of coverage that would protect against all potential hazards.
Just How Large Is Disneyland?
Disneyland is huge in terms of size, profits, and reputation. From an insurance perspective, it'd be considered in terms of how much property, liability, and other risks were present and in need of protection. To help get a better picture of just how much coverage would be necessary to insure a theme park of this size and value, check out these stats about Disneyland:
Disneyland draws close to 20 million visitors annually.
There are 3 monorails throughout the park.
It cost $17 million to build Disneyland.
It took a team of 2,500 workers to build Disneyland.
Disneyland spans 486 acres of land.
There are 2,400 rooms total across all of Disneyland's hotels.
Disneyland generates $5.7 billion annually.
Sleeping Beauty's Castle is 77 feet tall.
There are 29,000 cast members working at Disneyland.
There are 155 food and beverage locations throughout the park.
Disneyland supplies 25,000 jobs in addition to cast members.
There are 60 attractions at Disneyland.
When working with property of such massive scale, coverage must be considered for every square inch. If you were to insure Disneyland, you'd have to start by contemplating all possible risks to each area, both inside and out.
Attendance at the Disneyland theme park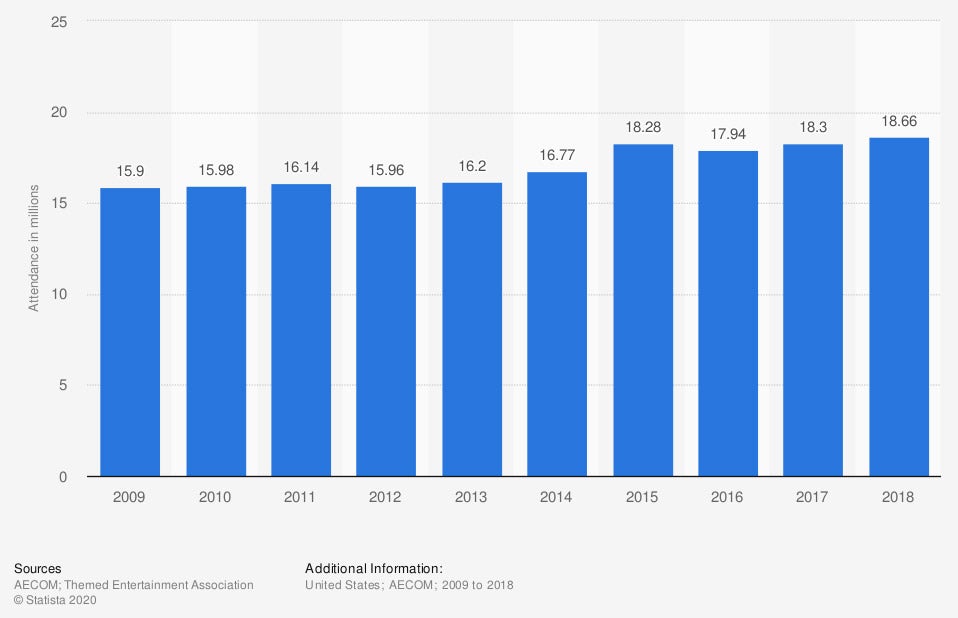 Attendance at the Disneyland Theme Park (Anaheim, California) from 2009 to 2018 (in millions)
For more than a decade, Disneyland has consistently drawn more than 15 million visitors annually. In 2018, the theme park serviced 18.66 million guests from around the world. With so many visitors flocking to Disneyland every single day, it's imperative all risks be considered and adequately covered.
Crucial Coverage for Disneyland's Magical Property
When it comes to physical property in need of protection, the first thing that comes to mind are Disneyland's rides and various shop buildings, restaurants, hotels, etc. A business insurance policy would include the necessary property damage coverage to protect against disasters such as:
Vandalism
Lightning
Wind and hail
Accidental damage
Fire
Theft
Sinkhole collapse
Most explosions
Aircraft/vehicle damage (if operated by a third party)
Riot/civil commotion
Building collapse
Automatic sprinkler leakage
Volcanic action
Certain types of water/other liquid damage
Accidental fire and resulting smoke damage
Property coverage for a widely loved theme park would provide serious, important protection. However, for certain disasters such as floods, separate insurance policies would be necessary. An independent insurance agent would be able to locate all forms of coverage required to protect every inch of Disneyland.
We insure just about anything. Even your house.
Our independent agents shop around to find you the best coverage.
Important Coverage for Disneyland's Liabilities
From visitors to cast members, Disneyland is always inhabited by tons of bodies. As a result, the theme park is a huge liability risk at all times, and needs adequate protection from a legal standpoint. Liability coverage included in a business insurance policy protects against third parties suing over injuries or personal property damage. Coverage pays for legal fees, fines, and restitution.
Possible incidents at Disneyland that would require liability coverage include:
A guest sustaining an injury after being improperly fastened on a ride.
A guest becoming ill from food purchased at one of the theme park's eateries.
A guest discovering their property was stolen from their hotel room.
A child seeing Mickey Mouse's cast member without his character's head on and becoming traumatized.
A special type of liability coverage may be required to protect visitors to Disneyland, known as:
Premises liability: Coverage would protect against costs associated with third-party injuries and property damage sustained on Disneyland's premises. Common injuries include slips and falls.
Though a visit to Disneyland is meant to be filled with nothing but joy, there are still plenty of possible risks involved in making the trip. That's why considering protection from a legal standpoint is so important. Reimbursement for legal fees could help the theme park remain open and operational following costly lawsuits.
Critical Coverage for Disneyland's Employees
Disneyland employs thousands of workers, from cast members to ride operators to eatery and gift shop workers, and they need protection too. As far as legal concerns, the employees of Disneyland would be covered under the business insurance policy's liability section, but workers need coverage in other ways as well.
Employees of Disneyland would most likely require the following add-on coverages:
Crime insurance: This insurance would cover instances of employee theft from the premises. Employees may steal money directly from cash registers at Disneyland, or they may steal property or inventory.
Workers' compensation: In the event any of Disneyland's employees became ill, got injured, or died from a work-related incident, this aspect of the insurance would cover the financial ramifications. Coverage is mandatory in the state of California.
Employee practices liability: This coverage would take care of legal fees in the event Disneyland's employees were involved in harassment cases against coworkers or members of the public. With so much cast member interaction with children, this coverage would be absolutely crucial.
Since Disneyland has so many hands on deck at all times, multiple forms of employee coverage would be necessary to adequately protect the high volume of staff, and also to protect the theme park from staff-related incidents.
Standard Business Coverage Concerns for Disneyland
While Disneyland has obvious physical property in need of protection, it also has plenty of virtual property in the form of electronic data which also needs coverage. A good cyber liability insurance policy would be necessary to protect Disneyland against cyberattacks and data breaches.
Cyber liability coverage would protect Disneyland in the following ways:
Lost income: Cyber liability policies help to recover stolen funds due to cyberattacks and data breaches, and also provide reimbursement in the event business operations are temporarily suspended.
Costs due to damaged reputation: A cyberattack or data breach impacting Disneyland, the most magical place on Earth, could easily turn into a huge media scandal and even deter future guests. Cyber liability insurance would provide important public relations protection to help keep the media as quiet as possible.
Legal expenses: In the event any personal or sensitive information from Disneyland was stolen and sold to third parties, such as visitors' credit card information, lawsuits could arise. Cyber liability coverage pays for things like attorney, court, and settlement fees.
Hired professionals: More than likely in the event of a serious data breach or cyberattack, the staff of Disneyland wouldn't hesitate to call on a professional programmer or other computer expert to help them repair the damage. A cyber liability policy would cover fees for hiring professional help to fix computer systems and patch holes in security.
Since cybercrime is always on the rise, it would be imperative to protect Disneyland, like any other business, from a virtual perspective as well as a physical one. Cyber liability policies help protect business of all kinds to protect sensitive data that's stored electronically.
Additional Business Coverage Needs for Disneyland
Though Disneyland is primarily thought of as a coveted vacation destination, it still has plenty of common concerns that relate to most all businesses. The following types of coverage would likely be purchased as add-ons to a business insurance policy for Disneyland:
Boiler & machinery: Also known as "equipment insurance," coverage applies to electric equipment in the building (e.g., AC units and boilers) that breaks down due to power surges, etc.
Utility services: Covers losses due to halted production resulting from an extended power outage. Coverage can also be applied to the replacement or repair of products and machinery as well as income lost due to suspended operations.
Signage coverage: Disneyland has a ton of signage throughout the park, and much of it was likely expensive to design, create, and install. Signs are constantly vulnerable to the elements of nature and thieves/vandals. This coverage would provide reimbursement in the event the theme park needed to repair/replace any signage due to a covered peril.
Just as they would with any other business owner, an independent insurance agent would help to identify all potential risk areas needing coverage for Disneyland. The above list may not be extensive in all the kinds of coverage a massive theme park would require from a business perspective.
Important Coverage for Disneyland's Restaurants and Concessions
When visitors at Disneyland aren't busy on one of the park's many attractions or snagging photo ops with Donald Duck, they're usually enjoying tasty treats from a restaurant or concession stand. Having food available to the public presents a whole other risk factor that would need protection from an insurance standpoint. Like any other business, Disneyland would benefit from the following coverages for their restaurants and concessions:
Communicable disease: This covers any illnesses transmitted to visitors due to improper hygiene of employees.
Spoilage coverage: This coverage includes replacement fees for spoiled perishables in the event of a covered outage. Prolonged power outages can lead to spoiled food or other goodies, like those tasty character themed candies.
An independent insurance agent would take Disneyland's eateries into consideration right away as a huge risk area for the theme park. When it comes to the safety of Disneyland's guests, no avenue of potential danger can be overlooked.
We insure just about anything. Even your house.
Our independent agents shop around to find you the best coverage.
What if Disneyland Shut Down?
Though Disneyland is scheduled to be open 365 days a year (including Thanksgiving), there are always possible unforeseen disasters that could force the park to unexpectedly close its doors. Intense storms, crime scares, and even pandemics have the power to temporarily halt visitors from seeing Mickey Mouse, as well as halt the theme park's profits. For those unexpected interruptions, Disneyland would need the following coverage:
Business income/interruption: A part of property insurance, this aspect covers the financial loss suffered while a business is closed due to fire damage or other covered disasters. A huge theme park like Disneyland stands to lose a ton of revenue even if its doors are closed for only a day.
Even during a shutdown, Disneyland's thousands of workers still need to be compensated. Business interruption coverage also helps businesses to pay their employees even while profits are temporarily suspended.
How an Independent Insurance Agent Would Help
If you were to actually insure Disneyland, your first stop would be to call up an independent insurance agent. Independent insurance agents search through multiple carriers to find providers who specialize in this type of insurance, deliver quotes from a number of different sources and help you walk through them all to find the best blend of coverage and cost.
You Can't Actually Insure Disneyland, But…
We may not be able to insure a huge theme park like Disneyland, but we can insure that — whatever "that" is for you. Whether it's a profitable attraction in need of business insurance, a team of workers that need protection, property coverage or liability concerns, our independent agents are here for you. Start by finding an independent insurance agent in your community here.
TrustedChoice.com Article | Reviewed by Paul Martin
©2022, Consumer Agent Portal, LLC. All rights reserved.