Who's Responsible for an Icy Sidewalk Slip and Fall?
Find out not only how to tell whose responsibility it is, but which coverage can protect you in case it's your fault.

When it comes to injuries on your property, sometimes there are gray areas. The sidewalk, for one, can cause confusion for many homeowners. If someone slips and falls on a patch of ice on the sidewalk in front of your home, how do you know who's responsible for the incident?
Not only can your independent insurance agent help you answer this question for sure, but they can also help you get equipped with the proper homeowners insurance to protect you in case it is your fault. They'll get you protected against third-party injuries on your property and much more. But up first, here's a breakdown of who's responsible for icy sidewalk injuries that happen on your property.
Who's Responsible if an Injury Happens on My Icy Sidewalk?
To get the answer to this question, you'll have to review your town's local ordinances. While some areas dictate that a homeowner is responsible for clearing their sidewalks, other areas dictate that it's the city's responsibility. If you live somewhere that can get ice or other potentially hazardous weather, make sure to read up on your town's rules for sidewalk maintenance.
That said, in many cases, it wouldn't be considered the homeowner's responsibility if someone got injured on their sidewalk while a storm was still in progress. Insurance companies consider ice and other precipitation to be acts of nature, and you can't be to blame for someone taking a walk on your property during a storm. You'll need to refer back to your town's ordinances, however, to determine if you're responsible for clearing your sidewalk once the snow and ice have stopped falling.
How Can I Understand My Responsibility as a Homeowner Better?
Whether your sidewalk is considered public or private property is decided by your town's regulations. The government is responsible for maintaining all public property, while homeowners are responsible for maintaining their private property, even if a third party decides to walk on part of it, like the sidewalk. It's important to keep in mind, though, that regardless of whether your sidewalk is technically public property or not, some cities do dictate that the homeowner must maintain it.
Insurance expert Paul Martin said that homeowners are often held responsible for sidewalk injuries if:
Runoff from your home's gutters reached the sidewalk and froze
You were required by your city to keep your sidewalks clear and failed to do so
You intentionally created a dangerous situation on your sidewalk
You intentionally injured someone on your sidewalk
Make sure to review your local ordinances and regulations well before winter rolls around, so you can know for sure what your responsibilities are as a homeowner as they pertain to your sidewalk.
How Common Are Icy Sidewalk Claims and Other Liability Issues?
Winter weather can pose potential disasters not only for drivers but also for pedestrians. Icy sidewalk and other liability claims happen more often than you might expect.
Distribution of the 10 leading causes of death in the United States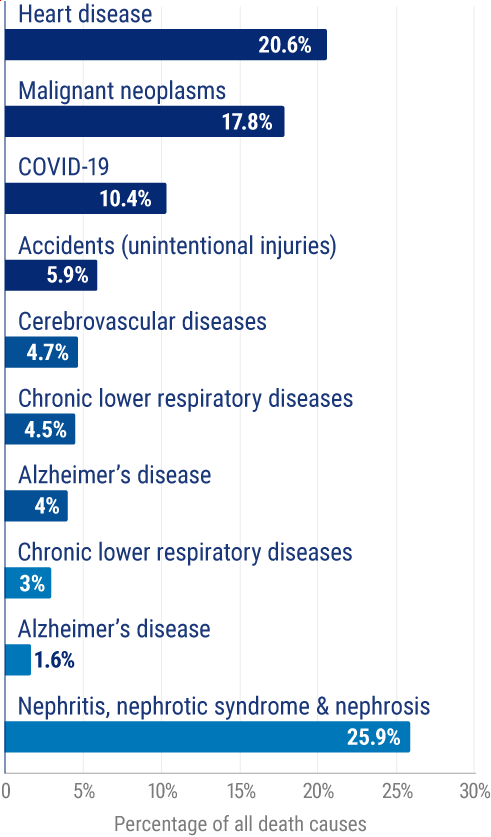 Accidents, or unintentional injuries, are the fifth-leading cause of death in the US currently. Unintentional injuries can apply to a broad range of things, from icy sidewalk slips and falls to incidents of poisoning. While unintentional injuries and accidents account for just under 6% of deaths in the US, heart disease, by comparison, causes more than one-fifth of all deaths.
The most common home accidents are:
Slips and falls, including those on icy sidewalks
Poisoning from cleaning products, medications, or cosmetics
Burns from cooking and other electrical equipment
Choking and suffocation while eating or sleeping
Drowning in pools, bathtubs, etc.
Any injury that occurs on your property can result in a lawsuit filed against you. That's why having enough liability coverage is critical.
Save on Home Insurance
Our independent agents shop around to find you the best coverage.
Understanding Your Home's Liability Coverage
One of the core coverages provided in standard homeowners insurance is liability coverage. This works in two main ways:
Legal protection: Covers defense costs if you get sued by a third party for bodily injury or personal property damage.
Medical cost protection: Covers treatment costs for a third party's injuries that happened on your property.
Both of these elements of liability coverage can protect you in case of a third-party icy sidewalk injury on your property. Liability coverage can protect you against a myriad of other incidents as well.
Do I Need Umbrella Insurance, Too?
For just an icy sidewalk injury, you're unlikely to need more liability coverage beyond what's provided by your home insurance. Umbrella insurance is an extra policy that can be added to homeowners insurance to increase your liability coverage limits to $1 million or more.
Medical treatments and other costs related to icy sidewalk injuries aren't typically going to require this much coverage. But if your home had a swimming pool or other dangerous element that could cause injuries to many people, you might want to add umbrella insurance.
What Else Does Home Insurance Cover?
Homeowners insurance comes with four core protections, and liability is one of them. The other three main protections offered by home insurance are:
Dwelling damage: This coverage can reimburse you for the repair or rebuilding of your home's structure after a covered disaster like a fire or lightning strike.
Personal property damage: This coverage can reimburse you for the repair or replacement of your personal property like clothing if it gets stolen, damaged, or destroyed by a covered peril like fire.
Additional living expenses: This coverage can reimburse you for hotel stays and other unexpected costs if you have to live somewhere else while your home is being repaired for covered disaster damage.
Make sure to review your homeowners insurance policy with your independent insurance agent. They'll help you be certain that you have adequate liability coverage in case of an icy sidewalk injury on your property, as well as enough coverage for many other types of incidents.
Why Choose an Independent Insurance Agent?
Independent insurance agents simplify the process by shopping and comparing insurance quotes for you. Not only that, but they'll cut through the jargon and clarify the fine print so you'll know exactly what you're getting.
Independent insurance agents also have access to multiple insurance companies, ultimately finding you the best home insurance coverage, accessibility, and competitive pricing while working for you.
TrustedChoice.com Article | Reviewed by Paul Martin
©2023, Consumer Agent Portal, LLC. All rights reserved.
https://www.delmartimes.net/sddmt-the-top-5-causes-of-home-related-accidents-2013may30-story.html
https://www.iii.org/article/what-homeowners-insurance