If My Boat Damages Another at a West Virginia Marina, Who's Responsible?
Find out which insurance policy would cover the damage and who would be responsible.

Whether you're docked at the marina and your boat bumps against another or you're out on the open water and a collision happens, it's important to understand how your boat insurance works. So, are you covered if your boat hits another vessel at a West Virginia marina?
While a West Virginia independent insurance agent can help you get protected against collisions and other disasters with the right boat insurance, we can start by helping to answer this question. Here's a closer look at who'd be responsible in this unique scenario.
Who's Responsible if My Boat Damages Another Vessel at a Marina in West Virginia?
The reason your boat damaged another vessel at the marina would determine if you'd be held responsible. You'd have to cover the damage to another boat yourself if:
You were negligent: If you were operating your boat in a negligent manner and caused a collision, you'd be held responsible for the damage.
You didn't maintain your boat: If your failure to maintain your boat's engine led to a fire that spread to other vessels at the dock, you'd also be held responsible for the damage.
Even though your personal watercraft or boat insurance wouldn't protect you in these situations, there are still many circumstances in which it would cover you.
What Does Boat Insurance Cover in West Virginia?
Your boat insurance policy provides a lot of critical protection for not only your vessel but also other boats and people on the water and at the marina.
Boat insurance in West Virginia provides the following main coverages: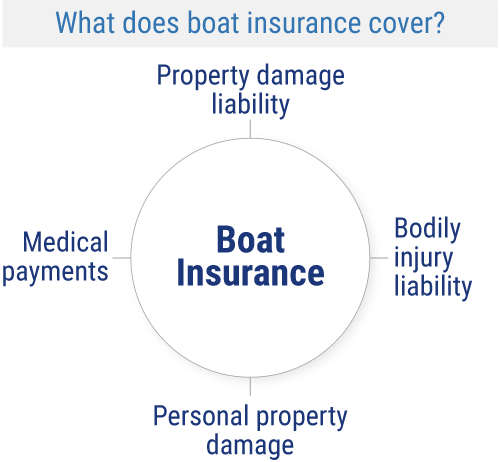 Medical payments: Boat insurance pays for medical treatments for you and your passengers who get injured by your boat or while on your boat.
Bodily injury liability: Boat insurance also pays for injuries to third parties who get harmed by your boat.
Personal property damage: Boat insurance reimburses for damage to your boat, trailer, and engine if they get damaged by covered perils like fire, vandalism, etc.
Property damage liability: Boat insurance covers costs relating to property damage to third parties that was caused by your boat.
For covered claims, your boat insurance would first require you to pay your policy's deductible amount out of your own pocket. Afterward, your insurance would kick in to cover the remainder of the damage up to your policy's limit in that category. To review your boat insurance's limits and deductible amount, speak with your West Virginia independent insurance agent.
Save on Boat Insurance
Our independent agents shop around to find you the best coverage.
What Doesn't Boat Insurance Cover in West Virginia?
Though boat insurance in West Virginia protects you in a lot of important ways, there are still certain exclusions.
Boat insurance won't cover:
Intentional incidents: If you cause injury or property damage on purpose with your boat, your insurance won't cover you.
Non-owned watercraft incidents: Without this specific endorsement, your boat insurance policy won't cover incidents related to rented watercraft.
Business-related incidents: Commercial liability coverage would be required to protect you if you use your boat for business purposes such as transporting passengers to another location.
Your West Virginia independent insurance agent can help you determine which specific exclusions your boat insurance policy comes with, and where you may need to add additional coverage or endorsements.
Will My Insurance Fully Cover the Damage to My Boat, Too?
You'll need to double-check your boat insurance policy with your West Virginia independent insurance agent, but in most cases you should be covered for the damage to your own boat. As long as your boat wasn't damaged by a non-covered event such as an intentional incident, you should have coverage for physical damage.
Is Yacht Insurance the Same as Boat Insurance?
Yacht insurance is quite similar to boat insurance, but it does have some nuances. Yachts are often defined as boats more than 40 feet in length, and they require their own type of insurance to be protected. Certain restrictions apply only to yacht insurance as well, such as shorter hauling distances on trailers when compared to regular boat insurance.
Boat insurance policies tend to have set deductible amounts, like $500, while yacht policies have more flexible options. Yacht insurance also tends to provide sunken yacht removal coverage, while regular boat insurance policies don't often include coverage for recovering a sunken vessel. Further, since yachts are more valuable than smaller boats, they're typically quite a bit more expensive to insure.
What if You Don't Own the Boat?
If the boat that caused damage to another at the marina was borrowed from someone, their boat insurance policy might still cover you. However, it really depends on what the boat owner's policy dictates, since some restrict coverage to only the boat owner and their immediate family members.
Now, if you caused damage with a rented boat, you'd only be covered if you had gotten a boat rental policy first. You might have even been required to get this coverage before you were approved for the rental in the first place.
How Common Are Boating Accidents in West Virginia?
Boating accidents might be more common than you expect. Check out this graph of recreational boating accidents in the US as a whole.
Total damage caused by recreational boating accidents in the US from 2001 to 2020 (in million US dollars)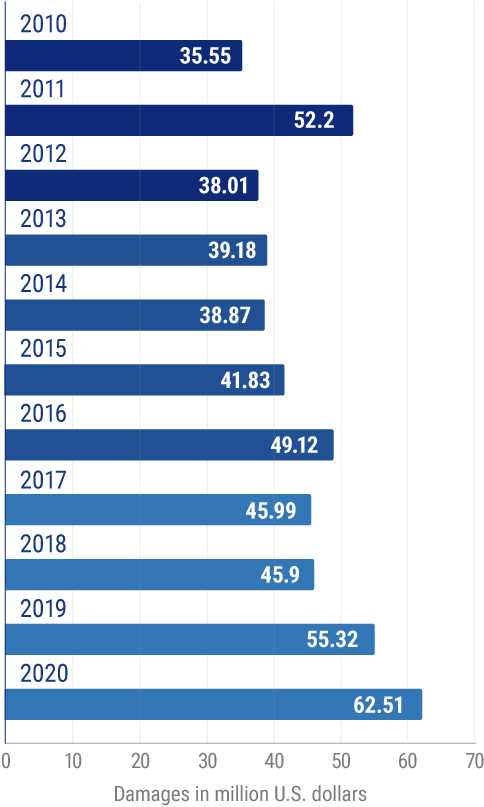 A total of $62.51 million in damage was caused by recreational boating accidents in 2020 alone. Recreational boating accidents can refer to those that happen at the marina, while docked, or while out on the open water. These accidents have grown in frequency and cost since 2010, which reported a total of $35.55 million in recreational boating accidents. That's an increase of nearly 100% in less than 10 years.
Knowing how much more expensive boating accidents are becoming over time can help shine more light on the importance of having adequate boat insurance coverage. If you're in need, your West Virginia independent insurance agent can help.
Why Choose a West Virginia Independent Insurance Agent?
West Virginia independent insurance agents simplify the process by shopping and comparing insurance quotes for you. Not only that, but they'll also cut through the jargon and clarify the fine print so you know exactly what you're getting.
West Virginia independent insurance agents also have access to multiple insurance companies, ultimately finding you the best boat insurance coverage, accessibility, and competitive pricing while working for you.
TrustedChoice.com Article | Reviewed by Paul Martin
©2023, Consumer Agent Portal, LLC. All rights reserved.