How Schools and Educators Can Help Fight Distracted Driving
(A guide for teachers to help students stay safe behind the wheel)

Cell phones, music, passengers, advanced in-car technologies — distractions behind the wheel are only increasing and car-accident statistics show it. More than 3,100 lives are taken annually as a result of distracted driving, and that number represents 9% of fatal accidents. With stats like these, it's important to stay covered with an affordable car insurance policy.
Seeing as a majority of distracted driving accidents involve teens or young adults, one of the biggest influential groups that can help prevent distracted driving are educators.
What Is Distracted Driving?
Distracted driving doesn't only mean you've taken your eyes off the road or hands off the wheel. Even letting your mind wander away from the focus on driving is considered distracted driving. In fact, there are three types of distracted driving:
Visual distractions: When you take your eyes off the road.
Manual distractions: When you take your hands off the wheel.
Cognitive distractions: When your mind wanders away from the task of driving.

Within these three categories are a variety of possible distractions behind the wheel. Teachers can help show students how to resist possible distractions such as:
Adjusting the radio or temperature
Other passengers in the vehicle
Looking for things inside or outside your car
Putting out a cigarette
Being lost in thought
Snacking or eating
Listening to music
Having to use the restroom
Cell phone usage
Applying makeup
Driving with kids
Having your dog in the car
Advanced technology in cars
Why Is Distracted Driving Dangerous?
Operating a several thousand-pound piece of machinery comes with a lot of responsibility. When a teenager gets their license, they're on a freedom high and it's in the hands of educators and parents to pull them back down to earth and remind them of the dangers of distracted driving.
On average, it takes five seconds to look at a text which removes the drivers eyes from the road for the length of a football field. However, it only takes an average of three seconds for distracted drivers to get in an accident.
No driver is immune from the consequences of distracted driving, a few of which include:
Getting in an accident: More than 300,000 teens are injured in car accidents every year. Nine percent of this number lose their life.
Increased insurance rates: It already can cost an arm and a leg to have insurance for a teenager. On average, insurance rates go up 31% after an accident.
Fines, fees, or revoked license: Depending on the state, getting caught distracted driving can result in a variety of fines, fees, and even a revoked license.
Jail time: Repeat offenders of distracted driving could end up spending time in jail.
Save on Car Insurance
Our independent agents shop around to find you the best coverage.
What laws are in place to prevent distracted driving?
Many teens may not realize that every state has their own laws when it comes to distracted driving. Teachers can educate students on the different laws and regulations associated with distracted driving and cell phone usage in their state.
Most states have enforced cell phone restrictions. In 2017, there were more than 400 fatal crashes that involved using a cell phone during the crash. Drivers aged 20 to 29 accounted for 37% of cell phone drivers involved in fatal crashes that year.
Percentage of US drivers involved in fatal road crashes while using their cell phones in 2017, by age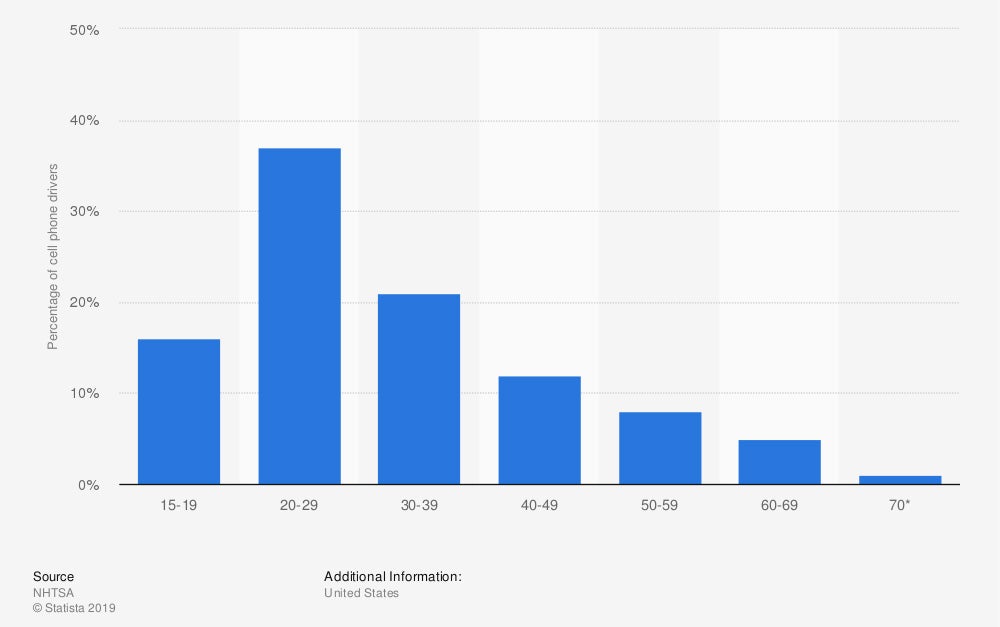 Cell phone restrictions are usually broken out into three categories:
Hand-held devices
Texting
All cell phone use
Some states have restrictions on one, two, or all three categories of cell phone use.
*limited means restricted to certain driving zones. *local option means varies by city
How Can Teachers and Educators Help Fight Distracted Driving?
Fighting distracted driving is an ongoing group effort. As one of the biggest educational influencers in children's lives, teachers are at the front lines of being able to make a difference with the following strategies:
Lead by example: It's rare that a student will be in a car with their teacher, but anytime you're driving, practice safe driving skills.
Offer a drivers education program: Many schools help teens learn how to drive and understand the rules and regulations of the road through driver education courses. During these courses, take time to focus on safety and how to prevent distracted driving.
Talk about distracted driving: Even if you're not teaching anything related to driving, you can still talk to students about the dangers of distracted driving.
Partner with local and national safety organizations: A variety of organizations are happy to partner with schools to help bring presentations and events that focus on educating on and preventing distracted driving.
Direct students to more resources: Educators aren't alone in helping to fight distracted driving. Parents, students, companies, and government organizations are all working to help prevent distracted driving. Pointing students in the direction where they can read more about the consequences and how to prevent distracted driving can help the topic stay top of mind.
Taking a Stand against Distracted Driving
Educators have the ability to help lead students to safe driving skills. By being involved in the driving education of students, talking about the dangers of texting and driving, and provided resources, educators can help increase safety on the road. Car safety begins with an affordable car insurance policy.
©2023, Consumer Agent Portal, LLC. All rights reserved.
https://crashstats.nhtsa.dot.gov/Api/Public/ViewPublication/812504
https://www.cdc.gov/motorvehiclesafety/teen_drivers/teendrivers_factsheet.html