North Dakota Workers' Compensation Insurance
Your Guide to Workers' Comp Insurance in North Dakota
Find the right workers' comp insurance policy for you.
In recent years, North Dakota has paid out $1.079 billion in workers' comp claims. Work-related injuries happen every day, from trips and falls to life-altering injuries, but having the right workers' comp coverage can help protect your business. For help navigating workers comp insurance coverage, find a local independent agent.
Workers' Compensation Coverages/Non-Coverages in North Dakota
Employees need help paying for medical bills when they get injured on the job. Workers' compensation insurance is designed to protect employees from the costs of workplace injuries, and protect employers from lawsuits and other unpredictable costs.
Here's a closer look at what workers' compensation covers and does not cover in the state of North Dakota.
Workers' comp covers the following:
Traumatic injuries
Repetitive-type injuries
Certain mental injuries
Occupational diseases
Real-life example of coverage:
A delivery driver for a North Dakota auto shop gets into an accident while out on a job. The employee gets taken to the hospital to be treated for minor injuries. A workers' comp policy would help pay for any related medical treatments and other costs.
Workers' comp does not cover:
Employee illnesses or injuries sustained outside of work
Accidents that occur while an employee is intoxicated
Intentional employee injuries to themselves at the workplace
| | | |
| --- | --- | --- |
| Workers' Compensation Coverage | Covered | Not Covered |
| Traumatic injuries | | |
| Repetitive-type injuries | | |
| Certain mental injuries | | |
| Occupational diseases | | |
| Employee illnesses or injuries sustained outside of work | | |
| Accidents that occur while an employee is intoxicated | | |
| Intentional employee injuries to themselves at the workplace | | |
An independent insurance agent can further explain what workers' compensation insurance both covers and excludes in North Dakota.
Why Do You Need Workers Compensation Insurance in North Dakota?
Workers' comp insurance is a necessity for most businesses for several reasons. For starters, it's actually required by law in most states, if your business has employees. Workers' comp also provides critical protection for your business against financial losses.
For most states, workers' comp is required immediately upon hiring a new employee. You'll want to be equipped with coverage before any of your workers get injured or ill on the job so that your business won't be held financially liable. Coverage doesn't kick in for workplace incidents until after you purchase a policy.
What Consequences Could You Face if You Don't Have Workers' Compensation in North Dakota?
If your business doesn't carry workers' comp to protect your team, you could end up facing legal consequences like fines or jail time. Though some businesses think of workers' comp as optional or unnecessary due to the nature of their operations, coverage can provide important financial protection in case of an incident.
Workers' comp is mandatory in most states, including North Dakota, if your business has employees. Businesses in North Dakota without the right workers' comp can be subject to a fine of $10,000 in addition to a $100 per day penalty that the violation continues. The state may also file a Cease and Desist order against the business to suspend operations until the proper coverage is obtained.
Save on Workers' Comp Insurance
Our independent agents shop around to find you the best coverage.
North Dakota Workers' Compensation Rules and Regulations
North Dakota is one of four states in the country that doesn't allow private insurers to write workers' compensation policies. All workers' comp insurance is sold and managed via the North Dakota Workforce Safety and Insurance (WSI) fund. This fund sets all class codes and premium base rates for workers' comp policies.
The workers' comp program in North Dakota is a no-fault system, which means that employees are guaranteed benefits regardless of who's at fault for workplace accidents or injuries. In turn, employees give up their right to sue their employer, which protects the employer from time-consuming and expensive lawsuits.
How Much Does Workers' Comp Insurance Cost in North Dakota?
North Dakota is a monopoly state, so it issues its own class codes and doesn't use the employee classification system developed by the National Council on Compensation Insurance .
The WSI sets class codes and premium rates. Occupations with higher risk of accidents carry higher base premium rates than jobs that are safer. Class codes are assigned to different classes of workers and help to establish the base rate for that particular type of worker. Base rates typically change on a yearly basis.
North Dakota Classification Code: 1802 Stonecutters
Base Rate: $4.54
Employer Payroll: Example: $100,000
Premium Calculation: $4.54 per $100 or 4.54% of payroll.
Estimated Annual Premium: $4,540
Most businesses have more than one class of employee. This stonecutter business may also employ sales and administrative staff, which would fall under separate class codes. To calculate your business's workers' comp premium, you'd need to add up the class codes and premiums and multiply the base rates by your payroll.
Workers' Comp Base Rate Examples in North Dakota
Rates for workers' comp insurance in North Dakota may vary among insurance companies based on underwriting standards and credits offered by individual insurers.
Here are some recent sample base rates (rate per $100 of employer payroll):
0251 Irrigation $5.02
1005 Coal Mining $1.85
1320 Oil or Gas Operations $4.04
1463 Briquette and Clay Products Mfg. $3.48
2000 Bakeries $2.16
2014 Food Processing $3.82
2030 Sugar Mfg. and Refining $3.02
2041 Food Preparation - Nonretail $2.56
2064 Creameries and Dairy Products Mfg. $7.74
Workers' Comp Cost Per Employee in North Dakota
The cost of workers' comp coverage per employee increases with higher company payrolls, as these businesses cost more to insure. Check out a breakdown of how workers' comp costs vary by payroll range in each specific industry below.
Annual Workers' Comp Cost Per Employee
| Industry | Lower Cost | Medium Cost | Upper Cost |
| --- | --- | --- | --- |
| Construction | $2,022 | $3,875 | $14,825 |
| Finance and Insurance | $666 | $1,202 | $4,400 |
| Hotels / Motels | $488 | $1,097 | $4,634 |
| Manufacturing and Food Production | $864 | $1,643 | $6,245 |
| Professional and Technical Services | $625 | $1,074 | $4,202 |
| Real Estate | $98 | $194 | $761 |
| Restaurants and Taverns | $172 | $384 | $1,615 |
| Retail Trade | $331 | $635 | $2,431 |
| Transportation and Warehousing | $1,293 | $2,547 | $9,929 |
Businesses that have a greater track-record of safety and fewer accidents pay less for their coverage. Insurance companies have complex formulas to reset your rates after an accident, likely leading to a noticeable spike in your premiums.
Best Workers' Comp Companies in North Dakota
Workers' comp is available from many different insurance companies in North Dakota. Here are just a few of our top picks for quality workers' comp insurance carriers.
An independent insurance agent can help you look into these workers' comp insurance companies and get matched to the carrier who best meets your needs at the most affordable rate.
Top 6 Most Common Workers' Comp Claims/Injuries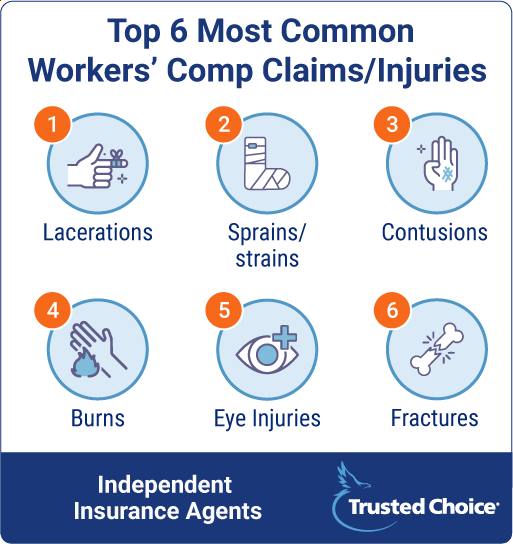 Lacerations: In other words, deep cuts. These can happen in any industry, but are especially common in the restaurant and manufacturing fields.
Sprains/strains: Again, these injuries can happen in any industry, but are especially common in job settings where lots of twisting and turning is required.
Contusions: In other words, bruises and other marks on the skin caused by impact. Contusions often happen from dropped objects, improper lifting, or colliding with an object.
Burns: Burns can happen in any industry that has a heat source, including restaurants, construction businesses, bakeries, and more.
Eye injuries: Eye injuries are most frequent in industries that require chemicals, including manufacturing, painting, and construction.
Fractures: Fractures can happen to employees anywhere, but are especially common in industries that require a lot of movement and the use of heavy machinery.
Why Are Independent Insurance Agents Awesome?
It's simple. Independent insurance agents simplify the process by shopping and comparing insurance quotes for you. Not only that, but they'll also cut the jargon and clarify the fine print, so you know exactly what you're getting.
There's no business too small for our independent insurance agents. They have access to multiple insurance companies, ultimately finding you the best workers' comp coverage and competitive pricing while working for you.
TrustedChoice.com Article | Reviewed by Christine Lacagnina
©2022, Consumer Agent Portal, LLC. All rights reserved.
https://www.workforcesafety.com/employers/insurance-coverage-information/coverage-requirements#:~:text=WSI%20has%20the%20authority%20to,each%20day%20the%20violation%20continues.
https://www.employers.com/blog/2019/7-common-workers-compensation-claim-injuries/