Life Insurance for Children
Find the Best Life Insurance for Your Child
(Because it's never too early to protect a life)

While nothing is more fragile than life, the one thing no one wants to talk about is death, especially the death of a child. As soon as you have a child, you're always concerned about their safety. As a parent, you can protect them from the dark and make sure they're fed the right foods, but you're not able to prevent unexpected diseases or unintentional accidents.
That's why our independent insurance agents can find life insurance for your child that doesn't break the bank and puts your mind at ease. Because we all know, it takes a village.
How Does Life Insurance Work for My Child?
Whatever the age, dying is expensive. If the worst scenario happens, life insurance will cover the funeral costs and any other costs associated with the death.
Costs associated with dying:
Funeral costs
Burial costs
Burial vault
Opening and closing of grave
Headstone
Cremation
Loss of income
Just like life insurance for an adult, when you purchase life insurance for your child, you pay a small monthly premium for a certain amount of insurance, should your child pass away.
Distribution of the 10 leading causes of death among children and adolescents aged 10 to 14 years in the United States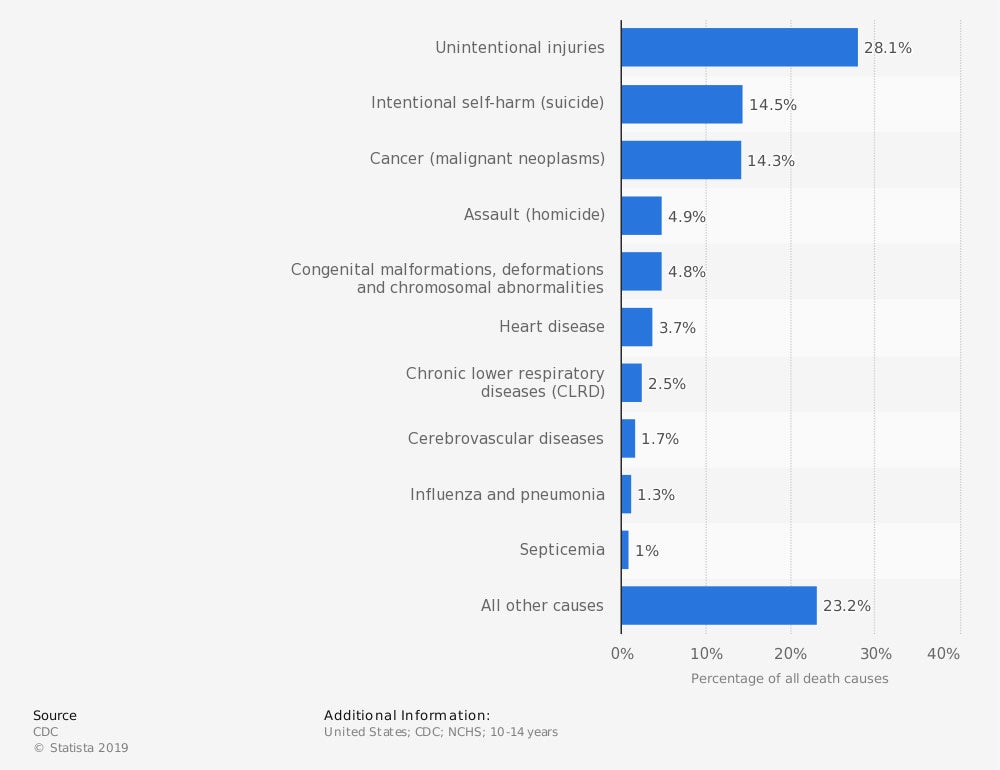 Unlike life insurance for adults, children's life insurance is usually term insurance. The term lasts until they're 18 years old, at which time the child can choose to extend their life insurance into adulthood or close the account.
Why Should I Get Life Insurance for My Child?
If you don't have life insurance for your child and they get sick, you cannot then get life insurance for your child. Diseases don't discriminate. While we like to think that leukemia or another life-threatening disease could never hit one of our young family members, it's better to be safe than sorry.
Plus, outside of unintentional injuries, diseases like cancer and congenital malformations are the next-highest causes of death in young children.
Distribution of the 10 leading causes of death among children aged 5 to 9 years in the United States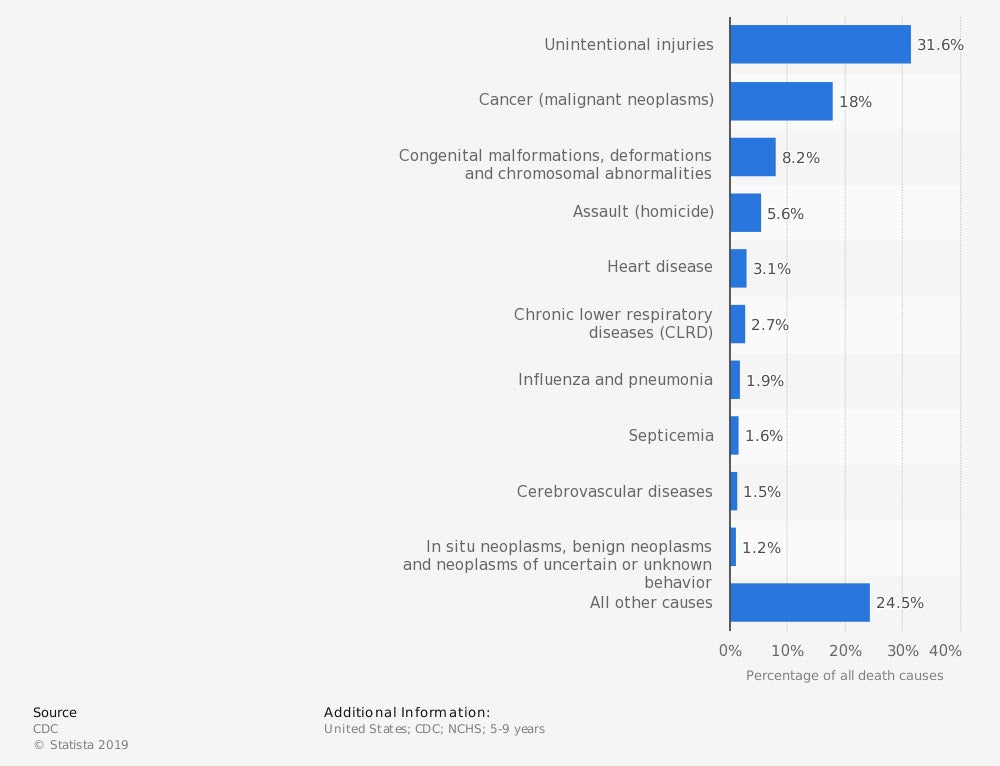 When Is It Reasonable to Buy Life Insurance for My Child?
A child is at their highest risk of death in the first year of life. So as soon as an insurance company will insure your child, you should buy it. On average, this is around one year of age.
Fortunately, the price of life insurance seems to follow the size of the client, because children's life insurance is a minimal cost. You can purchase between $25,000 and $50,000 worth of life insurance for $120 a year for your child.
Can I Purchase Life Insurance for My Baby?
The short answer is no. Most insurance companies will not insure an infant because their chances of mortality are much higher than a one-year-old.
Until you can purchase life insurance for your child, we recommend keeping a savings account with extra cash in the event of fatal accident or medical condition.
Distribution of life insurance ownership in the United States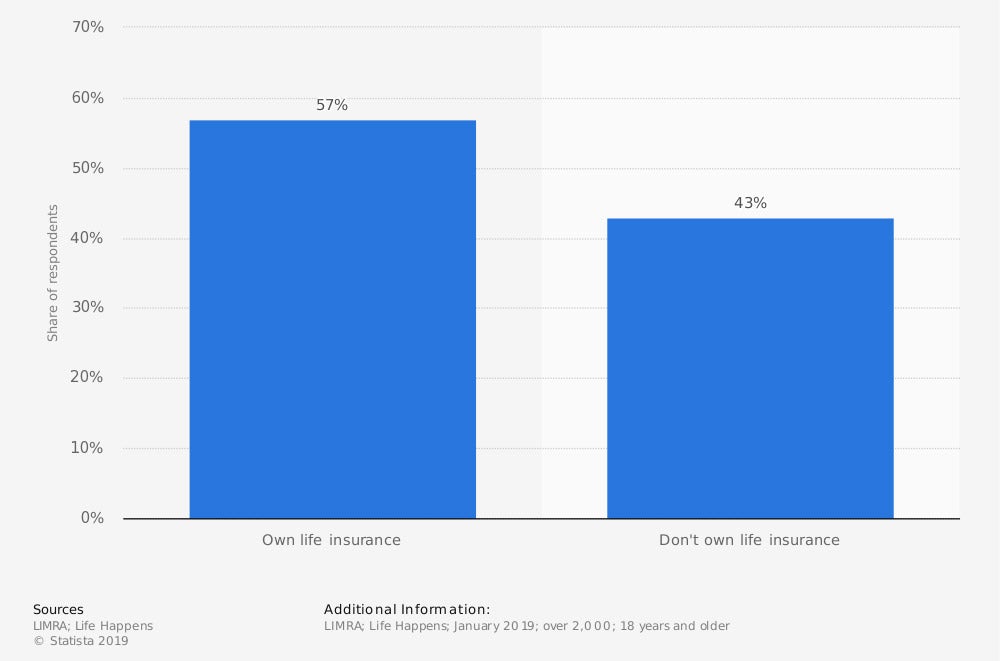 What Happens to the Life Insurance Policy When My Child Turns 18?
As we mentioned earlier, most child life insurance policies are designed to be a certain number of years. The insurance policy will include a window of opportunity for the child to double their death benefit.
Of course the premium will increase, but life insurance is just as important for young adults as it is for seniors. Because once again, should something happen, you can't purchase life insurance after the fact, no matter what your age.
How Can I Find the Best Life Insurance for My Child?
Life insurance is all about thinking ahead, and sometimes it's hard to think beyond what you'll be cooking for dinner. That's why our independent agents are here to do the thinking for you.
They know the ins and outs of life insurance, what's required to obtain the best insurance possible, and the perfect time to get it. As a new parent, you have enough to worry about, so let our experts fill in.
Comparing Child Life Insurance Quotes with an Independent Agent
Just as protecting your child is your number one concern, finding you the best life insurance is our number one concern. Independent insurance agents know how to shop companies and policies and can help educate you on the amount of life insurance necessary for your child.
Becoming a parent comes with the onset of new responsibilities, so let our trusted insurance agents help you protect your children. That way, you can enjoy the little things, like changing diapers and doing 15 loads of laundry a day.
TrustedChoice.com Article | Reviewed by Paul Martin
©2021, Consumer Agent Portal, LLC. All rights reserved.