Photography Insurance
Finding the Best Photography Business Insurance for You
(Getting coverage has never been easier)

These days, the photography industry is bringing in around $10 billion in revenue every year. That should be no surprise, though, because capturing your family's biggest life moments never goes out of style.
But behind every memorable photo is a photographer with a keen eye for lighting, thousands of dollars worth of photography equipment, and a dream to bring your visions to life.
No matter what kind of photographer you are, if you're the person behind the camera, you need help protecting your business from accidents, theft, and other unexpected events.
This is where an independent insurance agent can help identify your insurance needs, walk you through your options, and find the perfect price to keep your business booming. But first, here's a bit of background on insurance as it relates to your photography business.
What Is Photography Business Insurance?
Just so you know, there really is no product out there called "photography business insurance." What you're actually getting is a business owners policy (BOP) that's customized specifically to fit the needs of your photography business.
Typically, your insurance will include business property coverage, general liability coverage, and business interruption coverage—each focusing on a different part of your business.
In many cases, coverage like this is plenty, but if your photo business is really taking off, you may want to consider additional coverages to add on to your policy.
Save on Business Insurance
Our independent agents shop around to find you the best coverage.
What Does Photography Business Insurance Cover?
Since business insurance is simply a BOP that bundles what you need to protect yourself, the proper policy can cover anything your business needs to function. Your BOP will include three forms of coverages:
Why Do I Need Photography Business Insurance?
To you, photography is more than just a hobby, it's a dream. And without the right insurance, if something bad should happen to your business, it could come crashing down. Which is why protecting that dream is a must.
Depending on the type of photographer you are, you could find yourself traveling to faraway places for photo shoots, working outdoors with wild animals or maybe even just a gaggle of wild kids. Not only do you need to protect yourself and your equipment, but also those you may be working with.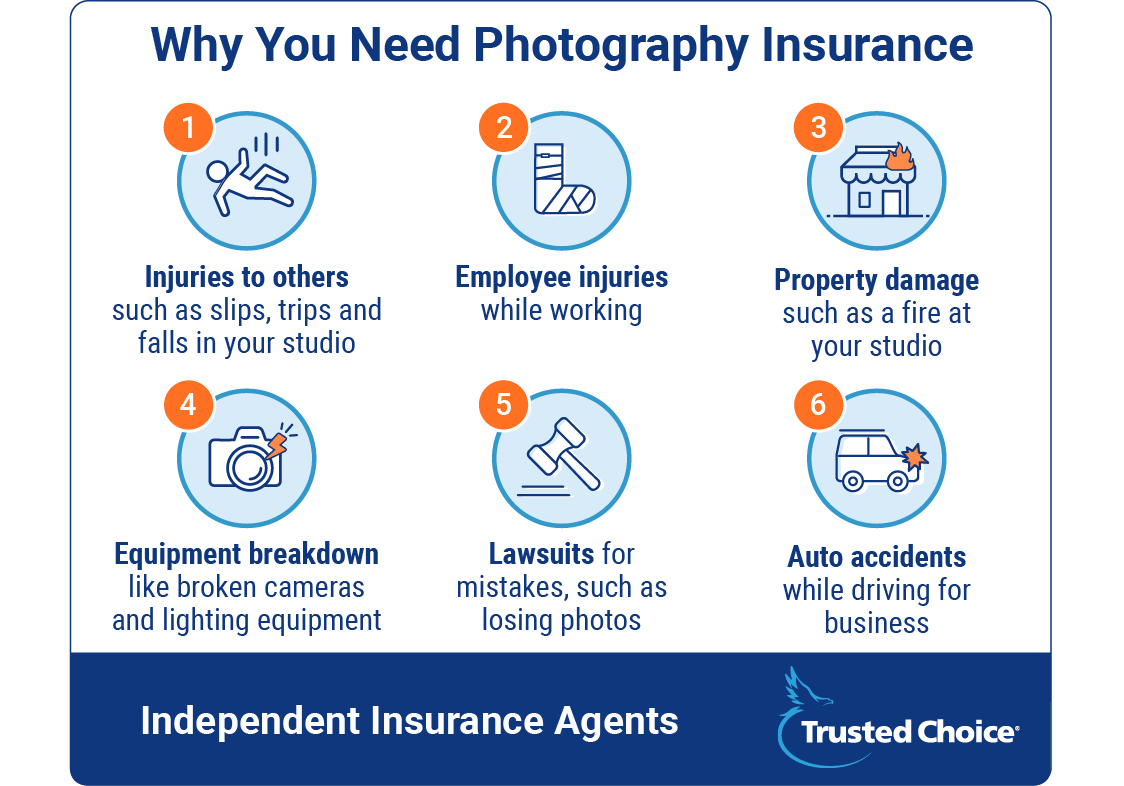 If you're still on the fence about whether photography business insurance is right for you, have a look at these scenarios and you may just understand its importance:
You have a studio: No doubt your studio is decked out with all sorts of backdrops, fancy props, and expensive equipment that's subject to theft. Plus, what if one of your lights falls over and injures a customer, that's a lawsuit waiting to happen.
You have top-of-the-line equipment: While any smartphone can take a decent photo these days, you're snapping some serious pics with top-of-the-line equipment with multiple lenses, tripods, computers and so on. And to protect an investment like that, you'll want insurance.
You have (or want) big-name clients: A lot of major clients won't work with you if you don't have insurance.
Photography is a primary source of income: If your photography business is a side hustle, you might be able to get by without insurance, making ends meet with your day job. But if you're all-in on the photography business, you should definitely talk to an independent insurance agent about your options.
What Other Steps Can I Take To Protect My Photography Business?
No matter whether you already have insurance for your photography business or you're not there yet, you should always be taking precautions to help protect your equipment, and your business. So here are a few extra tips to help you protect your business and all that comes with it:
Lock it up: If you're not on the job, always store your equipment in a safe, secure place that's out of plain sight.
Understand copyrights: Make sure you understand the laws and limitations behind the copyrighting of your photos and make sure your clients understand their access, too.
Don't forget the contracts: It's always a smart idea to have contracts in place signed by clients that clearly lay out exactly what they'll be getting. This will definitely help from a liability standpoint.
Protect your assets: Always make sure your images, assets, and client information are secure from online theft.
Accident-proof the shoot: If you're in a studio, make sure cords are taped to the floor or tucked away. If you're outdoors, make sure you scout the area first for any hazards to you, or your clients.
Not only do precautionary steps like these make it easier to obtain photography business insurance, but you should be doing them anyway as a general good business practice.
How Much Does Photography Business Insurance Cost?
As with any type of business insurance, your photography business insurance policy cost will vary depending on the size of your business and the risks you're taking with your photography shoots.
If you're working as a photographer on the side only shooting a couple gigs a month, you can probably expect to pay no more than a couple hundred dollars in premiums each year.
On the other hand, if you're a full-time photographer documenting everything from weddings to the next great National Geographic campaign, your premiums could get up to several thousand dollars a year.
Save on Business Insurance
Our independent agents shop around to find you the best coverage.
The Benefits of an Independent Insurance Agent
Insurance policies can be complex. And searching through company after company can be extremely time-consuming and overly frustrating.
An independent agent's role is to simplify the process. They work with multiple insurance companies on a daily basis, so they know all the pros and cons of each and can help you navigate the playing field.
Plus, they'll break down all the fancy insurance jargon and fine print to make sure you're confident you got the right coverage for your photography business's unique needs.
Finding and Comparing Photography Business Insurance Quotes
An independent insurance agent will review your needs and help you evaluate which photography business insurance coverages make the most sense for you. Then, they'll start shopping options from some of the best companies out there to bring a number of different options to the table.
You'll review them with your agent, walk through all the fine print, get all your questions answered, and choose the one that is right for you, together. It just doesn't get any easier than that.
©2022, Consumer Agent Portal, LLC. All rights reserved.
https://www.ibisworld.com/united-states/market-research-reports/photography-industry/