Restaurant Franchise Insurance
Insurance for a Restaurant Franchise - Are You Covered?
(Easily find out what protection you need)
Let's start with a story: Back in 1997, Burger King took a big financial hit. An E. coli outbreak in Colorado led to a beef recall that left one in FOUR of the chain's locations with no meat. For two days, Burger Kings in 28 states had no burgers. Not good when "Burger" is your first name, is it?
Luckily, they had restaurant insurance, which includes foodborne illness coverage.
It's a major risk in the food service business. So are injuries, mechanical failure, and damage from natural disasters. Marci Lall, an insurance expert with FSB Group in Ontario, Canada, sees some entrepreneurs who don't understand the extent of their vulnerabilities.
And it's not just super-sized fast food restaurants that need to worry. Many of the same kinds of unexpected disasters happen to the little shops too. "[N]o business is too small to suffer a loss," Lall writes in an email. "Whether it's a slip and fall, a fire that destroys the business or even theft, restaurant owners need to have some sort of insurance from day one to properly protect themselves and their business," he writes.
There's no single policy called "restaurant insurance." It's more a collection of policies and coverage types that should, under the best of circumstances, completely cover you for anything that could possibly go wrong in the food service business.
The Coverage Any Restaurant Needs
Food is just part of it, though. Like any business, a restaurant needs basic commercial insurance. That typically means property, liability and worker's comp. Let's talk about this winning trifecta in a bit more detail.
Property Insurance
According to Lall, "Some restaurant owners think if their landlord has insurance, then they don't need insurance of their own."
Not true.
"Yes, the landlord will have insurance on the building," he writes, but "the restaurant owner will still need insurance to cover things such as their contents, stock..."
Property insurance covers damage to or loss of property due to unforeseen events like flooding, fire, vandalism, theft, electrical surges and malware attacks.
Save on Business Insurance
Our independent agents shop around to find you the best coverage.
General Liability Insurance
General liability covers you if a customer is injured or their property is damaged at your restaurant. You're typically on the hook if someone slips on a glob of ketchup or a drive-through sign falls onto an employee's car. It pays for costs like repairs, lawsuits and medical bills.
Product Liability Insurance
This covers lawsuits and medical bills if your product hurts someone. These days, product liability insurance often covers costs associated with the resulting damage to your reputation, too.
When your product is prepared food, this generally means foodborne illness, which isn't as rare as one might hope. Wendy's got people sick in 2006; Jimmy John's in 2008 and 2013; and McDonald's in 2018, when 507 customers in 15 states got sick from the salad. Heck, Chipotle famously suffered five separate food poisoning incidents in 2015 alone.
Restaurants pay up to $2.6 million in lawsuits, medical payments, and lost revenue for a food poisoning outbreak affecting up to 250 people, according to a 2018 study in the journal Public Health Reports. A massive hepatitis-A outbreak in 2003, in which 650 customers got the disease and another 9,000 got shots to prevent it, helped shut down every Chi-Chi's Mexican restaurant in North America.
Now, this isn't to scare you. We just want to let you know that accidents can happen, no matter who you are or how many food safety precautions your organization has in place.
Top 10 Property and Liability Claims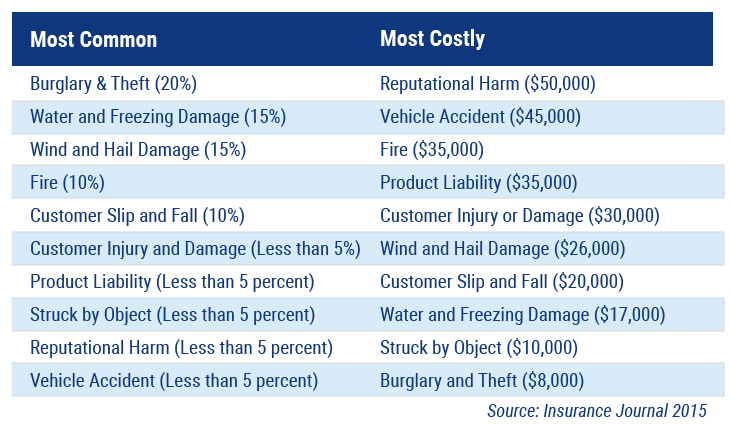 Worker's Compensation Insurance
If you have employees, you need coverage for worker's comp. It covers costs associated with employees being injured or becoming ill in the course of doing their job.
The Coverage Any Restaurant Needs
The specifics of the food service industry make additional coverage highly advisable. You need to look into:
Equipment Insurance
Equipment insurance covers mechanical devices, including refrigeration, HVAC, cooking or dishwashing systems. Unlike warranties, these policies generally cover intentional or negligent damage, too.
Spoilage Insurance
This covers you if a storm takes out the power and your refrigerating system shuts down with 200 steaks and side dishes inside.
Save on Business Insurance
Our independent agents shop around to find you the best coverage.
Liquor Liability Insurance
Generally, if your restaurant has a liquor license, you can't operate without liquor liability insurance. It covers you for lawsuits and medical costs if someone who was over-served at your restaurant goes on to suffer or cause an alcohol-related injury.
Cyber Liability Insurance
This one's fairly new, writes Lall. It "protects the owner from hackers that obtain sensitive or personal information of their customers and any liability and expenses arising from the stolen data," he explains.
"If the franchise owner accepts credit cards, sends emails to a list of customers, handles private and sensitive employee information or has a website," he writes, "this coverage is a must!"
And a few other coverages worth looking into include:
Theft insurance covers you if someone steals the liquor.
Business interruption insurance covers your lost income during the time it takes to rebuild after a fire or natural disaster.
Auto liability insurance covers you if a delivery driver gets in an accident. In fact, delivery drivers were among the most commonly injured workers in 2017, according to the US Department of Labor.
Employee Non-Fatal Injury and Illness by Occupation, 2017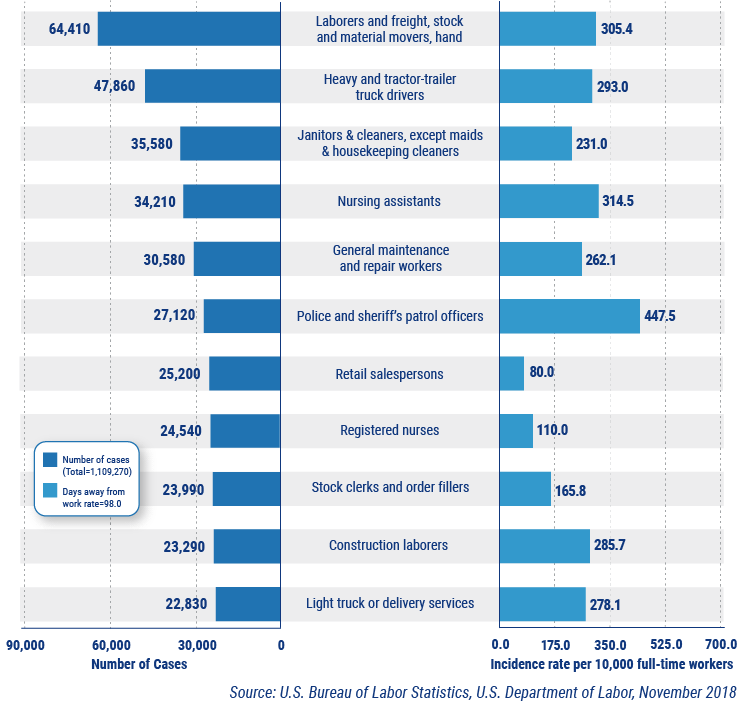 Theft, business interruption, and auto liability are often components of policies like property or general liability, but they may be add-ons. Be sure to check.
Buying Insurance as a Franchisee
All of these coverage types apply to both franchises and independent restaurants. But according to Lall, the process of buying that coverage can vary between the two.
"Sometimes the franchisor will have a program in place where all franchisees must use their preferred insurance vendor," he writes. At other times, it's up to the franchisee. Any rules around insurance are covered in the franchise agreement you sign when you buy the restaurant.
Either way, writes Lall, you'll benefit from being part of a brand, because "[f]ranchise owners can leverage the reputation, credibility and proven business models of the franchisor."
"In most cases, insurance companies will work with the franchisor to create a program or policy tailored to them specifically," he writes, and franchises can "benefit with preferred rates and coverages from the insurance company simply because they are insuring many locations rather than just one."
An independent owner can get the same coverage, he notes, "but it won't be preferred rates and they will more than likely have to pay extra premiums for upgraded coverages."
Save on Business Insurance
Our independent agents shop around to find you the best coverage.
Taking the Time to Get It Right
Whatever you do, don't let insurance be an afterthought, Lall advises. He's seen franchise owners who don't put it high enough on their list of priorities.
"They're scrambling last-minute to get the insurance so they can open their business," he writes, "and that leaves their back against the wall to go with the first option that is presented to them."
But an employee could fall off a ladder as easily on Day 1 as on Day 1,000. If it happens, and you don't have enough coverage, your restaurant might be closing sooner than you think.
Lall recommends restaurant owners start early so they "have more time to review quotes, ask questions, and take a look at the different options that are available to them."
And even after you open, stay on top of it: Lall advises checking on rates at least every two years to make sure you're not overpaying. If you choose wisely, he notes, you don't have to do it yourself.
"A good broker or agent will do this proactively," writes Lall, "so the franchise owner can worry about running their business."
Getting Back on Your Feet
With the right coverage at the right price, your restaurant can survive a disaster – even an E. coli outbreak that leaves your burger joint burger-less. For Burger King, the trick to bouncing back from the 1997 outbreak was two-fold, according to Jim Kirk at the Chicago Tribune: super-fast reaction time in the damage control department, and consumers with short attention spans.
The chain immediately switched beef suppliers and took out full-page ads in major papers across the country. Damage control costs like advertising are typically included in foodborne illness coverage.
Burger King may also have benefited from customers like Joel Bishop, who was interviewed eating a Whopper the day the new beef arrived. He thought the ruckus was ridiculous.
"This country overreacts to everything," he told a CNN reporter. "The sky is always falling."
Big thanks again to Marci Lall, insurance consultant with FSB Group, for his generous assistance with the article.
TrustedChoice.com Article | Reviewed by Marci Lall
©2022, Consumer Agent Portal, LLC. All rights reserved.
http://www.cnn.com/US/9708/23/burger.king/
https://marlerclark.com/news_events/chi-chis-hepatitis-a-outbreak-pennsylvania
https://www.insurancejournal.com/news/national/2011/12/13/226947.htm
https://www.foodsafetynews.com/2015/12/a-timeline-of-chipotles-five-outbreaks/
https://smallbusiness.chron.com/commercial-general-liability-including-product-liability-71325.html
https://www.iii.org/publications/insuring-your-business-small-business-owners-guide-to-insurance/small-business-property-insurance
https://extension.usu.edu/foodsafety/ou-files/ezplug/uploads/Food-Poisoning-Blog-Law.pdf
https://consumerist.com/2014/12/09/cucumbers-were-probably-culprits-in-e-coli-outbreak-at-jimmy-johns/
https://www.allbusiness.com/what-franchise-payments-should-franchisees-expect-to-pay-2197-1.html
https://www.tmhcc.com/en-us/products/restaurant-recovery-foodborne-illness
https://www.business.com/articles/insurance-for-restaurant-owners/
https://www.ncbi.nlm.nih.gov/pubmed/29656701
https://www.foodpoisonjournal.com/foodborne-illness-outbreaks/fresh-express-salads-sold-at-mcdonalds-sicken-507-with-cyclospora-in-15-states/
https://health.usnews.com/health-care/articles/2018-04-16/foodborne-illnesses-can-mean-financial-ruin-for-restaurants
https://www.investopedia.com/terms/c/commercial-property-insurance.asp