Juice Bar Insurance
How to Insure Your On-Trend Juice Bar
(You need more than the freshest ingredients to make sure your juice bar thrives.)

Starting a juice bar business is a smart way to capitalize on the growing trend toward healthy eating (and drinking). The benefits of juicing are clear, and it helps that many people consider patronizing their favorite juice bar a healthy treat. There's more to running a successful juice bar than delivering heavenly flavor combos; you'll need the right insurance coverage to protect your investment.
An independent insurance agent can help you find the right juice bar coverage for your business and tailor it entirely to your needs. No matter what your juice bar specializes in, an independent insurance agent will help you shop multiple carriers to help find the right business insurance to ensure that your business and livelihood are protected. But first, here's a bit more background on the insurance needs of your juicing business.
What Types of Insurance Does a Juice Bar Need?
You have a lot of choices when it comes to insuring your juice bar, and picking policies can feel a bit like predicting the future. Many business owners choose to start with a business owners policy (BOP), which is a discounted bundle of liability and property insurance. There are two types of insurance that come with a BOP. If you want additional coverage, you can add to the property and liability policies included with your BOP.
Property insurance
The property insurance part of your juice bar's BOP policy is typically available with named peril or open peril coverage. The policy may name certain events that it will cover, like smoke damage, fire, wind damage, and vandalism. You may also be able to choose open peril coverage that would handle any damage to the building and outdoor fixtures as well as items inside and stored in close proximity to the juice bar.
Liability insurance
If you or your employees cause damage to someone else's property or there is an injury on your property, liability insurance may pay damages. Your juice bar could also have coverage for injury due to defective products or accidents that happen while customers are visiting your business.
Income protection insurance
Covered events like a fire or windstorm could cause major damage to your juice bar, making it impossible for you to continue to serve customers until necessary repairs are completed. Your agent can help you understand how an income protection policy may fit into your business owners policy and help keep you financially stable during times when you can't conduct business as usual.
Commercial auto insurance
If you or your employees deliver, cater, or use a personal or company-owned vehicle to conduct juice bar business, you'll need a solid commercial auto insurance policy.
Commercial auto insurance protects your business from claims made by people with damaged property or injuries that happen as a result of something you or one of your employees did while driving for business. You'll get appropriate coverage for physical damage, medical insurance, liability, and uninsured motorists with commercial auto policies, just like you do with your personal auto policy.
Workers' compensation insurance
A workers' compensation policy provides your employees with disability and death benefits if they are injured while at work. This type of insurance may provide coverage for lost wages and medical bills, as well. Each state has its own regulations about workers' compensation insurance, but it's required in most places.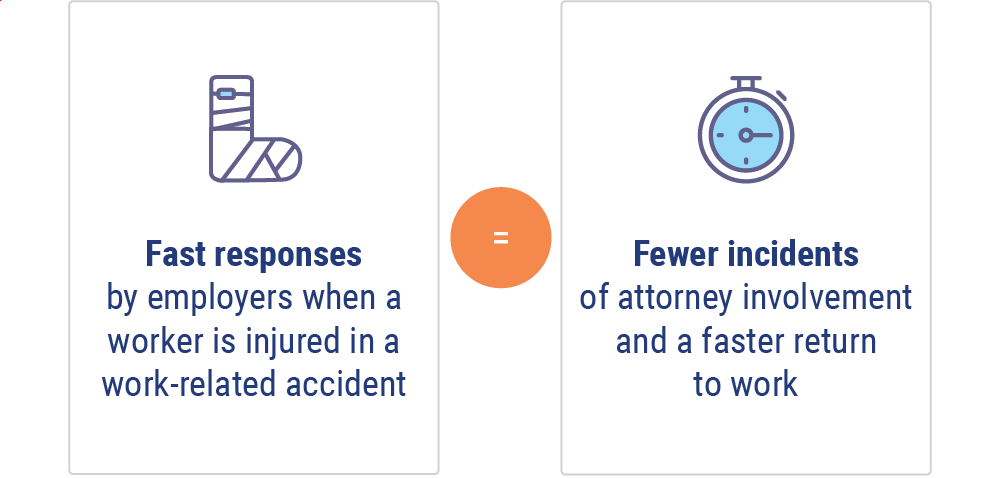 Fast responses by employers when a worker is injured in a work-related accident translates to fewer incidents of attorney involvement and a faster return to work.
A well-designed business owners insurance policy can include coverage for the building where you do business, your equipment, the fixtures, and even your landscaping and signs. It could also offer coverage for expenses that arise as a result of lawsuits or theft. Your independent insurance agent can walk you through the options and help you find the right coverages for your needs and budget. Talk with them about your property protection options as well as asset protection.
Are Juice Bar Franchisees Required to Have Certain Types of Insurance?
If you have a lien on your property or vehicles, the lender probably has insurance guidelines to protect their interests. You can learn more about the requirements by checking your loan documents or contacting the lender directly.
Your agent will help you get the right types of coverage while satisfying the lender's requirements, which means you can spend more time growing your business.
Franchise insurance requirements
Owning a franchise is a great way to gain access to a turnkey business while still making day-to-day operational decisions and enjoying the best parts of business ownership.
If you must carry certain types and amounts of insurance, you'll find the guidelines in your franchise agreement.
Expect to be expected to carry general liability insurance and list the franchiser on the policy as an additional insured party. You may also have to carry errors and omissions insurance and cyber liability insurance with the franchiser listed as an additional insured.
Does My Juice Bar Need Cyber Liability Insurance?
Your general liability insurance policy is a great safety net for many types of liability claims, but it doesn't cover costs incurred due to electronic security breaches. To protect your juice bar from losses associated with a data breach, you'll need cyber liability insurance.
In some states, a business must notify each customer affected by a security breach. For businesses that accept online ordering, have an app, and take credit and debit cards as a form of payment, exposure of sensitive customer information is a serious risk.
The costs associated with data restoration, upgrades to digital security systems, and reparations to individuals who suffer losses as a result of the breach could be crippling for a juice bar.
| | |
| --- | --- |
| The average cost to a business in the US after a data breach: | |
| 2015 | $6.53 million |
| 2016 | $7.01 million |
| 2017 | $7.35 million |
| 2018 | $7.91 million |
| 2019 | $8.19 million |
Public relations, crisis management, and attorney fees add up fast, and while a franchiser may offer some relief to franchisees, even businesses under the protection of a larger entity could suffer serious financial harm.
Given the increased number of cybercrimes, cyber liability insurance is gaining popularity among small business owners.
Save on Business Insurance
Our independent agents shop around to find you the best coverage.
How to Find the Best Insurance for Your Juice Bar
Insurance policies can be complex, and searching through options can be confusing, time-consuming, and frustrating. An independent insurance agent's role is to simplify the process.
When it comes time to purchase insurance, they'll break down all the jargon and explain the nitty-gritty so you understand exactly what you're getting.
And should you need to file a claim, you're not alone. Your agent will be right there to help guide you through every last step and get your life back to where it all was. How great is that?
Benefits of an Independent Insurance Agent
Independent insurance agents have access to multiple insurance companies, ultimately finding you the best coverage, accessibility, and competitive pricing while working for you. So instead of searching around from company to company, your agent can help simplify the whole process, and let you focus on the business side.
Find an independent insurance agent in your community here.
©2022, Consumer Agent Portal, LLC. All rights reserved.
https://www.nfib.com/assets/SBET-February-2020.pdf
https://www.statista.com/statistics/220371/single-most-important-problem-for-small-businesses-in-the-us/
https://www.statista.com/statistics/273575/average-organizational-cost-incurred-by-a-data-breach/
Cost of Data Breach Report 2019