Small Business Insurance
Finding the Best Small Business Insurance
Our independent agents shop around to find you the best coverage.

Starting a small business is risky enough, so the last thing you want to worry about is all the possible ways your business could lose business. From unexpected environmental incidents to third-party lawsuits, there are a variety of common and not-so-common risks that every small business owner faces.
This makes finding the right coverage incredibly important. An independent insurance agent knows the ins, outs, and all-arounds of small business insurance and will help you find the protection you need to keep your business endeavor secure.
What Is Small Business Insurance?
Small business insurance provides a business with protection against lawsuits, theft, vandalism, damage, employee injuries, illnesses, and anything else that may cause a loss of income. The insurance policy is designed to pay to repair, replace, or recover the value of whatever your business has under coverage.
How Is It Different from Standard Business Insurance?
The most basic insurance that every business should have is general liability insurance. This is designed to protect your business should you get sued for any reason by a third party, which is anyone who doesn't work for your business.
However, it won't protect you in the event of property damage or loss of income as a result of an event out of your control, like theft or fire.
Small business insurance, also known as business owners policy (or a BOP) is a bundled insurance policy that includes the protection of multiple policies including general liability insurance, property insurance, and business interruption insurance.
In short, a BOP is designed to cover all aspects of a small business. However, not every business is eligible for a BOP. Usually, the general requirements are:
Must have 100 employees or less
Revenue is $5 million or less
Must be low risk
Why Do I Need Small Business Insurance?
Every business, big or small, needs some form of insurance. Yes, certain types may not be required or seem relevant to you, but if an unexpected event were to cause your business to close for several months, would you be okay financially? Even more, if a third party were to sue your business, would you be able to cover the cost of the lawsuit?
Even a low-risk business might be susceptible to some ill-fated events.
You could lose your stuff: Damage or loss of your property, equipment, and inventory
You could be sued: Product or service causes damage or bodily harm to a customer
You could make a mistake: Professional error that causes emotional distress
Top 10 Common Claims for Small Business Owners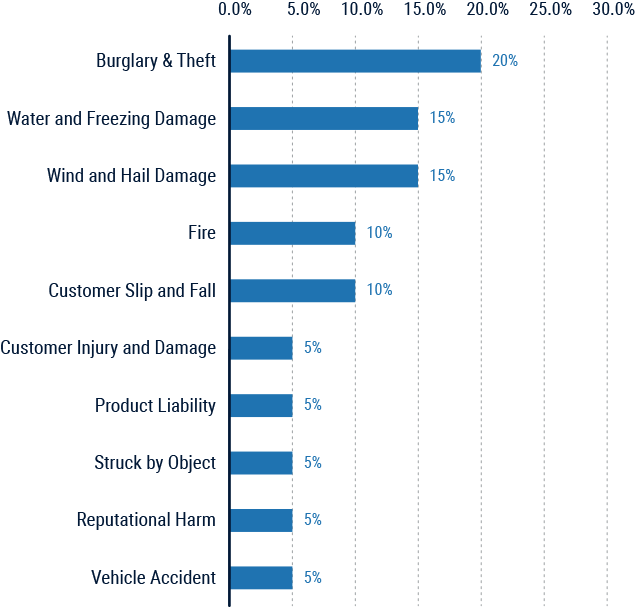 The most common financial damage that a small business will encounter is burglary or theft. In addition, businesses are at risk of damage from elements outside of their control like wind and hail damage, fire, and slips and falls.
Save on Business Insurance
Our independent agents shop around to find you the best coverage.
What Does Small Business Insurance Cover?
It has the same concept and coverage options as standard business insurance, but with that added coverage that we previously mentioned, the BOP. However, companies will most likely need coverage outside of what's included in a BOP to meet unique risks which can be purchased through standalone policies.
A business owners policy will usually include the following:
Property insurance: Covers loss or damage to your stuff due to fire, storms, and other causes
General liability: Covers claims for injuries to other people
Business income insurance: Covers the loss of income if operations are interrupted
Common standalone policies can include the following and more:
Professional liability: Covers your mistakes that cause physical or emotional injury
Employer insurance: Covers Social Security, unemployment, and workers' compensation
Commercial auto: Covers work vehicles and certain damage they may cause
Group insurance or employee benefits: Covers health, life, short-term and long-term disability
Top 10 Most Expensive Claims for Small Business Owners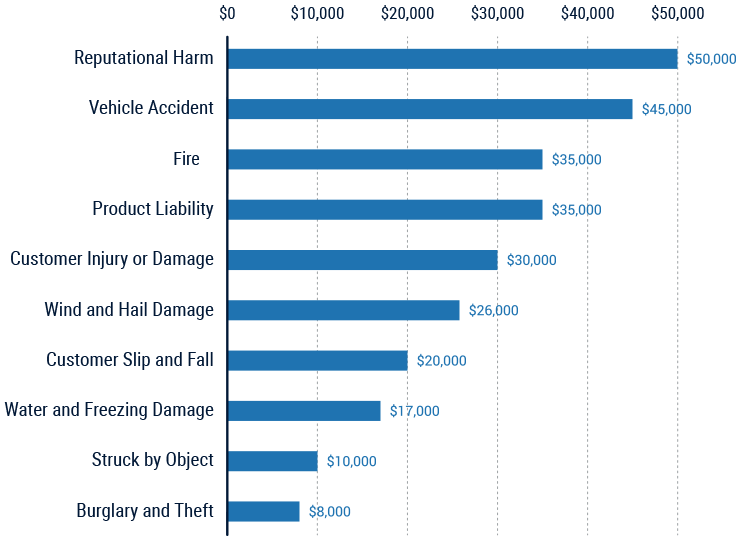 Small businesses will spend a majority of their money on claims against reputational harm, vehicle accidents, fire, and product liability. Assuring you have coverage against all possible claims means your business won't go out of business because of an unexpected claim.
Do You Need Small Business Insurance?
If you're wondering whether small business insurance is for you, there's a pretty easy way to figure it out. If you're making a profit from a service you're providing or a product you're selling, then you're considered a business. Any "business" could be held responsible for the same risks despite its size.
To determine whether you're at enough risk to look into a BOP policy, ask yourself the following questions:
Do I have a physical location that could be damaged or ruined by extreme weather or a natural disaster?
Do I have physical assets that could be stolen?
Am I at risk of being sued by a third party?
If you answered yes to any of these questions, it's worth speaking with an independent insurance agent about whether a BOP policy is right for you.
Save on Business Insurance
Our independent agents shop around to find you the best coverage.
How Do You Find Insurance Specific to Your Business?
To find the right insurance package for you and your business, you'll have to figure out what coverage makes sense and determine whether the benefits will outweigh the premium costs.
In order to find accurate information and make the search process easier for you and our insurance agents, you'll need to know your industry type and business classification.
How Much Does Small Business Insurance Cost?
The cost of business insurance policies depends on the coverage and a number of other factors like the size, location, and materials used in your business.
A strip mall bakery might only pay $200 a month, whereas a chainsaw-carving wood sculptor could pay $2,000 a month. Basically, the safer and smaller the company, the cheaper it is.
Where Are All the Small Business Insurance Discounts Hiding?
For starters, combining policies and raising your deductible are two easy ways to drive down cost. You can also get lower rates and discounts if you pay annually and increase your safety measures.
Comparing Small Business Commercial Insurance Quotes
An insurance agent will review your business needs and help you evaluate the commercial coverage options that make the most sense. They'll also compare policies, packages, and quotes from multiple insurance companies to make sure you have the right protection in place.
What's So Great about an Independent Insurance Agent?
Independent insurance agents simplify the process by shopping and comparing insurance quotes for you. Not only that, they'll cut the jargon and clarify the fine print so you know exactly what you're getting.
Plus, independent agents work for you and not one insurance provider. Actually, they're the only agents who can check policies from multiple carriers. In addition, you'll never outgrow an agent. They have the flexibility to find the right coverage as your business continues to expand and evolve.
Most importantly, they'll be there to help you when claim time comes. The outcome of insurance claims can be strongly impacted by how the process is approached and handled.
TrustedChoice.com Article | Reviewed by Paul Martin
©2021, Consumer Agent Portal, LLC. All rights reserved.