Snowmobile Insurance
Finding the Right Snowmobile Insurance for You
So you can ride safely.

Owning a snowmobile can bring a sense of great joy and freedom, particularly during the colder months. But it's not as simple as donning a pair of gloves and heading out on a joyride, you've got to anticipate potential disasters that can come along with your snowmobile. That means having the right protection before hitting the trails.
Fortunately an independent insurance agent can help you get equipped with the right snowmobile insurance for you. They'll get you covered long before you ever have to think about filing a claim, so you can get started enjoying your snowmobile right away. But first, here's a deep dive into snowmobile insurance.
What Does Snowmobile Insurance Cover?
Snowmobile insurance can be highly customizable. That's why it's important to work with an independent insurance agent to assemble the policy that best meets your personal needs. But in general, snowmobile insurance tends to cover the following:
Bodily injury liability: Covers you against lawsuits related to injuring someone else with your snowmobile.
Property damage liability: Covers you against lawsuits related to damaging someone else's property with your snowmobile.
Uninsured motorist: Covers you against expenses that can result from getting into an accident with another snowmobile owner who doesn't have any/enough coverage of their own.
Medical payments: Covers the cost of medical treatments for injuries to you or your passengers after a snowmobile accident.
Your independent insurance agent will be happy to suggest the right type of snowmobile insurance coverages that work best for your needs.
Additional Snowmobile Coverages You May Need
You might want additional coverages beyond what's offered by a basic snowmobile insurance policy. Some commonly-added snowmobile coverages are:
Collision coverage: Pays for damage to your snowmobile if you get into a collision with another snowmobiler.
Accessories coverage: Pays for damages to other items related to your snowmobile like trailers, and can protect against theft of helmets or other safety equipment.
Comprehensive coverage: Pays for "other than collision" damages, which can include damage from storms, theft, or vandalism.
Roadside assistance: Pays for tows or other emergency services if you find yourself stranded on the side of the road or trail.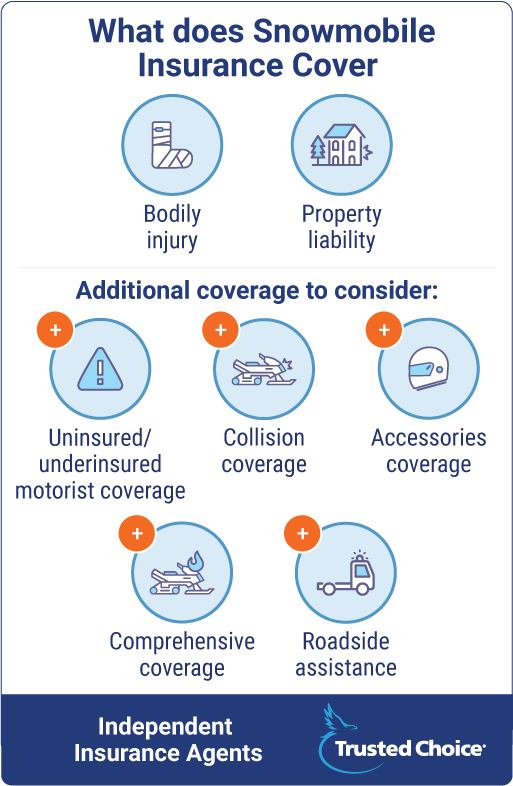 Work together with an independent insurance agent to add any extra coverages your snowmobile policy may need to fully protect you.
Get Snowmobile Coverage
Our independent agents shop around to find you the best coverage.
What States Require Snowmobile Insurance?
Snowmobile insurance is required by law in Pennsylvania, Vermont, New York, North Dakota, and South Dakota. If you live and ride in these states, you'll want to work with a local independent insurance agent who can help you understand your local laws and guide you toward the protection you need. However, you might still be required to have coverage even if you don't live in these areas.
Did you know?
Each year snowmobile accidents produce approximately 200 deaths and 14,000 injuries.
A snowmobile can travel at speeds exceeding 90 miles per hour.
A snowmobile can weigh in excess of 600 pounds.
If you finance or lease your snowmobile, you could be required to have snowmobile insurance. It's always a good idea to have coverage, though, especially considering that there are thousands of snowmobile injuries and hundreds of deaths each year. Without snowmobile insurance, just one incident could end up totaling your vehicle or leave you with costly out-of-pocket expenses to pay for on your own.
Why Is Snowmobile Insurance Important?
Driving a piece of 400-pound machinery at 90 MPH through snow, ice, and other winter landscapes can be a thrilling, but also potentially dangerous adventure. You wouldn't operate another vehicle with the right coverage, so a snowmobile should be treated no differently.
Snowmobile insurance is important for the following reasons:
To protect your snowmobile
To protect yourself and your passengers if you or they get injured
To protect someone else who drives your snowmobile
To protect yourself if you injure someone else
To protect yourself if you damage someone's property or their snowmobile
Snowmobile insurance is the responsible option for owners and drivers who want to properly protect not only their vehicles, but also themselves, their passengers, and others on the trails.
How Much Does It Cost to Insure a Snowmobile?
The cost to insure a snowmobile depends on several factors, like the make and model of your snowmobile, how often you use it, and its age and value. It also depends on the type of coverages you choose and your deductibles and limits. But a casual rider with a basic machine will likely pay much less than a frequent rider with top-of-the-line equipment.
On average, your snowmobile insurance should only cost you about $10-$20 per month. Overall, that's a small price to pay for the peace of mind you can have knowing you're financially protected on the trails. An independent insurance agent can hook you up with an exact snowmobile insurance quote in your area.
Best Snowmobile Insurance Rates
Insurance for your snowmobile doesn't have to break the bank. Similar to most coverages, there are a few ways that you can save money on your policy and get the best snowmobile insurance rates:
Be a safe driver: Like with car insurance, the better your driving record is the less of a risk you are to insurance companies.
Gain experience: Older, more experienced drivers will be charged less for snowmobile insurance than younger, less experienced drivers.
Take a safety course: Some insurance companies may offer a discount if you prove you've taken a snowmobile driving safety course.
Pay your premium in full: Ask your independent agent if paying your premium in full will save you money in the long run.
Look into automatic payments: An insurance company may offer a discount if you set up your insurance premium payments on automatic withdrawal from your bank account.
Lower coverage during the summer: Chances are you won't be using that snowmobile over the summer, so you can save some money by lowering your coverage during summer months.
Bundle your coverage: Bundling snowmobile insurance with home insurance can help save a bunch of money on each coverage.
An independent insurance agent can help you save on your snowmobile insurance by scouting out the most affordable coverage, and any discounts you may qualify for.
Why Choose an Independent Insurance Agent?
Independent insurance agents simplify the process by shopping and comparing insurance quotes for you. Not only that, but they'll also cut the jargon and clarify the fine print so you know exactly what you're getting.
Independent insurance agents also have access to multiple insurance companies, ultimately finding you the best snowmobile insurance coverage, accessibility, and competitive pricing while working for you.
TrustedChoice.com Article | Reviewed by Paul Martin
©2021, Consumer Agent Portal, LLC. All rights reserved.
motorbiscuit.com/do-you-have-to-get-snowmobile-insurance/