Yoga Studio Insurance
(The key to total business peace of mind.)

Yoga studios are uniquely rewarding businesses or nonprofits to run, but they also bring along their own share of unique risks. But with the right insurance portfolio in place, you can help protect your business against risks that come with running your own yoga studio.
Independent insurance agents are experts in the world of small business insurance and can help you find the coverage your yoga studio needs, at the perfect price for your business's budget. And it all starts with a little background on the topic.
Get an Instant Quote to Insure your Yoga Teacher Services
What Is Yoga Studio Insurance?
Basically, yoga studio insurance is just a type of business insurance where certain coverages may be tailored to fit the specific needs of your yoga studio. Note: Business insurance also applies to nonprofits, if your studio is run as a nonprofit.
But business insurance isn't just one kind of coverage, it's more like a blend of many different types of protection, including: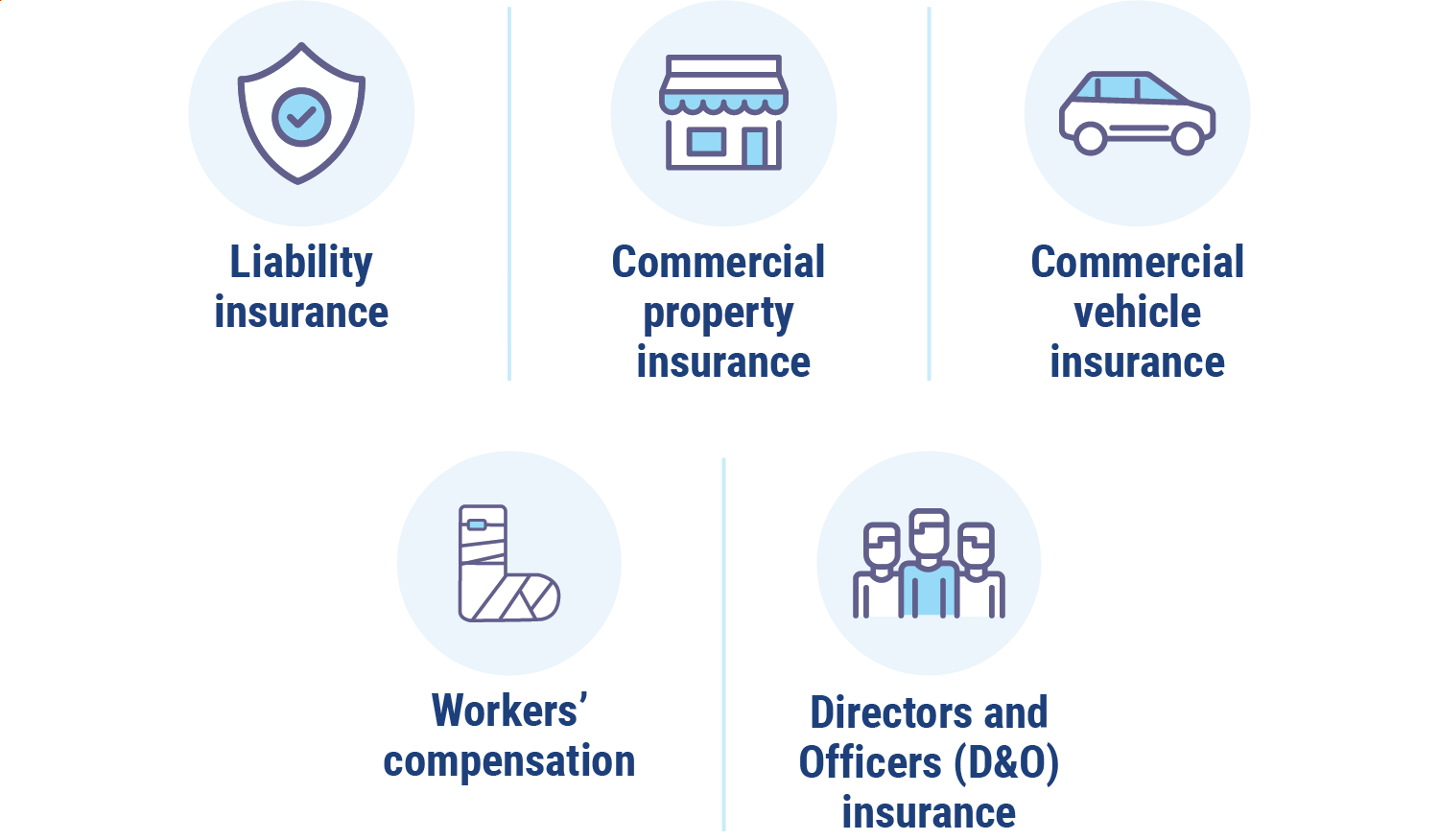 Yoga studio insurance doesn't have to include all of that coverage if you don't need it, but it should definitely include liability insurance at a minimum, and preferably commercial property insurance as well.
When you work with your independent insurance agent, you can discuss your situation and, together, you and your agent can identify the right blend of coverage to help keep you protected.
Why Does a Yoga Studio Need Insurance?
Yoga studios are in the health and wellness sector, a niche where customers are particularly likely to sue. Their health is on the line, after all.
Whether or not you're actually at fault, the cost of a lawsuit can easily put your studio out of business. This makes liability coverage easily the most important part of your yoga studio insurance.
It's also important for all the other reasons that regular business insurance is important: It helps you rebuild after a natural disaster, it pays to replace stolen equipment and décor, it helps you cover employee medical expenses if they're hurt on the job, and much more.
Is Yoga Studio Insurance Required?
Yoga studio insurance isn't legally required, but it is a practical necessity to keep your studio afloat in the long term. Lenders and investors won't fund you without it, potential customers and partners won't trust you without it, and top-notch employees won't take you seriously without it.
What Does Yoga Studio Insurance Cover?
Broadly, yoga studio insurance covers the costs of lawsuits, physical damage, and theft. More specifically, your coverage could include:
Building coverage: Covers loss or damage to your structure due to fire, storms and vandalism.
Equipment and contents coverage: Covers loss or damage to things like mirrors, mats and computers due to fire, severe weather and more.
Bodily injury liability: Covers injuries to students and to any non-employees who may be in your waiting area during a yoga class.
Premises liability: Provides coverage for injuries or property damage sustained by a student, delivery person, or any other person with a reason to be on the premises.
Participant liability: Coverage for students, staff, or volunteers if they're injured while participating in a yoga activity off-site.
Workers' compensation: Provides coverage for medical treatment if one of your employees is injured on the job.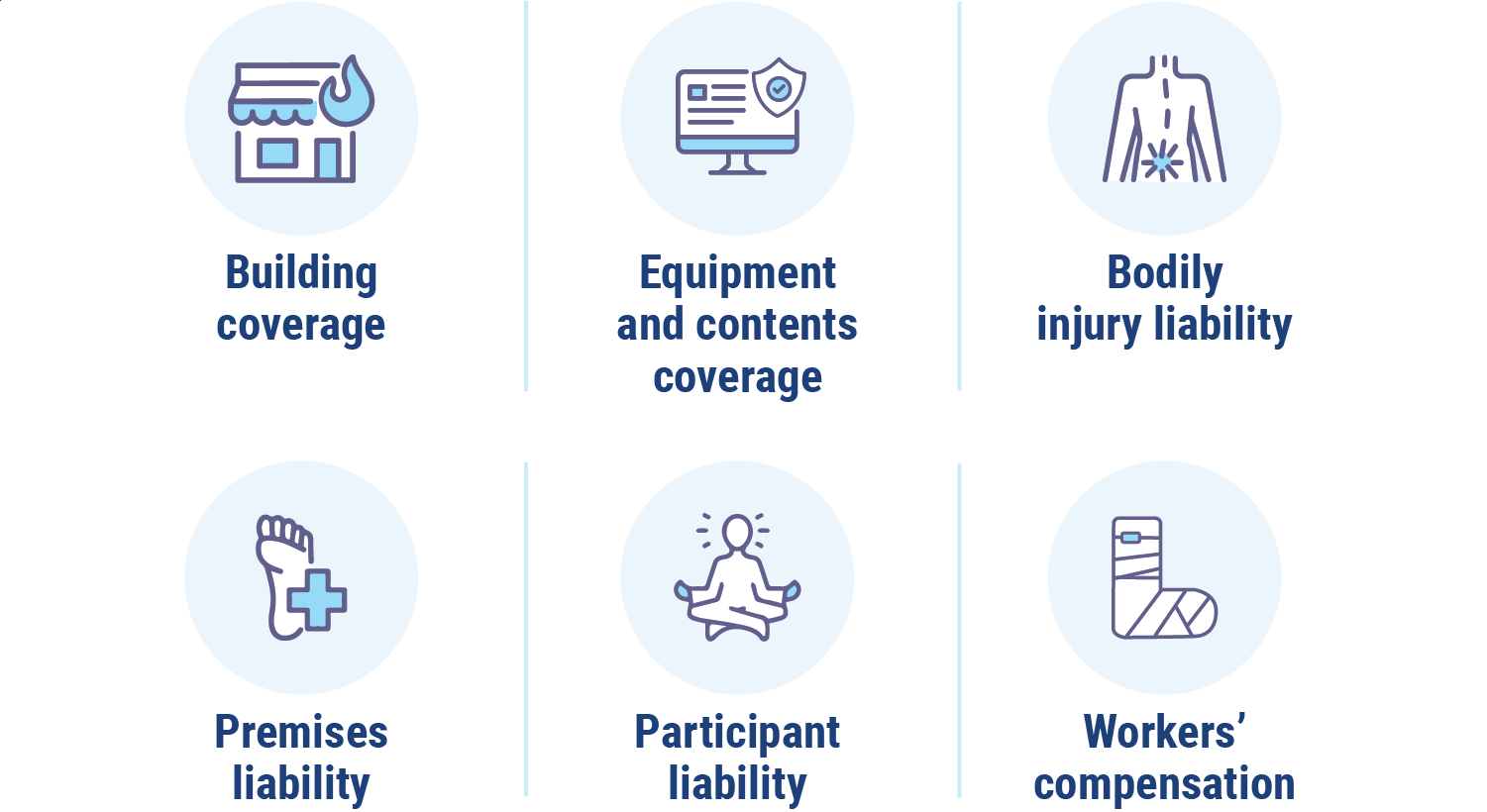 Yoga studio insurance is highly customizable and it's easy to add extra coverage if you want it.
The Benefits of an Independent Insurance Agent
Insurance policies can be complex. And searching through company after company can be extremely time-consuming and overly frustrating. An independent agent's role is to simplify the process.
They work with multiple insurance companies on a daily basis, so they know all the pros and cons of each and can help you navigate the playing field.
Plus, they'll break down all the fancy insurance jargon and fine print to make sure you're confident you got the right coverage for your yoga studio's unique needs.
Finding and Comparing Yoga Studio Insurance Quotes
An independent insurance agent will review your needs and help you evaluate which type of yoga studio insurance makes the most sense for you. Then, they'll start shopping options from some of the best companies out there to bring a number of different options to the table.
You'll review them with your agent, walk through all the fine print, get all your questions answered, and choose the one that is right for you, together. It just doesn't get any easier than that.