Average Work Comp Settlement
What's the Average Workers' Comp Settlement?
(Because it pays to know what you can expect should something unexpected happen on the job)

When an employee is injured at work or comes down with an employment-related illness, workers' compensation insurance is there to help provide financial support. While waiting to return to work, this support includes everything from lost wage recovery to compensation for medical bills, prescriptions, physical therapy, and more. But all of that adds up pretty fast, leading you to wonder how much the average workers' compensation settlement is, and will that amount be enough to cover expenses if the injury is long-lasting or permanent.
Because of the complexity of workers' compensation settlements, you should definitely speak with an independent insurance agent first. Independent agents are able to easily explain how your situation is affected in your state, how to maximize your coverage, and even suggest supplemental policies that can protect you in the event of a work-related injury or illness.
How Does a Workers' Comp Settlement Work?
When an employee is injured on the job or develops a work-related illness, they are eligible to receive workers' compensation benefits from their employer after filing a claim. Once it has been determined by a medical professional that the injury or illness was caused as a direct result of employment, the employee will be awarded benefits that are in accordance with the state's workers' comp guidelines.
Depending on the severity of the injury, a worker may receive benefits for several weeks or for their entire life. If the employee recovers, they can resume their employment. Or if the employee has a permanent disability, they will be eligible to work only in positions where they are physically capable.
Of course, every workers' compensation settlement is different, so it's important to speak with an independent insurance agent to determine how workers' comp is handled in your state. Independent insurance agents can help employers understand how their premiums will be affected by claims, ways to reduce premiums, and more.
What is the Average Workers' Comp Settlement?
If you're looking for a nationwide number for the average workers' comp settlement in the United States, that number is an estimated $21,800.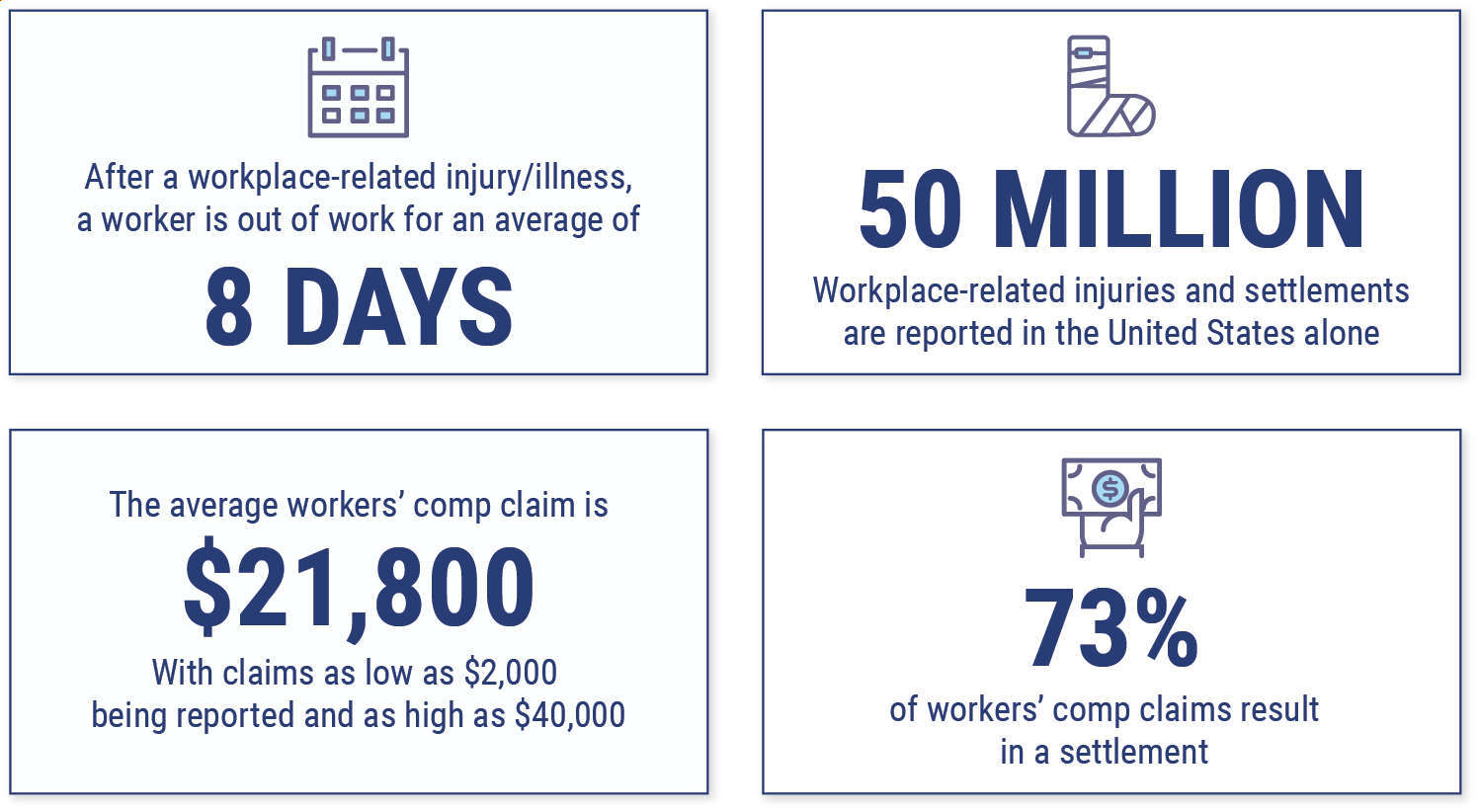 However, the operative word here is "average." The study found that the majority of those workers received a settlement between $2,000 to $40,000. Furthermore, nearly ¾ of those seeking a settlement or award received one.
Settlements are also negotiable depending on those who approached the settlement process with legal and financial assistance. As an example, the average workers' comp settlement amounts for those who accepted the first offer was $10,700; for those who hired an attorney to represent them, the amount was $23,500.
Depending on the state where a workers' comp claim was filed, the type of settlement would be either weekly benefits or a lump-sum payment. For example, Florida offers the lump-sum option as either a one-time payment or a structured settlement, where payments are disbursed over time, such as every year, five years, or ten years.
It should be noted that structured settlements are less common than lump-sum payments. Usually, a structured settlement is used in cases where an individual received a severe injury and needs to carefully manage their settlement payments over a long period of time.
The Pros and Cons of a Workers' Comp Settlement
When you see the bills coming after an injury, your first thought might be that a workers' comp settlement is the best route, but like many big financial decisions, there are pros and cons associated with it. It's important to know that if you're injured at work, you don't have to pursue a workers' comp claim. Instead, going through the court system to get benefits may be a better choice. Just think about it.
Pros of a Workers' Comp Settlement
| | |
| --- | --- |
| | |
| Avoiding trial | For those who don't want to deal with the stress, uncertainty, and delayed compensation, taking a workers' comp settlement can be more efficient in getting an individual's life back on track sooner. And while it is uncommon, a judge could decide to reduce your overall benefits. |
| Lessened expense | The cost of hiring a lawyer and subsequent court fees could outweigh the total compensation that a worker would be entitled to. |
| Efficiency | Workers' compensation settlements are usually disbursed within 4 to 8 weeks, whereas going through the court system could take substantially longer. |
| Extra compensation for future medical benefits | Depending on your settlement, you may receive money in exchange for giving up future benefits that you might never use. As an example, if there is a 20% chance you will need surgery to treat a shoulder injury, you can be given the option to negotiate so that part of the cost is given to you with your workers' comp settlement. If you don't need the surgery after all, you can keep the money. |
Cons of a Workers' Comp Settlement
| | |
| --- | --- |
| | |
| Lower settlement amounts | As stated before, workers' compensation settlements tend to be lower than those that go through the court system. |
| Waiving the right to sue | When you accept a settlement, most employees give up their right to pursue additional workers' compensation benefits. This can be detrimental for those who develop illnesses in the future that end up costing substantially more. |
| Poor money management | It's not uncommon for those who receive a settlement to spend their money on non-injury/illness-related costs. This can result in worsening physical problems or further financial obligations. |
For these reasons and more, it is incredibly important to weigh the pros and cons carefully. By speaking with an independent insurance agent, you can gain the assistance of a qualified individual who can assist with your unique situation. For instance, you may have a personal insurance policy in place that can cover your long-term costs, making the option of pursuing a trial a more viable option.
Benefits of an Independent Insurance Agent
Independent insurance agents have access to multiple insurance companies, ultimately finding you the best coverage, accessibility, and competitive pricing while working entirely for you. If you've got questions on your workers' comp policy or benefits, they've got answers. They're there for you for the life of your policy coverage.
If you're looking to find a local independent insurance agent, you can get started right here.
©2020, Consumer Agent Portal, LLC. All rights reserved.
http://imecarecenter.com/workers-comp-impairment-rating-guide/
https://www.labovick.com/practice-areas/palm-beach-gardens-workers-compensation/
https://www.labovick.com/2019/05/03/whats-an-average-workers-compensation-settlement/
https://www.hoffmannworkcomp.com/the-pros-and-cons-of-a-workers-compensation-settlement/