Work Comp for Business Owners
Business Owners and Workers' Compensation Insurance
(First, do you need it? And second, how do you get it?)

It's time to answer the age-old question, do business owners need workers' compensation insurance? There are a few determining factors when it comes to needing workers' compensation insurance, and knowing them is key.
Your independent insurance agent is your knight in shining armor when it comes to protecting your business. They have a multitude of carriers, so they can find you the best pricing and coverages that keep your business running.
What Is Workers' Compensation Insurance?

Workers' compensation insurance is a policy obtained by an employer that provides coverage for medical expenses arising out of a work-related injury or illness. Workers' compensation will also pay for partial wages while the employee recovers. Some business owners, executives, and partners may include or exclude themselves from their own workers' compensation policy depending on their needs and how much premium they want to pay.
Including or Excluding an Owner
When it comes to your own workers' compensation policy, you have the option to include or exclude all owners, partners, or executives. Knowing what each one entails is important in making a good decision.
Including:
To include means you will have coverage under your own workers' compensation policy as the owner of the company.
Inclusion comes with a higher price tag due to the fact that you will be including your own salary or wages. And the more payroll you count for on your workers' compensation policy, the more premium you pay to cover that expense should an injury occur.
Most owners, partners, or executives do not include themselves on their own policy and simply have adequate health insurance to fall back on. The majority of owners feel that they will not sue their own insurance policy because it's their company so they will take care of the expense out of pocket.
Excluding:
To exclude means you will not have coverage under your own workers' compensation policy as the owner of the company.
Exclusion from your own workers' compensation policy means lower premiums because you are not including your own payroll on the policy, thus not having to account for your wages and potential coverage of your wages.
Most owners opt out of their workers' compensation policy and exclude themselves so they can get lower premiums.
If you are excluding yourself as the owner, partner, or executive from a workers' compensation policy, then you have to do it through your state in addition to your policy. Almost all states require that you file the exclusion through the state and pay a fee, then you are able to provide proof to the insurance company of the exclusion and they can fully remove you from the policy.
Does a Business Owner Need Workers' Compensation?
As a business owner, you need workers' compensation for your employees, and most states mandate that you get the coverage in one form or another. Workers' compensation is going to pay for all those items you just don't want to be responsible for paying, like if an employee slips and falls while on duty and breaks their leg. You want to be sure that they are taken care of medically, and of course, they will still expect to be compensated while they are out so they can keep up with the status quo. A workers' compensation policy will provide coverage for that so it doesn't have to bleed into your company budget.

Is Workers' Compensation Insurance Mandated?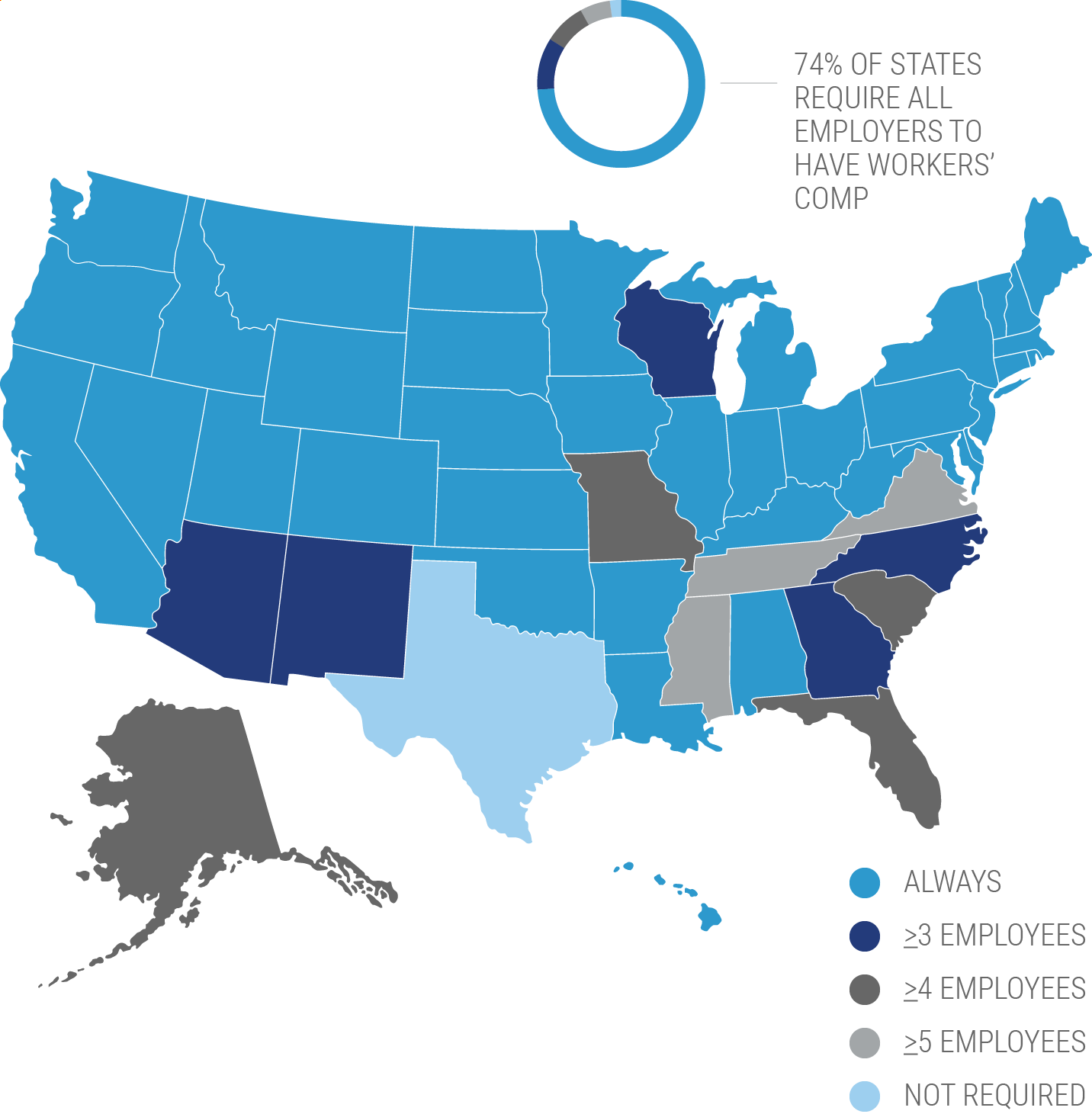 Yes. Almost every single state requires some form of workers' compensation insurance to be carried by the business owner if you have employees. Some states require this coverage as soon as you have one employee, and others require it when you have three or five. Knowing what your individual state requirements are is always a good idea.
An independent insurance agent is on the up and up when it comes to workers' compensation mandates and how it works in your specific state. Aren't you glad you have someone who knows what to do concerning your business protection and state requirements? Otherwise, you might have to do all that research yourself, and nobody has time for that.
Cost of a Workers' Compensation Policy
The cost for a workers' compensation policy varies and can be as different as the types of businesses that are out there. Knowing what your specific premiums will be is best discussed and figured out by your independent insurance agent. Some key factors in determining your premium are listed below for reference.
What determines your workers' compensation premium:
Years of experience in the industry: Experience can determine your premium because the insurance company wants to know that you have a good track record. The better the track record, the better the premium.
Number of employees: The number of employees you have will make your premium higher or lower. The more people your policy has to account for, the higher the premium will be.
Payroll and job duty type: What you pay your employees and what they do for a job duty will determine your premiums as well. An office worker will be rated way lower than a lumberjack, and so on.
Safety practices: The more safety meetings you have and protocols you put in place, the more you are minimizing the insurance company's risk and the more they will reward you with lower rates.
Benefits of an Independent Insurance Agent
The benefits of having an independent insurance agent in your corner are many. When it comes to getting the right workers' compensation policy for your business, they are the perfect advisor to have in your pocket.
They love all things insurance and are knowledgeable and licensed to do so. So keep on doing what you do best — running your business — and leave the insurance stuff to the experts.