Workers' Comp State Laws
What you need to know about state law requirements for workers' compensation insurance

You've done well. Your business is growing, but what does your state say about workers' compensation insurance? In all your growth, don't forget to obtain workers' compensation insurance as you hire additional employees.
Whether or not your state requires you to have workers' compensation insurance can be discussed with your independent insurance agent. Your agent will have the knowledge and resources to get you where you need to go and make sure you are a law-abiding citizen.
What Is Workers' Compensation Insurance?
Workers' compensation insurance is an insurance policy that is purchased by an employer or subcontractor to aid in paying for treatment of an injury occurring on the job. Most states mandate an employer to have a workers' compensation policy.
A workers' compensation policy should be obtained if you have even one employee, or if you are subcontractor, in order to protect yourself from paying out of pocket for medical expenses. Save yourself the trouble that arises from job site injuries and just get the policy.
What States Require Workers' Compensation Insurance?
Each state requires workers' compensation insurance in some form except for Texas. Knowing what your state guidelines are regarding coverage, when you need to obtain it, and how it works is essential for business owners.
Luckily, your local independent insurance agent can help. Your agent is knowledgable about workers' compensation and is in the loop on what your state laws and requirements are.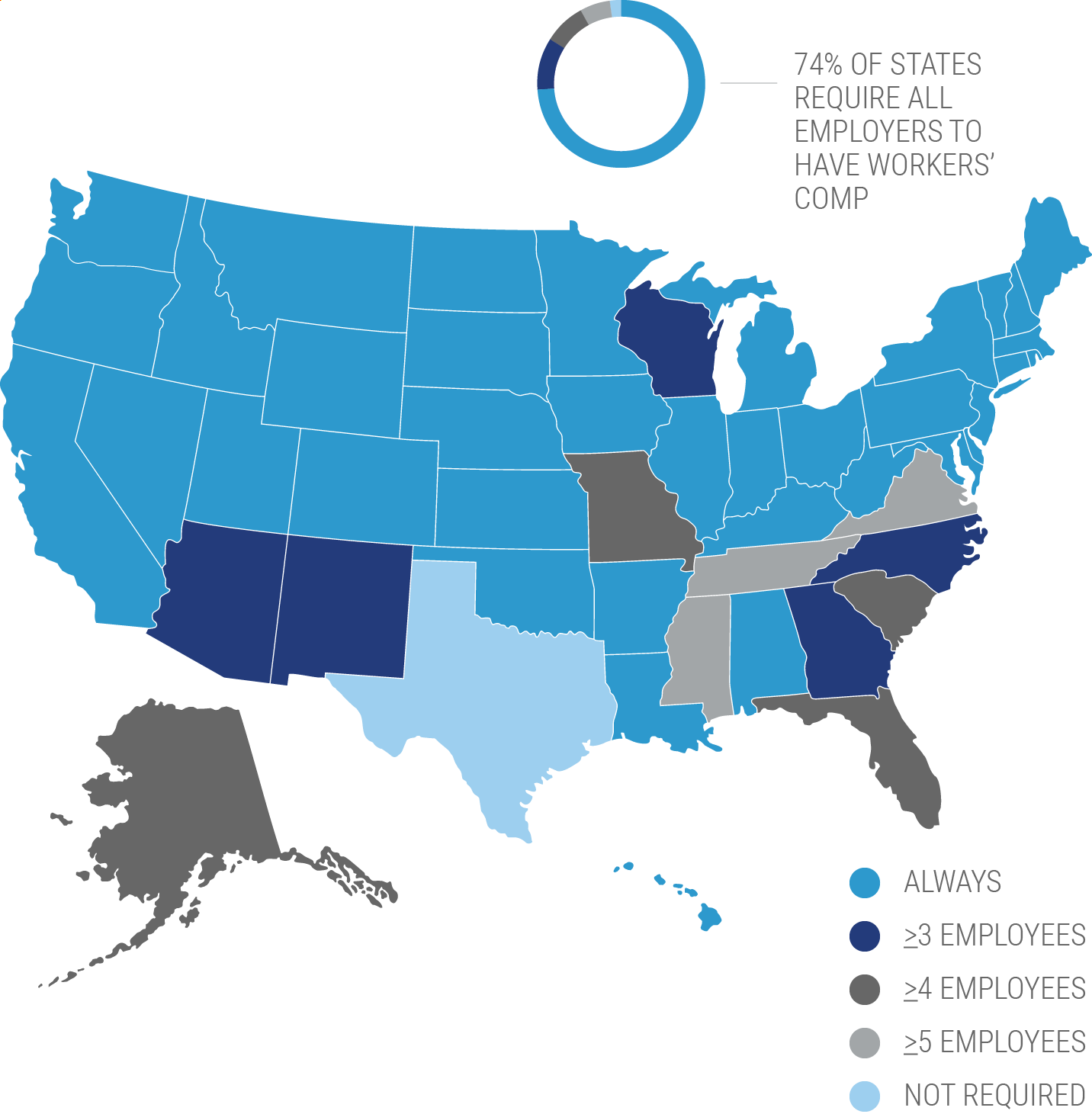 *Your independent insurance agent can get you the specifics.
**Michigan - Additionally, if a business employs one or more workers for 35 or more hours per week for 13 or more weeks during preceding 52 weeks, it is required to carry workers' compensation insurance.
***Wisconsin - Or if you have one or more employees who have been paid $500 or more in a calendar quarter, then you must have a policy in place by the tenth day of the first month of the following quarter.
Save on Workers' Comp Insurance
Our independent agents shop around to find you the best coverage.
Why You Need Workers' Compensation (Even if It's Not State Mandated)

You looked up the state in which you reside and maybe you're in one of the few states that don't have any laws governing workers' compensation. Now what? If you are an employer or subcontractor, you still may want to consider getting a workers' compensation policy. And here's why:
1.) It's not if an employee gets injured, it's when: When an employee sustains an injury while working and you do not have a workers' compensation policy, you are opening yourself up for a world of hurt.
An injured employee will not want to pay their way to health and wellness if they got hurt at work. If they obtain legal counsel, you should be ready to open your pocketbook if you don't have a workers' compensation policy in place.
2.) It shows your employees that you care: If they know you are willing to take care of them should an unfortunate work-related injury occur, they may see this as an added benefit and just another reason to show their loyalty.
3.) Safety meetings, OSHA certifications, and hiring a safety manager will show not only your employees but your insurance company that you mean business: You will be protecting your employees and their well-being while getting a more favorable insurance premium.
How an Independent Insurance Agent Can Help
For all things insurance-related, your independent insurance agent can be a valuable resource.
First, they are knowledgeable about state mandates and laws concerning workers' compensation and any other insurance. It's their job to know the laws pertaining to their field and receive continuing education surrounding them.
Not only are independent insurance agents knowledgeable, they are also shrewd penny-pinchers when it comes to your budget. They love to provide valuable coverage and comprehensive premiums so you really feel like a winner.
©2023, Consumer Agent Portal, LLC. All rights reserved.